Fruit Loop Waffles with Milk Glaze Recipe (Must Try!)
★★★★★ 5 from 1 reviews
This isn't your traditional cereal & milk. Oh no, it's much much better. Cereal IN the waffles, top with a sweet, milk glaze.
I mean, this is probably the best cereal & milk ever.
I used Fruit Loops, and I got that 'funfetti' look.
Pulverized Fruit Loops = cereal sprinkles. I think you could use Fruity Pebbles too, but Fruit Loops come in the individual containers, which is so perfect.
This Fruit Loop Waffles with Milk Glaze are a little bit sweet, a little bit fruity, and a lot delicious!
Recommended Posts:
WHY MAKE WAFFLES AT HOME?
Waffles are the weekend breakfast superheroes! Nothing beats waking up on a Saturday morning and stumbling out of bed to a plate of freshly made waffles drizzled with real maple syrup.
Of course, I'm usually the one who makes the waffles so that the rest of my family can enjoy them, but you know what? It's well worth it.
If it means I get to eat homemade waffles as a reward, I'll gladly man the waffle iron.
Have you ever made homemade waffles before? I'm here to assist!
TOPPINGS:
Waffle squares were designed to collect pools of maple syrup and butter.
These waffles are also delicious with fresh fruit and whipped cream!
Berry Syrup goes well with homemade waffles.
If you haven't tried my homemade buttermilk syrup yet, DO IT; it's only 5 ingredients and takes 5 minutes to make, and you'll love the rich flavor!
Oh, and don't forget about the dessert waffles. A scoop of cold vanilla ice cream on top of a warm waffle almost makes me dizzy. (Neither my children nor I have any complaints about them.
HOW TO KEEP WAFFLES WARM?
Preheat the oven to "warm." Preheat your oven to "warm" or the lowest setting available to keep the waffles warm while you make more for your family. Place the waffles directly on the oven rack.
When you remove the waffles from the waffle iron, place them directly on the rack. The waffles will remain crispy and warm until you're ready to eat them!
STORAGE TIPS:
On the weekend, make a large batch of homemade waffles and store any leftovers in the freezer. Then you'll have convenient toaster waffles for weekday breakfasts that taste just like homemade!
To freeze waffles:
Allow all of the waffles to cool completely.
To prevent sticking, place a sheet of wax paper between the layers of waffle in freezer bags. Keep the frozen vegetables in the freezer until ready to use.
Reheat frozen waffles as follows:
Heat each waffle individually in a toaster or toaster oven until cooked through.
You can also reheat frozen waffles in an oven at 350 degrees Fahrenheit. To keep the waffles from drying out as they heat, cover them loosely with foil.
TIPS AND TRICKS:
Waffles aren't difficult to make, and this recipe is always a hit. Here are some additional tips I've gathered over the years to assist you in making the best waffles possible:
A good waffle iron is required in addition to a good waffle recipe! My Dash Waffle Iron is fantastic. It's inexpensive, simple to use and clean, and consistently produces golden brown waffles.
The waffles take about 3 minutes to cook through in my Dash waffle iron. Yours may take a little less or a little more time. If you're new to making waffles, it may take some trial and error to get to know your waffle iron!
Warm waffles by placing them on a baking pan in the oven on the "warm" setting until ready to serve.
Are you looking for gluten-free or low-carb options? Chaffles can be made with the Dash waffle maker. No carbs cheesy buns!
Fruit Loop Waffles with Milk Glaze
Print
Fruit Loop Waffles with Milk Glaze Recipe (Must Try!)
---
Author:

Prep Time:

15 minutes

Cook Time:

10 minutes

Total Time:

25 minutes

Yield:

8

servings

1

x
Description
A light and fluffy waffle topped with crispy Fruity Pebbles is a hit in my house! In the morning, these waffles bring out the kid in everyone! We love them with strawberry syrup, fresh fruit, or Greek yogurt on top!
---
FOR THE WAFFLES:
2 cups

Fruit Loops cereal (or other)

1¾ cup

All-purpose Flour

2 Tablespoons

Cornmeal

1 Tablespoon

Granulated Sugar

1 Tablespoon

Baking Powder

¼ teaspoon

Salt

2

Eggs

2 cups

Whole Milk

2 Tablespoon

Melted Unsalted butter, slightly cooled
FOR THE GLAZE:
4 Tablespoons

Whole Milk

2 cups

Powdered Sugar

½ teaspoon

Clear Vanilla Extract
---
Instructions
FOR THE WAFFLES:
Place the cereal into the bowl of a food processor and grind until coarse crumbs. Set cereal crumbs aside.
Whisk together flour, cornmeal, sugar, baking powder & salt together in a medium bowl, set aside. Beat the eggs, milk and butter together in a large bowl. Gently add dry ingredients into the wet, mixing until just combined (do not over mix, there will be lumps). Fold in the cereal crumbs.
Preheat the oven to 200 degrees F. Then preheat your waffle maker & follow the waffle maker instructions to cook, as each one is different. Pour the appropriate amount of batter into preheated waffle maker & cook until golden. After the first batch is done, place them on a rack or cookie sheet in the warmed oven in a single layer. Keep all cooked waffles in the oven while you finish the rest. Don't stack the cooked waffles or they'll lose their crispness (unless you plan on re-heating them in the oven).
FOR THE GLAZE:
In a medium bowl, whisk together the milk, powdered sugar and vanilla until smooth. Add more milk to make it thinner, or more sugar to make it thicker. Plate the waffles and top with milk glaze.
Notes
Refrigerate any leftover waffles in an airtight container, then reheat them in an oven at 300 degrees F for 5-10 minutes.
Category:

Breakfast

Method:

Bake

Cuisine:

American
Nutrition
Serving Size:

8 servings

Calories:

272kcal

Sugar:

25g

Sodium:

78mg

Fat:

17g

Saturated Fat:

2g

Unsaturated Fat:

0g

Trans Fat:

0g

Carbohydrates:

12g

Fiber:

7g

Protein:

11g

Cholesterol:

98mg
Keywords: breakfast, Waffle, Milk, Fruit loops
Frequently Asked Questions
Why do my waffles stick to the waffle iron?
Make sure your waffle iron is hot enough before adding the batter. An iron that's too cool won't cook the inside of the waffle thoroughly making it more likely for the waffle to split and stick to the pan.
What if I don't have cooking spray?
Substitute a very thin layer of butter or vegetable oil on the waffle iron. The key here is thin! Too much oil or butter will make the waffles greasy.
Can I use homemade pancake batter?
Waffles have a higher percentage of sugar and fat in the batter, which results in the crispy edges. I wouldn't substitute one for the other.
What is the difference between a waffle and a Belgian waffle?
The texture is also lighter and crispier. To make a Belgian waffle, you need a waffle iron with a deeper, larger grid pattern. Most Belgian waffle recipes are yeast-based, to get that crispy texture. But you also can use a waffle batter that uses beaten egg whites for lightness like this one
More alternative waffle recipes to try:
Fruity Pebble Waffles
Forget about your average chicken and waffles! This fruity pebbles chicken and waffle twist will give your next brunch a fruity twist.
Read Recipe
Cereal Waffles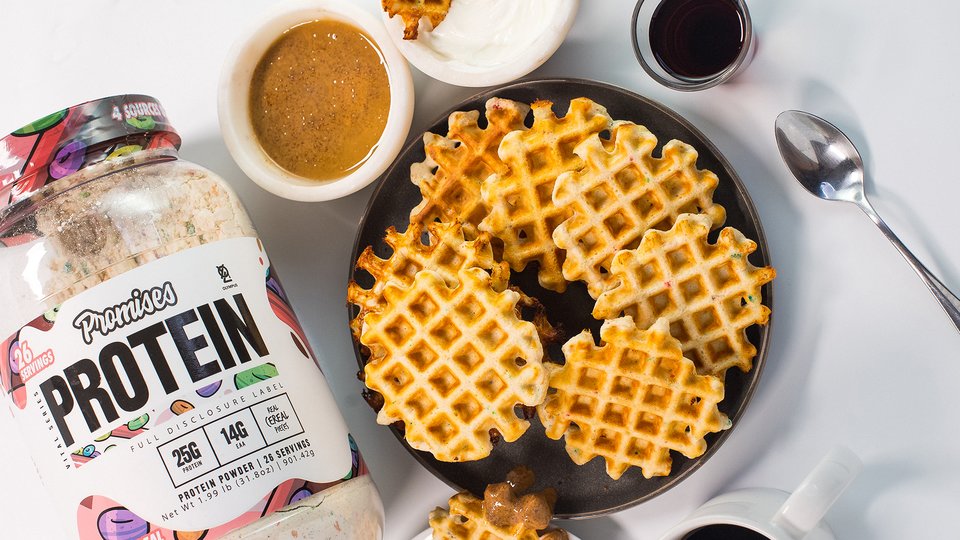 Waffle cereal is a fun twist on the latest TikTok trend of mini pancake cereal. It's simple to make with your favorite waffle batter, and you can top it with whatever toppings you want! The homemade waffle batter is made with pantry staples and is gluten-free, paleo, and keto-friendly.