Easy Baked French Toast Casserole Recipe (So Good!)
You can avoid the hassle of standing by the stove and pan-frying each individual slice of French toast with this French toast casserole.
Instead, toss everything into a dish and let the oven do the rest!
You can even put the casserole together the night before and bake it the next day.
All of the best parts of a slice of French toast are still present, but with far less effort: soft and custardy middles, cinnamon-infused edges, and an extra-crunchy toasted topping.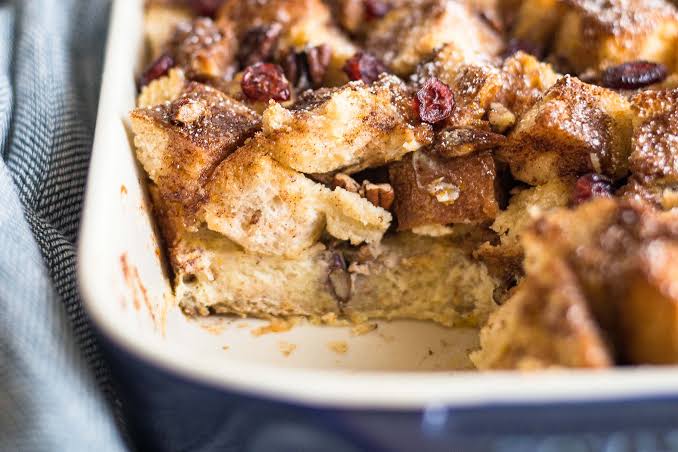 WHY MAKE THIS RECIPE?
This cinnamon French toast bake recipe will appeal to you because it…
It takes 30 minutes to make – While it takes longer to chill and bake, it is extremely simple and quick to prepare. And you're not standing in front of the stove making breakfast while everyone else is out having fun or doing their own thing.
Everyone can eat at the same time and it will still be warm – While you can keep French toast warm in the oven while the rest of it bakes, this is just so much easier because it's all in one pan and baked at the same time.
It's delicious – my favorite part is the cinnamon brown sugar topping. A slice of this wonderful casserole with a drizzle of maple syrup is simply mouth wateringly delicious.
It's cheap – I always make this French toast casserole with white bread, just regular sandwich bread. While it does call for a lot of eggs, the rest of the ingredients are probably already in your pantry or freezer.
RECIPE INGREDIENTS
This version of my French toast casserole has classic flavors that almost everyone enjoys.
Loaf of Bread – You'll need a pound loaf of bread to cut into chunks. Sourdough is my preferred bread, but French bread would also work.
Milk – Whole milk or 2% milk
Sugars – Both white and brown sugar are used in this recipe. The brown sugar adds a caramel flavor that is almost addictive.
Extract of Vanilla
Cinnamon – Is it possible to have too much cinnamon?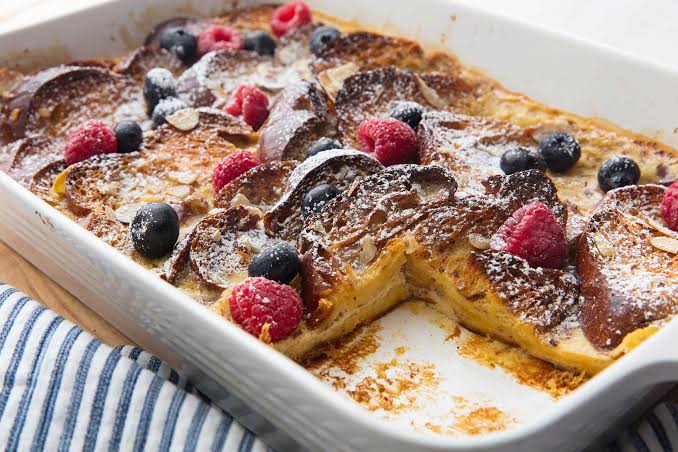 WHAT KIND OF BREAD IS BEST FOR FRENCH TOAST CASSEROLE?
When it comes to the best bread for french toast, there are numerous options.
For both nutrition and flavor, I like to use a loaf of crusty whole grain french bread.
You can also use challah, brioche, or ciabatta in place of the crusty white french bread. I don't recommend using sandwich bread or thinly sliced bread.
To add some crunch, use day old bread that has dried out slightly.
TOPPING IDEAS
Let me count the ways you could top this french toast casserole – there are so many! Here are some of our favorite toppings:
Whipped cream – Another old standby! You can use canned whipped cream or make this simple homemade whipped cream if you're feeling fancy.
Confectioners sugar – Use a spoon to sprinkle it on, or a sifter to add a nice dusting all over each slice.
Fruit – Blueberries, raspberries, blackberries, and strawberries are all delicious with french toast. If I have time, I cook peeled and sliced apples with a bit of water, sugar, and cinnamon for another topping option.
Honey or Maple Cream – Not as common as maple syrup, but both are excellent alternatives!
WHAT IS OVERNIGHT FRENCH TOAST?
Have you ever tried making overnight French toast?
It's French toast in the form of a casserole, similar to a breakfast version of bread pudding.
You prepare it the night before, refrigerate it overnight, and bake it the next morning!
Making this casserole the night before has two major advantages:
So that there are no dry spots after the casserole is baked, the bread soaks up the custard for several hours.
All you have to do in the morning is put the Overnight French Toast Casserole in the oven.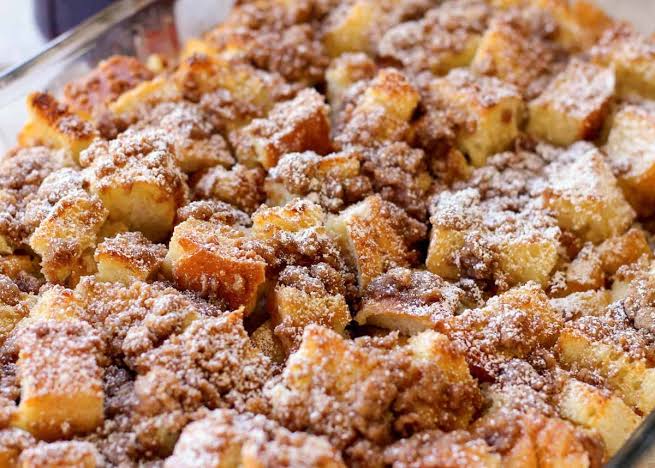 HOW TO MAKE OVERNIGHT FRENCH TOAST CASSEROLE?
To begin, cut the bread into 1-inch cubes and place it in a 13-inch baking dish. Arrange the bread in a relatively even layer. It does not have to be flawless.
The custard will be made next. I like to make the french toast batter in a large batter bowl to make it easier to pour. You can also make it in a large mixing bowl and pour it over the bread with a small measuring cup.
Combine the eggs, milk, pure maple syrup (or brown sugar), cinnamon, vanilla, and salt in a mixing bowl. Pour the custard over the bread in the baking dish, making sure to cover all of the bread cubes evenly.
Finally, prepare the buttery cinnamon-sugar topping for your french toast casserole. To make this, combine melted butter, brown sugar (or pure maple syrup), and cinnamon in a mixing bowl. Spread the topping evenly on top of the casserole.
Refrigerate the casserole for at least 20 minutes and up to one day before baking. The oven baked french toast baking instructions, as well as the full recipe with ingredient amounts and instructions, can be found in the recipe card at the bottom of this post.
CAN I FREEZE FRENCH TOAST CASSEROLE?
Normally, you'd just put any leftovers in the refrigerator. However, if you want to freeze it, you can.
While I recommend wrapping it tightly and freezing it after it's been baked, you can also freeze it before baking (though I'd add the topping later before baking it).
Keep in mind that if it's already cooked, it will last longer in the freezer.
Just make sure you allow plenty of time for it to thaw and reheat after removing it from the freezer. Allow it to thaw in the refrigerator before cooking or reheating.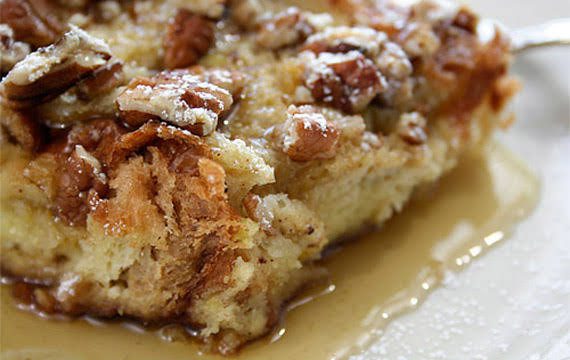 DOES FRENCH TOAST CASSEROLE HAVE TO SIT OVERNIGHT?
I know it's called Overnight French Toast Casserole, but you don't have to leave it in the refrigerator overnight.
You can bake the casserole the same day as long as it chills for at least 4 hours. Bake it in the afternoon for brunch or in the evening for a breakfast dinner.
Make it on a Sunday afternoon and bake it the next night for weekday breakfasts.
Whether you go the overnight route or not, I'm sure this is a breakfast recipe you'll want to make again and again!
WHY IS MY FRENCH TOAST CASSEROLE SOGGY?
There could be several reasons for this. It's possible that there's too much egg mixture to soak into the bread.
It's possible that it didn't bake long enough.
If you want to avoid soggy French toast casserole, leave your bread upon the night before so it can dry out a little; stale bread soaks up the egg mixture more easily and readily.
TIPS FOR MAKING BAKED FRENCH TOAST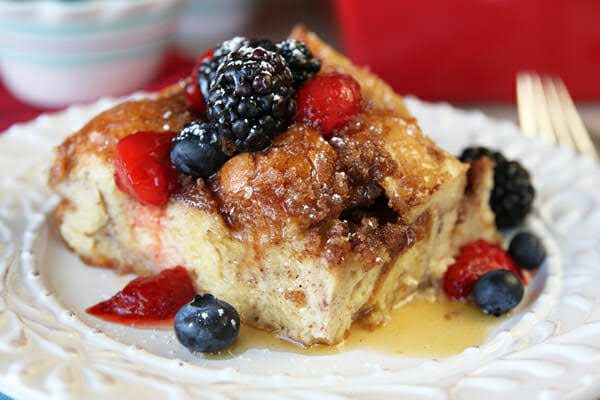 You can keep any leftover french bread in the freezer and use it to make a French toast casserole. When you have a portion of a loaf of French bread leftover, cut it into 1-inch cubes and store the bread cubes in a gallon-size zip-top bag in the freezer. When the bread bag is empty, use it in this recipe. The bread cubes do not need to be thawed.
This casserole can be assembled the night before, refrigerated, and baked in the morning. Allow the custard to soak into the bread for 20-30 minutes before baking if you want to bake your casserole right away.
Reheating leftover baked french toast casserole is simple. Reheat in the microwave or covered in the oven at 350° F until warm.
Serve your french toast casserole with pure maple syrup and any additional toppings of your choice. This goes well with pecans or sliced almonds, as well as fresh berries or banana.
Frequently Asked Questions
Do I really have to chill the casserole overnight?
While this is best as an overnight French toast casserole, it does not need to be chilled. But let me just say that the flavors will be at their best after at least a few hours of chilling. It's fine if you're in a hurry, didn't have time to plan ahead, and need to make it right away.
What about dairy-free?
Of course, you'd want to double-check all of your ingredients, particularly the bread. However, instead of whole milk, you can use almond milk or another nondairy milk. In the topping, you can also use a dairy-free butter substitute.
Can you freeze Baked French Toast Casserole?
Yes, you can freeze it before or after baking it. Wrap the dish in plastic wrap and then foil. It can be frozen for up to two months. When you're ready to eat, let it thaw overnight in the fridge, then peel off all of the wrapping and bake. Cook at 350°F for 20 minutes if it has been prebaked. Cook according to the recipe if it hasn't been pre-baked.
Print
Baked French Toast Casserole Recipe
---
Author:

Prep Time:

10 minutes

Cook Time:

30 minutes

Total Time:

40 minutes

Yield:

8

servings

1

x
Description
This baked cream cheese french toast casserole is filled with sweet cream cheese and topped with a brown sugar crumble. Because you can prepare the casserole the night before, it's ideal for a brunch or breakfast gathering.
---
1

 (12-14 ounce) loaf 

french bread

, 

sourdough bread

, or 

challah

*

8 ounces

 (

224g

) block 

cream cheese

, softened to room temperature*

2 Tablespoons

 (

15g

) 

confectioners' sugar 

(do not leave out)

3 teaspoons

 (15ml) 

pure vanilla extract

, divided

8

 large 

eggs

2

 and 1/4 cups (540ml) 

whole milk

3/4 teaspoon

 

ground cinnamon

2/3 cup

 (

133g

) packed light 

brown sugar
Crumb Topping
1/3 cup

 (

69g

) packed light 

brown sugar

1/3 cup

 (

41g

) 

all-purpose flour

 (spoon & leveled)

1/2 teaspoon

 

ground cinnamon

6 Tablespoons

 (

86g

) 

unsalted butter

, cold and cubed

optional:

 maple syrup and/or confectioners' sugar for topping
---
Instructions
Nonstick spray a 913 inch or any 3-4 quart oven-safe dish. Cut the bread into 1 inch cubes after slicing it. Half of the cubes should be placed in the prepared baking pan.
Beat the room temperature cream cheese on medium-high speed with a handheld or stand mixer fitted with a whisk attachment until completely smooth. Combine the confectioners' sugar and 1/4 teaspoon vanilla extract in a mixing bowl. Spoon spoonfuls of the cream cheese mixture onto the bread. On top of the cream cheese, layer the remaining bread cubes. (I like to leave some cream cheese exposed on top for appearances.) Set aside.
Whisk together the eggs, milk, cinnamon, brown sugar, and remaining vanilla extract until there are no brown sugar lumps. Pour over the bread in an even layer. Refrigerate the pan for at least 3-4 hours and up to 24 hours, wrapped tightly in plastic wrap. Overnight is ideal.
Preheat the oven to 350 degrees Fahrenheit (177 degrees Celsius). Take the pan out of the refrigerator.
To make the crumb topping, combine the brown sugar, flour, and cinnamon in a medium mixing bowl. Using a pastry blender or two forks, cut in the cold cubed butter. Evenly distribute the topping over the soaked bread.
Bake uncovered for 45-55 minutes, or until the top is golden brown. Because I prefer it softer, I usually bake it for 45 minutes. Drizzle with maple syrup, if desired, or dust with confectioners' sugar. Serve hot.
Refrigerate leftovers for 2-3 days, tightly wrapped in plastic wrap.
Notes
Bread: A day-old, crusty loaf of bread is ideal for French toast casseroles. Slice it into 1-inch cubes and set it aside uncovered all day. You should have about 12 cups cubed bread– a little more or less is fine.
Because the cream cheese is only mixed with a little sugar and vanilla, use high-quality cream cheese that tastes good. For this dish, I use and enjoy full fat Philadelphia brand brick-style cream cheese.
Category:

Breakfast

Cuisine:

American
Nutrition
Serving Size:

8 servings

Calories:

382kcal

Sugar:

32g

Sodium:

328mg

Fat:

17g

Saturated Fat:

9g

Carbohydrates:

48g

Protein:

9g

Cholesterol:

159mg
Keywords: Baked french toast casserole, french toast casserole, breakfast recipe, baked french toast, french toast recipe
Alternative French toast casserole recipes to try:
French toast casserole pioneer woman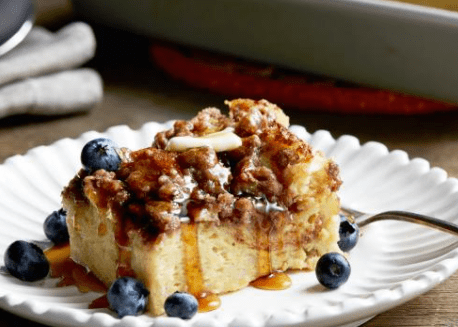 Tasty Baked French Toast Pioneer Woman Recipe will leave you coming back for more. Grease a baking pan with butter for the French toast. Tear the bread into bits or cut it into cubes and spread equally in the pan. In a large mixing basin, crack the eggs.

Combine the eggs, milk, cream, granulated sugar, brown sugar, and vanilla extract in a mixing bowl. Pour over the bread in an equal layer. Refrigerate the pan tightly covered until required (overnight preferably). Or you may make it and bake it right away—-either way, it'll be great!
Overnight French Toast Casserole Recipe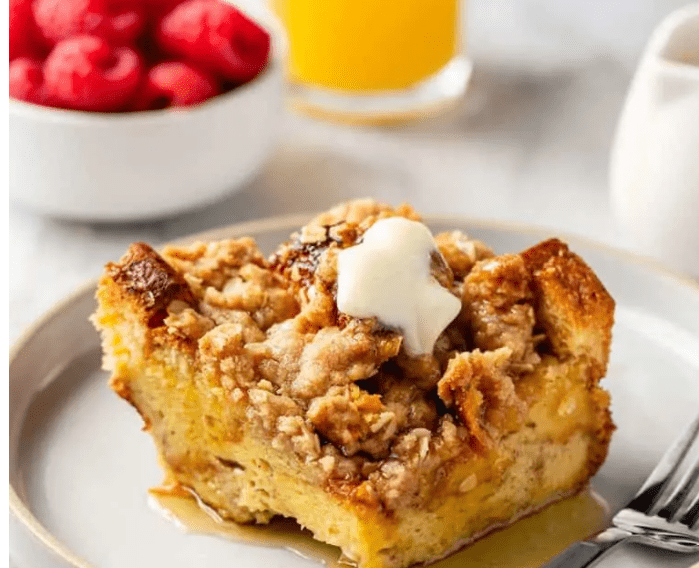 Want to make French toast but don't want to deal with the hassle? Instead, make this simple Overnight French Toast Casserole with a sweet, buttery streusel topping! Simply prepare it the night before and bake it the next morning for a breakfast that's full of flavor and requires little work.
This Overnight French Toast Casserole can be made ahead of time. It's just as simple to prepare for a lovely weekend brunch as it is for leftover weekday breakfasts. That's the kind of adaptability I'm after these days.
Other Recipe Items