Zucchini Savory Muffins [Quick and Easy Recipe]
★★★★★ 5 from 1 reviews
Zucchini Savory Muffins are a delicious, quick, and easy on-the-go breakfast. They're moist and keto-friendly, making them ideal for meal prep. These keto zucchini muffins have a buttery, garlicky flavor, a luscious interior, and the tastiest crispy golden top.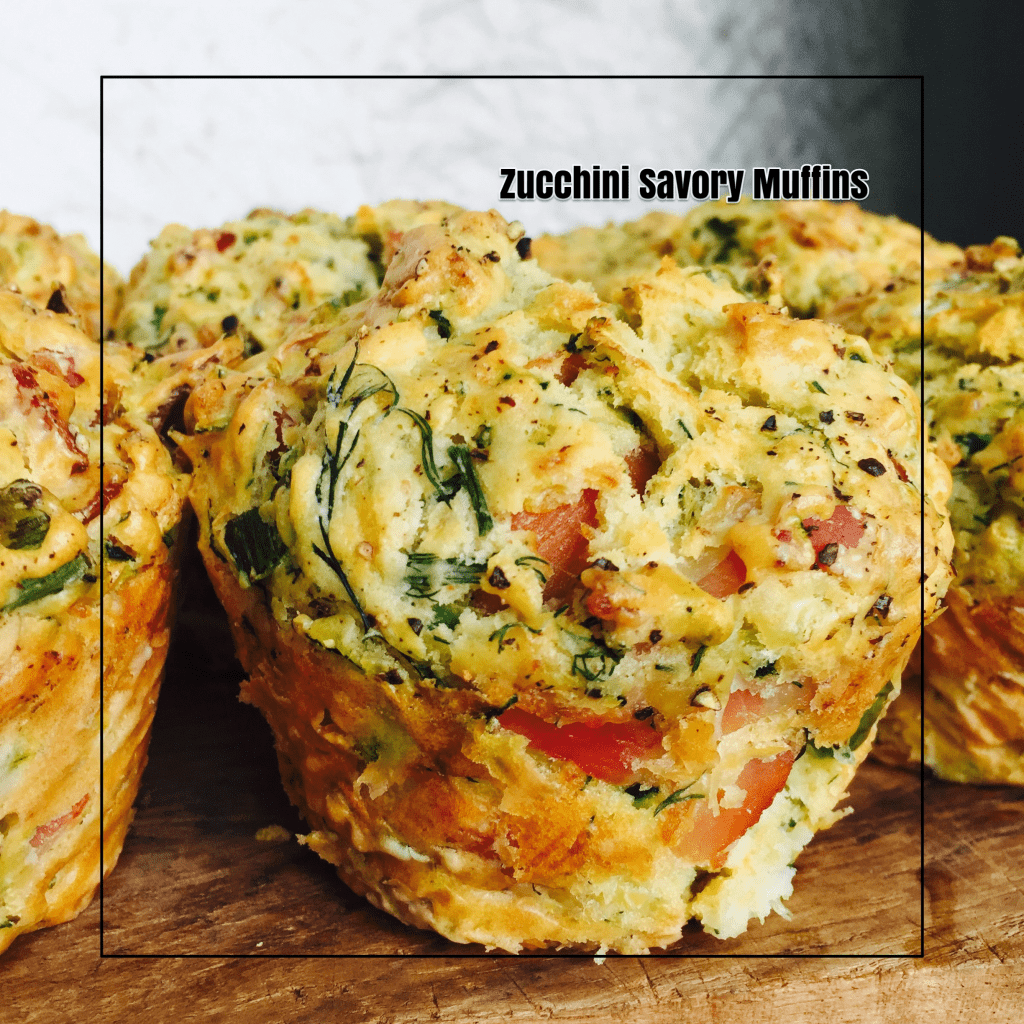 Using zucchini in baking is a delicious way to use up in-season zucchini while also increasing the nutritional content of these morning muffins.
The cheddar cheese and pancetta give a lot of flavors and keep the muffins moist on the interior. These savory zucchini muffins are moist, flavorful, and wonderful. They are ideal for your ketogenic and primal diet as a breakfast, lunch, dinner, or side dish.
I used cheddar, Parmesan, crisped bacon, and Italian herbs in this recipe. Try adding some heat with gruyere cheese and jalapeno peppers. Make these muffins with sun-dried tomatoes, olives, and mozzarella for a vegetarian version.
I've posted many recipes using this low-carb, versatile vegetable over the years, including a beautiful keto zucchini bread, Stuffed Zucchini Boats, Crispy Parmesan Baked Zucchini Fries, and Healthy Low Carb Keto Zucchini Fritters. You can even make lasagna by substituting zucchini slices for lasagna noodles. Isn't that crazy?
The soft texture of these muffins is achieved by combining almond flour, ground flax seed, and oat fiber with wheat gluten, which is essential for generating that beautiful soft texture.
These ingredients can all be found online or in specialty food stores. The shredded zucchini adds moisture to these Savory Keto Zucchini Cheese Muffins, and I love that we're eating more healthy vegetables!
Can I request smell delivery over the screen if technology ever reaches its full potential? Because, oh my goodness, these gluten-free muffins are out of this world.
Fortunately, this recipe is simple and takes less than 40 minutes to prepare from scratch, so you may also enjoy it! All of the components are easy, as is the cooking procedure.
Simply combine all of the ingredients in a large mixing basin to make a muffin batter, then bake until golden and crispy on the outside.
INGREDIENTS FOR ZUCCHINI SAVORY MUFFINS
Low-Carb Flours: When baking keto recipes, I like to use a combination of almond flour and coconut flour. I discovered that utilizing wheat-free flour in this manner yields the best mouthfeel.
Melted butter is an essential element since it adds a soothing flavor.
Eggs are high in protein and can be used as a binder. I enjoy eating eggs in the morning.
Cook your meats before adding them to the muffin batter, such as bacon or pancetta.
Cheddar Cheese – I used cheddar cheese because I like how strong and bold it is, but you can also use goat cheese, parmesan, or shredded mozzarella. Make use of your favorite cheese!
Seasonings: Get creative with your seasonings and use your favorite spices. I seasoned it with salt, pepper, garlic powder, and paprika.
Alternative Video Recipe: Keto Muffins
Suggested Posts:
MAKING THE BEST LOW-CARB SAVORY MUFFINS
Let's start cooking now that we've covered the ingredients in this dish. To make everything, you'll only need one bowl.
Make the bacon, the cheese, and the zucchini.
Preheat the oven to 350°F and line a muffin pan with muffin cups.
Combine the eggs, flour, spices, cheese, and melted butter in a large mixing basin.
Fold in the grated zucchini, cheese, and cooked bacon using a spatula.
Fill the muffin tin halfway with the muffin batter.
Cook for 20-25 minutes or until golden.
ARE KETO-SAVORY MUFFINS OK?
Muffins are typically not keto (due to the use of wheat flour). However, this recipe employs only low-carb components, making it keto-friendly. You should try it if you're looking for a quick low-carb breakfast alternative.
HOW SHOULD LEFTOVERS BE STORED?
My favorite thing about these cheddar muffins is that they keep them for almost a week, making them ideal for quick breakfast meal prep.
Refrigerate them for up to 5 days or freeze them for up to 2 months. Store them in airtight containers or freezer bags to keep them fresher for longer.
When ready to eat, warm the muffins in the microwave for 30 seconds for refrigerator muffins and 2 minutes for freezer muffins.
WHY WILL YOU ENJOY THIS RECIPE?
This recipe yields nutritious flavourful zucchini muffins bursting with cheesy flavor! This zucchini cheese muffin, with cheese on the inside and chewy cheese on top, will please any cheese monsters in your house.
When you create a batch of these buttery, garlicky snack muffins, your kitchen will smell amazing!
Excellent for any time of day! These make a filling, quick, leisurely breakfast and go well with soups and stews. They go great with my Instant Pot Creamy Tomato Soup or my Family's Favorite Carrot Ginger Soup.
It's a fantastic way to use up leftover zucchini! Like me, you're seeking ways to use summer squash when it's abundant in gardens and farmer's markets in late summer.
HELPFUL ADVICE
Stay away from muffins that stick to the pan! Bake these zucchini cheddar muffins on parchment paper muffin liners or silicone cups. The cheese will adhere to standard white paper muffin cups, making it difficult to remove the muffins.
Remember to save some cheese! Set aside 12 cups of the grated cheese to top the muffins before baking.
Check for completion. If you take the muffins out of the oven too soon, they will be sticky. They will become dry and crumbly if you bake them for too long. Because many ovens are incorrect, use an oven thermometer to check the temperature. Check for doneness with a toothpick. When your muffins are done, they should come out clean.
These muffins do not have gorgeous domed tops. After baking, they should sink somewhat. Allow them to cool completely before serving.
VARIATIONS POSSIBLE
Add more taste! It is optional to add garlic powder and dry mustard, although both will add a lot of flavors.
Make them more interesting! You might add heat by finely chopping a jalapeo pepper, using well-drained pickled jalapeo peppers, or using dried chili flakes.
Don't you have any buttermilk? Make your own by combining milk or plant-based milk with a tablespoon of vinegar or lemon juice.
Make them miniature! This recipe makes 36 mini muffins. Using a 24-cup mini muffin pan, you'll also have enough batter for four regular-sized muffins. Mini zucchini cheese muffins are excellent toddler snacks. They also go well with a cheese plate, charcuterie board, or snack tray.
STORAGE AND FREEZING INSTRUCTIONS
These gluten-free zucchini cheddar muffins taste best the day they're made. Then, place them in an airtight container in the refrigerator. You can reheat them gently in the microwave or toaster oven.
These muffins also freeze well. Freeze in an airtight jar for up to three months. Allow coming to room temperature before gently reheating in the microwave or toaster oven.
Print
Zucchini Savory Muffins
---
Author:

Prep Time:

15 minutes

Cook Time:

22 minutes

Total Time:

37 minutes
Description
Zucchini Savory Muffins are a delicious and healthy alternative to traditional sweet muffins. Made with whole wheat flour, zucchini, and cheese, they are a perfect snack or side dish. Zucchini is a nutrient-rich vegetable that is low in calories and fat. It is also a good source of fiber and antioxidants. Cheese adds flavor and protein to the muffins, making them a satisfying and nutritious treat.
---
1

 

cup

 

Almond Flour

⅓

 

cup

 

coconut flour

3

 

large eggs

2

 

tbsp

 

butter or coconut oil

 

melted

2

 

cups

 

zucchini

 

grated

⅓

 

cup

 

pancetta or bacon

 

chopped

⅓

 

cup

 

cheddar

 

shredded

1

 

tsp

 

baking powder

salt and black pepper

 

to taste

1

 

tsp

 

garlic powder

½

 

tsp

 

paprika
---
Instructions
Preheat the oven to 350 degrees Fahrenheit/180 degrees Celsius, and line a muffin pan with paper liners.
Cook the bacon or pancetta pieces in a medium pan over medium-high heat, turning regularly, until crispy. Place them on a paper towel to dry.
Combine the eggs, almond flour, coconut flour, spices, baking powder, and melted butter in a large mixing basin. To combine everything, use an electric mixer.
Using a spatula, fold in the grated and squeezed zucchini, cooked pancetta, and shredded cheddar cheese.
Divide the muffin batter among 12 muffin cups and bake for 20-22 minutes or until the tops are brown.
Category:

breakfast

Method:

Baked

Cuisine:

American
Nutrition
Serving Size:

12

Calories:

143kcal

Sugar:

1g

Sodium:

0g

Fat:

12g

Saturated Fat:

0g

Unsaturated Fat:

0g

Trans Fat:

0g

Carbohydrates:

5g

Fiber:

2g

Protein:

6g

Cholesterol:

0mg
FAQs
Savory muffins are made of what?
A quick and easy savory muffin recipe with ham, corn, cheese, and chives… great for lunch boxes, as a side to a bowl of soup, or on its own, warm and buttered!
What's the deal with my dry, savory muffins?
Over-mixing the mixture and overcooking the muffins are the leading causes of dry, hard muffins. So here are the three basic techniques to making deliciously soft and moist blueberry muffins: Use both butter and oil – butter adds flavor, but oil keeps things wet. So take advantage of both!
Are muffins savory or sweet?
Muffins come in savory flavors like cornmeal and cheese muffins and sweet flavors like blueberry, chocolate chip, lemon, and banana.
What goes well with muffins?
Cut those soft muffins in halves and spread them on heated butter, cream cheese, or peanut butter. Try them with hazelnut spread, Greek yogurt, or cookie butter if you want to go fancy.
What exactly are savory items?
Savory cuisine tastes salty or peppery rather than sweet. Savory foods are the most well-known aspect of Italian cuisine. Synonyms include peppery, rich, wonderful, and tasty. More savory Synonyms
More Alternative Muffins Recipes to try!
EASY CHEDDAR CHEESE MUFFINS
If cornbread isn't your thing, you must try these fantastic cheese muffins. They complement anything from a hearty bowl of chili to a spicy BBQ. How simple are they? You simply need eight ingredients and around five minutes to prepare it! To get the most out of this recipe, I recommend using a solid cheddar or something smokey – and always grate it yourself!
PEPPERONI PIZZA MUFFINS
Don't have the time or patience to prepare your own pizza dough? Not a problem! These pizza muffins deliver all of the tastes of a decent pepperoni pizza half the time! If you like deep-dish pizza, you'll adore these. Before baking, place a thick tomato slice on top. It will blister and soften in the oven, leaving you with a delicious fresh flavor complementing the pepperoni and cheese.