32 So Delicious and Healthy Breakfast Toast Ideas For Hectic Mornings
★★★★★ 5 from 1 reviews
Are you looking for a quick and easy breakfast? Here are some healthy breakfast toast ideas that are high in protein, fat, and fiber and will leave you feeling full and satisfied.
These toasts are so delicious that they will keep the whole family excited for breakfast and are ideal for those hectic mornings when you need a quick and easy, nutritious breakfast.
Nothing beats a warm slice of toast and a cup of coffee in the morning. Delicious toast is another thing I like to eat on my way to or from breakfast.
So, depending on your mood, you can eat whatever you want! These toasts are packed with nutrients.
Some of them are high in protein and fat, so they will keep you full until the next day!
SAVORY BREAKFAST TOAST IDEAS
Chef Jose Garces sears sweet and smoky Spanish piquillo peppers in a garlic, honey, and fresh herb vinaigrette before marinating them in a garlic, honey, and fresh herb vinaigrette.
Almost every day, Steven Satterfield's restaurant, Miller Union, serves some combination of feta and radishes. He suggests using any variety of radishes for these toasts, such as watermelon, pink beauty, cherry belle, or d'Avignon. If you slice the radishes ahead of time, place them in a bowl of ice water to keep them cold and crispy.
Spaghetti squash gets its name from the fact that once cooked, the flesh can be pulled into long, thin strands with a fork. For this vegetarian dish, Jonathon Sawyer makes his own curry and cooks his own chickpeas, but this simplified recipe calls for store-bought curry paste and canned chickpeas.
Use a fork and knife to cut the delectable sandwich, or pick it up with your hands if there are plenty of napkins nearby. Chef Jesse Cool likes to combine the maple apples with the ham and cheese, but they can also be served on the side with a spicy mustard or horseradish sauce.
Alternative Video: 25 Epic Toast Ideas
Suggested Posts:
Softened butter is a tasty alternative to sour cream or cream cheese when paired with salty smoked salmon, according to chef David Tanis. (Think ham-and-butter sandwiches.) He adds lemon zest and both Dijon and grainy mustards to the butter to give it a zippy bite.
This spicy, fragrant sauce is inspired by a version she discovered in a Mexican hole-in-the-wall cafe. She enjoys it on toast with mashed avocado, but it also goes well with eggs and grilled fish.
SWEET BREAKFAST TOAST IDEAS
To begin, we used a classic toast spread for this combination: hazelnut! While most hazelnut spreads are paired with berries, such as strawberries or raspberries, fig is also known to pair well with hazelnut.
Consider this toast combo to be a deconstructed tea sandwich. This cucumber cream cheese toast is inspired by tea party foods and tastes light and refreshing. Of course, we recommend serving it with a steaming cup of tea!
Because lemon, blueberry, and ricotta pancakes are popular breakfast items, why couldn't these flavors be used to make toast? Inspired by our Healthy Lemon Blueberry Ricotta Pancakes, this toast combination captures all of those delectable flavors without requiring additional time in the kitchen.
If peanut butter and strawberry jam go well together on toast, why not try fresh strawberries on top? This toast combination, topped with a few chocolate chips, is a surefire way to get you out of bed in the morning.
Cottage cheese isn't the most popular cheese spread, but it's certainly not one to pass up on toast. Cottage cheese goes well with fruits, and it's most commonly paired with peaches.
Isn't there nothing better than a sweet apple with some creamy cheese? The combination may appear strange at first, but we assure you that it is one you will enjoy. Surprisingly, apples and cheese go well together!
BREAKFAST TOAST WITH EGG
A delicious runny yolk egg cooked in the center of a piece of toast and eaten with a fork is a unique way to enjoy an egg. When my kids eat these, they feel like they're eating something special.
This sandwich has become a popular recipe on YouTube! It appeared on our feed one night, and we were captivated by its simplicity! The one-pan concept seemed ideal for quick mornings, so we had to give it a shot and see if it worked.
This Scrambled Egg Toast is so simple to make, filling, and delicious that it will improve your morning. Guaranteed.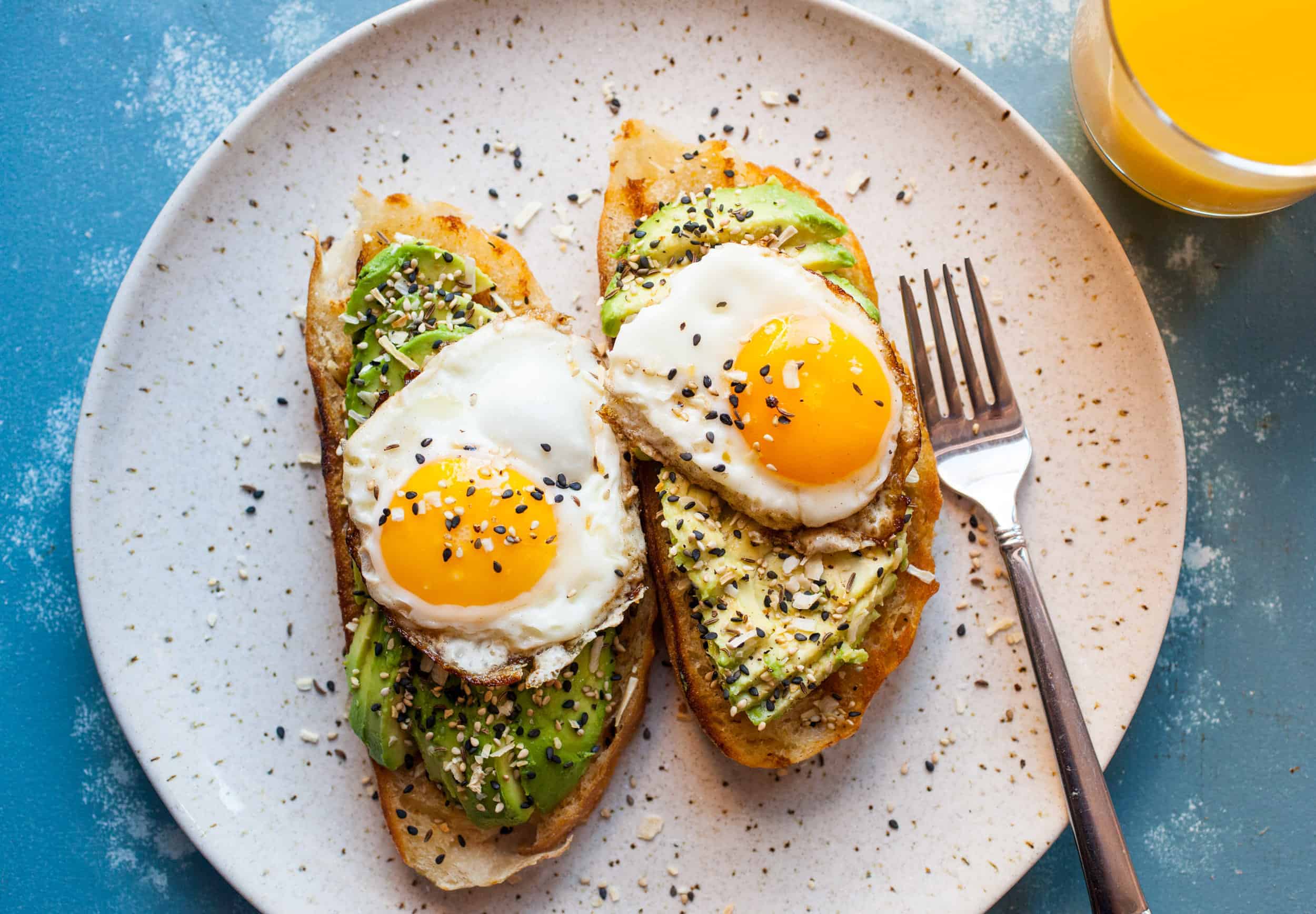 Avocado Toast with Egg 4 Ways – fried, scrambled, boiled, and poached It's a quick and easy protein-rich breakfast, snack, or light meal! Simple to prepare, tasty, and filling. If you haven't yet had egg and avocado toast for breakfast, now is the time!
Gilgeori toast, which literally translates to "street toast" in Korean, is a popular salty-sweet egg sandwich sold by many Korean street vendors. It's a nostalgic snack, reminiscent of childhood, for many who grew up there.
BREAKFAST TOAST IDEAS HEALTHY
This Berry Protein Overnight French Toast is made the night before and is high in whole grains, protein, fiber, and fruits. The most delicious and filling breakfast you've ever had in the morning.
Avocado, greens, and sunny side up eggs are piled on top of this sweet potato toast. It's a great quick breakfast that will keep you full until lunchtime.
Try this mushroom hummus toast recipe in this breakfast meal if you like mushrooms. This meal is ready in the morning in just a few minutes and with only a few ingredients.
If you're looking for a quick and healthy breakfast option, try this banana toast with granola and honey. You must try this delicious, healthy, and protein-packed meal!
This classic easy french toast recipe is loaded with cinnamon powder and a few other simple ingredients. It's another of my favorite toast recipes, and it's ideal for breakfast or brunch.
Make a delicious cheesy meal with cheese, avocado, and garlic flavor for a morning breakfast or snack. It takes only 10 to 15 minutes to prepare. It's also one of my favorite toast ideas that makes me happy at any time of year!
BREAKFAST TOAST IDEAS VEGAN
Must try this avocado toast with kale and a pinch of lemon, which makes a healthy and quick breakfast or lunch meal that takes only 5 minutes to prepare.
Make this delicious apple and honey peanut butter toast recipe for breakfast during the fall season to kickstart your day with energy! This is also one of my favorite toast ideas for autumn days!
Strawberry, avocado, and white cheddar combine to create a healthy and flavorful morning breakfast that will keep you satisfied.
This smashed avocado toast with watermelon radish takes only 5 minutes to prepare. It's a quick and easy breakfast or snack on the go.
This avocado chickpea toast is one of my favorite toast recipes for a snack or breakfast. This meal is delicious, vegan, and healthy, and you will enjoy it as well!
BREAKFAST TOAST FOR WEIGHT LOSS
I know it sounds strange, but Greek yogurt is delicious on toast! Creamy and spreadable, with more protein than regular yogurt.
When you're craving something sweet, this combination will satisfy you (and the only sugar comes from the banana).
It's past time to elevate the underappreciated cottage cheese. It's creamy, filling, and can be sweet or savory (we're going sweet with berries today).
After making this creamy, crunchy, snack-worthy hummus toast, you'll be in Mediterranean heaven.
Print
Banana Toast with Granola and Honey Recipe
---
Author:

Prep Time:

1 minute

Cook Time:

4 minutes

Total Time:

5 minutes

Yield:

4

servings

1

x
Description
The ideal breakfast, after-school snack, or last-minute dinner. Toast covered in peanut butter, bananas, honey, and oats. Crunchy, creamy, sweet, and delightful!
---
4

 

slices

 

hearty multigrain bread

 

or wheat bread

4

 

tablespoons

 peanut butter

2

 

large bananas

 

sliced

2

–

3

 

tablespoons

 

honey

Small handful granola
---
Instructions
Toast the toast and smear it with the peanut butter.
Drizzle with honey and sprinkle with oats before topping with banana slices. Enjoy right away, and give yourself a high five.
Category:

Breakfast

Method:

Oven

Cuisine:

American
Nutrition
Serving Size:

4 servings

Calories:

1162kcal

Sugar:

67g

Sodium:

173mg

Fat:

64g

Saturated Fat:

6g

Unsaturated Fat:

52g

Trans Fat:

0g

Carbohydrates:

116mg

Fiber:

21g

Protein:

48g

Cholesterol:

3mg
Keywords: banana toast with granola recipe, breakfast toast ideas, breakfast toast recipe, banana, almond and granola toast
Frequently Asked Questions
What can you spread on toast for breakfast?
Try our five healthy toast, crumpet, or scones toppings for a tasty snack that isn't bad for your heart:
Avocado.
Banana, mashed or sliced
Berries and Greek yoghurt (low-fat).
Nut butters on their own.
'Jam' with chia seeds and berries
Is toast OK for breakfast?
Depending on the type of bread used, toast contains carbohydrates and some fiber. However, because toast is low in protein, fat, and nutrients, other foods are usually required to make a nutritious breakfast. A healthy breakfast typically includes one or more servings of dairy, protein, and fruits or vegetables.
Is toast with eggs healthy?
Hot breakfasts broaden the range of options. Scrambled eggs (one whole egg and one egg white) with a piece of lightly buttered whole-wheat toast and some fruit on the side are high in protein and volume and make a great combination.
What can I put on my toast instead of butter?
Spreads that can be used in place of butter:
Butter made from nuts.
Extra virgin olive oil
Cheese.
Avocado.
Hummus.
What do you put on toast when out of butter?
8 Delicious Non-Butter Toast Spreads:
Curd from lemons.
Chutney in green color.
Spread with marinated mushrooms
Butter made from almonds
Nutella.
The peanut butter.
Ricotta.
Toast with avocado spread
Is it OK to eat the same thing every day?
It is possible to eat the same meals every day and still be healthy, according to registered dietitian Brigitte Zeitlin, but it all depends on what those meals are. "If you eat pizza every night for dinner, you're passing up an opportunity to eat other, more nutrient-dense foods."
Is 2 slices of bread enough for breakfast?
Breakfast can certainly include a slice of bread; the more complex the carbohydrate, the better. Just keep in mind that, as with most things, moderation is key. You have the rest of the day to use the energy provided by the carbs in that whole grain slice of toast; what better way to start the day.
Is it OK to eat the same thing every day?
It is possible to eat the same meals every day and still be healthy, according to registered dietitian Brigitte Zeitlin, but it all depends on what those meals are. "If you eat pizza every night for dinner, you're passing up an opportunity to eat other, more nutrient-dense foods."
What fruit should I eat everyday?
Pineapple, apples, blueberries, and mangos are among the healthiest fruits. As part of a healthy diet, you should consume three servings of fruit per day. Fruit consumption improves heart health, reduces inflammation, and strengthens the immune system.
Can you eat eggs everyday?
A heart-healthy diet can include up to one whole egg per day for healthy people. Because eggs have tremendous nutritional benefits, are convenient, and inexpensive, the recommendation for older adults is up to 2 eggs per day as part of a heart-healthy dietary pattern.