37 Easy Camping Dinner Ideas To Make For Your Next Outdoor Trip
★★★★ 3.8 from 4 reviews
Summer is the best time to go camping. There are numerous ways to improve your cooking routine, even if you've been doing it for years.
You'll be eating well in the woods with these simple skillet, skewer, and campfire recipes. Check out our favorite camping dinner ideas and foil pack recipes for even more outdoor eats.
It's always fun to tell stories with your family while gazing up at the big blue sky. There are numerous things to do and items to pack to ensure that your trip goes as planned.
EASY CAMPING DINNER IDEAS
Need a quick and easy campfire dinner that practically bakes itself? Because this Chili Campfire Bake is so quick and simple, I recommend offering to cook dinner while your partner sets up the tent. They'll still be erecting tent poles while you grab a fishing pole and head to the water.
Cheddar Barbecue Chicken Foil Packets are quick and easy to make, and they're ideal for quick summer grilling or cooking over an open fire on this year's camping trip.
These Hot Ham and Pineapple Campfire Sandwiches are quick and easy to make, and they're a big hit with the kids. The only thing faster than eating them is cleaning them up.
Alternative Video: 9 Easy Camping Dinner Ideas
Recommended Posts:
A delicious whole, paleo, and gluten-free shrimp recipe! You can even substitute another favorite seafood for the shrimp.
These Pie Iron Tasty Tacos are not only simple to make while camping, but they can also be made ahead of time! You can pre-make the packets or prep the ingredients so that everyone can make their own.
These Parmesan Chicken Foil Packets are a complete meal in a foil packet. You can also prepare ahead of time and store in the freezer. After you've finished making your packets, place them all in a ziplock bag and use them to keep things cold.
CAMPING DINNER IDEAS FOR LARGE GROUPS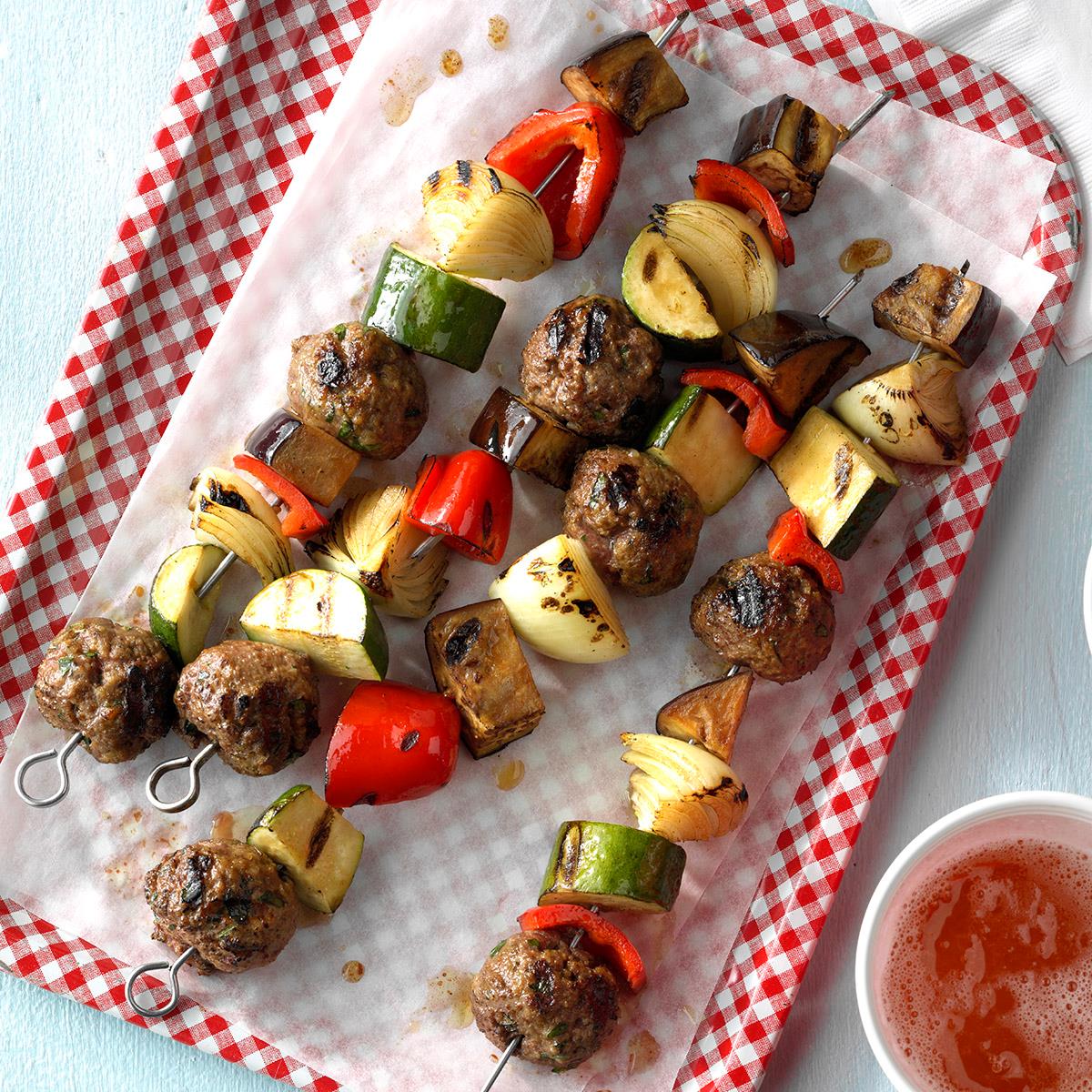 When the weather's hot and you're craving Italian food, try these delectably different kabobs. All you'll need to round out this summer meal is a green salad and some rustic bread.
We transform Cobb salad into a sandwich masterpiece when we need a quick meal to share. I sometimes use tortillas instead of bread to make wraps.
This dish has become a favorite at our church potlucks. Let's just say I'm in big trouble if I show up to a gathering and they don't! Try these sausage and kraut sandwiches over mashed potatoes for a fun dinner twist.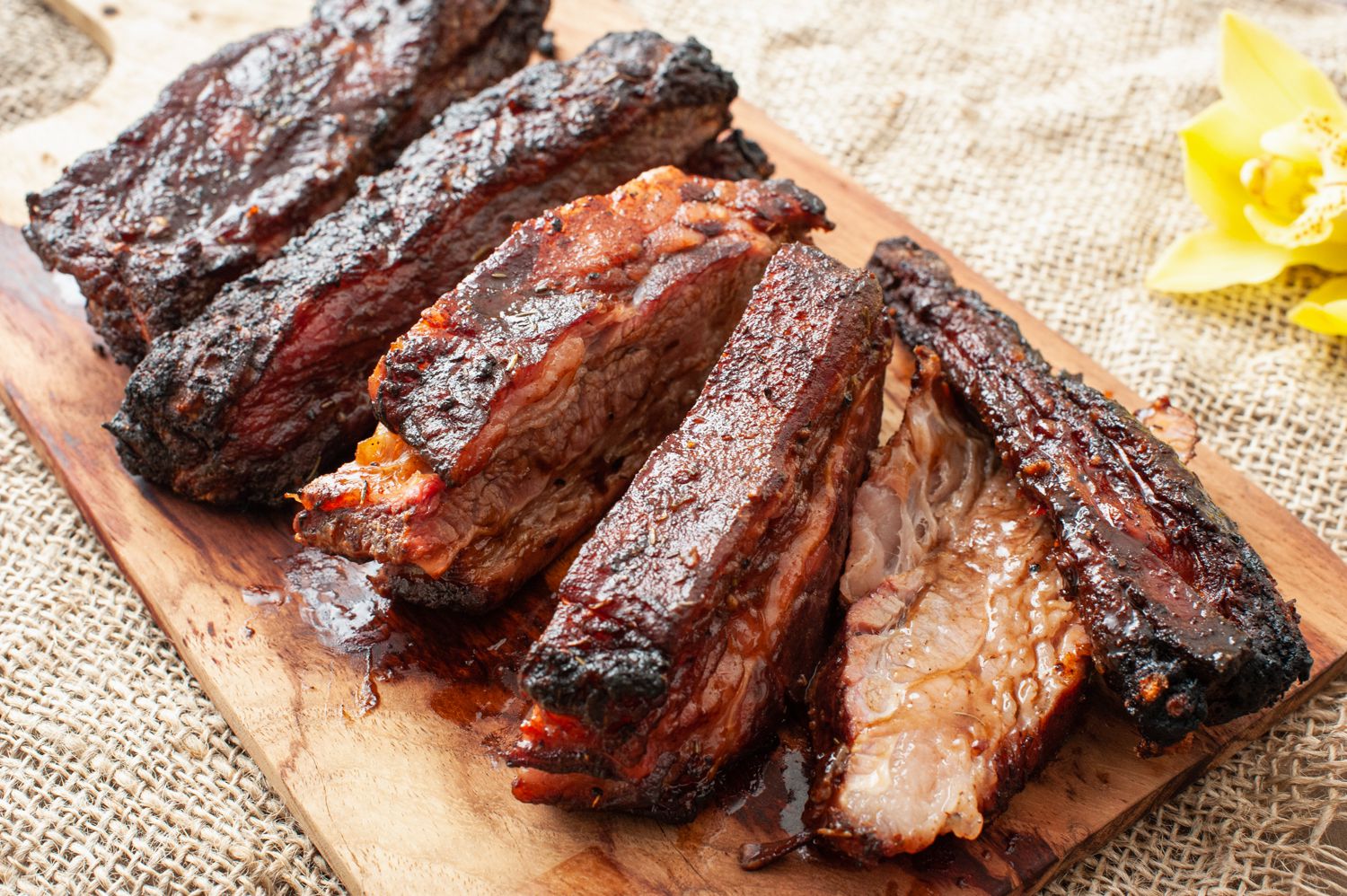 The combination of beef stew meat and tender pork keeps friends and family coming back for more of these tangy sandwiches. For a fresh contrast, toss in some lettuce and tomato.
I used a muffin recipe to make these fluffy banana oatmeal pancakes. We enjoy them with strawberry jam for breakfast, supper, or just snacking. They're also delicious drizzled with maple syrup.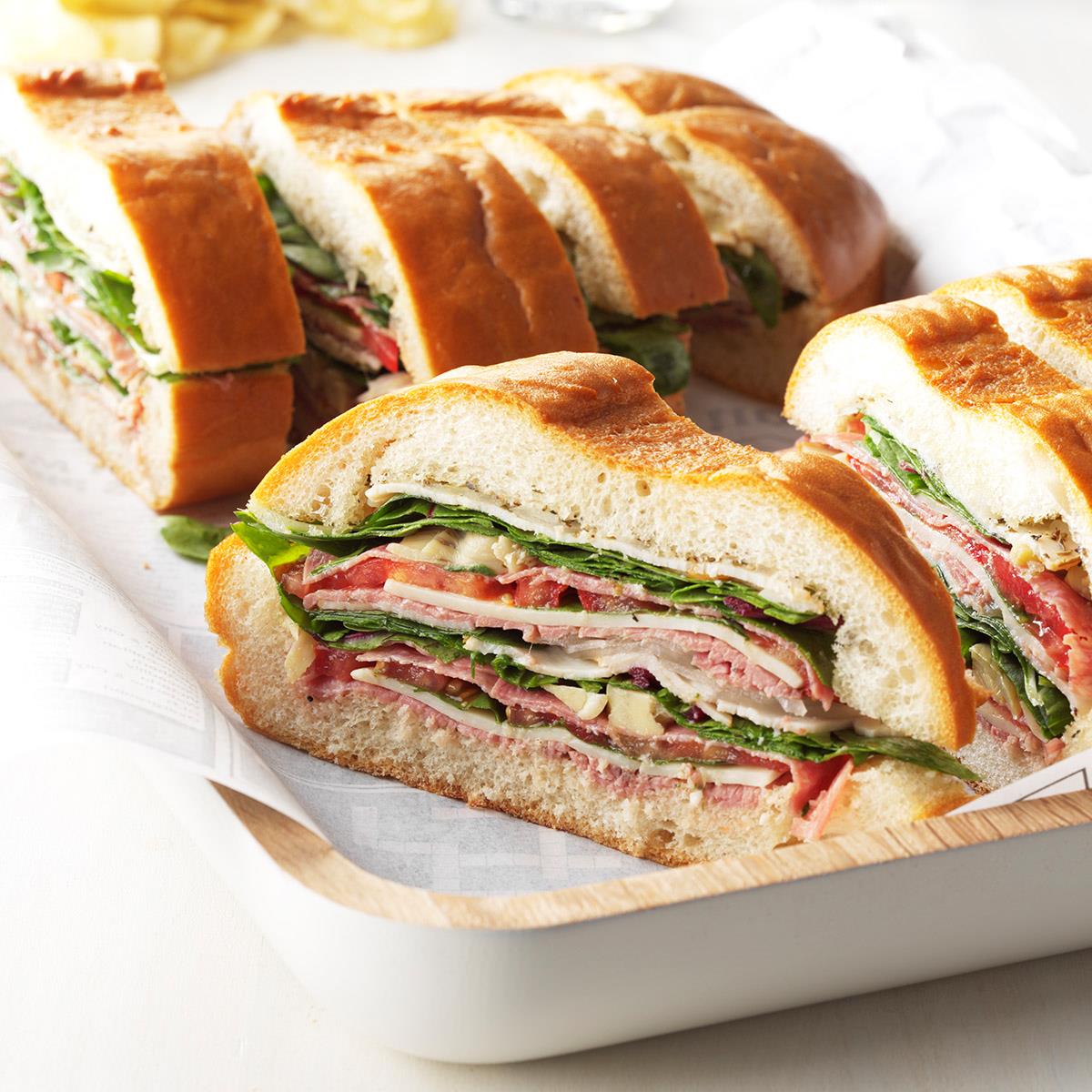 This hearty sandwich, inspired by one I had at a New York deli, is a fan favorite among our football-watching friends. It's easy to transport to any gathering if you make it ahead of time. It's praised by both children and adults.
After experimenting with a few bratwurst recipes, I discovered that this meal-in-one is ideal for camping because it grills to perfection in a heavy-duty foil bag. It's easy to season with onion soup mix and a little soy sauce and loaded with chunks of bratwurst, red potatoes, mushrooms, and carrots.
CAR CAMPING DINNER IDEAS
"French Dish" is a dish that has a special meaning for the three of us as French-Canadians because we all grew up eating it. It's a simple dish, but that's what makes it ideal for a camping trip.
These filling party snacks, made with lean turkey, crisp bacon, and lightly dressed kale, use hummus instead of cream cheese for a healthier-fish take on one of the best make-ahead appetizers we know: tortilla roll-ups.
This simple Thai Yellow Curry with chicken and vegetables is served with steamed rice. This recipe is easily vegan or vegetarian!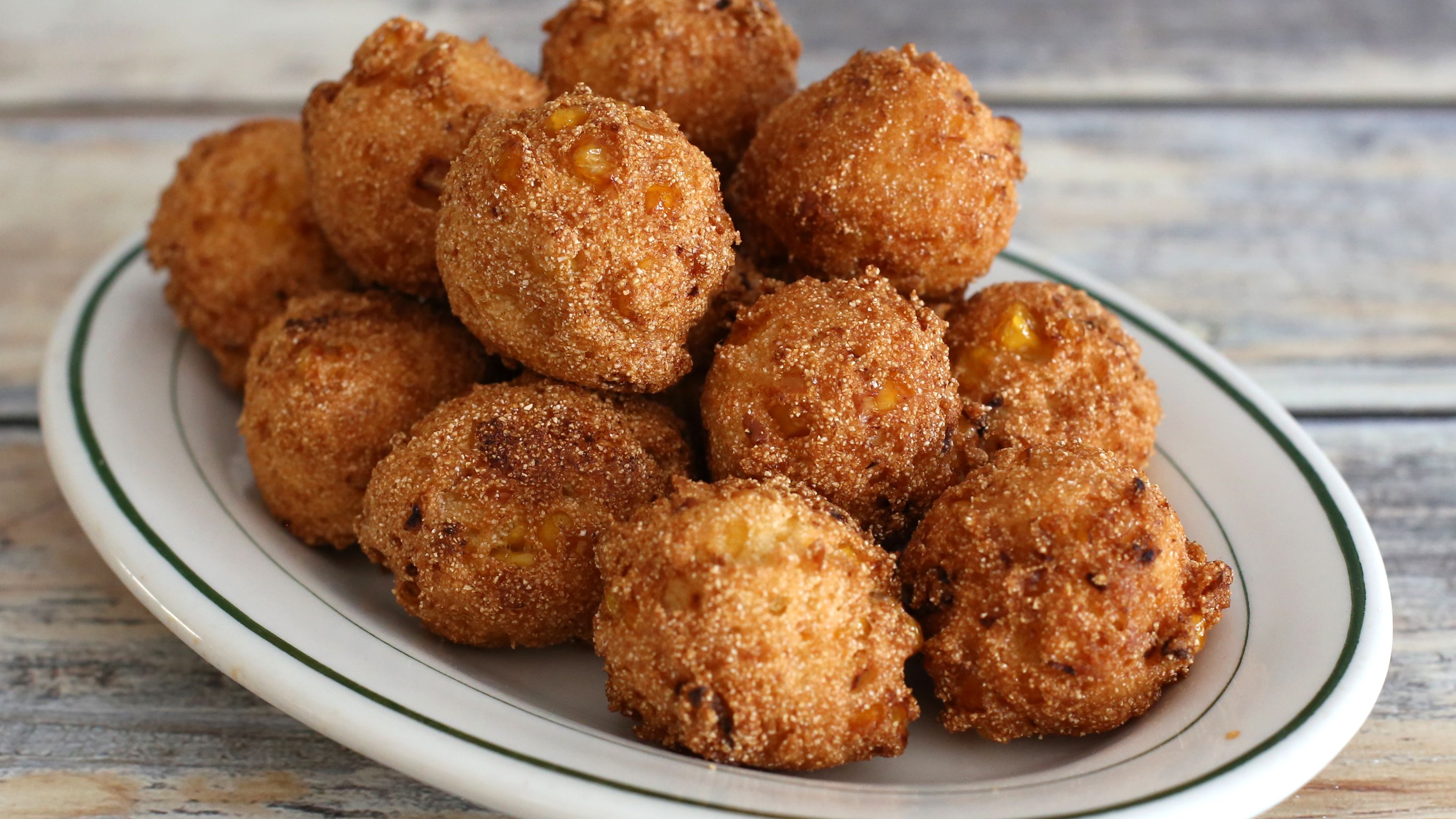 This Hush Puppies Recipe is the best easy southern food side dish, with crispy outer edges and soft, tender centers that have been lightly sweetened. They are, without a doubt, the best I have ever made or tried.
Prepare yourself for the most decadent, delicious, and cozy bowl of oats you've ever tasted! Sweet and gooey caramelized bananas are served over creamy oatmeal in this caramelized banana oatmeal.
CAMPING DINNER IDEAS VEGETARIAN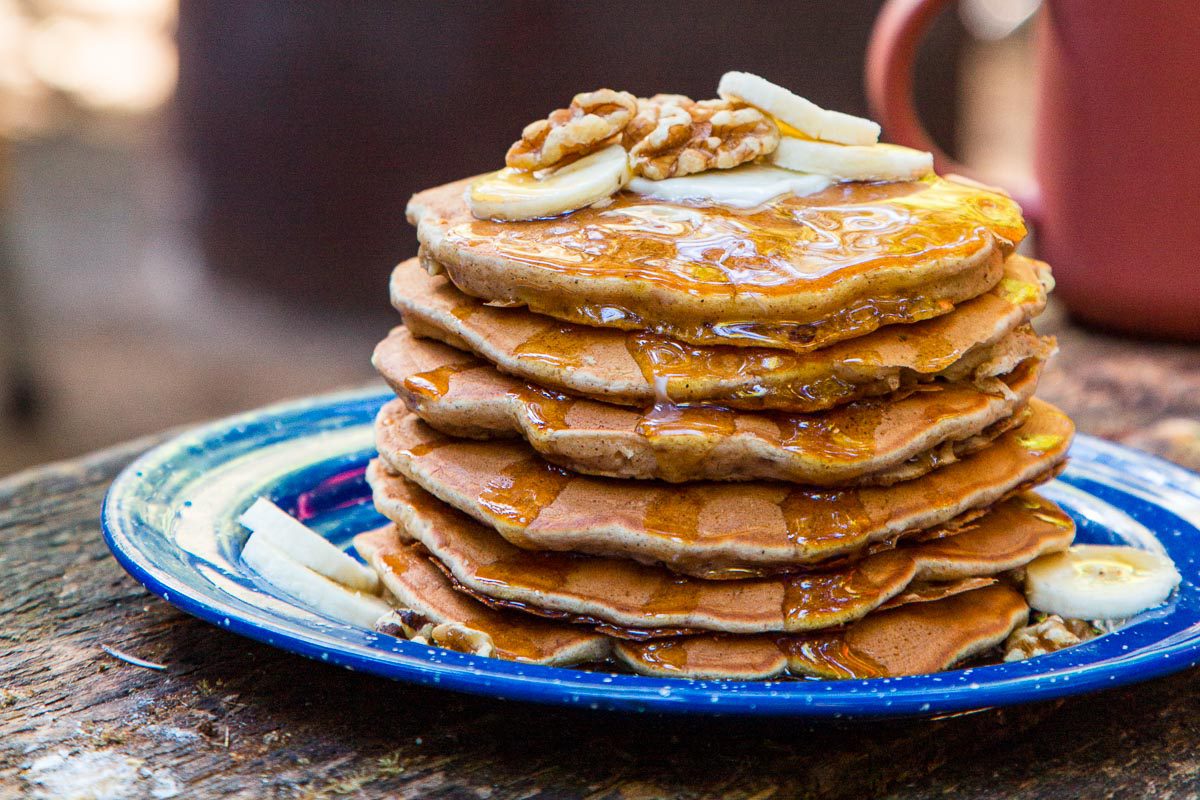 Combining banana bread flavors with the classic camping breakfast: pancakes! These pancakes, topped with walnuts, sliced bananas, and maple syrup, make getting out of bed in the morning a little bit sweeter.
If you're looking for something hearty, comforting, and healthy to eat while camping, this vegan sweet potato peanut stew is a must-try.
A simple cornbread recipe that can be made in a cast iron skillet over a campfire. On your next camping trip, pair it with a bowl of chili!
These veggie burgers are the perfect excuse to fire up the grill, thanks to the combination of healthy sweet potato, bean patties, and smokey southwestern spices.
Layers of baked pasta, crispy melted cheese edges, flavorful tomato sauce, and fragrant Italian seasonings. Is there anything that compares to the mouthwatering perfection that is lasagna?
These Red Lentil Sloppy Joes are a plant-based take on a camp favorite. Everything cooks in one pot, making cleanup a breeze!
These vegan campfire fajitas are a new take on an old classic, with grilled sweet potato "steaks," roasted peppers and onions, and a New Mexican chile marinade.
CAMPING DINNER IDEAS ONE POT

This super easy one pot camping meal delivers a ton of protein while remaining completely vegetarian by combining red lentil pasta with garlicky sautéed kale.
This frittata is brimming with summer flavors like ripe tomatoes and fresh basil and topped with melty cheese. It cooks in a single skillet over a campfire or stove.
Crispy tortillas simmered in a spicy tomato sauce with a few eggs on top. Chilaquiles are vegetarian and take less than 30 minutes to make!
A beloved happy hour staple is now available at a campground near you. What better way to end the day than with a cold beer, a warm campfire, and a big pot of cheesy nachos?
If you're looking for something hearty, comforting, and healthy to eat while camping, this vegan, West African-inspired sweet potato peanut stew is for you.
This chickpea and vegetable breakfast skillet is a protein-packed update on breakfast hash and a healthy way to start your day.
CAMPING DINNER IDEAS NO FIRE
Canned beans (rinsed), shredded lettuce or cabbage, chopped tomatoes and cucumbers, shredded cheese, and your favorite dressing (ranch, Italian or honey mustard).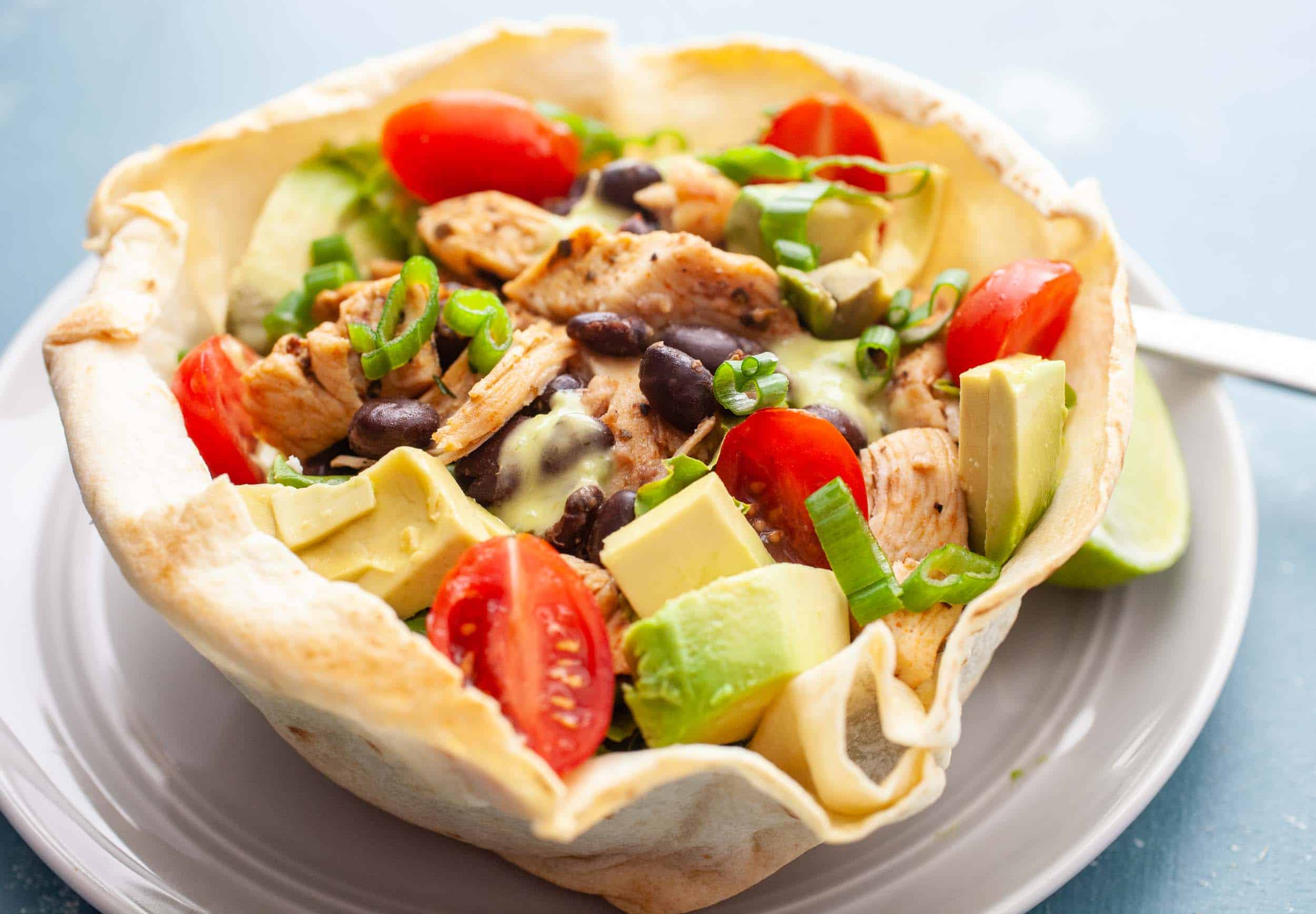 Make the taco meat ahead of time or use canned beans to make it meatless. You can make a layered salad or let the kids assemble their own using corn chips, guacamole, chopped tomatoes, shredded cheese, beans, olives, and salsa.
Cold cuts from Italy, canned artichoke hearts, quartered mushrooms, sliced cucumbers, sliced tomatoes, kidney or garbanzo beans, feta squares, and sliced red onion are topped with Italian dressing and served with crusty French bread.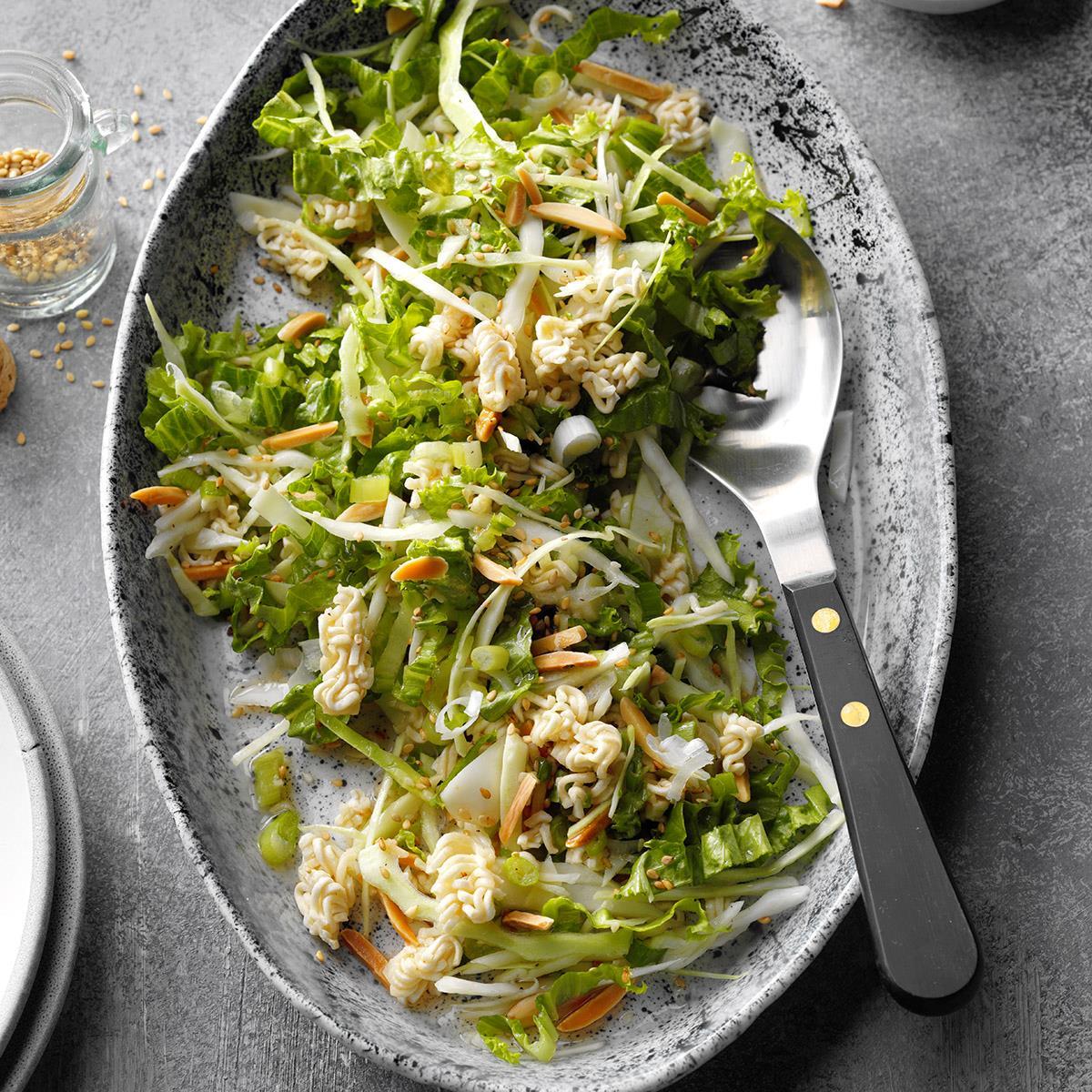 Serve this slaw with cold rotisserie chicken for a filling dinner.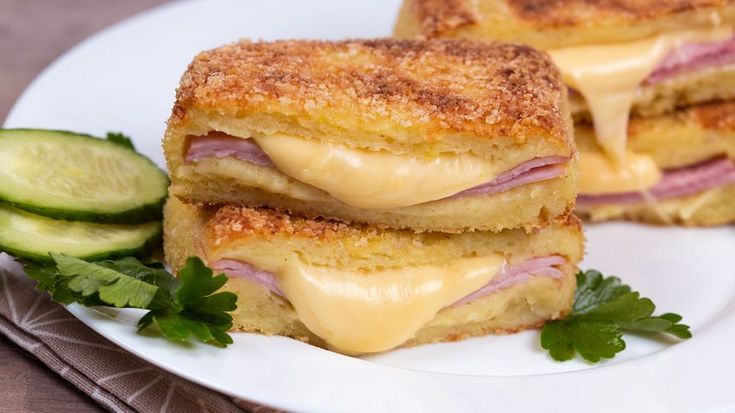 When you need dinner on the table quickly, this dish is hearty and simple to prepare.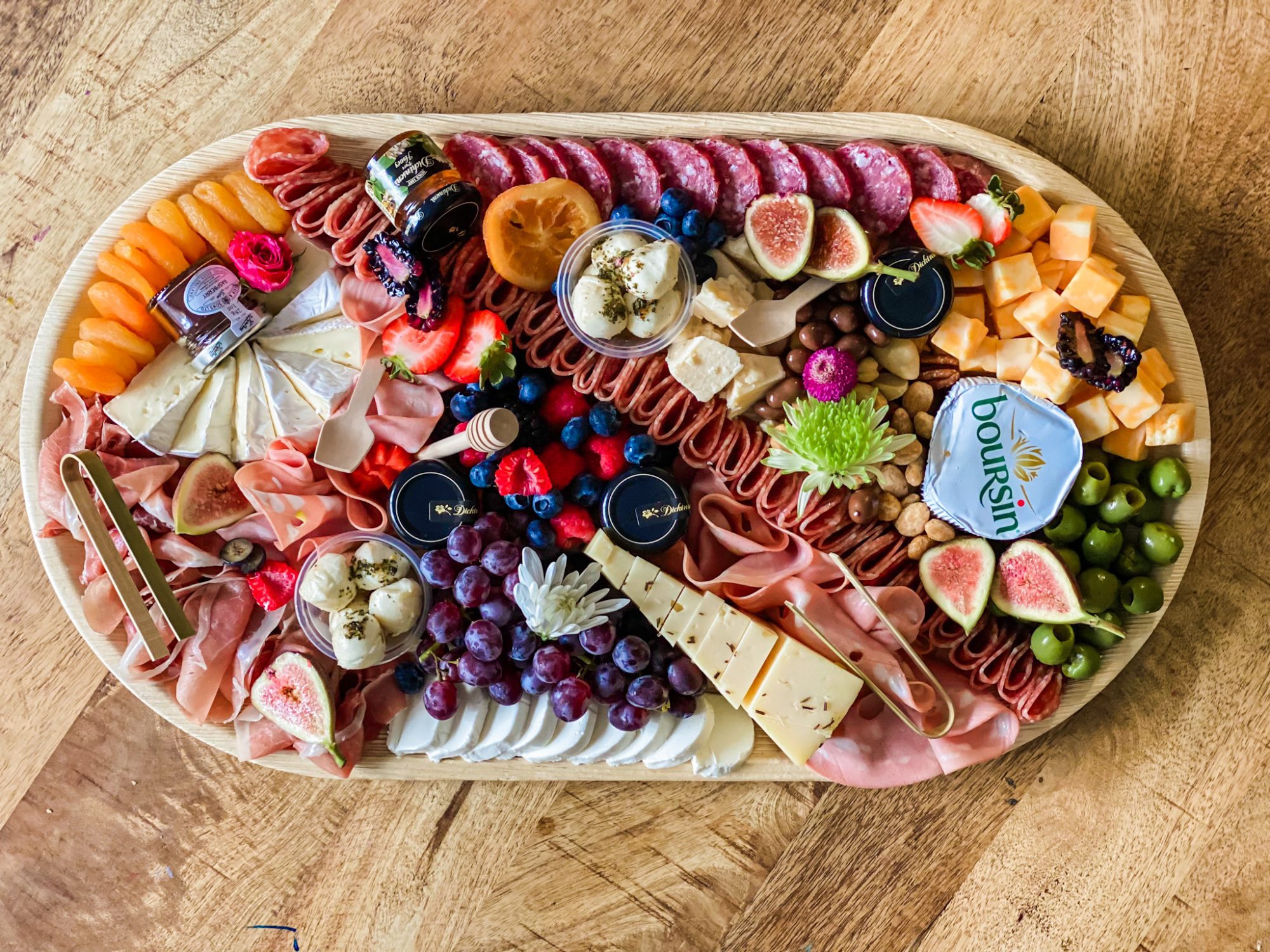 That's just a fancy word for "cheese and meat board." Pre-slice your meats and cheese ahead of time for convenience, or place a knife on the board and allow guests to cut their own.
Print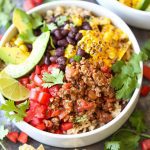 Taco Bowl Recipe
---
Author:

Prep Time:

15 minutes

Cook Time:

10 minutes

Total Time:

25 minutes

Yield:

6

servings

1

x
Description
Taco Bowl dish that is simple to make! This dinner is hearty, full of healthy ingredients, and makes an excellent make-ahead weekly meal prep choice.
---
Cilantro Lime Rice
1

 

cup

 

rice

 

and 2 cups chicken stock, chicken broth, or water

2

 

cups

 

chicken broth

 

or stock or water, for cooking the rice

1

 

tablespoon

 

butter

1

 

large lime

 

(2 tablespoons juice and 1 teaspoon zest)

1/3

 

cup

 

finely chopped cilantro
Taco Meat
1

 

pound

 

extra-lean ground beef

 

85/15 or higher

1

 

tablespoon

 

chili powder

1

 

teaspoon EACH:

 

paprika, cumin

1/4

 

teaspoon

 

ground cayenne pepper

1/2

 

teaspoon EACH:

 

oregano, salt, and pepper

1/2

 

cup

 

mild picante sauce

 

(found right next to salsas in the grocery store)
Toppings
1

 

can (15 ounces)

 

black beans,

 

drained and rinsed

1

 

can (15 ounces)

 

fire-roasted corn, rinsed

Sharp Cheddar cheese (grated), sour cream (fat-free or low-fat is great!), fresh cilantro, fresh lime juice, fresh avocado, fresh tomatoes, or quick pico de gallo
---
Instructions
Cilantro-Lime Rice
2 cups chicken stock, brought to a boil over medium-high heat Return to a boil after adding the butter and rice. Reduce the heat to low, cover, and cook until the rice is soft and cooked through. Combine the lime juice, lime zest, cilantro, and salt & pepper to taste in a mixing bowl.
Meat Tacos
Heat a large skillet over medium heat and add the ground meat. Cook and crumble until thoroughly browned (draining off and discarding any grease). Heat the seasonings (chili powder, paprika, cumin, cayenne pepper, oregano, salt, and pepper) until aromatic. Stir in the picante sauce and heat until warmed through.
Assembly/Meal Prep
To serve as a meal, layer the rice, taco meat, beans, and corn in individual bowls or plates with your favorite toppings such as grated Cheddar cheese, a teaspoon of sour cream, fresh lime, fresh cilantro, fresh diced/sliced avocado, and fresh tomatoes or quick pico de gallo.
See the last line of the blog post for instructions on how to repurpose the pork, beans, and corn into a delicious taco salad.
Meal Prep: Fill your meal prep container with cooked and cooled rice, cooked and slightly cooled beef, beans, and corn. Toppings should be separated into different containers or plastic bags. Refrigerate for 4-5 days after carefully covering/sealing everything. In a microwave or skillet, warm the rice, beef, corn, and beans mixture, then add the prepared toppings.
Notes
Combine 1 cup chopped tomatoes, 2 tablespoons diced red onion, 1 tablespoon diced jalapeo, 2 tablespoons fresh lime juice, and 1/4 cup finely chopped cilantro in a large mixing bowl. Season with salt and pepper to taste.
Category:

Dinner

Method:

None

Cuisine:

American
Nutrition
Serving Size:

6 servings

Calories:

513kcal

Sugar:

1g

Sodium:

590mg

Fat:

10g

Saturated Fat:

4g

Unsaturated Fat:

0g

Trans Fat:

1g

Carbohydrates:

66g

Fiber:

11g

Protein:

40g

Cholesterol:

78mg
Keywords: taco bowl recipe, camping taco bowl recipe, easy taco bowl recipe, camping dinner ideas recipe
Frequently Asked Questions
What food should I bring for 3 days camping?
Bring food suitable for campfire meals, on-the-go meals, and snacks for a three-day camping trip. Eggs for omelets, bread for sandwiches, and rice or pasta for quick dinners are examples of these. For salads, you can also bring potatoes, various meats, tomatoes, cucumber, and lettuce.
What foods are good for camping?
The Camping Food Checklist:
Cereal.
Bread.
Rice.
Milk in powder form.
Crackers.
Eggs.
Beans.
Tuna
What is the most popular camp food?
According to Pinterest, these are the most popular camping recipes:
S'mores with strawberries.
Monkey Bread in the Dutch Oven
Marshmallows with a boozy twist.
Cajun Foil Packets
Bacon-Wrapped Cheesy Hot Dogs
Sunrise in Idaho.
The Omelet in a Bag
Potatoes with three cheeses.
How can I eat cheap while camping?
The 8 Low-Cost Camping Food Options You Should Try:
Oatmeal with Fruit and Nuts.
Macaroni and cheese
Yogurt and granola
Hashbrowns
Pizzas made from scratch.
Sandwiches and wraps are available.
Burgers and hot dogs are available.
Pancakes.
What are the 4 basic groups in planning meals in camping?
For three days of wilderness fun, we've planned breakfast, lunch, dinner, snacks, and dessert. Each recipe serves 4-6 people but can be easily adapted to meet the needs of your family.
What should you eat for a week camping?
8 Simple Camping Recipes to Make Camp Cooking a Breeze:
Nachos over a campfire.
Skewers of chicken tzatziki.
Shrimp cooks in foil packets.
Chickpea curry in a jiffy.
Breakfast sandwiches with sausage.
Pad Thai with chicken
Macaroni and cheese in a Dutch oven.
Primavera pasta in one pot.
How can I eat healthy while camping?
To avoid snacking excessively, bring healthy snacks that provide the same satisfaction as eating something between meals but without the guilt. Fresh fruit, dried fruit, nuts, protein bars, and veggies with hummus are some of our favorite snacks.
What can you cook on a camping stove?
8 simple camping stove meals:
Breakfast in a single pan
Eggs are imprisoned.
Veggie one-pot wonder
Sausage and tomato smorgasbord
Sweet potato casserole
Hash with corned beef
Extravaganza of chicken noodle camping
Chocolate cake with orange filling
What kind of food do you take backpacking?
Backpacking Foods and Meals: The Top 8
Seeds and nuts
Fruit, dried.
Jerky.
Butter made from nuts.
Meals that are dehydrated
Bars with protein.
Oatmeal in a jiffy.
Milk in powder form.
How do you bring eggs camping?
All you have to do is pre-crack your eggs and bring them with you in a mason jar, Nalgene, or even a heavy duty zip-loc bag. Just make sure to place the jar in a wine cooler before packing it in your bag. You can always freeze it if it's in a zip-loc bag!