Baked Ziti With Ground Turkey Recipe (Yummy!)
★★★★★ 5 from 1 reviews
The perfect weeknight dinner is Easy Baked Ziti with savory ground turkey in a pool of zesty tomato-based marinara sauce.
My favorite pasta dishes are those that are quick to prepare and ready in under 45 minutes.
Although turkey baked ziti is simple and requires little effort or ingredients, it is filling and nutrient dense.
Recommended Posts:
WHY YOU SHOULD MAKE THIS EASY BAKED ZITI?
This ziti is incredibly simple to make, thanks in large part to the use of shredded mozzarella as the only cheese.
Oh, and perhaps some grated Parmesan for garnish, but that's it. I've never been a fan of soft cheeses.
However, ricotta and cottage cheese are at the top of my list of cheeses that I despise. Perhaps it's the lumps? It has to be the lumps, of course.
I make this for my family all the time, and I prepare it ahead of time and store it in the refrigerator until ready to cook. It doesn't get any simpler than this.
WHAT IS BAKED ZITI?
Baked ziti is a delicious Italian-American pasta dish. It's loaded with cheese, pasta, sauce, and ground meat that's baked until ooey-gooey and delicious!
Alternative Baked Ziti With Ground Turkey Recipe Video
How to prepare and cook Healthy Recipes: Baked Ziti with Ground Turkey 3 – 16 oz. box whole wheat pasta 2 medium yellow onions, diced 3 pounds ground turkey 6 – 24 oz. bottles of tomato sauce 1 cup Parmesan cheese 1 – 12 oz. package mozzarella
CAN YOU MAKE BAKED ZITI AHEAD OF TIME?
You can certainly prepare baked ziti ahead of time. Here are two approaches:
Brown the turkey, cook the pasta until al dente, shred the cheese, and place all ingredients in an airtight container in the fridge for the next day or two. When you're ready to bake, take all of the ingredients out of the fridge, assemble the baked ziti, and bake as directed.
Assemble the baked ziti in the baking dish, cover tightly with plastic wrap, and place in the refrigerator for a day or two. Then bake as directed.
INGREDIENTS YOU'LL NEED:
Turkey, ground (ground chicken, or beef works too)
Penne pasta made from whole wheat or whole grain (for added fiber)
Cheese Mozzarella (or your choice of cheese blend)
The parmesan cheese (for added flavor but optional)
Tomato-based pasta sauce, either store-bought or homemade (choose your favorite store brand to save time)
WHAT MAKES THIS BAKED ZITI HEALTHY?
Turkey for protein – Instead of beef or sausage, this recipe uses turkey for the meat. You can use them, but turkey is a much leaner meat, so this dish is higher in protein and lower in fat.
Whole wheat pasta – When available, whole wheat pasta is always a better option! Whole grains are much better for you and will help you feel fuller for longer.
Less cheese – This healthy baked ziti pasta recipe contains far less cheese than many other recipes. But I promise you won't miss it – it's perfectly cheesy as it is.
HOW TO MAKE BAKED ZITI WITH GROUND TURKEY?
Brown the turkey in a frying pan, then add chopped onion and minced garlic to the meat along with kosher salt and pepper for flavor.
After the meat has browned, add your favorite tomato-based pasta sauce and allow it to simmer with the meat mixture. This is an excellent time to conduct a taste test to ensure that your meat mixture has been properly seasoned. Add a dash of Italian seasoning for extra flavor.
Boil water, season with a generous pinch of salt, and cook the pasta until al dente (it's important not to overcook your pasta because the ziti will also bake in the oven).
Combine the pasta with the meat sauce (Be mindful of the sauce to pasta ratio as you do not want your pasta to absorb all of your meat sauce which could result in a dry pasta dish).
Place the pasta in a baking dish that has been prepared (that has been rubbed with a little softened butter to prevent sticking).
A generous amount of mozzarella cheese or other cheese blend should be added.
Cover the baking dish loosely with aluminum foil and bake at 400°F until the cheese is bubbling.
Remove the aluminum foil and cook for another 5 to 7 minutes if you prefer a slightly brown crusty top.
HOW DO YOU STORE BAKED ZITI OVERNIGHT?
Baked ziti can be stored overnight in the following ways:
When the ziti has cooled, remove it from the baking dish and store it in an airtight container in the fridge as leftovers for the next day.
After the ziti has baked, leave it in the baking dish and tightly wrap it in plastic wrap to store in the fridge.
HOW LONG DO YOU COOK BAKED ZITI THAT WAS REFRIGERATED?
Cooking refrigerated baked ziti is dependent on two factors:
If you're cooking baked ziti that was made ahead of time, the cooking time may be longer due to the cold temperature of the dish. This may necessitate an additional 10 minutes of cooking time.
If you're warming up leftover baked ziti from the night before – this will take less cooking time because the ziti is already cooked and you're just "heating up" at this point. This could take 10 to 15 minutes in a 375°F oven.
SHOULD I COVER BAKED ZITI IN THE OVEN?
Yes, before putting baked ziti in the oven, cover it with aluminum foil. This is true whether you're making baked ziti or reheating leftovers.
If you do not cover the baked ziti with aluminum foil, the top layer will cook faster than the rest of the baked ziti, resulting in uneven cooking. Furthermore, it will harden and dry the pasta noodles on top.
CAN I USE A DIFFERENT PASTA SHAPE?
If you can't find ziti (a smooth, tubular-shaped pasta), penne or rigatoni can be substituted in this recipe.
Rigatoni is the most similar to ziti, with the exception of having ridges and being slightly shorter and wider.
HOW TO STORE THE LEFTOVERS?
This Baked Ziti can be stored in the refrigerator for up to 4-5 days.
I recommend dividing the leftovers into single servings to allow them to cool quickly in the refrigerator.
This recipe yields 8 large servings, so after they've completely cooled in the refrigerator, transfer a few to the freezer for longer storage.
Then, with a quick microwave, each serving becomes a filling last-minute dinner!
Print
Baked Ziti With Ground Turkey Recipe
---
Author:

Prep Time:

15 minutes

Cook Time:

20 minutes

Total Time:

35 minutes

Yield:

6

servings

1

x
Description
The perfect weeknight dinner is Easy Baked Ziti with savory ground turkey in a pool of zesty tomato-based marinara sauce.
---
1

 

tablespoon

 

extra virgin olive oil

1.5

 

lbs

 

ground turkey

 

(ground chicken or ground beef)

2

 

cloves

 

minced garlic 

(optional )

½

 

cup

 

chopped onions

2

 

teaspoon

 

salt

 

(add more or less to taste)

¼

 

teaspoon

 

black pepper

½ 

teaspoon

 

garlic powder

24

 

oz

 

pasta sauce

 

(your favorite store brand marinara or tomato based pasta sauce)

¼

 

cup

 

red wine

 

(optional)

2

 

cups

 

mozzarella cheese

 

(more or less)

¼

 

cup

 

parmesan cheese

 

(more or less)

1.5

 

cups

 

uncooked penne pasta

 

(or your preferred shape of pasta noodle)

chopped parsley

 

(optional)
---
Instructions
Preheat the oven to 400°F.
To prevent sticking, rub a small amount of butter around the inside of a baking dish. Shred the cheese. Place aside.
Bring water to a boil and cook pasta noodles according to package directions, or until al dente. When finished, drain the pasta. IMPORTANT: Set aside 12 cup pasta water. Set aside some time.
Heat a frying pan over medium-high heat and add the olive olive. When the oil is hot, add the ground turkey. As the turkey browns, add the chopped onion and minced garlic. Season the turkey with salt and pepper and continue to brown it until it is no longer pink.
Add browned turkey to a jar of your favorite pasta or marinara sauce. Taste the sauce to ensure it is seasoned to your liking; if not, season with salt and Italian seasoning to taste. Cook until the alcohol has burned off, then taste again.
If the sauce is too thick for you, add a little pasta water to loosen it up. Stir pasta into sauce until combined (pay attention to the pasta/sauce ratio). Pour into the baking dish that has been prepared. Grated cheese should be layered on top. Cover the baked ziti with foil and bake until the cheese is melted, gooey, and bubbly.
If you want the top to be slightly browned, remove the foil and bake for a few minutes longer, or until the top is slightly browned. Top with parmesan and chopped parsley (optional).
Serve right away and enjoy.
Notes
Keep the sauce-to-pasta ratio in mind; you don't want your pasta to absorb all of the tomato-based sauce, which could result in a dry pasta dish, which you definitely don't want.I
f the sauce is too thick, set aside about 1 cup of pasta water.
Category:

Main Dish

Method:

Bake

Cuisine:

French
Nutrition
Serving Size:

6 servings

Calories:

767kcal

Sugar:

9g

Sodium:

1721mg

Fat:

23g

Saturated Fat:

9g

Carbohydrates:

67g

Fiber:

8g

Protein:

67g

Cholesterol:

142mg
Keywords: Baked ziti with ground turkey recipe, baked ziti recipe, main dish recipe, baked ziti with ground turkey, baked dish
Frequently Asked Questions
Should baked ziti be baked covered or uncovered?
Covered baked ziti should be baked first to keep it moist and not dry out. The cover should be removed at the end of the cooking process.
How is baked ziti different from lasagna?
Baked ziti is not the same as lasagna. Lasagna is made by layering long flat noodles with ground meat, cheese, and sauce. Baked ziti is cooked pasta that has been tossed with meat, cheese, and sauce before being baked.
Can I add vegetables to baked ziti?
Yes, vegetables can be added to baked ziti. We recommend finely diced carrots or chopped spinach.
How do I make baked ziti not dry?
Half of the mozzarella should be layered into the pasta, with the other half reserved for the top. It bakes to a golden brown color, which is the mark of a good pasta casserole. Make sure there's enough sauce to make a layer on top, under the mozzarella. This will keep the pasta from drying out by insulating it.
More Baked Ziti recipes to try:
Baked Ziti with Italian Turkey Sausage and Ricotta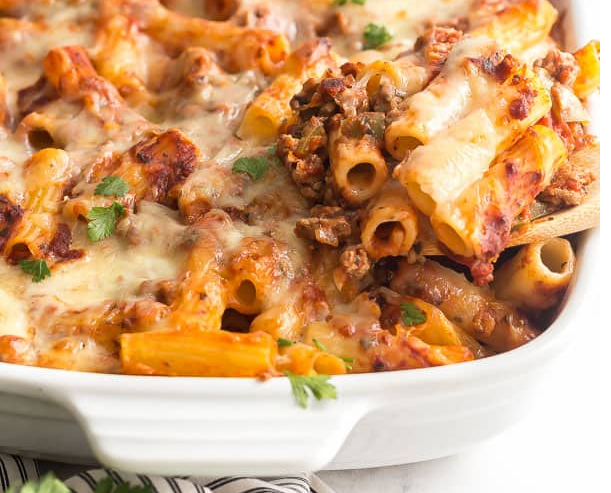 Baked Ziti Ricotta Cheese with Italian Turkey Sausage is a delicious, make-ahead casserole that's great for the whole family and freezes well! A healthier version with the same great flavor!
Italian turkey sausage is one of my favorite things to add to pasta because it's lean, easy to cook, and adds so much flavor that we don't have to go overboard with herbs and spices. I keep a container in the freezer for quick meals like this Baked Ziti!
Baked Ziti with Ground Turkey and Spinach
This simple baked ziti with spinach, zucchini, and mushrooms will have your family clamoring for seconds (and your kids will not grumble about eating their vegetables).
It is not always simple to get children to eat their vegetables. I've even gone so far as to make zucchini noodles or turkey meatloaf with spinach and mushrooms. When you bake them right into the batter, the kids don't notice as much!