Homemade Ground chicken meatballs Recipe!
★★★★★ 5 from 1 reviews
These Chicken Meatballs are made of ground chicken, cooked rice, garlic, and onion, and are coated in a luscious, flavorful, and delicious creamy sauce. Over mashed potatoes, noodles, or steamed Jasmine rice, serve. They're going to be a hit with everyone!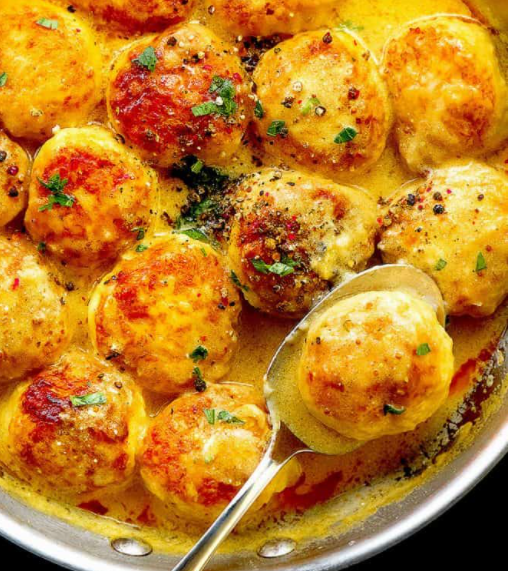 CHICKEN BREAST OR THIGHS FOR JUICY CHICKEN MEATBALLS?
For juicy meatballs, I highly recommend using chicken thighs. I know chicken breast is healthier, lower in fat, and higher in protein, and it will be ideal if you are watching your fat intake, but if you want juicy meatballs, use chicken thighs or half dark meat+half white meat. Grind the chicken with the rice, onion, and garlic. If you grind rice with chicken, I guarantee you that no one will notice.
You can also ask your butcher to grind the chicken for you, and then simply combine the chicken with the other ingredients (chopped onion, garlic , cooked rice and egg)
WHY YOU WILL LOVE THIS MEATBALLS RECIPE
You can make it in 10 minutes.
It is made with real, whole ingredients that you probably have all the time
Perfect meal prep recipe
These meatballs literally goes with everything and they make a healthy and delicious meal
Super juicy and crispy meatballs everyone will love!
They are gluten free!
IS IT BETTER TO PAN FRY OR BAKE CHICKEN MEATBALLS?
Pan-frying meatballs is the quickest way to cook them; sear them quickly over high heat, then add to a simmering creamy sauce to finish cooking.
Bake these meatballs to cut calories. Preheat the oven to 400 degrees Fahrenheit/200 degrees Celsius, place the meatballs in an oven-safe skillet, and bake for 10 minutes to get juicy meatballs on the inside.
Alternative Video Recipe: How to make Chicken Meatballs
Suggested Posts:
WHAT IS GROUND CHICKEN?
Ground chicken is simply raw chicken breast that has been ground up in a meat grinder to make chicken burgers, meatballs like in this recipe, or to add to soups and chilis.
You can make your own ground chicken by putting raw, chopped up chicken breast in a food processor and pulsing it a few times to grind it up, or you can buy it almost anywhere.
HOW DO YOU MAKE CHICKEN MEATBALLS?
In a large mixing bowl, combine ground chicken, eggs, breadcrumbs, Parmesan cheese, olive oil, and seasonings. Mix everything thoroughly, then roll the mixture into 1 inch balls.
Place the uncooked meatballs on a sheet pan lined with foil and bake for 20 minutes. Place the meatballs in the oven and bake until golden brown and cooked through. Serve with a sprinkle of parsley and enjoy.
TIPS FOR CHICKEN MEATBALLS
Ground turkey can be substituted for ground chicken with excellent results.
Choose 93-96 percent lean ground chicken when shopping for ground chicken. Steer clear of 99 percent lean ground chicken breast.
I serve these meatballs with a garlic butter sauce. To make garlic butter sauce, simply heat 4 tablespoons butter, 1 teaspoon garlic, 2 tablespoons fresh chopped parsley, and a pinch of salt and pepper to taste in a saucepan. These meatballs can also be served in marinara sauce or with marinara sauce for dipping.
When forming the meatballs, rub a little cooking oil on your hands. This prevents the meat from sticking to you and results in smoother meatballs.
HOW DO YOU KEEP MEATBALLS MOIST?
There are a few tricks to keep your meatballs moist.
Make sure to use the olive oil specified in the recipe.
Mix the meatballs thoroughly to distribute the eggs and bread crumbs evenly.
Use 93-95 percent lean chicken meat to ensure that the meat retains moisture.
Avoid overbaking the meatballs. When the tops are browned and the insides are cooked through, remove them from the oven.
CHICKEN MEATBALL VARIATIONS
These chicken meatballs are fantastic because they can be used in almost any sauce and can be customized to your liking. Here are some modifications you can make.
Greek style: Add 1/2 cup chopped cooked spinach and feta cheese in place of the parmesan cheese.
Cheese lovers can top the meatballs with 1/2 cup each of shredded mozzarella and cheddar cheese.
Remove the Italian seasoning and replace it with 1 tablespoon chili powder. Instead of parmesan cheese, use shredded cheddar cheese. Instead of parsley, sprinkle a little cilantro on top of the meatballs before serving.
Bacon: To the meatballs, add 1/2 cup cooked crumbled bacon.
Stuffed meatballs: Stuff each meatball with a 1/2-inch cube of mozzarella cheese. When you cut the meatballs open, the cheese will be melted and gooey.
These chicken meatballs bake up crispy on the outside and tender on the inside. They go well with pasta, as a pizza topping, in a meatball sandwich, and as a party snack. The options are limitless!
HOW TO FREEZE HEALTHY CHICKEN MEATBALLS
I recommend freezing the meatballs after they have been fully baked for maximum convenience.
Allow the baked meatballs to cool before placing them on a baking sheet lined with parchment paper.
Place the baking sheet in the freezer (if yours looks like mine, you'll need to make some room first).
Allow the meatballs to harden in the freezer for 1 to 2 hours.
Place the frozen meatballs in a zip lock bag. Squeeze out as much air as possible before sealing.
Meatballs can be frozen for up to 3 months.
You can also freeze the uncooked meatballs by following the same steps as above.
HOW TO STORE AND REHEAT BAKED CHICKEN MEATBALLS
To keep. Cooked and cooled leftovers can be stored in an airtight container in the refrigerator for up to 3 days.
To reheat, preheat the oven to 350°F (if the meatballs are fully cooked) OR 400°F (if they are not fully cooked). Place the meatballs in a baking dish that has been sprayed with nonstick cooking spray. Then, bake until hot, 20 to 30 minutes for cooked meatballs or 25 to 30 minutes for uncooked meatballs (uncooked meatballs should reach an internal temperature of 160 degrees F).
Make sure you're using a metal dish or a baking dish that can go in the oven with frozen food inside. (Some baking dishes will crack if placed in a hot oven with cold ingredients.)
RECIPE TIPS
Make use of the best chicken you can afford. I used pasture-raised organic ground chicken.
If you measure and roll the meatball mixture into 1 tablespoon size meatballs, these meatballs are perfectly cooked in 7 minutes.
Place the meatballs in the air fryer basket in a single layer to prevent them from sticking together and to ensure even cooking on all sides.
Use an air fryer parchment liner to make cleanup easier, or simply spray the air fryer basket with cooking spray. I also spray the liner to prevent the meatballs from sticking to it.
Allow them to cool for a few minutes before serving because they will continue to cook slightly while cooling.
Place the chicken meatballs on a baking sheet lined with parchment paper and bake at 400 degrees F for 20-25 minutes.
Print
Ground chicken meatballs Recipe
---
Author:

Prep Time:

10 minutes

Cook Time:

30 minutes

Total Time:

40 minutes

Yield:

4-6
Description
These Chicken Meatballs are made of ground chicken, cooked rice, garlic, and onion, and are coated in a luscious, flavorful, and delicious creamy sauce. Over mashed potatoes, noodles, or steamed Jasmine rice, serve. They're going to be a hit with everyone!
---
Chicken ( tender chicken breasts or thighs)- 1 kg or 2.2 pounds
Cooked rice ( cooled)-1 ½ cup
Small onion ( chopped)- 1
Garlic cloves -1
Large egg-1
Onion powder- 1 tsp.
Garlic powder- ½ tsp.
Paprika-1 tsp.
All-purpose flour – ⅓ cup, for dredging
Vegetable oil for frying
Salt- as needed
Unsalted butter-2 tbsp.
All-purpose flour-2 tbsp.
Chicken broth- 2 cups
Sour cream/ Cream cheese-¼ cup
Paprika-1 tsp.
Dijon mustard-½ tsp.
Salt-to taste
Fresh parsley ( finely chopped)-1 tbsp.
Black pepper- ½ tsp or as needed
---
Instructions
Grind the chicken, rice, garlic, and onion in a meat grinder, then season with onion powder, garlic, salt, and paprika. Mix in the egg for around 5 minutes.
Coat the meat into balls using your hands or a meat baller, then roll them in all-purpose flour, dusting off any excess. Place on a wide tray to cool.
3 tbsp. butter, heated in a big skillet over medium heat with a tablespoon of vegetable oil Transfer the meatballs to a platter after gently sautéing them until cooked through, about 4 minutes per side.
SAUCE. Melt butter in a skillet (you can use the same one), then whisk all-purpose flour until lump-free and golden in color. Stir in Dijon mustard, chicken broth, sour cream, and paprika. Cook until the sauce has thickened. Salt and black pepper to taste.
Return the meatballs to the skillet and cook for another 2 minutes before sprinkling with chopped fresh parsley.
Category:

Dinner

Method:

Pan Fry

Cuisine:

Russian
Nutrition
Serving Size:

4-6

Calories:

308kcal

Sugar:

1g

Sodium:

1000mg

Fat:

17g

Saturated Fat:

4g

Unsaturated Fat:

12g

Trans Fat:

0g

Carbohydrates:

3g

Fiber:

1g

Protein:

39g

Cholesterol:

184mg
Keywords: Ground chicken, meatballs, chicken meatball, Dinner
FAQs Ground chicken meatballs Recipe
Why are my chicken meatballs tough?
Meatballs that are packed too tightly together cook up tough, rubbery, and chewy. When it comes to forming meatballs, being gentle is the name of the game. Consider oiling your hands to prevent the mixture from sticking to them, and then form the meat into evenly sized balls gently and quickly.
How do you keep ground chicken moist?
The first and most important step is to incorporate some type of fat. Working some full fat yogurt into your chicken meatball mix is a killer addition—it adds both fat and moisture, making it a must-have.
How do you know when ground chicken meatballs are done?
Cook the chicken meatballs for 20 minutes, or until golden brown. Insert a meat thermometer into one of the meatballs to determine the internal temperature. When the center temperature of the chicken meatballs reaches 165 degrees Fahrenheit, they are done. After cooking, remove the baking tray from the oven.
How do I make ground chicken not dry?
It is critical to add moisture to your mixture to avoid dense or dry cooked ground chicken. This can be accomplished in a variety of ways. When making meatballs, for example, try incorporating some Greek yogurt or soaked breadcrumbs.
Why do you put milk in meatballs?
A small amount of milk will moisten your meatballs. (Many people believe that the eggs add moisture, but their role is to bind the meat, breadcrumbs, cheese, and herbs together.)
More Recipes to try!
Ground Chicken Patties or Meatballs
Grain-free, dairy-free, and carb-free. I found some cheap ground white chicken breast and intended to create meatballs, but I got lazy and turned them into patties at the last minute. Here's how I came up with the recipe. If I do say so myself, they were wonderful. If preferred, serve with a dipping sauce.
GROUND CHICKEN MEATLOAF
This Ground Chicken Meatloaf recipe is deliciously cheesy, nutritious, and simple to prepare! Make a loaf, meatloaf muffins, or meatballs out of it. You'll love this nutritious comfort dinner, which is also low in carbs, in any form.