40 Easy and Simple Crowd-pleasing Dinner Party Ideas
★★★★★ 5 from 1 reviews
We've compiled a list of dinner party ideas, recipes, menu suggestions, and preparation tips. Explore our impressive appetizers, main dishes, side dish recipes, and desserts that will leave you with a wow factor at the end of the meal.
Try our dinner party main course ideas for fuss-free entertaining, which range from simple crowd-pleasing recipes to more impressive dishes for special occasions.
DINNER PARTY IDEAS FOR ADULTS
Add truffle to a creamy chicken and potato gratin for a touch of luxury. A great comfort dish to serve in the winter or when you want to treat yourself.
Using our ultimate recipe, select the freshest ingredients for a world-class paella. To impress your guests, serve this classic Spanish seafood dish in a pan.
Serve these lightly spiced lamb chops on a bed of broad bean pesto to impress your dinner guests. Serve with fennel fronds, olive oil, and lemon drizzle.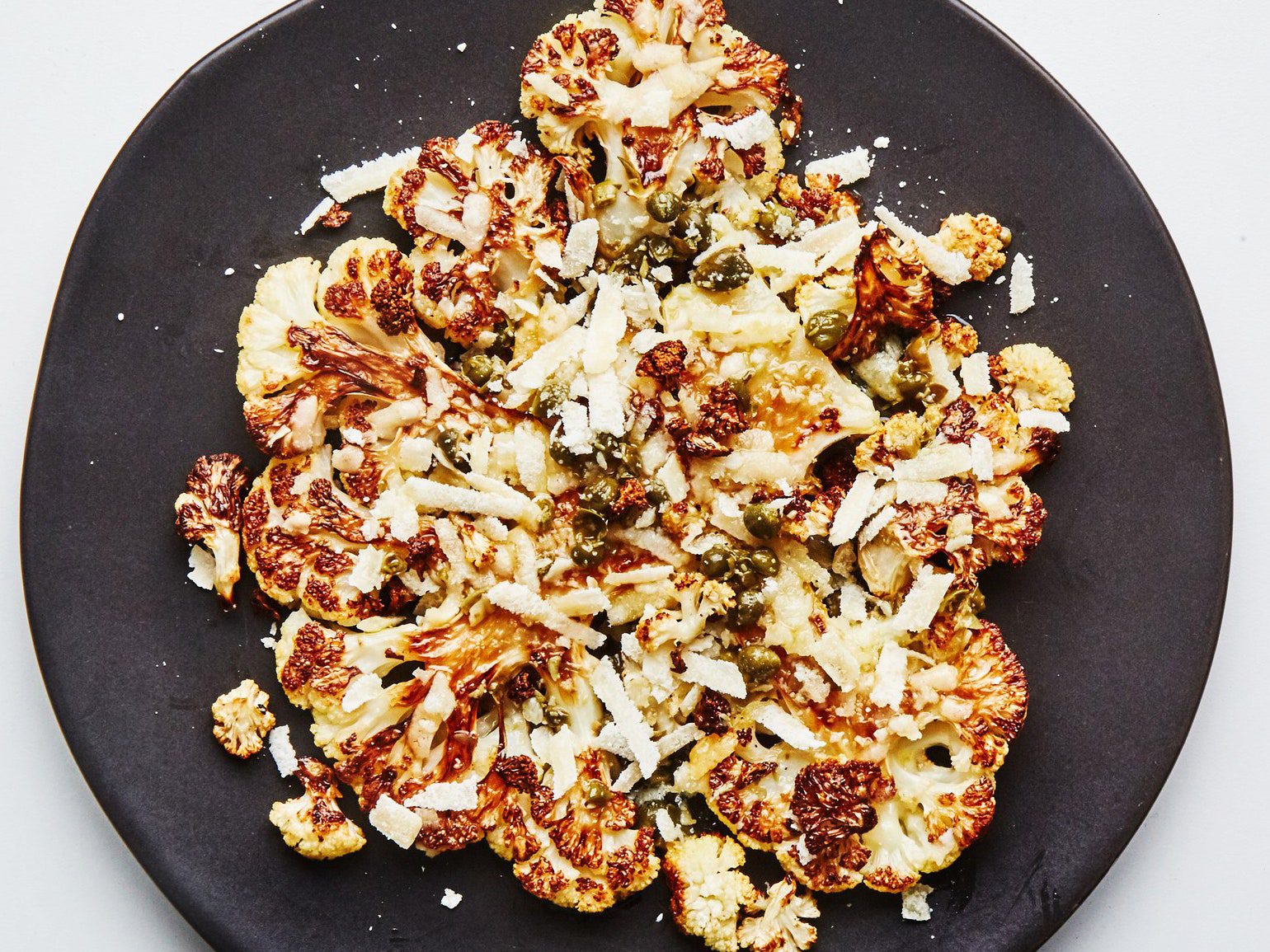 This method of cooking cauliflower imparts a richness that is balanced by the dressing. It makes an excellent side dish for a roast dinner and can also be served as a vegetarian main course.
Alternative Video: 10 Easy and Fancy Dinner Recipes
Recommended Posts:
Enjoy lobster thermidor as a celebratory appetizer or opulent main course. We gave the dish a facelift while keeping its original charm.
Make this traditional Indian dish for tender lamb with paneer, rice, and spinach, all spiced to perfection. Excellent for casual entertaining.
FAMILY DINNER PARTY IDEAS
Looking for a new easy dinner recipe or something to wow your dinner guests with? This Chicken Scarpariello might be just what you're looking for. Chicken Scarpariello is a traditional Italian dish that consists of braised chicken, sausage, and peppers in a sweet and sour sauce.
This warming tomato-based soup stuffed with tender veggies, al dente pasta, and creamy white beans is a traditional Italian dish whose name means "pasta and beans."
It's rare to find a vegan recipe that tastes as good as the original, but this vegan lasagna comes close. It's the ideal substitution for a family-style recipe for an Italian feast that adheres to everyone's dietary restrictions.
In an air fryer, combine butternut squash, carrots, and aromatics to make dinner in minutes. For a craveable crunch, top the finished product with a garlicky pepita topping.
This Szechuan-inspired recipe calls for ramen noodles tossed in a creamy peanut sauce and topped with crispy, pan-fried pork.
Homemade crispy coated chicken is a crowd pleaser that pairs well with an easy barbecue side dish for the most delectable summer dinner.
EASY DINNER PARTY IDEAS
Do you want to make pizza that is suitable for a dinner party? Let's make Sheet Pan Pizza Party! This pizza is a little different than the standard circular variety, but it's a crowd pleaser. It makes a large pan, which is the equivalent of three medium pizzas, and it's incredibly simple to make.
Everyone will be impressed by these shrimp and grits! This restaurant-style Cajun recipe is ideal for a dinner party. The grits are intensely creamy and savory, and the shrimp is exceptionally tender, all topped with a luscious veggie gravy.
A terrific lasagna makes an excellent centerpiece for a dinner gathering, and this one is outstanding. The tomato sauce is zingy and garlicky, and the spinach ricotta cheese filling is classic and creamy.
Genuine homemade falafel is on the top of our list of dinner party ideas! It's best to eat them in sandwich form: the crunch of the fried chickpea fritters and the sauces that flow down your chin….pretty it's much the ultimate sandwich.
Tender sweet potatoes complement the savory black beans and zesty salsa verde. It's the finest gooey comfort meal around when topped with Colby cheese. We guarantee that everyone will enjoy this one.
Every once in a while, you stumble across a recipe that is a cut above the rest — one that makes everything else you've made pale in comparison. This is the Vegetarian Meatloaf!
CASUAL DINNER PARTY MENU IDEAS
Even if they don't like all of the components, my guests enjoy this casserole! People who don't like broccoli, for example, don't mind it in this dish. And I adore how simple it is to prepare and serve when guests arrive.
I originally heard about this unique pizza from a buddy who had it at a restaurant. It encouraged me to develop my own recipe. There's no dispute about the potatoey goodness of this pizza based on how quickly the slices disappear.
When I was growing up, this fork-tender Swiss steak with thick gravy was a popular main course in our house. Mom took great delight in providing hearty dinners like these for our family and guests.
I enjoy serving this tender, delicious pork to my guests. It doesn't require much effort in the kitchen to cook, but it tastes like a gourmet supper.
Since I initially moved out on my own years ago, I've relied on this recipe for tender turkey. I serve it anytime I have new people over, and I'm always writing down the recipe.
ELEGANT DINNER PARTY MENU IDEAS
Slow cookers are the unspoken secret to pleasant cooking. The magic happens in the pot, and you don't even have to be present to witness it.
A grill is a host's best friend when it comes to dinner parties. For the finest flavor, make the marinade in the morning. Then you're all set for the party. The steak will only require a few minutes of grilling on each side, followed by a few minutes of resting.
Don't be fooled by the cooking time: this recipe is a breeze. The most of the time is spent boiling the onions in butter (hello, savory house aroma!) and roasting the onions just before serving.
Prep this recipe for 15 minutes ahead of time, then place the fish and vegetables on a sheet pan and bake for 25 minutes. With Brussels sprouts, delicata squash, and radicchio, you've created an impressive, healthful, and company-worthy meal.
Steamed mussels in white wine are extremely excellent. And they couldn't be any simpler. Cook the mussels in a large pot with the wine, onions, and fresh herbs for 5 minutes over high heat, or until the mussels open.
SUMMER DINNER PARTY IDEAS
Steamed mussels in white wine are delicious. And they couldn't be easier. Cook the mussels, wine, onions, and fresh herbs in a large pot for 5 minutes over high heat, or until the mussels open.
This is the most opulent it gets. A large bowl of mussels smothered in an incredible, out-of-this-world sauce. It doesn't have to take place in a posh restaurant. They are ideal if you want to prepare a great seafood dish on a special occasion this summer.
This quick and simple Albacore Tuna Tataki Bowl is bursting with Asian flavors. This summer, instead of going out to eat at a sushi restaurant, create this delicious lunch at home.
Would you cook this chicken dish if I only said three things to you? Super simple, super quick, and super tasty!! It's actually quite smart and attractive!
The ideal dish for serving a large group. This massive Hamburger Board. Don't be concerned about what to serve the folks. Assemble everything on a huge board and instruct them to assemble their own burgers.
Do you need a nutritious supper to wash down those summer hamburgers and ice cream cones? Try this refreshing and delectable Buddha Bowl. In case you haven't heard, Buddha Bowls are the next craze! It's vibrant and delicious.
CHEAP DINNER PARTY IDEAS
It must be spring when I see Meyer lemons at the grocer. I like to use them for these quick chicken kabobs, but normal grilled lemons have the same smoky taste.
No of the weather, you can find me grilling. This moist pork tenderloin has tons of flavor thanks to its particular spice combination, and it doesn't get much easier to create. My wife, in particular, appreciates the fact that she is not required to cook!
When my wife is in the mood for comfort food, I make this chicken pot pie with puff pastry. It's simple to cook, adheres to your ribs, and packs a soul-satisfying flavor punch.
This fruit and vegetable salad is usually a hit with my family. If strawberries aren't available, mandarin oranges and dried cranberries can be substituted.
We love to turn meals into occasions, and antipasto is the perfect way to start an Italian dinner party. This one is almost too gorgeous to eat, especially with the pimientos, fresh basil, and parsley sprinkled on top.
Print
Marinated Olives and Cheese Ring Recipe (Dinner Party Ideas)
---
Author:

Prep Time:

15 minutes

Cook Time:

0 minute

Total Time:

15 minutes

Yield:

16

servings

1

x
Description
Entertaining does not have to be difficult. This simple marinated olives and cheese ring appetizer is both beautiful and tasty. It is the perfect appetizer for the holidays, parties, or wine night! Make it for your next special event!
---
½

 

cup 

white wine vinegar

½

 

cup

 

olive oil

1

 

tsp

 

sugar

 

(omit if low-carb)

½

 

tsp

 

celery salt

1

 

tsp

 

basil

½

 

tsp

 

red chili flakes

8

 

oz

 

cream cheese block

8

 

oz

 

mozzarella cheese block

8

 

oz

 

Monterey Jack cheese block

6

 

oz

 

pitted Kalamata olives, drained 

7

 

oz

 

garlic stuffed green olives
---
Instructions
In a small bowl, combine white wine vinegar, olive oil, sugar, celery salt, basil, and red chili flakes. Place aside.
Cut cream cheese block in half lengthwise. Using a 14-inch slicer, cut the bread into 14-inch slices.
14-inch slices of mozzarella and Monterey Jack cheese
On a platter, arrange cheese slices upright in a ring with one slice of mozzarella, one slice of Monterey Jack, and one slice of cream cheese until you form a complete circle.
Combine drained olives and place in the center of the circle.
Drizzle the dressing mixture over the entire dish, being careful to cover the olives and cheese.
Cover and leave to marinate for at least an hour. Serve.
Notes
This chic appetizer is extremely adaptable. Any cheeses will work in place of the cream cheese and sharp cheddar. Just keep the overall weight the same.
Fold thin slices of deli cuts like pepperoni and salami in half and tuck them between the cheese slices for more variety.
Category:

Appetizer

Method:

None

Cuisine:

American
Nutrition
Serving Size:

16 servings

Calories:

202kcal

Sugar:

1g

Sodium:

705mg

Fat:

17g

Saturated Fat:

5g

Unsaturated Fat:

0g

Trans Fat:

0g

Carbohydrates:

3g

Fiber:

0g

Protein:

9g

Cholesterol:

24mg
Keywords: marinated olives and cheese ring, appetizer recipe, easy marinated and olives recipe, dinner ideas
Frequently Asked Questions
What should I make for dinner guests?
8 Simple Dinner Party Recipes:
Steak Sirloin Tip
Popovers with Cheddar and Chives.
Pot Pie with Chicken.
Cheese platter.
Rolls.
Crostini.
Rolls of pizza
Salmon with a honey glaze.
How do you have a casual dinner party?
The Dos and Don'ts of Dinner Parties
When your guests arrive, don't start cooking.
Make everything ahead of time.
Make it a point for everyone to contribute a dish.
At least three courses must be served.
Don't let everyone gorge themselves on bread.
Only prepare show-stopping delicacies.
You'll need plenty of furniture and dinnerware.
Continue to pour the wine.
What is a good birthday dinner?
Birthday Dinners That May Outperform the Cake
Steakhouse Sheet-Pan Dinner
Coq au Vin Skillet (Cooking for 2)
Bolognese in the Crockpot
Dinner with Lemon-Herb Roast Chicken
Traditional Beef Stroganoff
Lemon-Pepper Chicken with Green Olives and Potatoes in the Slow Cooker
Everything Bagel-Seasoned Chicken with Cream Cheese Stuffing
What do you serve last minute guests?
Lifesavers include canned beans, jarred olives, artichokes and peppers, crackers, Chex mix, dried spaghetti, jarred sauce, seltzer, and even baking ingredients.
What should I serve my friend for dinner?
7 Simple Dinner Party Recipes:
Pumpkin Beer-Braised Chicken in the Slow Cooker
Chicken in a One-Pan Sauce with Creamy Sun-Dried Tomato Pesto.
Lamb in the Slow Cooker with Olives and Potatoes
Roast Pork Loin with Garlic and Rosemary
Pasta flavored with chorizo and chickpeas.
Shrimp Curry in Thai Style
Milk-soaked chicken.
What are some good main dishes?
Favorite Main Dishes in the Top 8:
Enchiladas con carne.
Kielbasa and Sauerkraut with Beer and Brown Sugar
Mango Dipping Sauce with Coconut Shrimp
Crab Cakes Served with Remoulade Sauce
Meatloaf is my favorite.
Frito Pie
Chicken General Tso's.
Tzatziki Sauce on Greek Lamb Gyros
How do you throw a classy party?
8 Tips for a Simple yet Elegant Cocktail Party
Do as much as you can ahead of time. Do everything prior to it.
Allow your guest to take on the role of bartender.
Purchase Extra Glassware.
Learn to master the cheese plate.
Make your visitors feel at ease.
Don't go overboard.
Play some music
Leave the cleaning to the last minute.
What time should a dinner party start?
With the three-hour rule in mind, schedule your dinner gathering to begin between 7-8PM. We recommend 7 p.m. since it offers you more time to serve the food and allows for a longer wait between dishes.
What is the number 1 food in the world?
The most famous meal in the world is most likely Italian pizza. Pizza left Italy's boundaries a long time ago and is now devoured all over the world.
What is the most eaten food in the world?
Rice is without a doubt one of the world's most popular foods. Rice has been consumed in significant regions of the world for over 5,000 years. When compared to the other grains, rice is unquestionably the most consumed.