42 Adorable Easter Dessert Ideas To Make This Year!
★★★★★ 5 from 1 reviews
These desserts are far superior to anything the Easter Bunny may have placed in your basket. We've got plenty of twists to try, from carrot cake cheesecake to banana pudding bars, as well as the classics you know and love.
Do you want to see more Easter Dessert Ideas? Check out our entire Easter collection, which includes everything from hard-boiled eggs to pretty cakes.
NO BAKE EASTER DESSERT IDEAS
Are you looking for a quick Easter dessert? These No-Bake Mini Cheesecakes for Easter are ideal! They're adorable pastel striped cheesecakes that are easy to make and don't require any baking!
These adorable Mini Egg Rice Krispie Nests are a fun no-bake Easter dessert that kids will enjoy making! I adore these adorable little egg nests! They're simple to make, adorable, and delicious.
This simple White Chocolate Popcorn recipe is a festive holiday snack. Pastel candies and colorful sprinkles add a fun pop of color to this Easter popcorn mix! It's the ideal snack for movie nights or as a party favor.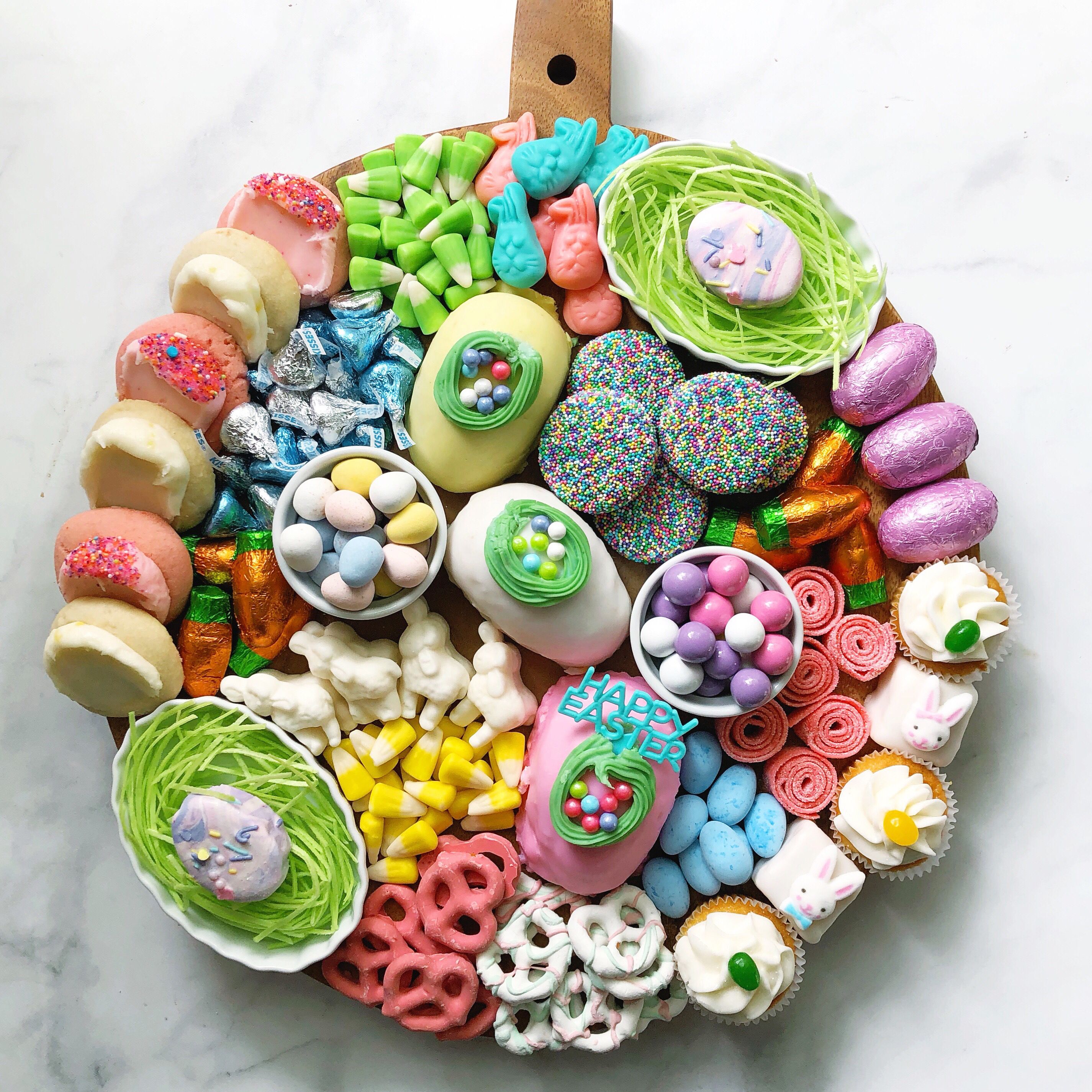 This is also cute! I love the bright colors and the fact that they're made entirely of pretzels and yogurt. This is a healthier option that will be a popular Easter treat.
Alternative Video: Easter Treats Ideas
Suggested Posts:
Bunny Chow with Chex Mix is a fun holiday treat that both kids and adults enjoy! An easy and delectable Easter treat idea that is highly addictive! Serve it at your next get-together and watch it vanish!
Pretzels and goodness are used to make these candy haystacks. You can make them in a variety of colors, making them suitable for almost any occasion.
TRADITIONAL EASTER DESSERTS
This moist cake is the one I have asked my mother to make for my birthday every year. It's flecked with sweet carrots and flavored with cinnamon. The fluffy buttery frosting is delicious, especially with the chopped walnuts mixed in.
For years, I've been making this traditional Easter dessert. Everyone who enjoys marshmallows will enjoy these candy eggs.
A dazzling dessert of meringue shells filled with bright lemon curd is one of our favorites. It's crunchy and fluffy, sweet and tart. Whipped cream and berries on top.
The rhubarb flavor in this tart complements the honey and amaretto well. Mascarpone cheese adds richness and creaminess. For truly decadent tarts, I'll even double the rhubarb.
With this delicious strawberry trifle, I took first place in a dairy recipe contest. For larger groups, double the recipe and make two.
EASY EASTER DESSERT
This delectable Southern blueberry bread pudding has an out-of-this-world flavor and appearance. You might want to skip the main course entirely and go straight to dessert. It's a summertime favorite at our house.
This citrusy cake with luscious cream cheese frosting will be well received. The flavor, a duet of sweet and tangy notes, sings beautifully.
Our Test Kitchen shares this recipe for a basic cheesecake that is delicious on its own or with a variety of garnishes.
When I have ripe bananas on hand, I make these banana bars with cream cheese frosting and freeze them to share later. This treat is a crowd-pleaser thanks to its creamy frosting and strong banana flavor.
I found this recipe in a newspaper many years ago and adapted it to my preferences. This is my all-time favorite cake, and all of my family and friends adore it.
In our farmhouse kitchen, I grew up helping my mother make a variety of dishes, including roasts, soups, pies, and strawberry shortcakes. This bright strawberry shortcake recipe reminds me of summers spent on the farm with my family.
LIGHT EASTER DESSERT
Don't have time to bake this Easter? Not a problem! This strawberry icebox cake has all of the sweet, fruity flavors of spring without the oven. Best of all, it comes together in under 30 minutes and serves a crowd, so you'll have a holiday treat on the table in no time.
The fresh, zingy flavor of these flaky lemon bars screams spring. This recipe contains more lemon juice than most, giving the squares a bright, sweet-tart flavor. They're also topped with a lemon frosting, which adds to the citrus flavor.
If you used to play the recorder in elementary school, these hot cross buns might bring back memories of the simple song. You'll understand why the sweet, citrusy rolls are something to sing about once you try them!
Carrots, finely grated, give this classic cake a moist, chewy texture as well as an extra dose of vitamins. Pineapple and shredded coconut add tropical flavor and a layer of sweetness to the cake while keeping it extra crumbly and melt-in-your-mouth tender.
Try this sweet, white icing-topped Easter bread for a festive breakfast or as a dessert. Colored sprinkles transform it into a festive treat that goes well with a cup of coffee or tea and a generous pat of butter.
POPULAR EASTER DESSERT
Why pay for Cadbury Creme Eggs when you can make your own? These imitation eggs may not be as smooth on the outside as the original, but they taste just as good and are less expensive!
Peeps are one of the most popular Easter candies. You're bound to have a plethora of them lying around, so why not use them to create the ideal dessert? Peeps Krispie treats are sweet, crisp, and crunchy, as well as visually appealing. They're also incredibly simple to make!
You only need two ingredients to make a dangerously addictive Easter treat. Stuff a piece or two of Peeps into your favorite chocolate chip cookie dough batter and bake as directed.
This Italian bread is made of brioche in the shape of a wreath with a colored Easter egg in the center. This bread, flecked with pastel-colored sprinkles, is the ultimate festive Easter treat!
This dessert is a creative way to turn leftover Peeps into a pretty and tasty Easter treat. Plain popcorn is coated with melted Peeps and formed into bite-sized balls to make Peeps popcorn balls. These guys are adorable, pink, and fantastic!
This next dessert is a southern classic that is suitable not only for Easter but also for any other time of the year. You'll get layers of bananas, custard, Nilla Wafers, and a golden meringue topping with this dessert.
CREATIVE EASTER DESSERT
Every Easter, we make it again. The memory is so precious to me that I keep the lamb mold as a decoration in my kitchen, next to my cookbooks. Make sure to thoroughly grease and flour the mold so that the cake does not stick.
The cream cheese adds to the rich flavor of these melt-in-your-mouth cookies. Because they have such a nice flavor, you can skip the frosting and instead sprinkle them with colored sugar.
Easter is won by this cake. Use a store-bought ice cream cake to focus on homemade decorations, such as a coconut-covered ice cream bunny tush and candy melt carrots.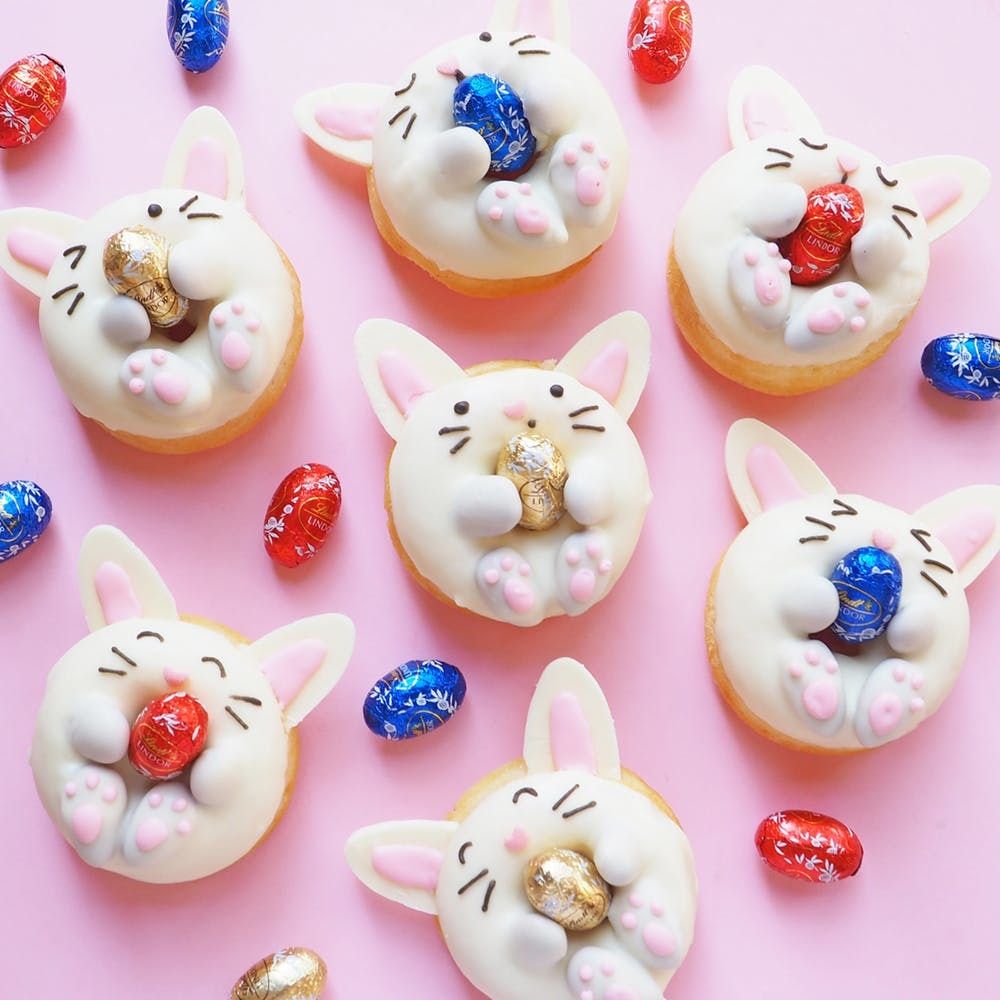 Finally, a way to eat chocolate for breakfast that is socially acceptable. If you don't have a donut pan, don't worry; you can make Easter bunny muffins instead.
To add an extra bite of fun, hide a sandwich cookie at the bottom of these adorable cupcakes! What's the best thing about these adorable cupcakes? At the bottom, there's a surprise Oreo cookie!
Coming up with the perfect dessert can just feel like one more thing to an endless to-do list, and as each day creeps closer to the big holiday, you deserve a few shortcuts. No bunny will believe these no-bake mini cheesecakes only took 10 minutes to make.
BEST CHOCOLATE EASTER DESSERTS
Serve this decadent Easter dessert filled with crushed biscuits and a creamy cheesecake filling in hollow chocolate eggs to family and friends.
This adaptable chocolate bark is brimming with Easter treats. To make a great homemade gift, top with whatever treats you want and break into shards.
Make this super simple chocolate cake with just a few store-bought ingredients. To keep it moist and fruity, use marmalade (or jam if you prefer).
Mini eggs are tucked inside these delectable brownie bites; they're a perfectly sized sweet treat that's fun to make with the kids during the Easter holidays.
Make an indulgent hot chocolate with leftover chocolate from Easter eggs. For a truly decadent drink, top with squirty cream and marshmallows.
A slice of spectacular Easter chocolate tart is the ideal way to end a meal. This simple chocolate egg filled dessert is simpler than you might think.
Print
Chocolate Egg Bake Tart Recipe (Easter Dessert Ideas)
---
Author:

Prep Time:

20 minutes

Cook Time:

30 minutes

Total Time:

50 minutes

Yield:

12

servings

1

x
Description
A slice of spectacular Easter chocolate tart is the ideal way to end a meal. This simple chocolate egg filled dessert is simpler than you might think.
---
For the base
80g

 butter , softened

40g

 golden caster sugar

120g

 self raising flour
For the filling
75g

 butter

100g

 dark chocolate (70% cocoa)

75g

 golden caster sugar

50g

 plain flour

4

 large eggs , beaten2 x

80g

bags of chocolate eggs (we used Galaxy Golden Eggs)
crème fraîche , to serve
---
Instructions
To make the shortbread base, cream together the butter and sugar until light and creamy, then stir in the flour. Place the dough in the base of a 20-21cm tart tin and chill for 20 minutes to harden.
Preheat the oven to 180°C/160°C fan/gas 4. Prick the base all over with a fork and bake for 15 minutes, or until lightly golden.
Meanwhile, in a saucepan over low heat, melt the butter and chocolate together. After the butter has melted, stir in the sugar and flour, then gradually beat in the eggs. Cover the top with chocolate eggs after pouring the filling over the base. Return to the oven and bake for 12-15 minutes, or until the fiilling is just set around the edges but still shiny and a little wobbly in the center. Remove from the oven and place in the refrigerator to cool. Can be made a day ahead of time and stored in the tin overnight. Warm the sides of the tin with a hot dishcloth for a few minutes before removing from the tin. With crème fraîche, serve.
Category:

Dessert

Method:

Oven

Cuisine:

American
Nutrition
Serving Size:

12 servings

Calories:

81kcal

Sugar:

9g

Sodium:

84mg

Fat:

9g

Saturated Fat:

8g

Unsaturated Fat:

0g

Trans Fat:

0g

Carbohydrates:

15g

Fiber:

8g

Protein:

35g

Cholesterol:

98mg
Keywords: easter dessert ideas, chocolate egg tart, chocolate egg baked tart recipe, tart dessert
Frequently Asked Questions
What is a good Easter treat?
These Easter treats are sure to bring smiles, from marshmallow bunnies to chocolate-covered eggs to carrot garden ice cream dessert. They are suitable for both children and adults. The Easter Bunny has a lot of work ahead of him.
What is the most famous dessert in the world?
The World's 8 Most Popular Desserts:
Brulee (Creme Brulee) (FRANCE)
Mochi's ( JAPAN)
Apple Tart (USA)
The Nanaimo Bar (CANADA)
Jamun Gulab Jamun (INDIA)
Pakhlava (TURKEY)
Kardinalstiche (AUSTRIA)
Dadar Gulung (INDONESIA)
What are the dessert items?
Desserts include biscuits, cakes, cookies, custards, gelatins, ice creams, pastries, pies, puddings, macaroons, sweet soups, tarts, and fruit salads.
What is the most loved dessert?
America's Most Iconic Desserts:
Cookies with chocolate chips
Pie with apples.
Cheesecake.
Pie with pecans.
Cake with carrots.
It's ice cream.
Cream pie from Boston.
Pudding with bananas.
What is your favorite type of dessert?
The most popular desserts in America are cheesecake, cupcakes, jell-O, carrot cake, apple pie, ice cream, brownies, chocolate chip cookies, and chocolate cake.
Which country has best dessert?
The World's Best Dessert in 8 Countries:
Crème Brûlée from France.
Apple Pie, America.
Baklava from Turkey.
Gelato from Italy.
Picarones, Peru.
Syrniki, Russia
Tarta de Santiago, Spain
Mochi from Japan.
What makes a good dessert?
Desserts, like any other dish, must have a variety and balance of textures, flavors, temperatures, colors, shapes, and heights.
How important is dessert in a meal?
Their presence on the menu makes us feel full after eating and compensates for low blood sugar levels. The desire to improve your mood by consuming sugar can also play a role. Sweet snacks stimulate the production of the so-called happiness hormone. Your habits play a significant role as well.
Is chocolate considered a dessert?
But it's mostly a dessert. Because it's something you shouldn't eat in large quantities, I can only recommend it as a dessert or a small snack.
How do I make my favorite dessert paragraph?
My favorite dessert is a classic chocolate cake with chocolate icing, which may sound corny. Just the smell of chocolate baking in the oven will make your mouth water. Here are some simple instructions for making my favorite dessert at home. It won't be as good as the bakery's, but hey, they're professionals.