20 Ideas for Best Irish Desserts
Have you ever visited Ireland and gotten a kick out of the sweets? Or perhaps you adore Irish culture and wish to sample some of their local Irish desserts? Discover the best Irish desserts ideal for the holidays and throughout the year by reading the information below!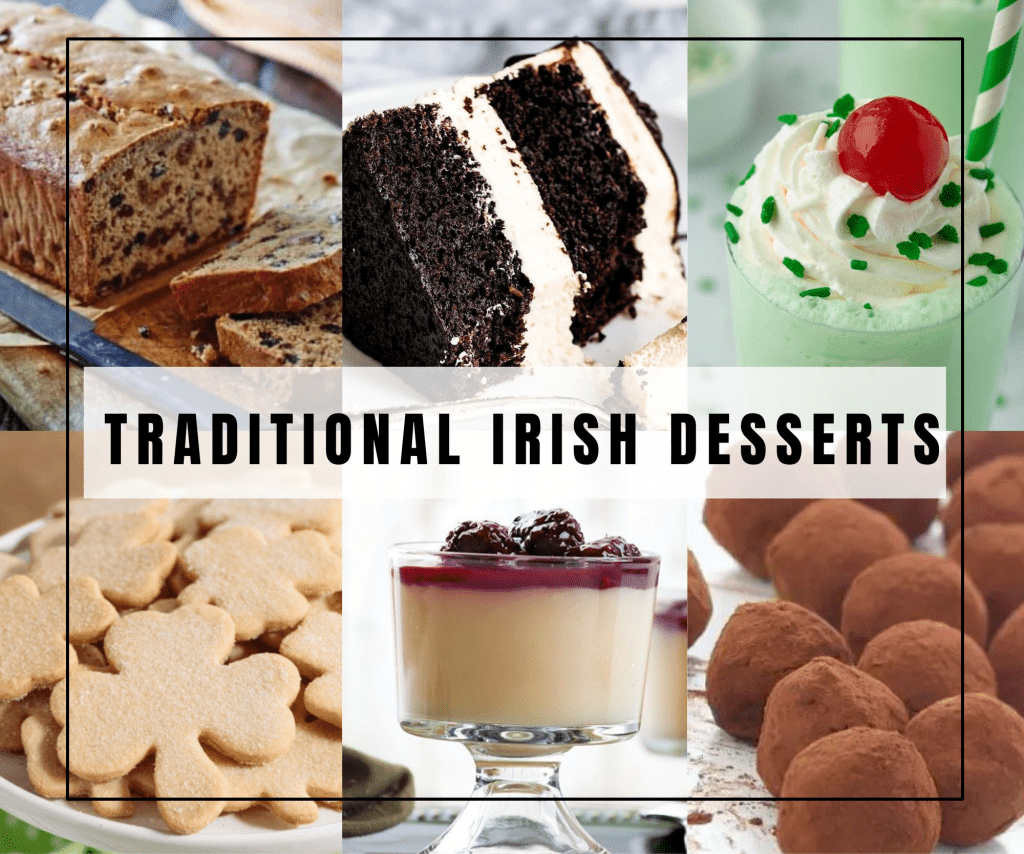 You'll adore the variety of choices below, including desserts for families, kids, and simply for adults. These desserts will comfort you and more than likely sate all of your cravings with every bite.
WHICH DESSERTS ARE GOOD FOR ST. PATRICK'S DAY?
When you consider St. Patrick's Day, you usually picture green foods and beverages and donning green clothing. Irish Apple Pie, Shamrock Shakes, Irish Bread Pudding with Whiskey Sauce, Porter Cake, or Irish Cake are a few of the most popular sweets. The majority of Irish desserts are pretty easy to prepare.
1. GUINNESS CHOCOLATE CAKE WITH IRISH BUTTERCREAM 
GUINNESS CHOCOLATE CAKE WITH IRISH BUTTERCREAM 
One of the most popular sweets in the world is chocolate cake. And in Ireland, nothing is different. Coming home on a gloomy, windy evening to a dish of hot dinner, a warm dessert, and a cup of strong tea is the best feeling in the world.
Chocolate cake can occasionally be too sweet. A splash of somewhat bitter stout mixed with the chocolate and sugar creates a decadent but nicely proportioned treat. The ultimate product is a delicious, fudgy chocolate cake melts in your mouth.
Unsalted Irish butter, Bailey's Irish cream, and sugar are combined to create the Irish buttercream frosting. The remaining buttercream should be used to decorate the cake after generously spreading it between layers. Allow setting. The most beautiful accompaniments to this cake are a lovely cup of tea, some fresh cream, or ice cream.
2. SHAMROCK SHAKE
A few years later, several McDonald's outlets in the US started selling the green milkshake under the name "shamrock shake." It is currently a well-known beverage available in McDonald's restaurants in the US, Canada, and Ireland throughout February and March to celebrate Saint Patrick's Day.
Why are they there? Shamrock shakes are creamy milkshake that is a rich shade of green. They are topped with whipped cream and a dusting of green sugar. Shamrock shakes are made using ice cream, mint extract, and green food coloring. In advance of the March 17 Saint Patrick's Day celebrations, it is the perfect homage to the Emerald Isle.
You may recreate the renowned McDonald's shamrock shakes any time of year. Four essential ingredients are all that are required, two of which are mint extract and green food coloring. Want it a little thicker? Reduce the amount of milk you consume.
3. IRISH BARMBRACK
Irish Barmbrack Bread Recipe [So Tasty!]
This classic Barmbrack pays homage to the Irish! This bread is topped with honey butter and has raisins soaked in tea for the night.
Bread made in Ireland called Barmbrack is baked with raisins, sultanas, and glace cherries. It is typically eaten toasted with a generous amount of Irish butter. The Irish phrase "bearing breach" is where the word "speckled bread" originates.
Barmbrack is consumed all year in Ireland, but the Halloween season is when it becomes particularly well-liked. For those who find them in their slice, the many tiny items baked inside the bread serve as signs for the following year.
4. IRISH PORTER CAKE
Irish Porter Cake Recipe (Easy to make!)
For the Irish Christmas Day feast, porter cake is traditionally cooked. Preparing the Porter cake in November is typical and storing it in an airtight container until Christmas because the cake keeps well and gets sweeter with age.
Because porter ale is used in its preparation, porter cake earned its name. In essence, it's an ale-infused fruit cake that is dense, moist, and flavorful.
This boiled fruit cake combines dry ingredients from a box of cake mix with spices, dried fruits, and a generous helping of a porter or Guinness. The alcohol evaporates from the cake as it boils, leaving plump, ale-infused fruit and a deliciously moist center behind.
It's customary to "feed" the cake over the holiday break to keep it moist. To keep the cake moist and preserve it for longer, pour a tiny drop of whiskey or brandy over it (turning it to ensure it is well coated).
5. WHISKEY CHOCOLATE TRUFFLES
Whiskey Chocolate Truffles Recipe
Though ostensibly a Swiss delicacy, truffles are transformed into a beloved Irish treat by adding some fine Irish whiskey. The best whiskey in the world is produced in Ireland, which is the ideal complement to these exquisite truffles.
The truffles are produced by combining your preferred chocolate with butter, fresh cream, and a generous amount of your preferred Irish whiskey. Rich, delicious, and alcoholic. What more could you possibly want from a dessert?
These Irish Cream Brownies are created with Irish cream liqueur and are rich, delectable, and boozy. They are covered with a silky chocolate frosting. Just keep in mind that only adults should eat these brownies.
Brownies made of chocolate are a universal favorite. However, a splash of Irish cream liquor will give your brownies an Irish flavor.
Mix your brownie batter with a hearty splash of Bailey's Irish cream, then bake to produce these boozy brownies. When they are perfectly baked, make a delectable Irish cream frosting by combining butter, Bailey's, Irish whipping cream, and powdered sugar and cooking in a saucepan. Sprinkle the icing all over the brownies and let them dry.
For a delicious dessert, you won't soon forget, serve these gooey, fudgy brownies with a dollop of ice cream and a few sour berries.
7. IRISH COFFEE
Do you yearn for some Irish coffee? Learn how to construct the ideal cup right here. To make this straightforward dish, you'll need hot coffee, Irish whiskey, maple syrup, and whipped cream. So enjoy, and take it slow!
8. IRISH APPLE CAKE
This apple cake is possibly among the best Irish desserts you will ever taste. You'll savor each bite since it is soft, tender, and loaded with apples. You'll especially appreciate the apples' ability to maintain their shape during baking and mild crispness.
9. IRISH TEA CAKE
This Irish Tea Cake adheres to the same simplicity. You most likely already have all of the components in your cupboard! It's typically served with tea or coffee, as you would have guessed, but it also tastes great as a light, cooling dessert after any meal.
10. PLUM PUDDING
Why not try something that shouts Irish Christmas if you're looking for something different this Christmas?
The lengthy list of ingredients includes a pint of Guinness, carrots, breadcrumbs, and plums.
But if you put in the effort and add brandy sauce, I guarantee you won't return.
11. IRISH SHORTBREAD
Scottish shortbread, a delectable treat loved throughout the nation, the UK, and the rest of the world is where it all began. Irish butter, which is lovely and provides the shortbread a deep buttery flavor that fits well with the crispy texture, is the secret ingredient that makes Irish shortbread so delectable.
Ireland loves their shortbread after dinner since, after all, we can't have decadent sweets every single night. Shortbread is served on a chilly winter day with a lovely cup of tea in front of the fire.
12. CAST IRON IRISH APPLE CAKE
An everyday treat on the Emerald Isle is apple cake. Because there are so many apples in Ireland, this dessert is a great choice. Crab apples are now more frequently baked in a cast-iron skillet (or tin if that's all you have) to achieve the crispy texture that pairs so well with the apple filling. The Irish butter is the secret to that lovely, flaky pastry.
This time-tested Irish apple cake is a favorite of both locals and tourists because it is filling, cozy, and has just a hint of warming spice (due to the nutmeg, cinnamon, and cloves).
13. FIFTEENS
In Northern Ireland, fifteens are one of the most well-liked traybakes. Because the recipe called for fifteen of each ingredient—marshmallows, digestive biscuits, glacé cherries, condensed milk, and desiccated coconut—these fudgy refrigerator bakes gained their name. One of Northern Ireland's best-kept secrets is the fifteens, which go great with a cup of tea.
Crush the biscuits and combine them with the chopped marshmallows, cherries, and cherries in a bowl to create them. The mixture is then brought together by adding condensed milk before forming into a sausage and covered in desiccated coconut. Please place it in the refrigerator for a few hours to set, slice it up and enjoy!
14. IRISH YELLOWMAN CANDY
Another Northern Irish delicacy is number fourteen on the list. In the North, a toffee product called Yellowman that resembles a honeycomb is hugely popular. At the yearly Auld Lammas Fair, a well-liked livestock fair in County Antrim, you may find vendors selling the vivid yellow honeycomb in sacks. Don't forget to taste some when you visit because it's difficult to find outside Northern Ireland.
Neon yellow is admittedly not the most appetizing hue in the world, but don't let that deter you—it's tasty.
Although it resembles a typical honeycomb, yellow man has a unique flavor because of a hint of vinegar. Making this delicious honeycomb-stick-of-rock combination at home takes some skill, but it's well worth the effort.
15. IRISH SODA BREAD
Irish soda bread is simpler to make than you might believe! Caraway seeds, raisins, flour, buttermilk, and other ingredients are all required. The reaction between the acid in the buttermilk and the base of the baking soda, which produces the bread's leavening, is what gives this bread its name.
Simple yet delicious bread, known as soda bread, has become a staple in Ireland. The recipe only calls for four ingredients: salt, baking soda, sour milk or buttermilk, and soft wheat flour.
This bread gained popularity when yeast was challenging to come by during the Irish famine. Buttermilk and baking soda work together to help the bread rise. Soda bread was the ideal bread since soft wheat could be grown in Ireland's environment.
It's interesting to note that soda bread's shape varies throughout Ireland's island. The dough is traditionally divided into four triangles in the nation's north and left as a traditional round loaf with a cross-scored top in the south.
16. BOURBON CARAMEL SAUCE
A bourbon caramel sauce with only four ingredients is fantastic! Perfect addition to cakes, crisps, biscuits, and sundaes, among other things. Since this recipe only calls for 1 tbsp of bourbon, you'll undoubtedly be looking for items to drizzle this sauce over that are safe to consume.
17.CARRAGEEN MOSS PUDDING
A classic, albeit perhaps unorthodox, Irish pudding is carrageen moss pudding. Seaweed comes in a wide variety of varieties in Ireland. One of the main ingredients of Carrageen moss pudding is Chondrus crispus, a red seaweed commonly known as Irish or Carrageen moss.
The kelp is first thoroughly dried before being used in the pudding. It is then boiled in milk after being soaked in warm water. Finally, the ingredients are combined with eggs, honey, vanilla essence, and citrus flavor after the combination has heated and produced a natural, viscous thickening agent.
Fresh berries and Irish whipped cream are added to this chilled light and airy pudding to balance off its sweetness.
18. IRISH SCONES
Have you ever been to Ireland? If so, you are probably aware that scones are always available. They frequently attend breakfast, brunch, and most definitely tea time! So enjoy this delight with just a few essential ingredients, and don't forget to add some jam on top.
19. IRISH OAT COOKIES
Irish oat cookies have a milder sweetness than usual, highlighting the flavor of Irish butter.
They are crispy on the sides and pleasantly chewy in the middle, making them ideal with a cuppa (cup of tea).
20. BAILEY'S CHEESECAKE
The cheesecake's espresso powder will significantly enhance the flavor of Bailey's. But even without it, this dish will still be insanely delicious if you can't find any.
This heavenly cheesecake has a layer of Bailey's chocolate ganache on top and is covered in a wonderfully creamy yet dense Irish cream taste. The best thing, though? This cheesecake may be prepared immediately and frozen for up to two months! I don't think it will, though.
CONCLUSION
Irish sweets share the same reputation as Irish food for using high-quality ingredients and being straightforward and uncomplicated. The Irish are masters of dessert, creating warm, rich dishes frequently enhanced with alcohol. Simple, mouthwatering sweet delights are painstakingly made with the finest ingredients and are ideal for sharing with friends, family, and lots of "craic"!
Print
Guinness Chocolate Cake with Irish Buttercream (20 BEST IRISH DESSERTS)
---
Author:

Prep Time:

20 minutes

Cook Time:

45 Minutes

Total Time:

1hr and 5 minutes

Yield:

10

–

12

slices

1

x
Description
This recipe for Guinness Chocolate Cake calls for both chocolate and alcohol. There are few things better than that.  A simple, delicious, and fudgy chocolate cake made with Guinness beer and thick, sweet, and creamy Irish cream buttercream is what is known as Guinness Chocolate Cake with Irish Buttercream. The ideal cake for St. Patrick's Day!
---
For the Guinness Chocolate cake:
1 3/4 cups

(

222 grams

) all-purpose flour

2 cups

(

400 grams

) granulated sugar

3/4 cup

(

64 grams

) unsweetened cocoa powder

2 teaspoons

baking soda

1/2 teaspoon

baking powder

1 teaspoon

fine salt

3/4 cup

(

170 grams

) sour cream or plain full fat yogurt

1/2 cup

fresh vegetable oil

3

large eggs, at room temperature

1 teaspoon

vanilla extract

1 cup

Guinness beer
For the Irish Buttercream:
4

sticks (454 grams) unsalted butter, at room temperature

6 cups

(

750 grams

) powdered sugar, sifted

1/4 cup

plus 2 tablespoons Irish cream, such as Bailey's
For the chocolate drip:
4 ounces

(

113 grams

) semisweet or bittersweet chocolate, finely chopped

1/2 cup

heavy cream
sprinkles for topping, optional
---
Instructions
Produce the cake:
The oven to 350 degrees Fahrenheit. Two 8-inch by 3-inch cake pans should be generously greased and lined with parchment paper circles.
Mix the flour, sugar, cocoa, salt, baking soda, and baking powder in a sizable mixing dish.
Whisk the sour cream, vegetable oil, eggs, vanilla, and beer in a medium basin
Add the wet components to the dry ingredients when just blended and stir with a spatula.
Bake the batter for 35 to 40 minutes, or until a cake tester comes out clean, after dividing it between the prepared pans. The cakes should cool for 30 minutes in their pans before being carefully flipped onto a wire rack to finish cooling. While you make the buttercream if at all possible, freeze the cakes.
Buttercream preparation:
Use an electric or hand mixer to beat the butter in a big bowl until it's light and fluffy. Add the powdered sugar and Irish cream one at a time. For about three minutes, beat the ingredients at high speed until it is incredibly smooth, light, and fluffy. Increase the amount of Irish cream in the frosting if it is too thick. Increase the amount of powdered sugar if it's too thin.
Category:

Dessert

Method:

Baking

Cuisine:

American
Nutrition
Serving Size:

10-12 slices

Calories:

513 kcal

Sugar:

48g

Sodium:

423mg

Fat:

20g

Saturated Fat:

12g

Unsaturated Fat:

6g

Trans Fat:

1g

Carbohydrates:

69g

Fiber:

2g

Protein:

5g

Cholesterol:

82mg
Keywords: Chocolate Cake, Butter Cream, Cake
FAQs about Irish Desserts
Which candies are favorites in Ireland?
Irish Apple Pie, Shamrock Shakes, Irish Bread Pudding with Whiskey Sauce, Porter Cake, or Irish Cake are a few of the most popular sweets. The majority of Irish desserts are pretty easy to prepare.
What cuisine is typical in Ireland?
Irish stew, bacon, cabbage, boxty, soda bread (often in Ulster), coddle, and colcannon is representative foods. While traditional ingredients are still used in contemporary Irish cuisine, they are now prepared by chefs with global influences and served in a more contemporary and aesthetic manner.
What dessert is the oldest in the world?
The oldest desert in the world, Ashura (Noah's Pudding), is said to have been created by Noah following his alleged arrival at Mount Ararat. It is a delicious blend of dried fruit, nuts, grains, and beans (yes, beans!) produced throughout the Middle East, particularly in Turkey.
What food is most popular in Ireland?
The traditional cuisine of Ireland undoubtedly involves champ. One of the most popular Irish recipes and one of the simplest is champ. mashed potatoes with scallions, excellent milk, and butter (spring onions). Back in the day, they were combined and occasionally served as a complete meal.