Irish Barmbrack Bread Recipe [So Tasty!]
★★★★★ 5 from 1 reviews
It's inevitable that this classic Irish barmbrack will become a household favorite. It is the BEST cinnamon raisin bread when sliced, toasted, and buttered! Fans of cinnamon raisin bread, get ready for the best variation ever!
See also:
20 Ideas for Best Irish Desserts
Due to the raisins, Barmbrack, also known as Barm Brack, is referred to in Gaelic as báirn breac, which means "speckled bread." Its derivation is identical to that of the Welsh word bara brith.
This traditional Irish sweetened bread is enjoyed all year long in Ireland, but it is especially well-liked during Halloween when it is customary to bury various objects inside the loaf, each having a special meaning.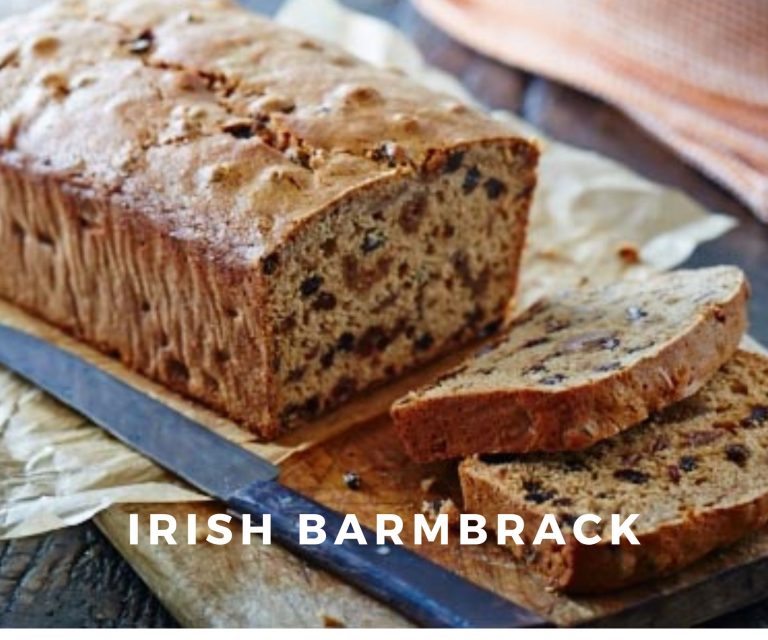 If you found a ring, you were destined to marry within a year (assuming the person is single, which we can only hope, otherwise things could get really complicated); if you found a pea, you would remain single; if you found a stick, you were destined for an unhappy marriage (I don't like where this is going); and if you found a piece of cloth, you were destined for poverty (this is starting to sound depressing); And the medallion signified you would become a monk or, in my case, a nun (I'll have the slice with the coin, thanks); the coin foretold good fortune or wealth.
Barmbrack has been around for several centuries, and while modern variations may contain whiskey and black tea, the original recipe was relatively straightforward and used items that were easier to come by.
Using freshly milled flour and dried currants from the garden, it was a dish that even the most underprivileged families could prepare. A much anticipated loaf of freshly baked barmbrack would be waiting for you when you got home after a long day in the fields; it would be the ideal way to cap off the day.
Only one of the oldest recipes I looked up used whiskey, and none of them included tea or candied citrus peel. For added flavor, I've made the whiskey and tea in this dish optional.
A truly delicious addition is candied lemon peel, but ONLY if it is made from scratch. There's a reason why most/most people detest commercially available candied citrus peel: it's terrible. On the other hand, homemade is AMAZING and will improve your baked goods greatly. Trust me and do it. Use it. Here is the recipe for homemade candied citrus peel; you'll thank me.
Rounds, ovals, and square loaves, as well as large and small versions, are all possible shapes for barmbrack. It was traditionally prepared in rounds, and pieces were broken off and consumed. To make it easier to slice and toast, which is my preferred method of consumption, I prefer to bake it in a loaf.
You'll like this lovely traditional Irish bread, which is guaranteed to become a family favorite, no matter how you choose to shape and serve it.
AN OVERVIEW OF BARMBRACK'S HISTORY (IN GAELIC, BAIRN BREAC)
The old Celtic custom of Halloween is being practiced in some ways today. When the harvest was in full swing in the past around Halloween, fruit would be harvested to prepare Christmas cakes as a way to preserve the fruits, which were a great luxury. As the winter months progressed, the seasonal, free-range eggs would become more difficult to get, as would the butter.
In a way, the Barmbrack served as a sampler and a pleasure at this time of year when Christmas is just around the corner. It was typically slathered with butter to be eaten and was less heavy than a Christmas cake, more like a loaf, with a sprinkle of dried fruit and spice when available. The Irish word for this, "Bairn Breac," translates to "speckled bread," denoting a lack of fruit in the loaf. By including charms in the bread that are supposed to predict the recipient's fortune, the Druidic tradition is reflected.
BARMBRACK FUN FACTS
The favorite fruit cake in Ireland, traditional Irish Barmbrack (without yeast), has a fascinating and lengthy past. The bread was known as báirn breac, which translates to "speckled bread," and was traditionally produced for Irish festivities like Halloween (and came from the Celtic harvest festival of Samhain).
This moniker alludes to the bread's spotty appearance from the numerous pieces of dried fruit.
To ward off poverty in the upcoming year, pieces of Irish Barm Brack are thrown at the rear doors of homes on New Year's Day. Most recently, of course, is still lovingly prepared on St. Patrick's Day in homes all across the world!
Alternative Video Recipe: Traditional Irish Barmbrack
Recommended Posts:
INGREDIENTS YOU'LL NEED:
In keeping with the bread's historical heritage, I don't use yeast when I make Irish Barm Brack. Although many different kinds of fruit are utilized, sultanas, also known as golden raisins, raisins, currants, cherries, and cranberries, are the most popular.
Since the other raisins tend to absorb the tea better and produce the best flavor, I prefer not to use plain raisins in this bread. In my tea brack today, I also included dried cranberries and cherries in addition to the golden raisins.
Tea: Steep some nice, strong tea and let it steep with the fruit overnight. Select a robust black tea or a flavored tea that will enhance the richness of your brew.
Fruit: sultanas (golden raisins), raisins, dried cherries, along with some dried orange peel for a richer orange and fruit flavor. If preferred, additional fruits can also be included, such as dried apricots or prunes.
One huge egg was used to bind and bolster the volume of the bread.
Your preferred warm baking spices, measured out at about 2 teaspoons, are required. For delicious perfection, I use a mixture of nutmeg, cinnamon, and cloves! This recipe also works great with my mixed spice!
Brown sugar's molasses content adds exactly the proper amount of sweetness and rich richness.
Self-Rising Flour – In this traditional bread, we omit the yeast and use self-rising flour instead. Use for every 1 cup of self-rising flour specified in a recipe to produce your own.
STEP-BY-STEP GUIDELINES
Let the fruit soak. Combine the dried fruits, dried orange peel (or orange zest), and black brewed tea in a bowl. Cover with cling film and refrigerate overnight to let the flavors meld.
Prep. Ensure that your oven is preheated to 350°F (175°C) and use greased parchment paper to line a 9×5-inch loaf pan.
Component addition Combine the tea and fruit with the egg, cinnamon, cloves, nutmeg, and brown sugar in a sizable mixing dish. After fully combining, add all of the self-rising flour.
Transfer. Transfer the dough to the loaf pan after mixing the ingredients until all the flour is absorbed into a wet dough.
COOK, BAKE, AND SERVE
bake for golden brown. Check the color of your baked bread after an hour of baking at 350°F (175°C) on the middle rack of your oven. Cover the top of your bread loaf with aluminum foil if it starts to brown too much on top.
From the oven, remove. A thorough bake for your bread should take between 1 hour 15 and 30 minutes (mine are typically done at 75-80 minutes). When the food is done, take it out of the oven, let it cool for ten minutes within the pan, then lift it out and take the parchment paper off.
Cool. Before slicing and serving, let the bread cool completely.
*Depends on the size of your loaf pan, oven temperature, and other factors.
WHAT IS BARM?
Barm, on the other hand, is the yeasty froth that rises to the top of malty beers. Yeast is also known by this old name. In Irish Traditional Cooking, author Darina Allen recounts that most rural Irish kitchens kept a tin of barm combined with flour on a shelf next to the fire. It was comparable to a sourdough starter used to make yeast breads and occasionally fed a little flour.
Unlike now, yeast was not previously sold in packets with exact measurements. In order to produce a beginning kit for bread, barm would be purchased from a brewery. When someone wanted to start their own tin of bread leavening agent to keep in their kitchen, barm was probably shared.
A classic barmbrack should use yeast since the term "barm" alludes to a yeast leavening agent.
You can find tea bracks to beat the band online, while some bakers refer to them as barmbracks. They are undoubtedly bracks, but they are not barmbracks.
After my Halloween tirade, I'm offering my own yeast-based barmbrack recipe today. Before I give you the recipe, let's take a quick glance at the items contained in a barmbrack. I hope you'll like it.
TEA BRACK AND BARMBRACK DIFFERENCES
Ireland produces two main kinds of brack.
The first recipe calls for soaking dried fruit in black tea for an entire night before baking it into a cake without any butter.
In contrast to other breads, barmbrack is baked with strong flour and yeast. In comparison to a tea brack, a barm brack uses a lot less dried fruit.
Print
Irish Barmbrack
---
Author:

Prep Time:

20 minutes

Cook Time:

50 Minutes

Total Time:

1hr 10 minutes

Yield:

16

1

x
Description
It's inevitable that this classic Irish barmbrack will become a household favorite. It is the BEST cinnamon raisin bread when sliced, toasted, and buttered! Fans of cinnamon raisin bread, get ready for the best variation ever!
---
1 cup

of raisins, dry

1 cup

of sultanas or raisins

1 cup

cold, strong black tea with the option to swig some Irish whiskey or brandy

2 tablespoons

(

7g

) of dry active yeast

1/8 cup

sugar
milk, lukewarm, 3/4 cup

450g

or

3 1/2 cups

of all-purpose flour

75g

or 1/3 cup of caster sugar (to make your own place granulated white sugar in a blender and pulse until fine but not powder)

1 teaspoon

of spice mixture
homemade spice blend (recipe available at link) (HIGHLY recommended)

1 teaspoon

of cinnamon powder
freshly ground nutmeg, half a teaspoon

0.5 teaspoons

of salt

4 tablespoons

of melted and cooled unsalted butter
beaten slightly, one big egg

one

lemon's zest

14 cup

of finely minced candied orange (or lemon) peel (optional)
Homemade candied citrus peel (recipe available at link) (VERY STRONGLY recommended)
---
Instructions
Pour the cold tea over the currants and raisins in a bowl (or water). Allow to soak overnight or for at least 4 hours. Drain the liquid, then save it for later.
Warm milk is added to with a teaspoon of sugar and yeast. 10 minutes should pass so that it becomes beautiful and foamy.
The flour, sugar, spices, and salt should all be combined in a stand mixer. The melted butter, egg, lemon zest, and yeast mixture should all be added after creating a well. Knead with the dough hook until almost incorporated. Don't add more liquid at this time because the wet currants/raisins will be added; the dough will already be very thick. Currants, raisins, and candied lemon peel, all drained, are added. Once everything is mixed, add some of the currant/raisin juice and knead until a soft dough forms. Remove the dough from the bowl's sides by scraping. After loosely covering the bowl with plastic wrap, leave it to rise in a warm location for 90 to 120 minutes, or until it has doubled in size.
Punch the dough down. Divide the dough in half, then form the pieces into rounds if you're creating two smaller loaves. Put the dough in a greased 9×5-inch loaf pan if you're preparing a single large loaf (as shown in the picture).
Cover loosely with plastic wrap and allow the dough to rise in a warm location for an additional hour or more until it has almost doubled in size.
Set the oven to 350 degrees Fahrenheit.
If making two smaller loaves, bake the barmbrack for 50–60 minutes shorter on the middle rack, or until a spear inserted into the center of the bread comes out clean.
Remove the loaf from the oven, brush it with the saved currant/raisin juice while it's still hot for additional flavor, moisture, and a lovely sheen, and then let it cool.
Slice and serve. Butter-spread barmbrack is extremely tasty when it's been toast.
Category:

Dessert

Method:

Baking

Cuisine:

Irish
Nutrition
Serving Size:

16 slices

Calories:

235 kcal

Sugar:

12g

Sodium:

98mg

Fat:

4g

Saturated Fat:

2g

Unsaturated Fat:

0g

Trans Fat:

0g

Carbohydrates:

45g

Fiber:

2g

Protein:

4g

Cholesterol:

21mg
Keywords: Bram rack Bread, Bread, Dessert
FAQs About Irish Barmbrack
Why is it referred to as barmbrack?
The term "barmbrack" refers to a dense, delicious bread made from the froth or "barm" that remains after beer or ale has fermented and is combined with sultanas and spices.
What flavor does barmbrack have?
And speaking of happiness, eating Barmbrack will definitely make you happy. Yes, barmbrack is a loaf of bliss thanks to its chewy texture, sweet raisins, delicate warm spice flavoring, and hint of lemon. Slice, toast, and butter it if you truly want to boost your happiness levels; it's wonderful!
What materials are in the barmbrack?
Barmbrack is a fruit-filled yeasted dough that is slightly sweeter than sandwich bread but not overly rich like cake. It is sometimes referred to as barmbrack or bairn breac. Many Irish people play the fortune-telling game by baking various objects into the bread.
Why is there a ring in Barmbrack?
A pea indicates that you won't get married in the coming year, a small piece of cloth portends poverty, a ring indicates that you will marry within the year, a matchstick to "beat your wife" foreshadows a terrible marriage, and a coin denotes enormous fortune.
What is an Irish dish, exactly?
Some characteristic dishes include Irish stew, bacon and cabbage, boxty, soda bread (commonly eaten in Ulster), coddle, and colcannon. Irish food nowadays still uses traditional ingredients, but it is now cooked by chefs who have global inspirations and delivered in a more modern and aesthetically pleasing way. 
More Alternative Bread Recipes to Try!
PUMPKIN FOCACCIA WITH FRESH HERBS
My new favorite fall bread is an easy pumpkin focaccia with fresh herbs. This delectable bread has edges that are delightfully golden and crispy while remaining soft, fluffy, and springy throughout.
In addition, it contains a lot of pumpkin (hello, nutritious vegetable!) and is flavorful and delightful because it is seasoned with fresh fall herbs. The fact that you simply need to spend 10 to 15 minutes on preparation is perhaps the finest part. So simple.
WHOLE WHEAT CRANBERRY BREAD
With this wonderful whole wheat cranberry bread, elevate your sandwiches. This bread has a wonderful crunchy crust that is covered with oats and more seeds, is chewy, fluffy, and airy, and is filled with dried cranberries and seeds. And the preparation of the dough only requires you to work on it for around 15 minutes. SO simple