24 Easy Italian Appetizer Ideas
On your next Italian night, do you want some great starters? Then, you're in the right spot. These delicious easy Italian Appetizer Ideas are sure to impress and are great for parties.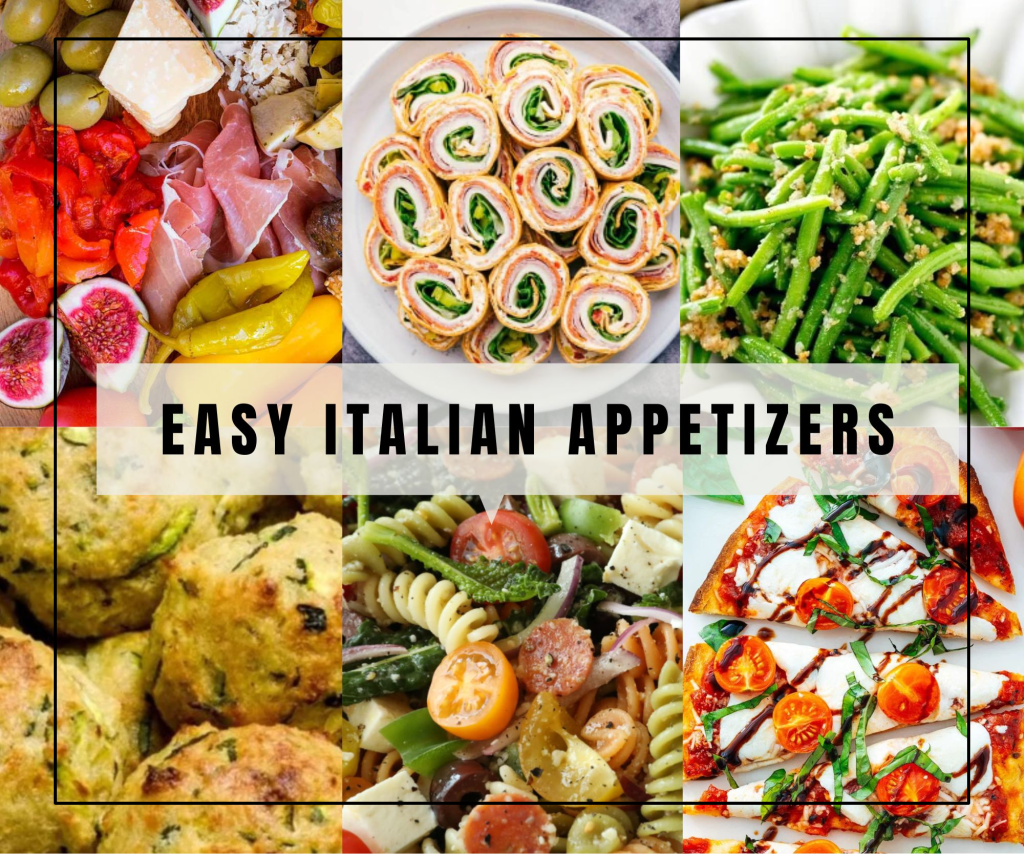 You can find recipes for pasta salads, meatballs, dips, fun finger foods, and so much more. If you cook all these delicious Italian starters, your guests will keep returning for more.
1. EASY ROASTED ITALIAN CAULIFLOWER
The Italian Cauliflower recipe is a tasty way to roast cauliflower. You'll want to keep this recipe on hand because it goes well with many main dishes. You only need 5 minutes to prepare this in the oven. Simple!
This roasted cauliflower is a great, easy side dish made with Italian ingredients and delicious browned vegetables. This roasted cauliflower makes a great side dish for an Italian-flavored dinner.
2. ZUCCHINI GARLIC BITES
These delicious Zucchini Garlic Bites are an Italian appetizer made with shredded zucchini, garlic, Parmesan cheese, and fresh herbs. They are served with a marinara sauce for dipping. My family likes them. And it's great not only as a fancy starter but also as a side dish or even a kid's meal.
3. ITALIAN GAZPACHO
Gazpacho Recipe (Smooth or Chunky Chilled Tomato Soup) This recipe for gazpacho, which can be smooth or chunky, is a chilled, no-cook tomato soup that is light and refreshing for the hot summer months.
Everything I've learned about how to make the best authentic, fresh tomato gazpacho recipe while living in Spain, and it only takes 15 minutes!
4. ARANCINI BALLS (SICILIAN RICE BALLS)
Arancini are a traditional Italian appetizer that you will love. These tasty balls are made with risotto full of cheese and then fried in oil with a coating of breadcrumbs. Arancini, which are soft, cheesy, and crispy fried rice balls, seemed to be sold everywhere in Sicily.
We could buy them for breakfast, lunch, or in the late afternoon. Sicilian arancini are the perfect finger food because they have creamy rice, a variety of tasty toppings, and melted cheese, all in a small fried package. I can't think of anything else you could serve with cocktails at your next dinner party.
5. ITALIAN MEATBALLS
These traditional Italian-American meatballs are enormous and pillowy soft! They are stuffed with ground beef and pig, stuffed with herbs and cheese, and served with traditional tomato sauce. Make them the size of baseballs for the main entree or smaller for an appetizer.
In just 30 minutes, you can make a Rainbow Pasta Salad that will blow your mind. This easy recipe is pretty to look at and tastes great. It's full of your favorite foods and has a homemade dressing that makes it taste amazing. It's perfect for bringing to your next potluck or summer party.
7. GARLIC PARMESAN WINGS
Were you tired of eating the same old wings over and over again? Then try Garlic Parmesan Wings for a tasty change that will let you try new flavors you will love.
This easy wings recipe is so good you'll want to lick your fingers. The homemade sauce is made with cheese, garlic, and butter. So good!
8. BRUSCHETTA
This elegant Italian dish is made with fresh, simple ingredients and is just too good. Everyone will love this as an appetizer at summer parties or get-togethers. This easy bruschetta recipe is a great summer appetizer that everyone will love and want to eat again and again. Perfect for outdoor parties, weekday night dinners, or even weekend brunch!
9. MEATBALL MARINARA POPPERS APPETIZER
The Meatball Marinara Poppers will be the highlight of your next party. These cute little meatballs are too tasty to eat, just one at a time. The dish is made with cheese and marinara sauce, which is easy to make and has a lot of flavors. That's it! In just 20 minutes, your irresistible appetizer will be ready to eat. So enjoy…
10. CROSTINI
With this straightforward Crostini recipe, you can make your Crostini at home. Find out how to make this perfect thinly sliced bread that is brushed with oil and sprinkled with herbs. It's one of the most famous Italian starters.
11. ANTIPASTO PLATTER
When you have a party next, serve this tasty Italian Antipasto Platter. It will be the best appetizer at the party. It's easy to make—just put together your favorite foods, like Italian meats, cheeses, vegetables, and slices of bread, to make a tasty appetizer that everyone will love.
12. FOCACCIA
More than just garlic bread. Focaccia is the best food for sharing. You can cut this chewy dough into small pieces with a pizza cutter. It will fill you up, so don't overeat and ruin your dinner. It's great to save a little so you can use it to soak up rich, tasty Italian sauces. Focaccia tastes best when there are a lot of spices on it, and fresh herbs like basil and oregano are used.
13. MARINATED MOZZARELLA
The Italians are both busy and like to take it easy. So we prefer the second one. In less than 15 minutes, you can make a good amount of marinated mozzarella. Perfect! They need an hour to be steep, so pour yourself a glass of chilled white wine and take your time. Olive oil, thyme, oregano, and red pepper flakes are all mixed in this recipe. Oh, and fresh mozzarella balls, of course. It's so simple!
14. ITALIAN PINWHEELS
Pinwheels are a great way to start a party, and these Italian Pinwheels are the best. These easy pinwheels are fun to make and fun to eat. They are also a great appetizer that everyone will love.
15. TUSCAN TRUFFLES
If you like figs, cured ham, and pine nuts that have been toasted, you should try these. There is no truffle in these bite-sized "truffles" (but you can use truffle oil if you feel flushed). You can put them together in less than 25 minutes, which is also great for dinner parties.
16. CAPRESE FLATBREAD
It sounds great that it's part pizza and part salad. This is a flatbread with cheese and pesto on top. Add some spinach, tomatoes, and a drizzle of balsamic vinegar, and bake! The cheese and tomatoes melt into the base and get soaked up by it. This comes together with the balsamic to make a fresh and savory taste. It tastes excellent hot or cold!
17. WHIPPED RICOTTA CROSTINI
You already know what crostini is. Now it's time to step it up a notch. Think of this dish as a refined version of cheese on toast from Italy. Garlic bread that is crunchy and crisp meets a simple mixture of ricotta, olive oil, and cream. Feel free to add some prosciutto or roasted eggplant.
18. CARPACCIO
Carpaccio is easy to make as long as you can find good ingredients. It is marinated thin slices of raw beef. Yes, we said 'raw .'You can get thin slices of beef by briefly freezing them. The dish should be done with a handful of rockets, shaved parmesan, and a little red wine vinegar. Make sure your beef comes from a good butcher.
19. SPAGHETTI FRITTERS
Have we made too much spaghetti? This is a great way to get rid of the leftovers! Mix in a couple of beaten eggs, Italian herbs, and a few handfuls of grated parmesan cheese. Warm up some olive oil and fry spoonfuls of the mixture until each side is golden brown. The spaghetti gets a little crunchy, and the cheese in the middle stays soft. Delicious.
20. MARINATED OLIVES
Olives have been a part of Italian culture since Roman times, so we couldn't make a list of 30 Italian appetizers you can make ahead of time without mentioning them. The great thing is that they last a long time and get better with age. We speed up the process by warming the olives slowly in a pan with cumin, thyme, and red peppers… Don't forget the garlic, either.
21. ITALIAN PULL-APART DOUGH BALLS
Everyone in an Italian family sits at the table together. With this recipe, it's all about giving! This one is best served in a cast iron pan (even though it is oven-baked). This recipe only calls for five easy-to-find ingredients, so if you want to impress your guests while making something simple, give it a try!
22. CHICKEN FLORENTINE FLATBREAD
Some people call it "flatbread," while others call it "pizza." Super tasty! This filling dish works well as an Italian starter or a main course. Except for the tomato sauce, it's a lot like pizza. We like to save time by buying flatbreads instead of kneading and messing with dough.
23. ITALIAN TOMATO SALAD
Simple, fresh ingredients are the key to making great Italian food. This is about as simple and new as it gets. All you need are a few thick slices of tomato, an acidic oil and vinegar dressing, fresh herbs and garlic dusting. Don't be cheap with salt and pepper… Your mouth and your guests will be grateful.
24. ITALIAN GREEN BEANS
Italian can be a bit heavy on carbs sometimes. Italian green beans are the way to go if you want to make your meal lighter and add some greens. They are steamed and then covered in a dressing made ahead of time with parmesan, breadcrumbs, and garlic. They are then heated in a frying pan. Very easy and very tasty!
Print
ROASTED ITALIAN CAULIFLOWER
---
Author:

Prep Time:

10 minutes

Cook Time:

20 minutes

Total Time:

30 Minutes

Yield:

4

1

x
Description
The Italian Cauliflower recipe is a tasty way to roasted cauliflower. You'll want to keep this recipe on hand because it goes well with so many main dishes. You only need 5 minutes to get this ready to put in the oven. Simple!
---
3

lb. cauliflower, cut into bite-sized pieces

2 tablespoons

olive oil

1 tablespoon

Italian seasoning

1 teaspoon

sea salt
 Juice from ½ lemon

¼ cup

pesto, to serve ( homemade, dairy-free) or store-bought)
---
Instructions
Turn the oven up to 400 degrees.
Mix the olive oil, Italian seasoning, and sea salt with the cauliflower. Put it on a baking sheet and roast it in the oven for 30 minutes, tossing it halfway through.
3 lbs. of cauliflower, 2 tbsp. of olive oil, 1 tbsp. of Italian seasoning, and 1 tsp. of sea salt.
Squeeze the juice from half a lemon over the cauliflower and serve with pesto on the side.
Juice from ½ lemon,¼ cup pesto
Category:

Side dish

Method:

Baked

Cuisine:

Italian
Nutrition
Serving Size:

4

Calories:

157 kcal

Sugar:

3.7g

Sodium:

311.2mg

Fat:

12.3g

Saturated Fat:

0g

Unsaturated Fat:

0g

Trans Fat:

0g

Carbohydrates:

9.5g

Fiber:

0g

Protein:

5.1g

Cholesterol:

3.6mg
Keywords: Cauliflower, Roasted Cauliflower,
FAQs About Italian Appetizers
What is the name of the first part of an Italian meal?
The first course: A traditional Italian meal starts with a snack called an antipasto, which means "before the meal" in English.
What do you eat at a dinner party in Italy?
Formal Italian dinners have many courses, starting with antipasti, pasta (primi), meat (second), salad, soup, fruit and cheese, and dessert (dolce). All of this can be too much for a more casual get-together, but remember that you can always cut back."
What's a good starter to have with pizza?
What are some good things to eat before pizza? If you're worried there won't be enough pizza, add an appetizer or two to complete the meal. People often choose coleslaw, steamed broccoli, buffalo fries, or a healthy spinach dip. Making appetizers is easy, and people always like them.
Do people in Italy eat starters?
Italian menus have traditionally had five parts. Usually, a full meal includes an appetizer, a first course, a second course, and a side dish. You don't have to get something from every course, but most people get at least two. Traditional meals can take an hour or two or even more.