35 Easy Mouthwatering Hamburger Recipe Ideas For You To Try!
★★★★★ 5 from 1 reviews
There's no better way to ring in the summer than with a juicy hamburger.
Whether you want something traditional, a lighter turkey or veggie burger, or something out of the ordinary, like our lamb or bison burger, there's a hamburger recipe ideas for you here.
Also, check out our inventive cheeseburgers, simple veggie burgers, and turkey burger ideas.
HAMBURGER RECIPE IDEAS FOR DINNER
Meatballs are my personal favorite ground beef recipe. These juicy, flavorful, and delicious homemade Italian meatballs are simmered in a rich and savory tomato sauce. They are ready in 30 minutes.
With layers of tender lasagna, meaty tomato sauce, cheese filling, and melted cheese on top, classic easy meat lasagna is the ultimate Italian comfort food.
Ground beef tacos are delicious, authentic, and incredibly simple to prepare. They're savory, spicy, creamy, and fresh all at the same time. This is the ideal recipe for a Mexican fiesta.
Ground beef stuffed peppers are tasty, nutritious, and filling. They're freezer-friendly and easy to make ahead of time, stuffed with beef rice and veggies.
Alternative Video: 25 Ground Beef Recipes
Recommended Posts:
Homemade Swedish meatballs are seared and smothered in a creamy gravy sauce, and they taste far superior to IKEA meatballs.
Beef taco soup transforms tacos into a hearty, wholesome, filling soup topped with all of the taco fixings. It takes 30 minutes to prepare.
HAMBURGER RECIPE IDEAS EASY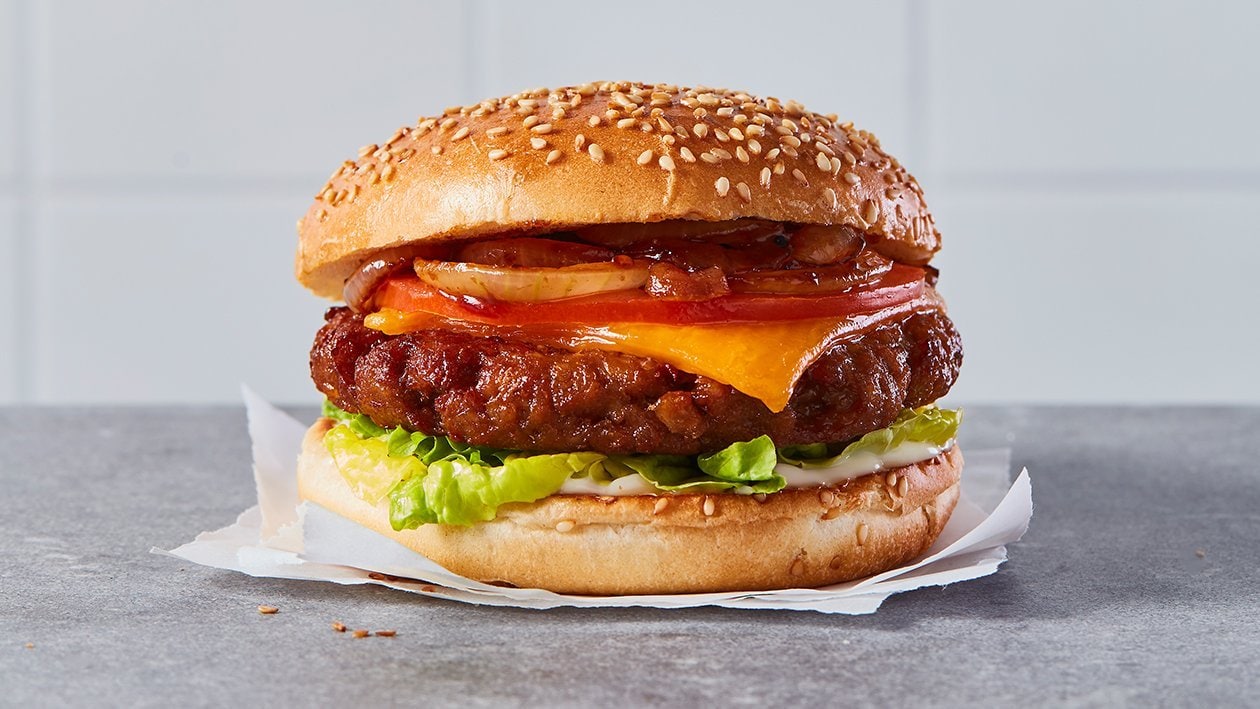 There are a million different ways to top a hamburger, and we're not here to tell you what goes in yours. However, it is our responsibility to ensure that you are cooking your burgers as deliciously as possible. You'll be a burger master in no time if you follow a few simple techniques and shopping tips.
We must confess that we are a little obsessed with garlic. There aren't many foods in the world that garlic won't improve, and burgers aren't one of them. Make it for the garlic enthusiast in your life; they will not be disappointed!
Chef Wesley Genovart creates this Shake Shack-inspired burger with two thin stacked patties, thick-cut bacon, kimchi, and a spicy homemade sauce.
Pimento cheese is a tangy, creamy addition to a burger, but it tends to slide off a hot meat patty. To solve this issue, stuff the patty with pimento before cooking it.
Roy Choi's burgers resemble the American classic, but with toasted sesame seeds in the mayo and fresh shiso leaves on top of the lettuce, they get an Asian twist.
Melissa Rubel makes a juicy Asian-flavored burger with ground pork, scallions, fresh ginger, garlic, and sesame oil.
HAMBURGER RECIPE IDEAS INSTANT POT
This is the same creamy, herby stovetop beef stroganoff you're used to. The only difference is that this one will be made in the Instant Pot rather than on the stove. The noodles are just as tender as the beef, and the dish as a whole is just as flavorful.
You'd think that something with this many ingredients would require a lot of cleanup, but you'd be mistaken. This cheesy enchilada pasta can be made in a single pot.
Instant Pot chili mac is a surprisingly tasty and filling meal for something that takes less than 20 minutes from start to finish. It's hot, cheesy, and loaded with flavorful macaroni noodles and lean ground beef.
Why make Sloppy Joes with a canned mix when you can make them from scratch in 30 minutes or less with fresh ingredients? Begin by cooking the onions, peppers, beef, and garlic in the pot, then add the rest of the ingredients and let the Instant Pot do the rest.
This hamburger soup is perfect for cold winter nights, with chunks of juicy ground beef, tender veggies like onions, potatoes, celery, and tomatoes, and plenty of herbs and seasonings.
Hamburger potato casserole is the less expensive cousin of steak and potatoes, and believe it or not, it tastes just as good! The potatoes have been topped with cheese, garlic, and scallions (not in the recipe, but I use them, anyway).
HAMBURGER RECIPE IDEAS SLOW COOKER
This hearty dish combines tender hash brown potatoes, creamy mushrooms, beef, and potatoes in a slow-cooked meal.
Every bite of this filling soup is packed with beef, bacon, and cheese. It can be made in a slow cooker or on the stovetop.
Hamburger stew is similar to traditional beef stew, except it is made with ground beef. This way, you're guaranteed to get some meat in every spoonful.
Instead of using store-bought Hamburger Helper, try this homemade version. For the best flavor, it's made from scratch in the crockpot.
These 3-ingredient beef tacos will take your Taco Tuesday to the next level. Serve with shredded lettuce and a fresh and zesty pico de Gallo.
This slow cooker meatloaf recipe combines old-fashioned comfort food with modern convenience. Your meatloaf will be moist and juicy, with a sweet and smoky glaze slathered on top.
HAMBURGER RECIPE IDEAS HEALTHY
Every Friday night at our house is burger night. The tomatoes add a burst of flavor, and the cool spinach dip ties everything together. We frequently omit the buns and serve these on a bed of grilled cabbage.
I adore the way these vibrant flavors combine. These wraps come together quickly for a quick, healthy lunch. If desired, the burgers can also be served on buns.
This is a delicious, hearty stew that will help you use up all of your garden's late-summer vegetables. It's filling enough to make a meal, and it's also good for you!
The addition of barley to an old-fashioned hamburger adds a new dimension. My husband and I love these juicy patties with onion and barbecue sauce mixed in.
You get both onions and sauce inside and outside of these burgers if you top them with extra barbecue sauce. My husband, too, enjoys adding cheese.
This recipe was given to me by my son-in-law, and I modified it to make it healthier. On busy nights, the burgers are so easy to make on the grill.
HAMBURGER RECIPE IDEAS KETO
Why are onions stuffed? The onion adds a unique flavor to the ground beef. Plus, they're ridiculously cute. Looking for more low-carb inspiration?
These loaded burger bowls have all the flavor of a juicy burger but none of the bloating bread. Instead, your seasoned beef will be served with a fresh salad of lettuce, cheese, bacon, avocado, pickles, and red onion.
Cabbage, with its neutral flavor but high nutritional value, is an excellent way to bulk up your beef on a low-carb diet. In this recipe, the dependable vegetable is shredded and sautéed in a skillet with browned beef.
This veggie-packed meal is not only tasty and healthy, but it's also very cheap. It's made with low-cost vegetables such as zucchini, spinach, onions, and peppers, as well as spices, beef, and jack cheese.
Tonight, instead of ordering takeout, enjoy some healthy, homemade beef and broccoli. This mouthwatering bowl is seasoned with soy sauce, ginger, and garlic to replicate the flavors of the Chinese classic.
Print
Ground Beef and Broccoli Recipe (Hamburger Recipe Ideas)
---
Author:

Prep Time:

5 minutes

Cook Time:

10 minutes

Total Time:

15 minutes

Yield:

4

servings

1

x
Description
This easy keto beef and broccoli recipe is not only delicious, but it also takes only 15 minutes to prepare! Simply add some cauliflower rice and you've got yourself a delicious low-carb meal. Per serving, there are only 5.1g net carbs.
---
1

lb ground beef

1 tablespoon

olive oil
salt and black pepper

4

cloves garlic, crushed

1 tablespoon

ginger, fresh grated

1/2 cup

soy sauce

3 tablespoon

Lakanto golden

1 teaspoon

Beef Better than Bouillon

1 cup

hot water

3 cups

broccoli florets
---
Instructions
Heat the oil in a large skillet over medium heat. Brown the ground beef with salt and pepper.
Meanwhile microwave the broccoli florets for about 4 minutes.
To make the sauce, combine the bouillon, soy sauce, water, ginger, garlic, and Lakanto golden sweetener while the meat and broccoli are cooking.
Cook until the cauliflower is tender, then add the sauce and broccoli to the browned meat.
Make your cauliflower rice while that is simmering. In a food processor, pulse the florets until they resemble rice. Microwave for 5 minutes.
You'll be ready to go by the time the stir fry is finished!
Category:

Dinner

Method:

None

Cuisine:

American
Nutrition
Serving Size:

4 servings

Calories:

578kcal

Sugar:

3g

Sodium:

490mg

Fat:

40g

Saturated Fat:

14g

Unsaturated Fat:

22g

Trans Fat:

1g

Carbohydrates:

15g

Fiber:

6g

Protein:

42g

Cholesterol:

127mg
Keywords: ground beef and broccoli recipe, hamburger recipe, easy ground beef and broccoli recipe
Frequently Asked Questions
How do you make a hamburger more interesting?
Parsley, basil, thyme, oregano, marjoram, savory, garlic, and chili flakes or powder are some herbs and spices that go well with beef burgers. To add flavor, try dill pickles, sweet relish, capers, anchovies, or chutney, and almost any cheese will work well with a beef burger.
What can be made from ground beef?
Recipes for Ground Beef:
Lasagna with Meat Sauce.
Tacos with ground beef from Mexico.
Stuffed Peppers with Ground Beef
Meatballs from Sweden.
Soup with beef tacos.
Hamburger Helper from scratch.
Pie with Ground Beef Meat.
Meatballs with Sticky Honey Garlic Sauce.
What can I add to hamburger meat for flavor?
Add chopped herbs and soaked breadcrumbs for filler and flavor. Minced garlic, fresh herbs, and dried spices flavor ground meat so effectively because they are mixed right into the center of the meat, as opposed to a steak or roast, where the seasoning sits on top.
How do you amp up a burger?
A burger's toppings can make or break it. We like homemade toppings like cranberry ketchup, mac and cheese, or spicy barbecue sauce paired with standard condiments like cheese slices and crisp lettuce.
What are good burger toppings?
Ranking of Classic Burger Toppings:
Cheese.
Onions.
Condiments.
Pickles.
Bacon.
Chilies.
Avocado.
Lettuce.
What do you Season burgers with?
As with all meats, coarse salt or kosher salt is the best seasoning choice for ground beef. The large granules provide the most control while also delivering on the promise of improving the flavor of the final burger. Allow approximately 3/4 teaspoon coarse salt per pound of ground beef.
Is ground beef the same as mince?
Sometimes the terms "ground meat" and "minced meat" are used interchangeably. However, they distinguish two methods of processing raw meat: ground meat is an emulsion of lean meat and fat, whereas minced meat is finely chopped skeletal-muscle meat. Minced meat is choppy and textured, whereas ground meat is consistent and smooth.
What herb goes well with ground beef?
The following dried herbs pair particularly well with beef:
Rosemary.
Oregano.
Tarragon.
Thyme.
Leaves of bay (for stew, curries and casseroles)
What should I season my burgers with before grilling?
Season one side of the patty with salt and pepper just before grilling it, seasoned side down. Season the other side of the burger before flipping it. When forming your burgers, remember that now is not the time to be heavy-handed.
What is the difference between hamburger and ground beef?
Hamburger meat is similar to ground beef in that it can contain meat and trimmings from any of the primal cuts. But there is a distinction between the two. Ground beef cannot have additional beef fat added to it, whereas hamburger can, as long as it does not contain more than 30% total fat.