35 Super Easy Christmas Dinner Ideas Perfect For Holiday!
★★★★★ 5 from 2 reviews
And just like that, the Yuletide season has returned! If you're looking for easy Christmas dinner recipes for your holiday menu, I've compiled a list of the best dishes that will give you even more reason to rejoice.
Apart from the presents, lights, and a beautifully decorated tree, the food is what people look forward to the most at Christmas. Christmas isn't complete unless there's a spectacular feast!
Serve a delicious, colorful, and festive dinner to bring holiday cheer into your home. I've got you covered on everything from sides to entrees to desserts to drinks. These simple dishes will be a hit with everyone.
This collection of Christmas dinner ideas will satiate your cravings and make your holiday even more enjoyable.
UNIQUE CHRISTMAS IDEAS
Impress your guests with this visually appealing and delicious appetizer, which features baked Brie topped with a spicy salsa made of cranberries, Granny Smith apple, jalapeno, and fresh cilantro.
This lean cut is infused with juicy flavor by an aromatic brine of juniper, cardamom, and bay; a breadcrumb filling borders on extravagance.
These savory tartlets are inspired by Mediterranean flavors. They combine spinach, feta cheese, and fresh dill in a crunchy phyllo dough shell, similar to Greek spanakopita.
Puff pastry is buttery and flaky, made from many layers of rolled and folded dough, and it can rise and puff to eight times its original thickness. It is easiest to handle when it is still cold after it has thawed.
Alternative Video: Ultimate Christmas Dinner Recipes
Recommended Posts:
Even the pickiest eaters will be unable to resist these lemon-maple roasted carrots — they're simply too good to pass up.
Here's a quick and easy appetizer that your guests will enjoy. Make these elevated breadsticks stuffed with a delectable sour cream and cheese filling. These rich cheese-filled pastries are sure to be a big hit at any party. They're simple but oh-so-satisfying.
CHRISTMAS DINNER IDEAS VEGETARIAN
We think this is our best nut roast yet, packed with umami, smokiness, and sweetness from squash, lentils, and dates.
This impressive veggie wellington replaces beef with saffron-spiced cauliflower and would look right at home at any holiday gathering. This recipe comes from the Bubala restaurant in east London.
This quick vegetable centerpiece makes use of pre-made puff pastry and an umami mushroom filling. For a Christmas Day feast, serve these individual pithiviers with golden roasties.
This Christmas, cater to vegans with our special festive bowls, which are filled with crispy roasties, parsnips, stuffing balls, cranberry sauce, and plenty of gravy.
For an easy meat-free centerpiece, make our epic vegetarian wreath filled with roasted butternut squash and creamy ricotta. Using Jus-Rol croissant dough cuts down on the faff, and we've even included a video to help you get started.
Looking for a quick and easy veg-packed main dish to serve guests this holiday season? Our impressive Christmas tart is made with root vegetables, crispy puff pastry, and a creamy three-cheese sauce.
CHRISTMAS DINNER IDEAS FOR A LARGE GROUP
Gill Meller demonstrates how to brine and grill a Christmas turkey. The method is unusual, but the results are succulent and flavorful.
Our easy roast lamb shoulder is a delicious twist on a traditional roast. Lamb shoulder is spice-roasted and served with fragrant cranberry rice pilaf.
What happens when you cross pigs in blankets and sausage rolls? These festive sausage-and-bacon puff pastry bites make excellent canapés. They're easy to make, only require 5 ingredients, and are extremely delectable.
Make a vegan parsnip and porcini wellington with Maria Elia's fantastic vegan parsnip and porcini wellington. It's a safe bet if you're looking for a meat-free centerpiece that will appeal to meat eaters, vegetarians, and vegans alike.
Follow this recipe for a roast stuffed chicken full of vibrant festive flavors for a main-event showstopper. The sweet-spicy accompaniment of mustard-preserved fruit and vibrant herb dressing elevates it significantly.
TRADITIONAL CHRISTMAS DINNER IDEAS
This garlic-crusted prime rib with a red wine au jus will please all of the beef lovers at the table. Even better, this no-fail recipe will guarantee insanely good results that will wow your guests.
I'm not going to lie: this may be the most tender meat you've ever had. Oh, and don't forget the horseradish sauce – it'll make or break the dish.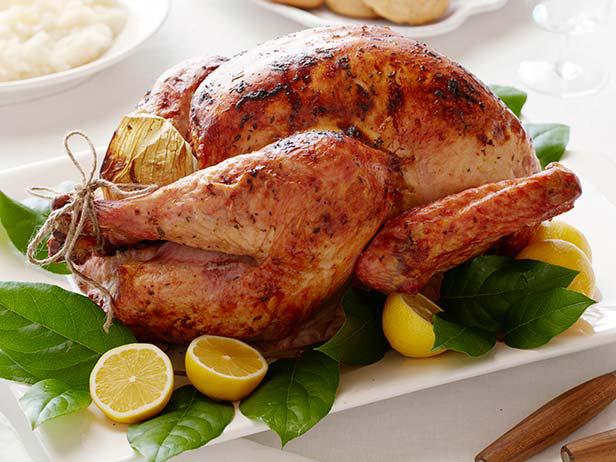 This roasted turkey, believe it or not, does not require any basting or covering. It's incredibly easy, and you'll end up with the juiciest, most perfectly cooked turkey you've ever had.
With the new spatchcock trend, you can shake up your turkey routine. It ensures even cooking every time, and the maple orange glaze adds a sweet and savory flavor to the turkey.
These smothered pork chops will outperform your favorite restaurant! This Southern-style recipe has a creamy gravy and is perfect for busy weeknights!
These tender and juicy ribs are a crowd pleaser if you're looking for a less traditional option for your holiday dinner. Learn how to bake them so that the meat falls off the bone!
EASY CHRISTMAS DINNER MENU
Begin your dinner menu with a bang! These appetizers are crisp, buttery, and oh-so-delicious. Rich brie is nestled in golden brown pastry shells and topped with a variety of garnishes.
Are you serving ham as your main course? Don't be satisfied with store-bought! Make it yourself, and your loved ones will feel even more special this Christmas. Don't worry, this recipe is extremely simple.
Without the sides, no Christmas dinner menu is complete! This stuffing contains walnuts, apricots, cranberries, onions, mushrooms, and celery. Just think about the explosion of flavors and textures! The bread is perfectly moist thanks to the vegetables.
We can't discuss stuffing without bringing up our favorite holiday bird. This recipe is all you'll need if you're serving turkey for Christmas. It's incredibly juicy, buttery, well-seasoned, and golden-roasted to perfection. This turkey will make your mother proud.
Tender, juicy pork chops are perfectly seasoned and topped with apples, cranberries, pecans, and walnuts. That's what I mean by "ultimate feast!" The crunch of the apples and nuts, combined with the chewiness of the cranberries, provides an excellent texture contrast to the tender pork chops.
Crisp on the outside, soft on the inside, and rich and buttery all over, these potatoes are legendary. Everyone loves potatoes, so they're a must-have on the Christmas table! Look at how beautiful these golden baby potatoes are!
CHRISTMAS DINNER IDEAS FOR TWO
This filet mignon is ideal for smaller holiday gatherings. You can cook this tender cut of meat with little effort and a lot of flavor by seasoning it with salt and pepper.
If you're pressed for time, try these seared scallops! They're delicious, elegant, and easy to make as an appetizer or main course.
If you're looking for a romantic holiday meal, try this chicken marsala. It's a one-pan meal with delectable flavors!
This simple dish contains ground beef, onions, mushrooms, and egg noodles! Beef stroganoff is topped with a rich, creamy sauce that comes together in less than 20 minutes!
Here's a healthier, paleo and gluten-free option. This roasted turkey breast is simply seasoned with rosemary, garlic, and lemon.
Don't worry if you're not a fan of anchovies; you might be after this! You'll learn how to make a homemade pizza with capers, anchovies, olives, onions, and cheese in this video.
Print
Homemade Anchovy Pizza
---
Author:

Prep Time:

10 minutes

Cook Time:

10 minutes

Total Time:

20 minutes

Yield:

8

servings

1

x
Description
Pizza with anchovies? It's a traditional flavor combination that's unbelievably delicious! Here's how to create an anchovy pizza in the Italian style.
---
1

 ball Best Pizza Dough (or Food Processor Dough or Thin Crust Dough)

2

 to 

3

 ounces fresh mozzarella cheese

6

 anchovy fillets from a jar or can

8

 Kalamata olives

1

 handful thinly sliced red onion
Parmesan or Pecorino cheese, for grating
Semolina flour or cornmeal, for dusting the pizza peel
---
Instructions
Make the pizza dough: To make the dough, use the Best Pizza Dough recipe. (This takes approximately 15 minutes to prepare and 45 minutes to rest.)
Preheat the oven to 500°F with a pizza stone. Alternatively, preheat your pizza oven (here's the one we use).
Make the pizza sauce: Follow the recipe for the 5 Minute Pizza Sauce.
Make the toppings: If using fresh mozzarella cheese, cut it into 14-inch-thick slices (see the photo). If the fresh mozzarella is extremely watery (all brands differ), you may want to let it sit for about 15 minutes on a paper towel to reduce moisture before dabbing the mozzarella with the paper towel to remove any further moisture.
Red onion, thinly sliced.
When the oven is hot enough, coat a pizza peel with cornmeal or semolina flour. (If you don't have a pizza peel, use a rimless baking sheet or the back of a rimmed baking sheet; nevertheless, a pizza peel is well worth the investment!) Stretch the dough into a circle; for directions, see How to Stretch Pizza Dough. Then, carefully transfer the dough to the pizza peel.
Spread the pizza sauce over the dough in a thin layer with the back of a spoon. Combine the mozzarella cheese, anchovy fillets, Kalamata olives, and red onion in a mixing bowl. Add a thin layer of grated Parmesan or Pecorino cheese on top.
Transfer the pizza to the hot pizza stone using the pizza peel. Bake the pizza for 5 to 7 minutes, or until the cheese and dough are well browned (or 1 minute in a pizza oven). Serve immediately after slicing into pieces.
Category:

Dinner

Method:

Oven

Cuisine:

Italian
Nutrition
Serving Size:

8 servings

Calories:

108kcal

Sugar:

1.3g

Sodium:

0mg

Fat:

2.1g

Saturated Fat:

0.7g

Unsaturated Fat:

0g

Carbohydrates:

179g

Fiber:

8g

Protein:

83g

Cholesterol:

155mg
Keywords: homemade anchovy pizza, anchovy pizza recipe, easy christmas dinner ideas, christmas dinner recipes
Frequently Asked Questions
What should I serve for Christmas dinner?
Popular Christmas dinner sides include:
Casserole of sweet potatoes
Gravy and mashed potatoes
Casserole of green beans
Bread made from corn.
Rolls.
Stuffing.
Potatoes gratinée
Sauce with cranberries.
What are the top 10 Christmas dinners?
The Top 8 Christmas Dinner Recipes:
Ham with a Maple Glaze.
Stuffing.
Turkey, Oven-Roasted
Pork Chops with Cranberry Apple Sauce
Parmesan-Roasted Potatoes
Brisket of beef
Parmesan-Roasted Butternut Squash
Soup with potatoes and leeks.
What is the most popular dinner on Christmas?
Roast potatoes are the clear favorite, with a 76 percent success rate. Mashed potatoes came in second (75%) and turkey came in third (73%)—the only protein in the top five.
What do you put in a Christmas Eve box for adults?
The obvious choice for a Christmas Eve box filler is festive treats and snacks. Whether it's special chocolates, stollen, or a gourmet nut selection, farm shops and supermarkets have a plethora of options, or you could make your own.
What is a traditional Italian Christmas dinner?
Traditional Christmas fare in Northern Italy includes Lasagne Bolognese and filled pasta such as manicotti and ravioli. The main event, the meat, is up next. Roasted veal, baked chicken, sausages, or braised beef are popular Natale entrées.
What is the most popular meat for Christmas?
The 5 Christmas Meats:
Tenderloin of beef
Pork Crown Roast.
The Prime Rib.
Ham in a spiral.
Short-Cut Rump Roast for the Holidays
What do adults do on Christmas Eve?
Adult Christmas Eve Traditions – No Kid(dos) Allowed!
Take a Santa Selfie and save it in your Santa Album.
On the coffee table, set up a Mini-German Pancake Bites Buffet.
Adults' Christmas Eve Boxes should be exchanged.
Organize an eggnog mix-in competition.
Unwanted Gift Edition of White Elephant.
Construct Spiked Snow Cones.
What is the weirdest Christmas tradition?
According to the Christmas spider legend, a poor widow and her children grew a Christmas tree from a pine cone but couldn't afford any decorations. On Christmas morning, they awoke to find their tree covered in cobwebs, which sunlight then transformed into gold and silver.
What is the most popular Christmas tradition?
The top eight holiday traditions in the United States:
Decorate the Christmas tree.
Make some Christmas cookies.
Write a letter to Santa (as well as the reindeer!)
Take a look at the twinkling lights.
Create a gingerbread house.
Christmas carols should be sung.
Give and receive gifts.
Wear an unflattering sweater.
When should Christmas dinner be cooked?
It's finally here! The main event has arrived! Remove your turkey from the refrigerator early and leave it covered: it will cook much faster if it is placed in the oven at room temperature. Place this in the oven three hours before you want to serve dinner.