17 Protein Packed Canned Corned Beef Recipes To Try!
★★★★★ 5 from 2 reviews
Canned corned beef is one of those pantry staples that you should always have on hand.
Corned beef is a lifesaver when you need a quick, cheap, and tasty meal on a busy day because of its long shelf life, high protein content, and versatility.
Looking for canned corned beef recipes ideas? Here are some of the most delectable meals you can make in a matter of minutes.
You're sure to enjoy all of the options on this list, whether you want to try something new or just use up your corned beef before it expires.
DO YOU NEED TO COOK CANNED CORNED BEEF?
Alternative video: Corned Beef Recipes
Recommended Posts:
Because canned corned beef is already cooked, you will only need to heat it when preparing these meals. It can also be consumed cold or straight from the can.
CANNED CORNED BEEF RECIPES (JAMAICAN)
A traditional corned beef recipe made with canned corned beef, as is done in the Caribbean. In less than 15 minutes, you'll have a tasty spicy corned beef dish ready to serve with rice, roti, bread, or crackers.
For a tasty twist, this corned beef and cabbage recipe combines traditional Jamaican style with smoked corned beef brisket. Though not the traditional Irish version, this is a great option for St. Patrick's Day or any other day.
My all-time favorite side dish is corned beef and potatoes. When I was a kid, my father didn't cook very often, but when he did, he had a few favorite dishes that he made, and this was one of them. My father always used canned corned beef when making corned beef and potatoes. And I did, until I did Whole30 and discovered that sugar is added to everything, including canned corned beef.
This traditional sandwich is made with either bully beef or tin corned beef. Every Jamaican child has fond memories of eating these for lunch! In honor of Jamaica's Independence Day, I'm sharing a traditional Jamaican dish with my Jamaican readers: a bully beef sandwich!
HEALTHY CANNED CORNED BEEF RECIPE
This delectable dish is popular in both Ireland and Jamaica. Canned corned beef is seasoned with onion and black pepper and cooked down with steamed cabbage.
Corned Beef Silog consists of sautéed corned beef with onion, garlic fried rice, and fried egg. The corned beef used in this recipe is canned. I used a Filipino brand that was excellent.
Making the classic Reuben sandwich with canned corned beef is a great shortcut. Excellent for a quick lunch or when preparing camping meals.
SPICY CANNED CORNED BEEF RECIPE
The combination of corned beef, rice, and corn, along with the addition of fried eggs on top, makes this an instant hit with both adults and children! But don't forget to leave out the chili peppers in the recipe if you're serving it to kids.
Corned Beef Hash is a delectable combination of corned beef, cubed potatoes, and onions cooked over high heat with charred and crispy bits. It's comfort food at its finest: simple, quick, and oh-so-satisfying. I'm also a big fan.
For those on a tight budget, corned beef hash is a low-cost yet tasty meal option. Puerto Rican corned beef hash, also known as carne bif, is a popular Puerto Rican dish with simple ingredients and bold flavors!
CANNED CORNED BEEF RECIPE KETO
If you enjoy corned beef hash and miss it for breakfast or brunch, I have a recipe for you: Keto-Friendly Corned Beef Hash. Chef Jenn, follow me and I'll show you all my best tips and tricks for making this amazing keto breakfast recipe perfectly every time!
Move over potatoes, radishes make the crispiest and most decadent keto corned beef hash ever. Say hello to your new low carb breakfast BFF – for real!
Low-Carb Reuben Bake is a delicious way to use leftover corned beef, but you can also buy corned beef at the deli to make this casserole. And it has all the flavors of a reuben sandwich but none of the carbs.
BEST CANNED CORNED BEEF RECIPE
Ginisang Corned Beef is quick to prepare and cooks in a single pan. It's a hearty and delicious combination of chunky corned beef and diced potatoes that's perfect for breakfast, brunch, or any meal of the day.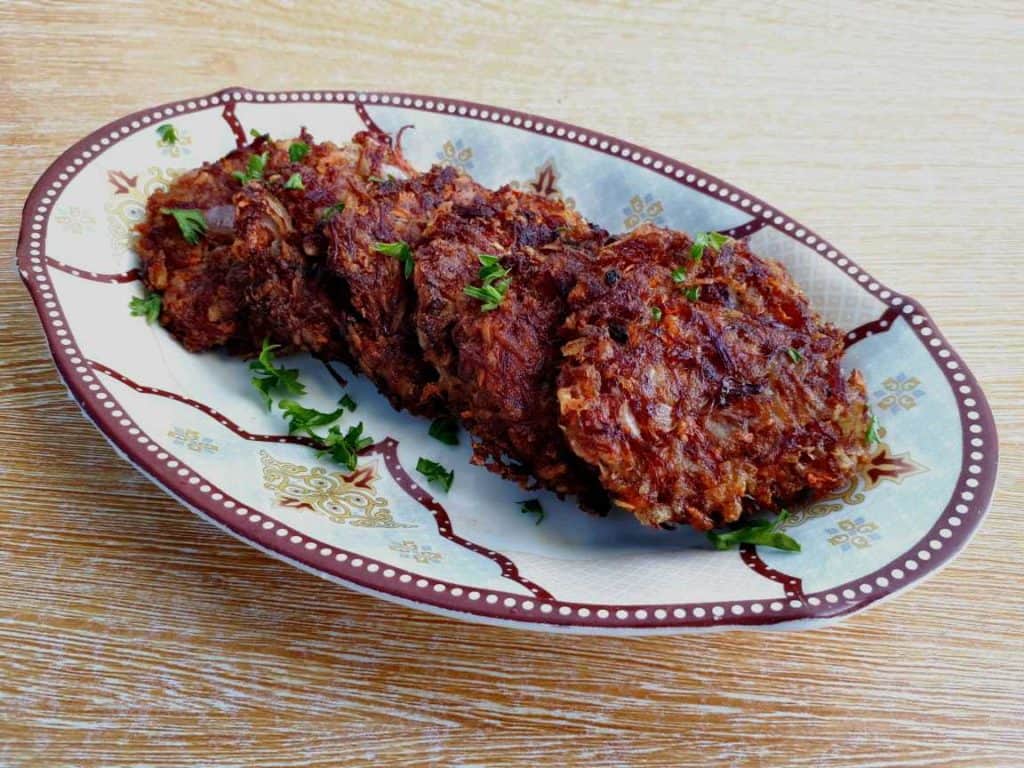 Corned Beef Hash Patties are patties made from corn beef, egg, potatoes, and carrots. It's a great appetizer, and I use canned corn beef in this recipe.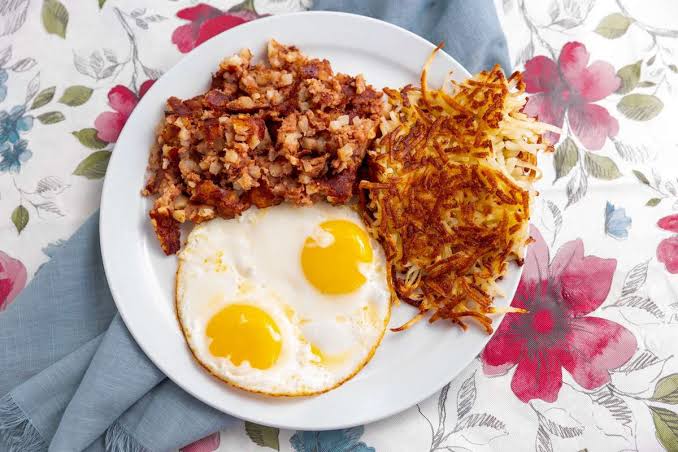 This corned beef hash is perfect for a one-of-a-kind homemade brunch. Corned beef, potatoes, bell peppers, and spices are combined in this dish, which is topped with fried eggs and a delicious sprinkling of melty cheese.
This traditional Irish casserole doesn't have to be served on St. Patrick's Day. The layers of thinly sliced potatoes, onions, cabbage, and seasoned corned beef will delight you.
Print
Canned Corned Beef Recipes
---
Author:

Prep Time:

10 minutes

Cook Time:

30 minutes

Total Time:

40 minutes

Yield:

4

servings

1

x
Description
In this Corned Beef Hash with Eggs, tender potatoes and savory leftover corned beef fry up crispy and delicious.
---
1

 

tablespoon

 

olive oil

1

 

tablespoon

 

unsalted butter

1

 

small

 

yellow onion,

 

finely diced

2

 

cloves

 

garlic,

 

minced

2

 

russet potatoes,

 

peeled and cut into ½-inch cubes

Salt and pepper,

 

to taste (don't use too much because cooked corned beef is usually saltier)

½

 

teaspoon

 

dried oregano

½

 

teaspoon

 

dried basil

3

 

cups

 

diced leftover corned beef

1

 

teaspoon

 

Worcestershire sauce

4 to 6

 

eggs,

 

optional

Chopped fresh parsley,

 

for garnish
---
Instructions
Preheat the oven to 400°F if using the eggs.
In a large skillet, preferably cast iron, heat the olive oil and butter.
Add the onions to the heated butter and oil and cook for 2 minutes. Stir seldom.
Cook for 15 seconds after adding the garlic.
Season potatoes with salt, pepper, oregano, and basil and simmer for 15 minutes, or until slightly browned and soft. Stir seldom.
Cook for 5 minutes more, or until crispy, after adding corned beef and Worcestershire sauce.
Turn off the heat.
Continue with the recipe if you're using eggs. If not, sprinkle with parsley before serving.
Make 4 to 6 wells in the hash if using eggs.
Fill each well with an egg.
Season the eggs liberally with salt and pepper.
Bake the hash for 8 to 10 minutes, or until the egg whites are set.
Take out of the oven.
Garnish with parsley if desired.
Serve.
Category:

Breakfast

Method:

None

Cuisine:

American
Nutrition
Serving Size:

4 servings

Calories:

382mg

Sugar:

2g

Sodium:

1115mg

Fat:

23g

Saturated Fat:

8g

Carbohydrates:

22g

Protein:

21g

Cholesterol:

217mg
Keywords: corned beef hash and eggs, corned beef recipe ideas, breakfast corned beef recipes, easy corned beef ideas
HOW TO COOK CANNED CORNED BEEF?
Corned beef is already fully cooked when it comes from the can. Some people prefer to lightly heat the beef while others fry it in oil. It all comes down to personal taste and what you want to achieve.
CAN YOU FREEZE CANNED BEEF?
Canned corned beef has a five-year shelf life if the packaging is still intact. After you've opened the can, you can keep any leftovers in the freezer for up to 4 months in an airtight container or bag.
CAN YOU OVERCOOK CANNED BEEF?
Keep in mind that corned beef is already fully cooked in its can. As a result, if you're not careful, you can easily overcook it. We recommend cooking on low heat for a short period of time.
Frequently Asked Questions
How do you crisp up canned corned beef?
As a result, heat your skillet and then spread your canned corned beef in a layer on it. Cook the beef for about 10 minutes on medium-high heat before adding the eggs. Resist the urge to stir the beef until it is perfectly crisp.
How do you eat corned beef from a can?
Canned corned beef is a popular breakfast ingredient. Simply slice the beef and fry it in a skillet, then serve with eggs, grits, potatoes, rice, or whatever you want. On a simple sandwich, canned beef is delicious. Sear beef slices in a skillet and serve with plenty of mustard on white bread.
Why is canned corned beef bad for you?
While corned beef may have some health benefits, it is both red meat and processed meat. The high sodium content of processed meat may also raise blood pressure in some people. Both of these factors can contribute to an increased risk of heart disease ( 8 ).
Is canned corned beef safe?
There have been no reports of adverse reactions to canned corned beef consumption. Don't eat any canned corned beef that you have in your pantry or refrigerator.
More corned beef recipes to try:
Corned Beef Recipe with Egg
Sunday breakfasts have always been a special occasion in our home. It's a lot of fun to get in the kitchen with the kids and cook together. They always rate this corned beef hash recipe as the best, no matter how many other recipes we attempt!
Click Here
Corned Beef Recipe Slow Cooker
It's a lot of food and a lot of work, so this slow cooker version comes in handy. All you have to do is toss everything into the slow cooker and you're ready to go! Really. There is no searing, dicing, or anything else. Even your vegetables can be put in as is.
Read Here
OTHER RELATED POSTS: