Famous Anchovies Pizza Recipe [2022] (Full of Flavor!)
★★★★★ 5 from 1 reviews
Do anchovies go well with pizza? Anchovy pizza is one of the most popular Italian pizza recipes, and it has an incredible flavor.
You can use your favorite pizza dough or this simple 1-bowl recipe, which requires no kneading or a stand-mixer.
The crunchy pizza crust topped with tomato sauce, creamy mozzarella, salty anchovies, capers, and oregano… all of these flavors are BIG.
For a fantastic pizza night, pair with a glass of white wine or a cold beer.
WHY YOU'LL LOVE THIS RECIPE?
It's Full of Flavor! The salty anchovies and olives combine with the zesty, but slightly sweet onions and tomato sauce to create an out-of-this-world flavor combination!
It's quick! This recipe has only 8 ingredients, 5 steps, and takes only 20 minutes to prepare! You won't believe how quickly this pizza pie can be on your table.
It's so cheesy! The toppings on this pizza are delicious, but the cheese is what really holds everything together!
Mozzarella and Parmesan combine to create the ideal golden brown cheesy bite!
HOW TO MAKE THE BEST ANCHOVY PIZZA?
A few special tools are required to make the best anchovy pizza. You'll need two tools to make the perfect pizza crust if you want to make truly great pizza:
A pizza stone is what allows Italian pizza crust to be crispy on the outside and soft on the inside. Here's our recommendation for the best pizza stone, as well as some additional information on pizza stone care.
A pizza peel is used to slide a pizza onto a hot pizza stone in the oven. We recommend using either the Standard pizza peel or the Conveyor pizza peel. The conveyor pizza peel is well worth the extra cost because it makes removing the pizza from the oven a breeze.
Other Pizza Recipes to Try
HOW TO MAKE GREAT ITALIAN PIZZA DOUGH?
To make the best anchovy pizza, begin with a good Italian pizza dough. Here are some of our best advice:
Use high-quality flour. The flour we use is Tipo 00 flour, which is used in Neapolitan pizza restaurants. It results in a lovely, supple, and fluffy dough.
Make use of a great pizza dough recipe! Our preferred method is to make our Best Homemade Pizza Dough in our stand mixer, but you can also knead it by hand. Our Easy Thin Crust method is similar, but it produces a thinner dough that is rolled out. For even simpler methods, try Sheet Pan Pizza or Cast Iron Pizza.
HOW DO YOU MAKE THE BEST PIZZA EVER?
Aside from the quality of the ingredients, there are a few key factors that contribute to the deliciousness of your pizza:
Allow the dough to rise until it has doubled in size.
Using your fingers, gently stretch the dough.
You don't want to push out gas and bubbles by using a rolling pin.
Preheat the oven: the higher the temperature, the better the pizza!
If possible, use a hot pizza stone or pizza steel! They both provide a burst of initial heat to the dough, making it puffy and crusty at the same time. A pizza tray also works well and produces a nice crust.
ANCHOVY PIZZA INGREDIENTS
Dough: You can use your favorite dough or my simple no-knead dough recipe.
Tomato sauce: select your favorite tomato passata, preferably made from sweet Italian tomatoes. Mutti is my favorite brand; the tomato passata is delicious.
Anchovy fillets in olive oil: Choose high-quality anchovies that are full of umami flavor and just the right amount of saltiness. On your pizza, you want fat and flavorful achovy fillets, not skinny, mushy anchovies packed with salt.
Mozzarella: When it comes to good pizza, there is no such thing as "pizza cheese," and the best mozzarella is fresh, real mozzarella. However, don't overfill your pizza with fresh mozzarella because the water content can make the pizza bottom soggy. Less really is more!
Extra virgin olive oil: only drizzle with extra virgin olive oil
HOW TO BAKE PIZZA WITH ANCHOVIES?
Keep in mind that this is a high-hydration dough if you make this no-knead pizza recipe. Because of the high water content, this dough is easy to make in one bowl, but it can be messy when transferring your pizza from a pizza peel to a hot pizza stone or pizza steel.
This is where parchment paper comes in.
Place a piece of parchment paper on top of your pizza peel and start assembling your pizza. When the pizza is done, slide it back onto the pizza peel and place it on your preheated pizza stone. There's no muss, no fuss.
ANCHOVY PIZZA VARIATIONS
What foods pair well with anchovies? There aren't many choices because the anchovy flavor is the star of the show.
Anchovies, on the other hand, go well with fresh sliced garlic, fresh cherry tomatoes, black olives, oregano, and capers.
HOW LONG DOES ANCHOVY PIZZA LAST?
Once your anchovy pizza has cooled, place it in a large freezer bag and store in the fridge for up to 2 days.
Wrap your pizza in cling film or place it in a freezer bag, squeeze out the air, and freeze for up to 2 months.
TIPS
Prepare the dough and sauce ahead of time.
Do not roll your dough; instead, stretch it by hand.
Use anchovies packed in oil rather than water.
Bake your pizza in a very hot oven, preferably one that is 500°F (260°C).
Preheat your pizza stone and bake your pizza in the center of the oven.
RECIPE NOTES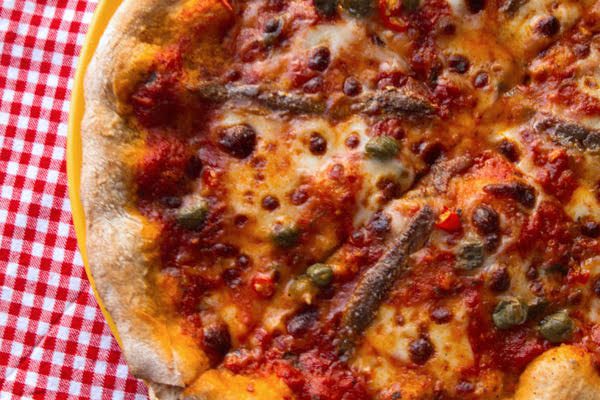 I recommend making the dough at least a day ahead of time, then letting it sit out for 1 hour to come up to room temperature.
Hand-stretching the dough rather than rolling it out helps to keep the air bubbles in the crust! Tips on how to stretch by hand can be found in my incredible garlic pizza recipe!
Oil-packed anchovies are usually canned or jarred and can be found in the tuna/sardine or Italian section of your grocery store.
If you want to make this pizza but are unsure about the anchovies, start with a few, or break the anchovies into smaller pieces before placing on the pizza. The flavor is incredible, and you don't want to miss out!
Frequently Asked Questions
How do you use anchovies on a pizza?
Spread 2 tbsp marinara on top of each crust. Sprinkle with fresh mozzarella, olive slices, and capers. Assemble the anchovy fillets. Bake each pizza for about 10 minutes, or until the crust edges begin to brown and crisp.
Do you put anchovies on pizza before or after cooking?
I recommend putting anchovies in the oven for the last 5 minutes. This allows them to heat up and become incorporated into the pizza. The delicate texture and complex flavor of anchovies can be altered by the baking process if they are combined with other toppings at the start.
Why do people put anchovy on pizza?
Pizza was a "peasant food," the 18th-century equivalent of fast food, and peasants preferred things that were inexpensive and didn't spoil quickly, hence anchovies. They weren't strange. They were ordinary and traditional.
Is anchovies good on pizza?
Anchovies are salty because they thrive in salty water. To avoid the anchovies' pungent salty taste, Italians combined them with cheese and tomatoes to make Neapolitan pizza. Anchovies make excellent pizza toppings if properly filleted and rinsed. They give your pie a fantastic flavor.
Print
Famous Anchovies Pizza Recipe
---
Author:

Prep Time:

10 minutes

Cook Time:

10 minutes

Total Time:

20 minutes

Yield:

1

1×12″ pizza

1

x
Description
This quick and flavorful Anchovy Pizza is one of the best you'll ever have! Salty anchovies combine with savory pizza sauce, melted cheese, and fantastic toppings to make a homemade pizza that will keep you and your family coming back for more!
---
12

 

oz

 

pizza dough

 (use half of my recipe for

1

pizza, or use store-bought dough)

¾

 

cup

 

pizza sauce

 

(make mine or your favorite store bought)

1

 

cup

 

mozzarella cheese

 

(grated)

½

 

cup

 

Parmesan cheese

 

(grated)

1

 

can

 

anchovy fillets

 

(canned, packed in oil)

¼

 

small

 

red onion

 

(sliced)

1

 

teaspoon

 

crushed red pepper flakes

 

(optional)

8

 

kalamata olives 

(optional – sliced)
---
Instructions
Preheat the oven to 500°F (260°C) or as high as it will go. Dust your baking sheet, pizza pan, pizza stone, or pizza peel with flour or cornmeal.
Punch down your dough, then stretch it into a circle about 12″-14″ in diameter.
12 ounces pizza dough
Place the pizza sauce on top, followed by the mozzarella and Parmesan cheeses. Place the anchovy fillets on top of the cheese, followed by the sliced red onions and other optional toppings.
Place your pizza pan or pizza stone on the middle rack of your oven and bake at 500°F (260°C) for 8 to 12 minutes, or until golden brown and bubbly.
When done, remove from the oven. Cut, serve, and enjoy!
Notes
Prepare the dough and sauce ahead of time.
Do not roll your dough; instead, stretch it by hand.
Use anchovies packed in oil rather than water.
Bake your pizza in a very hot oven, preferably one that is 500°F (260°C).
Preheat your pizza stone and bake your pizza in the center of the oven.
Category:

Appetizer

Method:

None

Cuisine:

American
Nutrition
Serving Size:

8 servings

Calories:

1946kcal

Sugar:

32g

Sodium:

4984mg

Fat:

52g

Saturated Fat:

26g

Carbohydrates:

179g

Cholesterol:

155mg
Keywords: Anchovy pizza recipe, best anchovy pizza, pizza recipe, pizza