Frisch's Big Boy Pizza Recipe [2022] (Homemade)
★★★★★ 5 from 1 reviews
Do you like Frisch? So do we.We tested this Frisch's Big Boy Pizza Recipe that will make you and your stomach smile.
Let's get started!
I realize that some of you may not know what Frisch's Big Boy is.
Frisch's was Cincinnati, Ohio's first Drive-In restaurant in 1946. For all I know, you may only be familiar with Bob's Big Boy.
Frisch's Big Boy Pizza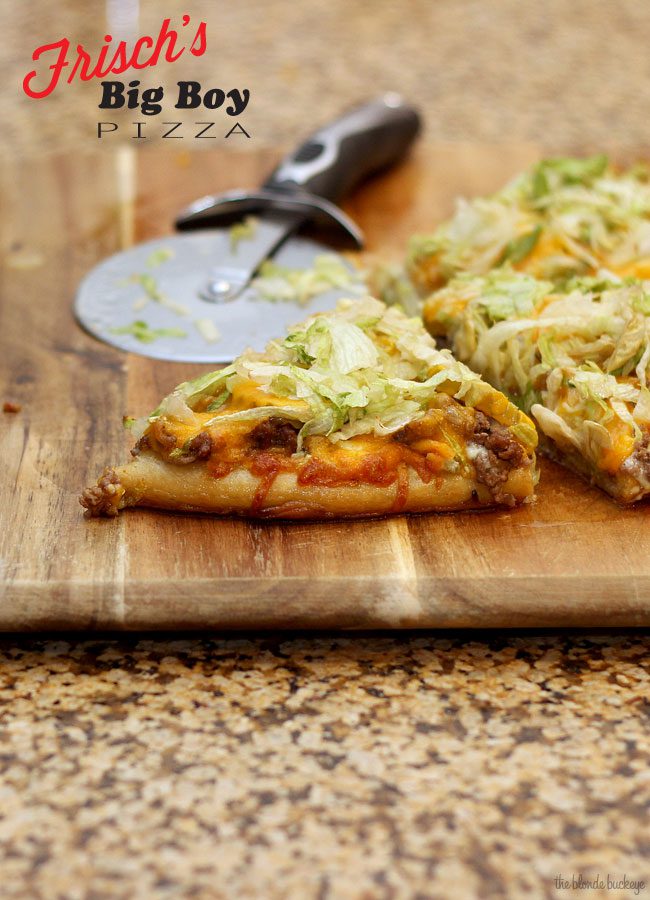 So I just want to clear things up: Frisch's Big Boy is the best Big Boy.
Sorry. I can say this because I have also had Bob's Big Boy also.
If you don't live in/ around or visit Ohio or Kentucky, you're missing out. The good news is, this pizza can be enjoyed anywhere.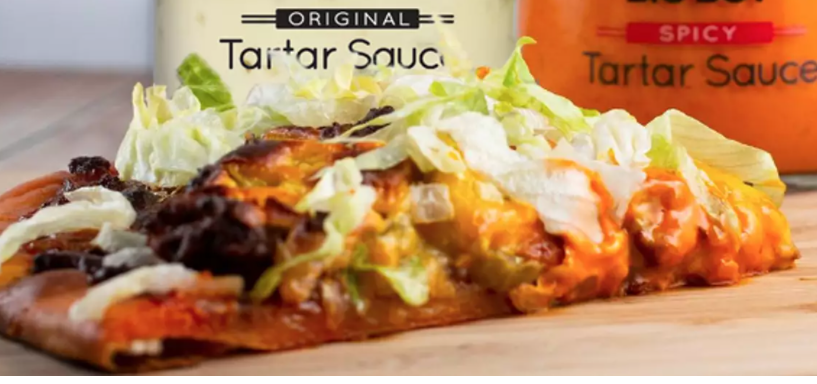 Frisch's has a super famous double-decker burger called the Big Boy.
It's quite simple, but always done to perfection;
Ingredients:
Buns
Burgers
American cheese
Dill pickles
Frisch's Tartar Sauce.
Shredded Ice Berg Lettuce
This was a staple in my life, all my life. It helped me through a lot of hangovers in my early 20's.
Plus, I don't even like tartar sauce! That's how good it is. It's different from other tartar sauces. It's tangy, creamy & delicious.
Several years after I moved to California, imagine my surprise when my brother told me that he had made Big Boy Pizza.
Um, what? How did I not know about this?! I got my hands on some Frisch's Tartar Sauce as soon as I could & made it (you can order it here).
It is TO DIE. Burger pizza, first of all, is just an obvious no-brainer. But this pizza just brings me back to my childhood.
Better yet, my husband, who is not from the midwest, loves it equally as much.
Print
Frisch's Big Boy Pizza Recipe
---
Author:

Prep Time:

15 Minutes

Cook Time:

10 minutes

Total Time:

25 minutes

Yield:

12

" Pizza

1

x
Description
Frisch's Big Boy Pizza Recipe
Makes 1 – 12″ Pizza

---
1

–

12

" Round Pre-cooked Pizza Crust (like Boboli)

1 Tablespoon

Olive Oil

1

(9 ounce) Jar Frisch's Tartar Sauce

1

pound Cooked Ground Beef, drained
Dill Pickle Slices (to taste)

1 cup

Shredded Mild Cheddar Cheese
Shredded Iceberg Lettuce (pre-packaged bag), washed & dried
---
Instructions
Preheat oven (with pizza stone, if you have one) to 450 degrees F.
Place pre-cooked pizza crust onto a large cutting board. Using a pastry brush, coat the crust evenly with olive oil from edge to edge. Next, coat the crust evenly with tartar sauce using the back of a large spoon or rubber spatula, leaving about a ¾" border. Add the drained & cooked ground beef and then place dill pickles evenly across the pizza (as you would pepperoni). Next sprinkle the cheese evenly over the pickles and meat.
Bake pizza for about 6-8 minutes, then add the lettuce, and bake for another 2 minutes or so. (You can add lettuce anytime during cooking, or wait until it is completely done cooking, depending on your preference). Bake pizza for a total of 8-10 minutes, or until cheese is completely melted & edge turn golden brown.
Remove pizza from oven & cut into 6-8 wedge pieces.
Notes
*If you have a pizza stone, I highly recommend using it.
*This pizza reheats really well, so keep any leftovers in an airtight container, stored in the refrigerator for up to 2 days.
*Adapted from a combination of Frisch's Recipes and my brother 🙂
Category:

Pizza

Method:

Bake

Cuisine:

American
Keywords: pizza, Frisch's Big Boy
More Frisch Big Boy Information:
Frisch big boy locations in the USA
frisch big boy norwood ohio
frisch big boy locations in ohio
frisch big boy maysville ky
frisch big boy near me
Frisch big boy breakfast buffet hours
Buffet hours and items. https://www.frischs.com/lp/breakfast-bar/
Buffet Items.
Avocado
Black Olives, Sliced
Broccoli Florets
Burger Lettuce, Leaf
Cheddar Cheese
Chips
Cilantro
Cottage Cheese
Cucumber
Diced Tomato
Balsamic Dressing
Ranch Dressing
French Toast Sticks
Fresh Fruit
Fruit Topping
Jalapeno Slices
Limes
Pancake Syrup
Pickled Onion
Pico de Gallo
Roasted Corn
Romaine Lettuce
Salsa
Sour Cream
Tri Color Peppers
Butter Packets
Jelly Packets
Bacon
Biscuits
Black Beans
Caramelized Mushrooms
Caramelized Onions
Caramelized Pepper
Cheese Sauce
Chorizo
Churros
Eggs with Butter
Goetta
Impossible Sausage
Poblano Queso
Rice
Sausage Gravy
Sausage Links
Sausage Patties
Spicy Spuds
Sweet Potatoes
Tortillas
Frisch big boy menu

Frisch features their favorite new breakfast, lunch, and dinner offerings. Try their new Avocado Toast, Fried Shrimp and Cheddar Grits, and Impossible Big Boy! The whole menu is available below.


The ninth of ten children, Dave Frisch followed in the footsteps of his father Samuel Frisch, who in 1905 opened the Frisch Café in Cincinnati, Ohio.
In 1915, Samuel opened Frisch's Stag Lunch in Norwood, a suburb of Cincinnati. Dave withdrew from school as a teenager to work full-time in his father's restaurant. He eventually returned to high school, but before he graduated, his father passed away, leaving Dave and his brothers to run the restaurant.

Click the link for the full story.
Frisch big boy Corydon Indiana – Location is Closed.

Address: 125 Sky Park Dr NE, Corydon, IN 47112
Phone: (812) 738-1970

Reviews:
KellyT's
Southern Indiana Life
4 years ago
Food was good for the price. Big boys could stand to be a little better. The service was great. Full menu. Salad bar.
Hot fudge ice cream cake was great!
Totally recommend
Happy eating😊


Paul Van
4 years ago
Loved the big boy w fries n tartar forever. My patented meal. Salad. The best dessert by any restaurant. Period.

Howellwireless Ltd.
4 years ago
Not as good most Frisch's in ohio but it was waaay better than my last visit to this one
Frisch big boy menu prices


You can check your online ordering to see current menu prices. Prices change constantly and differ from location to location, so best to check your local locations. Click Here