Extra Juicy Air Fryer Meatloaf (Delicious recipe)
Meatloaf cooked in the air fryer is a family-friendly dish that will quickly become a staple on your weekly menu. On the outside, it has a fantastic crust, and the inside is deliciously moist. All of this is topped with a mouthwatering sauce.
If you've never made meatloaf in the air fryer, get ready for your life to change drastically.
Seriously. This air fryer meatloaf is as good as it gets!
It's ultra-tender, extra juicy, and gets that crispy exterior that makes the air fryer worth every penny. It also takes 10 minutes to prep and cooks in half the time as regular meatloaf.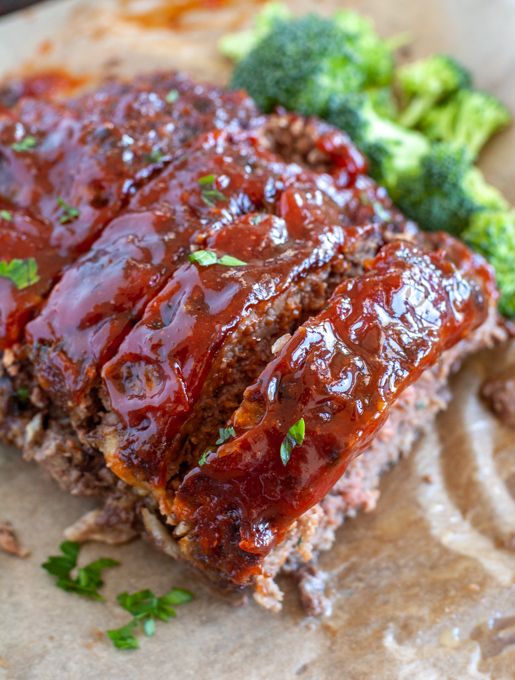 Why Make Meatloaf in the Air Fryer?
A basic meatloaf is a favorite meal, and we love making it in the air fryer for a quick weekday meal.
When compared to an oven recipe, this can be baked in about half the time.
The fat drips into the pan, preventing the meat from cooking in it.
This recipe yields two smaller meatloaves, making them easier to manage (and you get more of the crispy edges)
It's simple to clean up (I have the Cosori 5.8QT XL and a quick rinse and it goes into the dishwasher)
What meat to use for meatloaf?
You can use regular or lean ground beef for this air fryer meatloaf recipe!
Since this meatloaf is cooked in the air fryer, the grease drips off of the meatloaf through the holes in the air fryer basket. You get the tender, moist texture of regular ground beef without the excess grease!
If you prefer, you can also use lean ground beef. It may not be quite as juicy, but it will still be delicious.
Tips, tricks, and notes for air fried meatloaf
Don't over-mix. Mix together the meatloaf ingredients until just combined. If you over-mix, the meatloaf may come out dry or tough.
Preheat the air fryer. Be sure you take a few minutes to preheat the air fryer to 350ºF before adding the meatloaf. This ensures that it cooks evenly.
Check the top. After the meatloaf has cooked for 15-20 minutes, check to make sure that the top isn't getting too dark. If it looks too brown, cover it with foil and continue to cook.
Let it rest. After the meatloaf is done cooking, make sure you let it rest on a cutting board for 5-10 minutes before slicing into it. This allows the juices to redistribute throughout the meat and makes it easier to slice.
Use a serrated knife to slice. A serrated knife makes it easier to cut into the meatloaf without it crumbling.
Needed ingredients
Ground beef – You can also use ground turkey. The higher the fat content, the more grease. I typically use leaner beef.
Panko bread crumbs – You could replace with regular bread crumbs, Italian bread crumbs, gluten-free bread crumbs or quick cooking oats.
Eggs – This helps bind the meatloaf together.
Milk – Adds moisture.
Parsley – Adds freshness and a little green.
Worcestershire, Garlic Salt and Italian Seasoning
Sauce – Ketchup, brown sugar, ground mustard
How to cook meatloaf in the air fryer?
MIX: In a large mixing bowl, combine the Panko crumbs, milk, and eggs. Ground beef, diced onion, Worcestershire sauce, parsley, garlic salt, and Italian seasoning are added to the pan. Mix until everything is well mixed.
FORM: In a loaf pan, line with parchment paper. Place the mixture on top of the parchment paper and shape into a loaf.
AIR FRY: Remove the paper from the pan with the meatloaf and place it in the air fryer basket. Cook for 30 minutes at 370 degrees.
After 10-15 minutes of cooking, check the meatloaf. If the top of the meatloaf begins to darken, cover it with a tiny piece of foil and continue to cook. It will differ based on the air fryer brand.
SAUCE: Combine ketchup, brown sugar, and dry mustard in a small bowl. Spread half of the sauce over the meatloaf after 30 minutes. Cook for an additional 10-15 minutes, or until the internal temperature reaches 165°F.
Serving Suggestions
This air fryer meatloaf is great to serve with veggies and potato side dishes. Try it with:
This is one hearty and delicious meal that is so easy to make. Serve it up with your favorite sides for one tasty family meal.
Frequently Asked Questions
How long do you air fry ground beef?
Around 8 to 10 minutes
The length of time it takes to air fry ground beef is determined by the amount of ground beef used and the size of your air fryer. It takes 8 to 10 minutes to complete. You can remove the meat after it begins to brown.
Do you cook meatloaf covered or uncovered?
During cooking, cover a single big meatloaf with aluminum foil to keep it moist, but leave it exposed for the last 15 minutes of baking. "Meatloaf can be refrigerated uncooked for later cooking or cooked and frozen for later reheating." Preheat oven to 350 degrees F.
How do I make sure my meatloaf is moist?
Make use of high-fat meat.
The meatloaf will be dryer and grainier if the beef is leaner. Always use a higher-fat cut, at least 15%, for an all-beef meatloaf. Consider adding some ground pig and/or veal to a meatloaf made with leaner beef or turkey to get a moist, tender meatloaf.
Why is my meatloaf falling apart?
What Causes Meatloaf to Fall Apart? … The most common cause of meatloaf falling apart is a lack of binding agents, such as eggs and breadcrumbs. These are important ingredients because they help the meat mixture hold together and stay together while cooking.
Print
Air Fryer Meatloaf – (perfectly delicious!)
---
Author:

Prep Time:

15mins

Cook Time:

20mins

Total Time:

35mins

Yield:

4

1

x
Description
Thanks to the air fryer, you can make a great and flavorful homemade meatloaf in a fraction of the time. This beef meatloaf dish is ready to serve in about 30 minutes, perfectly cooked and juicy. Perfect for a quick weeknight meal.
---
2

 

lbs

 

ground beef

2

 

eggs

1/2

 

cup

 

diced onion

1/4

 

cup

 

milk

3/4

 

cup 

panko bread crumbs

1/4

 

cup

 

chopped fresh parsley

1

 

tablespoon

 

Worcestershire sauce

1

 

teaspoon

 

garlic salt

1

 

teaspoon

 

Italian seasoning

1

 

cup

 

ketchup

1/2

 

cup

 

brown sugar

1

 

tablespoon

 

ground mustard
---
Instructions
In a large mixing bowl, whisk together the eggs, Panko, and milk. Combine the ground beef, onion, parsley, Worcestershire sauce, garlic salt, and Italian seasoning in a large mixing bowl.
Using parchment paper or foil, line a loaf pan. Form a loaf with the meat mixture in the prepared pan.
Carefully lift the loaf into the air fryer basket using the parchment. Preheat oven to 370 degrees Fahrenheit for 15 minutes. If the top of the meatloaf is beginning to brown and crust, cover it with a small piece of foil. Continue to cook for another 15 minutes at 370 degrees F.
To prepare the sauce, combine ketchup, brown sugar, and ground mustard in a small bowl. Spread half of the sauce over the meatloaf after it has been cooking for 30 minutes.
Cook for an additional 10-15 minutes, or until the internal temperature reaches 165°F.
Allow 10 minutes for the meatloaf to rest before slicing. If necessary, add more sauce.
Notes
TIPS:
Make sure the meatloaf mixture isn't overworked. Everything should be completely mixed, but too much mixing can make the beef chewy and dense.
The meatloaf may go immediately into the air fryer basket. You can place it on foil if you prefer.
Although I prefer the tomato glaze to complete this meatloaf, it will be excellent even without it.
Category:

Main

Method:

Air Fry

Cuisine:

American
Nutrition
Calories:

343kcal

Sugar:

14g

Sodium:

1005mg

Fat:

25g

Saturated Fat:

10g

Unsaturated Fat:

1g

Carbohydrates:

27g

Fiber:

1g

Protein:

24g

Cholesterol:

123mg
Keywords: Air Fryer Meatloaf
Try this alternative recipe: