Cheesy Beef and Rice Casserole Recipe
It's simple to make a traditional dish with essential, inexpensive components. This beef and rice casserole has ground beef, corn, broccoli, rice, and a significant amount of cheese.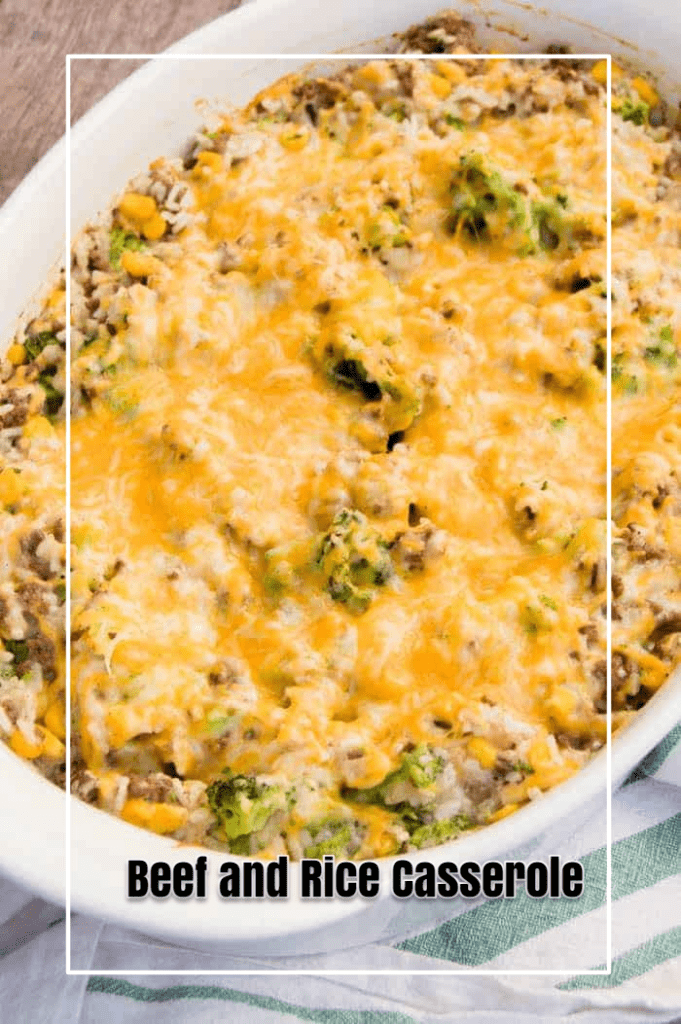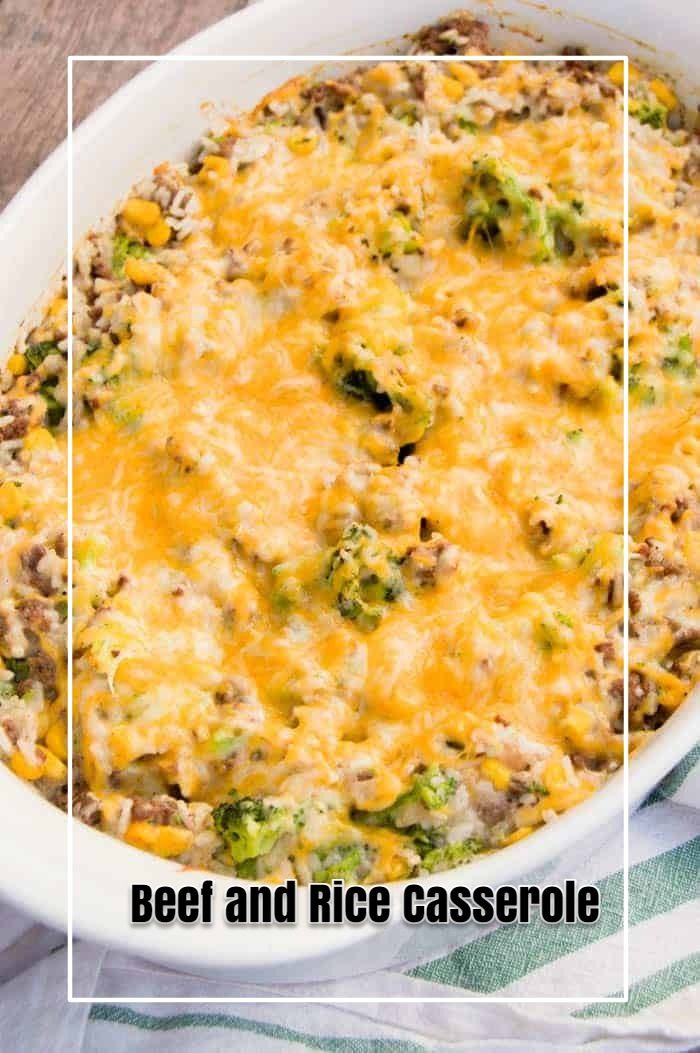 I can still taste this recipe from my youth. We never had a great grocery budget, and my mom loved making quick, simple meals, so we frequently used products like ground beef and rice. It was inexpensive and straightforward to grab at the store. I was eager to prepare it for my children because it was one of my favorite meals.
I frequently use ground beef dishes when I need to prepare dinner quickly. They cook quickly, and ground beef has a lot of uses. Additionally, even my picky eaters enjoy ground beef meals. The whole family loves this delicious ground beef and rice casserole!
WHAT IS A RICE CASSEROLE WITH BEEF?
A fantastic comfort meal recipe that can be prepared in a slow cooker, Instant Pot, or on the stovetop is beef and rice casserole. It is a quick and delicious recipe that takes a few minutes to prepare. It's ideal for hectic weeknights when you need to prepare dinner quickly.
In a flavorful tomato sauce, beef, rice, and various veggies are cooked together to create this Beef and Rice casserole. The rich and delicious Beef and Rice Casserole is light enough to keep you from feeling sluggish afterward. The best part is that it is reasonably priced.
INGREDIENTS FOR A BOWL OF RICE AND GROUND BEEF CASSEROLE
You only need a few essential ingredients for this quick and simple dinner. You'll need the following:
Although stew meat is an alternative to ground beef, I like it.
The yellow onions wonderfully enhance the flavor of this casserole. Make sure to cut it up.
I used a dash of red bell pepper, but you could also use a green, yellow, or orange bell pepper. Remember that different hues will produce distinct flavors.
Garlic that has been minced: I used three garlic cloves. Instead, you might use one tablespoon of prepared minced garlic.
Use 1 can of Rotel diced tomatoes and green chilies to prepare this casserole quickly and easily; do not drain the can.
While water could be substituted, beef broth or stock gives your food additional flavor.
Worcestershire sauce: This sauce gives food a caramel-like flavor and helps beef become softer.
You can substitute any shredded cheese you like in place of the cheddar cheese that I used in this recipe.
Long-grain rice was used in this dish. Cooking times could change if you use a different kind of rice.
Spices: Add salt and pepper to the casserole as seasonings.
Fresh parsley can optionally be used to garnish the casserole.
MAKING FOOD IN A SLOW COOKER
One of its best features is the ability to prepare a dinner entirely in a slow cooker, switch it on, and then go about your day. Brown, the meat, then add it to the slow cooker along with the rice, vegetables, and seasonings for this beef and rice casserole. Then, enjoy a tasty and filling lunch at the end of the day by letting it simmer all day. Of course, the cheese should be added last.
MAKING FOOD IN AN INSTANT POT
Creating this beef and rice casserole in the Instant Pot is even simpler! The rice, tomatoes, garlic, broth, and spices should only be added after the ground beef and onion have been cooked. After giving it a good swirl, set the pot to cook for 5 minutes at high pressure. When it's finished, wait 10 minutes for the pressure to relax naturally before using the quick release to relieve any lingering pressure. Then remove the lid, mix it, and serve. Add some shredded cheese on top, then devour.
DOES RICE NEED TO BE COOKED BEFORE BEING ADDED TO THE CASSEROLE?
The rice must be cooked before being added to the dish if you're using the stovetop cooking method. However, you won't have to cook the rice using an Instant Pot or a crock pot.
Alternative Video Recipe: Ground Beef and Rice Casserole
Recommended Posts:
CAN MINUTE RICE REPLACE REGULAR RICE?
The answer is that Minute Rice can be used in Beef and Rice Casserole. Since Minute Rice is fully cooked, it cooks more quickly than conventional rice. Always adhere to the water addition and cooking time recommendations on the package. Since Beef and Rice Casserole contains many other ingredients that will absorb some of the water, you might need to add a little extra water than is specified. Other than that, carry on preparing the casserole according to the recipe.
MAKING A BEEF AND RICE CASSEROLE RECIPE
A casserole dish should be prepared with nonstick cooking spray and placed in the oven.
Cook the onions, garlic, and ground beef in a skillet until the beef is fully cooked.
Drain the fat after cooking, then restart the burner.
Cook frozen broccoli as directed on the package. After draining, add corn and broccoli to the skillet with the ground beef. Add salt and pepper to taste and season everything.
In a casserole dish that has been preheated, combine the cream of mushroom soup, rice, and beef mixture. Colby jack cheese should be added before baking for 30 minutes. Serve right away.
IS IT OKAY TO USE FRESH CORN AND BROCCOLI?
Use fresh, frozen, or canned goods. You can use any kind you choose because I prepared it and then combined it for this recipe. Just follow those instructions to prepare it before adding it to the dish.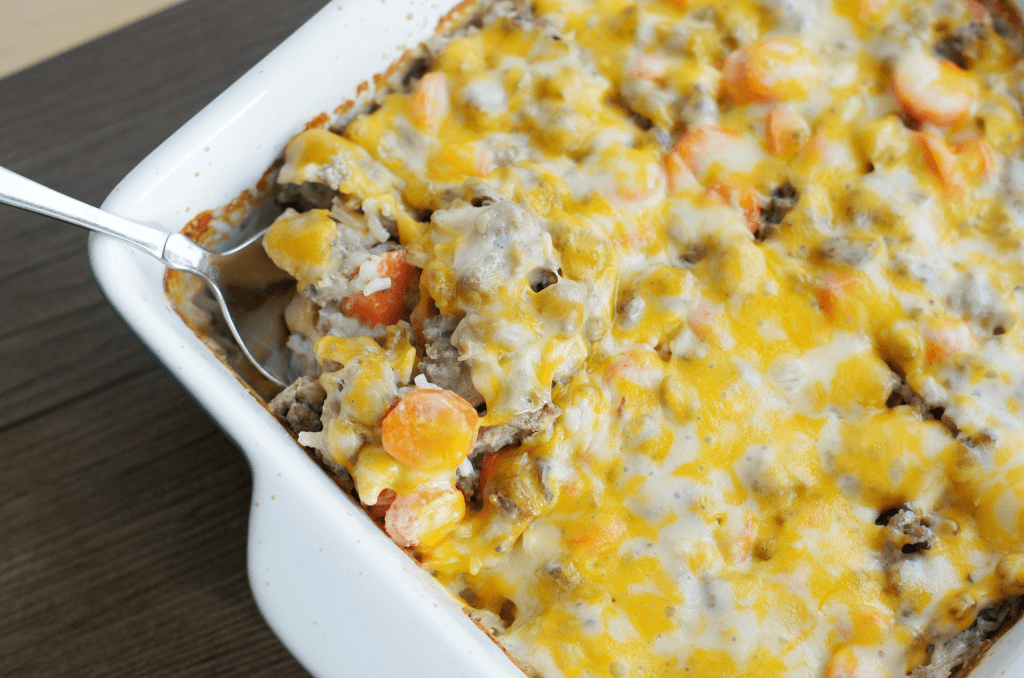 FREEZING THIS RECIPE:
This recipe freezes incredibly well! Let it sit and cool to room temperature at this stage, then cover it in foil and put it in the freezer. When you are ready to bake, take it out of the freezer, store it in the refrigerator overnight, and then prepare it for the oven when dinner is ready. Depending on how chilly it is when you bake, you may only need to extend the time by 10 to 20 minutes.
Print
Beef and Rice Casserole
---
Author:

Prep Time:

15 minutes

Cook Time:

30 minutes

Total Time:

45 Minutes

Yield:

8

1

x
Description
It's simple to make a traditional dish with essential, inexpensive components. This beef and rice casserole has ground beef, corn, broccoli, rice, and a significant amount of cheese.
---
4

 

cups

 

Cooked rice

Two

 

tablespoons

 

Olive oil

½

 

cup

 

Onion

 

(diced)

2

 

tablespoons

 

Minced garlic

1

 

pound

 

Ground beef

14

 

oz

 

Corn

 

(1 can)

2

 

cups

 

Frozen broccoli

½

 

teaspoon

 

salt

 

(or to taste)

¼

 

teaspoons

 

pepper

 

(or to taste)

20.5

 

oz

 

Cream of mushroom soup

 

(2 cans)

2

 

cups

 

Colby jack cheese

 

(shredded)
---
Instructions
Preheat the oven to 350°F. Set aside a casserole dish sprayed with nonstick frying spray.
Warm the olive oil in a pan over medium heat. For 1-2 minutes, sauté the onions and garlic. Cook through the ground meat. Return to the stovetop after draining the fat.
Meanwhile, follow the package directions for cooking frozen broccoli. Drain broccoli and corn and add to skillet with ground beef. Season with salt and pepper to taste. Allow for 2-3 minutes of cooking time.
Mix together the rice, meat mixture, and cream of mushroom soup in the prepared casserole dish. Bake for 30 minutes, then top with Colby jack cheese. Serve right away.
Category:

Main Course

Method:

Pan Fry

Cuisine:

American
Nutrition
Serving Size:

8

Calories:

512kcal

Sugar:

3g

Sodium:

761mg

Fat:

28g

Saturated Fat:

12g

Unsaturated Fat:

0g

Trans Fat:

0g

Carbohydrates:

39g

Fiber:

0g

Protein:

0g

Cholesterol:

75mg
Keywords: Beef and Rice Casserole
FAQs About Beef and Rice Casserole
If adding to a dish, should the rice be cooked first?
Does Rice Need to Be Cooked Before Being Added to the Casserole? But, no. Long answer: Rice will cook flawlessly in the oven if you add boiling hot liquid and thoroughly seal your ovenproof casserole dish. There's no need to boil the rice first.
Can you cook rice and meat at the same time?
Making a meal in one pot is simple when you combine rice cooking with meat and vegetables. Another option is a bowl of rice, vegetable, and legume mixture. In one saucepan, everything is cooked. The act of cooking is easy and requires minimal attention.
Can rice casseroles be frozen?
Rice casseroles and other rice-based foods can be frozen as quickly as plain boiled rice. For example, it's simple to freeze baked rice casseroles with cheese, cheese, and vegetables. Ensure the rice dish is cold before placing it in an airtight container or zip-top bag, just like plain, cooked rice.
Why is the rice in my dish hard?
Maybe you didn't start with enough liquid. Whatever the situation, add up to 12 cups of water and bring the rice back to a simmer with the cover on if it appears to be drying out or if the texture is still hard or crunchy after all the liquid has been absorbed. Be tolerant.
Can meat and rice be frozen together?
As a manageable portion of your weekly meal preparation, you can freeze rice with other ingredients, such as vegetables or meat.
More alternative Recipes to try!
DEEP-DISH BEEF 'N' BEAN TACO PIZZA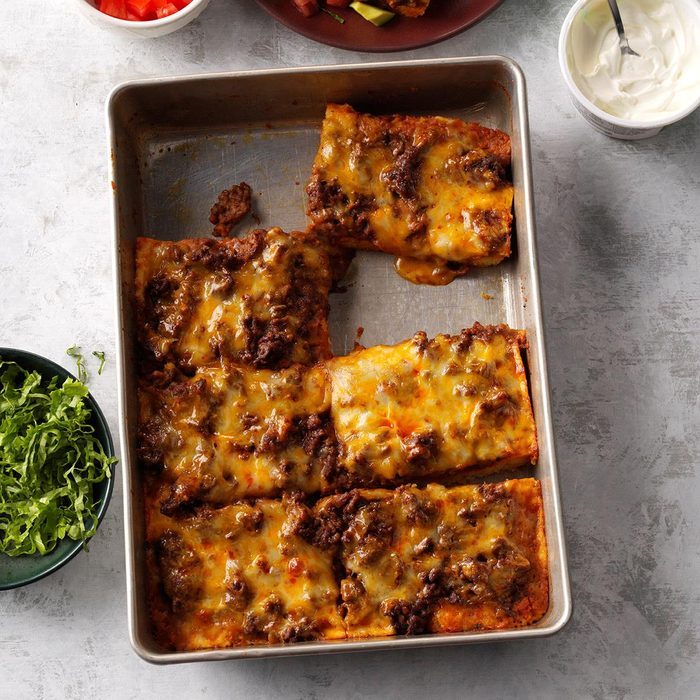 My entire family adores this taco-inspired dish that looks like a deep-dish pizza. The thick, flavorful crust can handle a variety of toppings, so pile it high for a colorful, enjoyable supper. —Nancy Circle, Perkins, Oklahoma
WEEKDAY BEEF STEW
My family often looks forward to this dish, which consists of beef stew topped with crispy puff pastry. Make a salad and invite everyone to the table. —Daniel Anderson, Kenosha, Wisconsin