Easy Oven Roasted Chicken Leg Quarters Recipe [2022] (Very Juicy!)
★★★★★ 5 from 1 reviews
This is the key to consistently frying juicy, crispy chicken quarters or thighs! It's quick, simple, and straightforward.
Let's just say goodbye to dry, flavorless chicken and hello to juicy, flavorful chicken quarters (or thighs).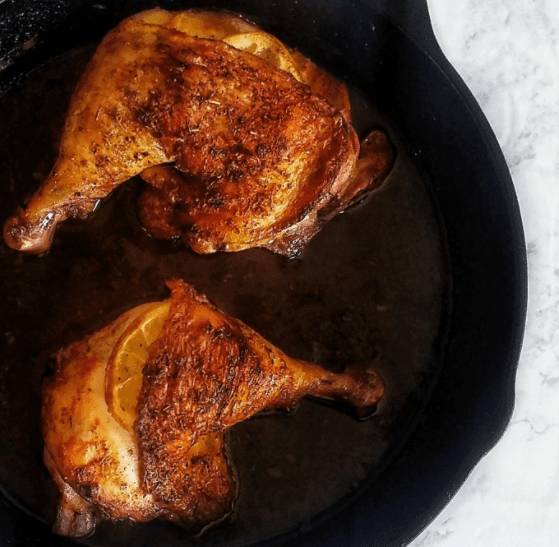 Suggested Posts:
What even are chicken quarters?
The portion of the bird that contains the thigh and leg is known as a chicken quarter. Why do I prefer chicken quarters to individual thighs and legs? Part of the reason is because I chop and piece my own chicken, which means I don't have to make as many cuts.
Another benefit is that when you buy chicken quarters, you may serve them whole or separate the thigh and leg for more variety. Finally, they are cost effective. Regardless, any piece of chicken with skin will work with this procedure.
VIDEO RECIPE: Best Juicy Oven Baked Chicken Leg Quarters

Here is the first secret to cooking juicy chicken.
There are a few key components for preparing succulent chicken quarters.
Because the bone marrow and fat linked to the bone inject themselves into the chicken quarters, bone-in, skin-on chicken will always produce better flavorful meat.
Between the muscle and the hot pan, the skin acts as a barrier, preventing the meat from drying out too rapidly.
Make use of a cast-iron skillet. I like cast iron for several reasons: it can be used in the oven, it warms evenly, and it gets very hot. I've used a lot of cast iron pans, and I believe Lodge manufactures the best. You should get a cast-iron pan if you don't already have one. It can be found here.
Continue reading because the cooking process is crucial!
How to prep chicken quarters that are juicy and crispy
In your kitchen, you must have a cast iron pan. The adaptability is unrivaled. From breakfast to cakes, I use mine for everything.
Cast iron pans have the potential to get very hot and keep heat well, which gives the skin that extra crispiness while cooking juicy, crispy chicken. Lodge pans are my fave. They're strong and affordable.
The final trick is to use clean paper towels to pat the chicken dry. This is critical because the crispier the skin becomes, the drier it is. After that, season the chicken with celery salt, dried herbs, and smoky paprika, and then sprinkle a little olive oil over the skin. Gently massage the seasoning into all of the chicken's crevices with your hands.
Stick your finger underneath the skin of the chicken to separate the skin from the muscle. Slide the pats of butter and lemon slices between the muscle and the skin once the skin has been detached.
Why does this work?
The lemon not only adds flavor to the chicken, but it also keeps the flesh wet by steaming it. In addition, the butter serves as a basting agent for the chicken's meat as well as an extra source of fat for crisping the skin.
Butter should be slightly frozen before use. It will be easy to chop it into pieces while keeping it whole in this manner. It's important to note that you should use real, sweet cream stick butter; I prefer unsalted so that I can regulate the seasonings better
How to cook chicken quarters
After the chicken has been filled, carefully set it in a hot, oiled cast iron pan, skin side down. It should start to sear and crackle almost immediately. When the skins are a rich golden brown color, flip them skin side up and roast the chicken for another 10 to 15 minutes in a hot oven preheated to 450 degrees Fahrenheit.
At the halfway point, check the chicken and rotate the pan 180 degrees. Bake until a meat thermometer inserted into the meatiest area of the thigh reads 160°F without contacting the bone. Allow ten minutes for the chicken to rest before serving. While the chicken is resting, it will continue to cook.
Print
CRISPY OVEN ROASTED CHICKEN LEG QUARTERS (Very Easy)
---
Author:

Prep Time:

5 mins

Cook Time:

50 mins

Total Time:

55 mins

Yield:

4 Servings
Description
This is the key to consistently frying juicy, crispy chicken quarters or thighs! It's quick, simple, and easy.
---
Chicken quarters, or thighs, , Skin on

Real sweet cream butter, , cut into small squares or cubes

lemon, , sliced

seasoning of choice, , I chose celery salt, pepper, paprika and dried herbs

olive oil
---
Instructions
Preheat the oven to 450 degrees F.

Prepare your workplace by covering it with wax paper and paper towels. Using paper towels, pat each chicken piece dry.

Slide pats of butter and lemon underneath the skin when the chicken has completely dried. Per piece of chicken, I use roughly 2 bits of butter and 1 lemon slice.

Season the chicken with salt and pepper, then sprinkle each piece with olive oil. Incorporate the mixture into all crevices.

Heat a cast iron pan with just enough oil to coat it lightly. Place the chicken skin side down in the pan once it is very heated.

Allow 10 to 15 minutes for the chicken to cook, or until the skin is a deep golden brown. Place each piece of chicken in a hot oven on the other side.

Cook for another 10-15 minutes in the oven, or until the internal temperature reaches 165 degrees. Remove from the oven and set aside for 10 minutes to cool.
Notes
Swap out salt for celery salt for a "fried chicken" taste.
Category:

Main

Method:

microwave

Cuisine:

American
Nutrition
Calories:

131kcal

Sugar:

1g

Sodium:

455mg

Fat:

10g

Saturated Fat:

3g

Unsaturated Fat:

6g

Trans Fat:

0g

Carbohydrates:

3g

Fiber:

1g

Protein:

7g

Cholesterol:

38mg
Keywords: baked chicken, chicken quarters, roasted chicken quarters
Frequently Asked Questions
How do you cook leg quarters on the stove?
Bring a pot of water to a boil, then add the meat and cook for three minutes. Then, before removing the chicken, cover the saucepan and cook for another 15 to 18 minutes.
How long does it take to cook a leg quarter?
Preheat oven to 400 degrees Fahrenheit (200 degrees Celsius). Cover and bake the chicken leg quarters or thigh-drumstick pieces for 35 to 40 minutes, or until a meat thermometer reads 175°F.
Can you overcook chicken quarters?
The golden rule of chicken cooking is to not overcook it. As a result, the meat becomes dry and leathery.
How long should you fry leg quarters?
When it comes to chicken, we all know the golden rule: don't overcook it. Dry, leathery meat results from this method
How do you keep chicken thighs from drying out?
Make Sure They're Bone-In and Skin-On
Chicken thighs with no bones and no skin can be a good substitute for breast meat, but that's not what we're looking for here. Keeping the skin on your chicken thighs prevents them from drying out during cooking and adds a textural pleasure of crispy, precisely seasoned skin.
LOOKING FOR MORE GREAT CHICKEN LEG QUARTERS RECIPES? CHECK THIS OUT:
SPICED CRISPY CHICKEN LEGS
The surface of these wonderful Moroccan spiced fried chicken legs is flawlessly crispy, with gorgeous, luscious meat on the inside. This recipe is simple to prepare and requires no marinating or precooking of the meat; simply sprinkle it in spices, bake, and enjoy!
This spiced crispy chicken legs recipe takes under 10 minutes to prepare and makes a fantastic family dinner.
This is the simplest method I've found for baking crispy chicken legs, and I'm thrilled to share it with you today. I made this dish several times, tweaking it slightly each time to compare the results and determine which way worked best. Once using spatchcock chicken and once using smaller chicken legs.
Garlic Roasted Chicken Leg Quarters
Tender, juicy roasted chicken leg quarters are not only quick and easy to make, but they're also inexpensive. The thigh, drumstick, and a portion of the chicken's back make form the leg quarter.
The quarter is named for the fact that it makes up around a quarter of the entire bird. The dark meat takes to roasting beautifully, resulting in juicy, delicious chicken. A quartered whole chicken or four split bone-in, skin-on chicken breasts might alternatively be used in this recipe.