15 Simple Canned Green Bean Recipes and Ideas (Easy)
Canned Green Beans are an excellent way to ensure that you always have something nutritious on hand in your pantry. Here 15 are simple canned green bean recipes that will make this popular canned vegetable taste even better than fresh!
These recipes, ranging from Sauteed Garlic Green Beans to Green Bean Casserole to Parmesan Canned Green Beans, are simple, flavorful, and quick to prepare.
Canned green beans, like canned chicken, should be a pantry staple because they keep for a long time and can be prepared quickly in a pinch. When done correctly, you won't be able to tell them apart from fresh vegetables.
Continue reading for some pointers on how to make canned green beans your new go-to. Green beans, also known as string beans, are high in vitamins K and A.
They have a mild and pleasant flavor that will appeal to even the most adamant veggie skeptics. They're a quick and easy way to add some green to any meal.
HOW CAN I MAKE CANNED GREEN BEANS TASTE BETTER?
The key to improving the flavor of canned green beans is to add some simple ingredients to bring out the flavor, and there are so many simple and inexpensive ways to do so.
If you have some extra time, simmer your green beans in bouillon or broth to absorb the flavor – you can even do this in a slow cooker! You can cook them with a butter base and seasonings of your choice, such as onion powder.
Alternatively, use an olive oil base and season to taste – garlic is always a good choice here. Try one of the recipes below on nights when you have a little extra time to get creative.
ARE CANNED GREEN BEANS GOOD FOR YOU?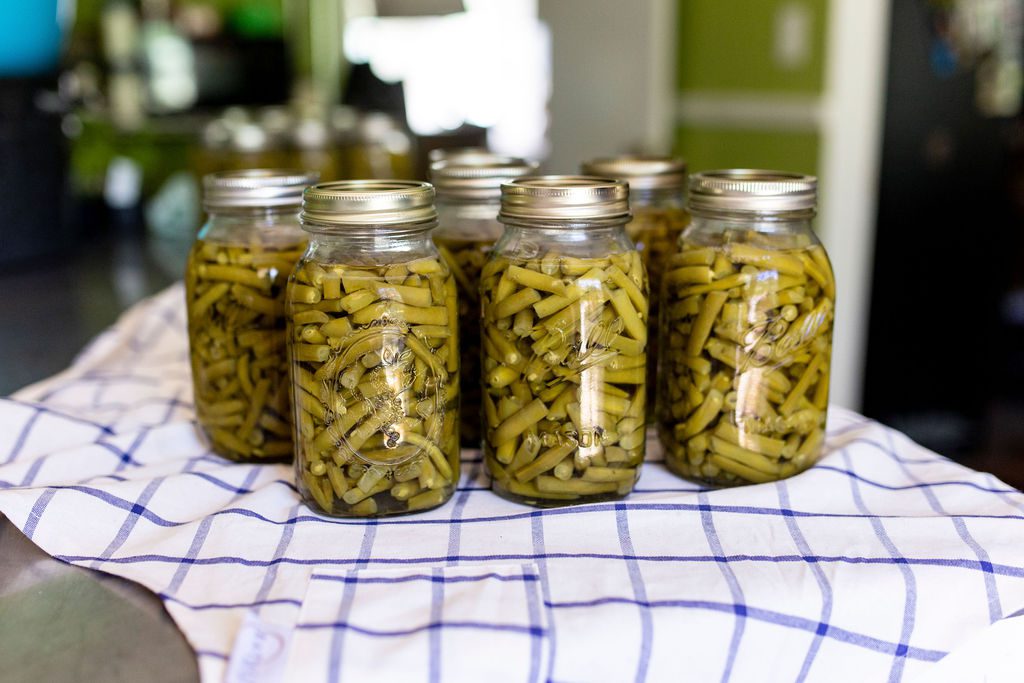 Canned vegetables require more processing than frozen vegetables to keep them fresh. This means that canned green beans contain a fair amount of salt, which you can mostly rinse off before using.
They're still a great and simple way to get your vegetables. If you have a choice between canned and fresh, go with the fresh. Canned vegetables, on the other hand, are great to keep in your cupboards for those days when the fridge is empty!
Alternative Video Recipe: How to Cook Green Beans?
Suggested Recipes:
ARE CANNED GREEN BEANS RAW?
In a sense, the canning process 'cooks' them by killing the microorganisms that cause food to spoil. They're perfectly safe to eat right out of the can, and they're delicious in cold salads!
CANNED GREEN BEANS RECIPES WITH BACON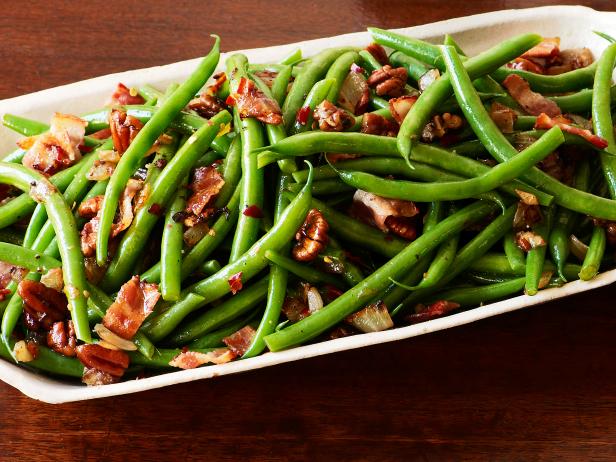 In our house, these bacon green beans are a family favorite. These bacon green beans are one of the side dishes on our Thanksgiving and Christmas dinner menus. These green beans are bursting with flavor thanks to the bacon, onions, garlic, and butter, and will quickly become a family favorite in your home as well.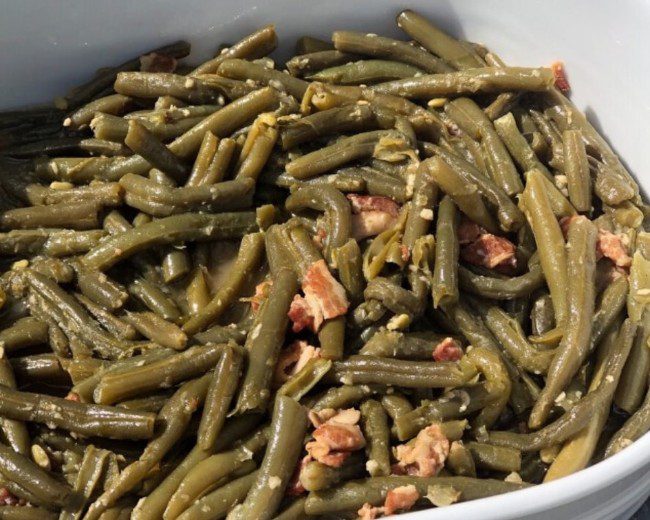 Stovetop Southern green beans made with canned green beans, seasonings, and bacon. Toss everything in a pot and let it simmer for a few hours; it's so good, y'all! I'm a huge fan of Southern-style green beans, which I first tried while on vacation in the South years ago.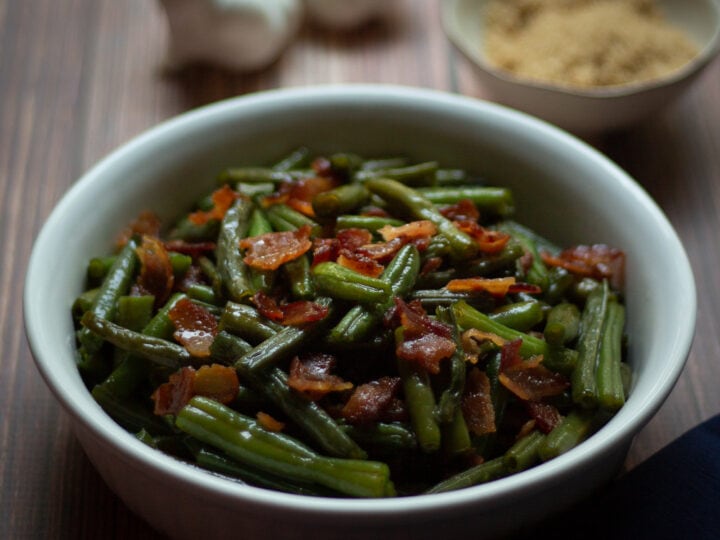 These Sweet, Savory, and Delicious Easy Green Beans with Bacon and Brown Sugar (Step-by-Step Video) are sweet, savory, and delicious. The green beans are baked with a sweet soy sauce and crispy salty bacon for a delicious combination, and this recipe is sure to please!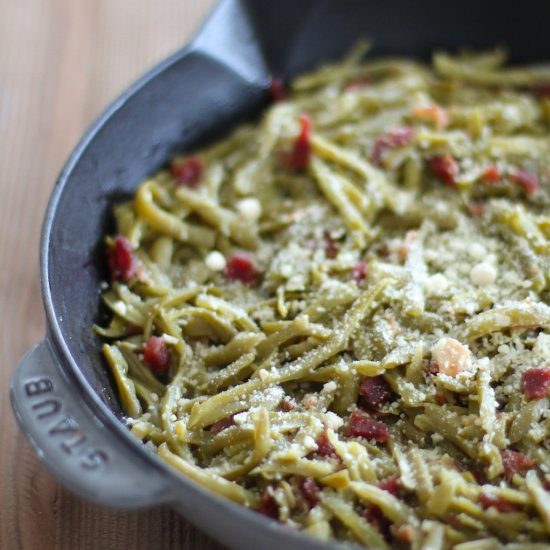 Green beans with Bacon are an easy, last-minute holiday side dish with the best blend of garlic, parmesan, and bacon that will have green bean haters begging for the recipe!
CANNED FRENCH GREEN BEANS RECIPE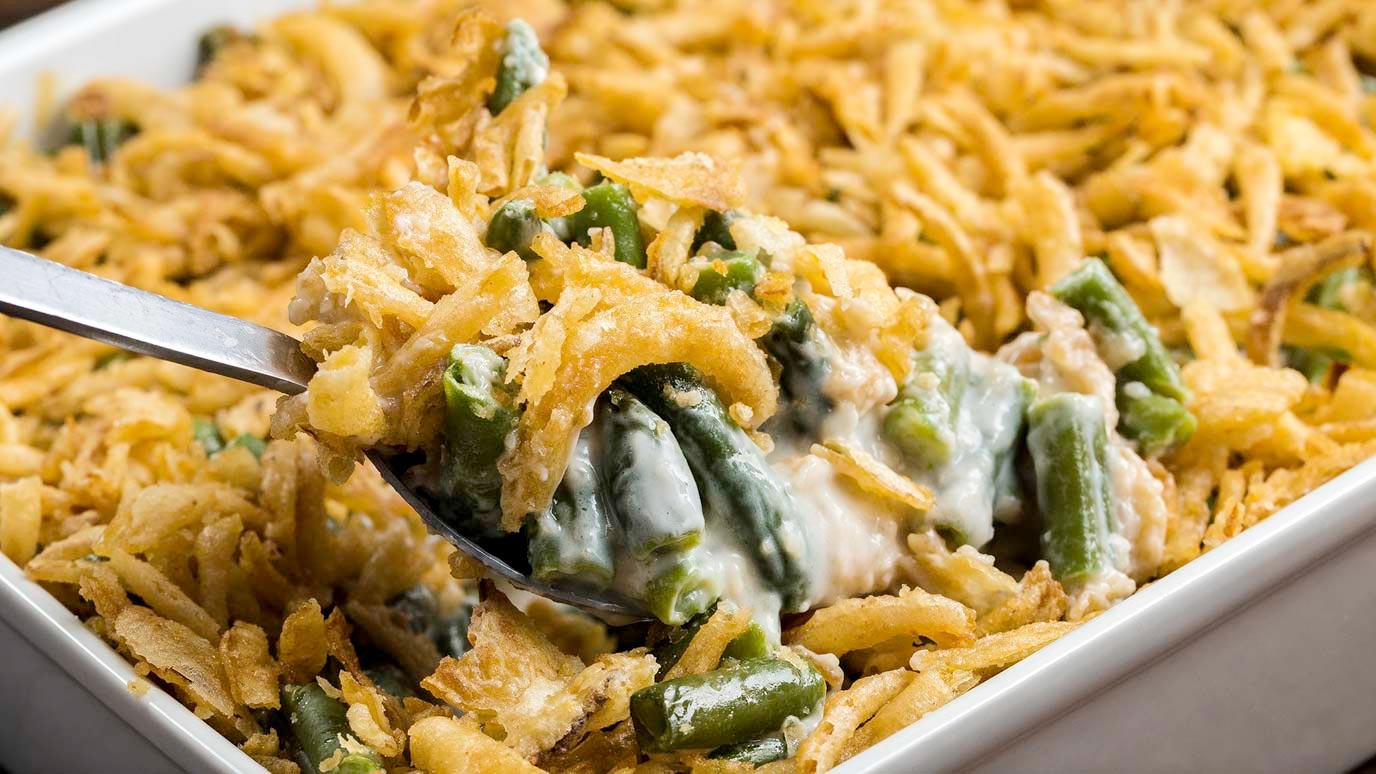 Are you ready to make the best green bean casserole ever? This holiday casserole is an instant classic with its creamy mushroom sauce surrounded by tender green beans and topped with the crunchy flavor of French's Crispy Fried Onions.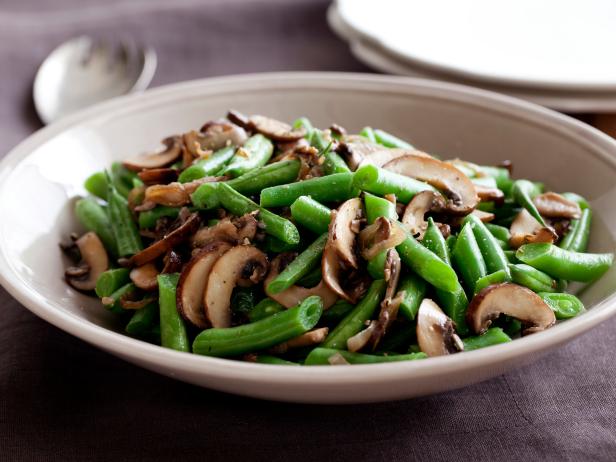 In about 15 minutes, you can make this Easy Green Beans with Mushrooms Recipe for a quick side dish with only three ingredients: fresh green beans, mushrooms, and butter.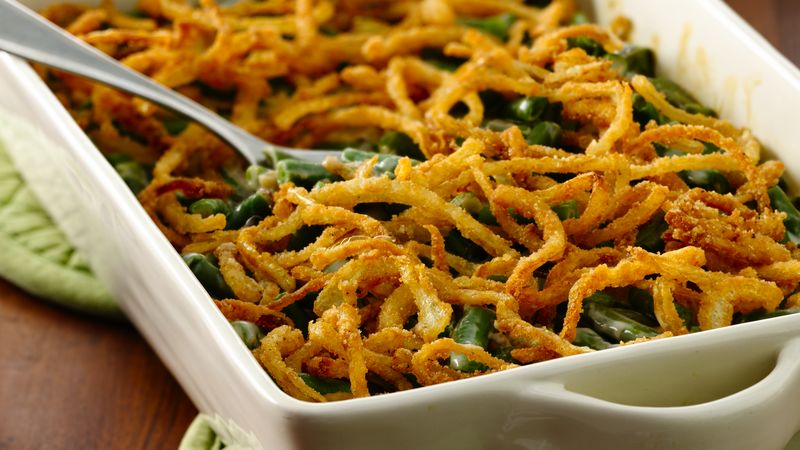 Green Beans with Crispy Onions is today's recipe for the blogging group From Our Dinner Table. We get together once a week and post about various topics. This week's theme is French recipes.
Canned green beans frequently get a bad rap for being bland or boring. Keep them on hand in your pantry, and you can easily transform them into a 5-star side dish, such as these garlic Parmesan canned green beans.
CANNED GREEN BEANS RECIPES WITH SOY SAUCE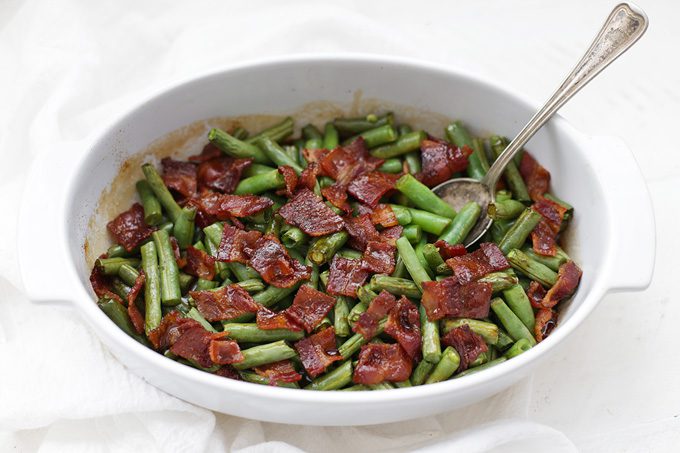 Smothered Green Beans are canned green beans that have been baked with bacon, brown sugar, butter, soy sauce, and garlic. In our house, this is the most requested green bean recipe. Everyone receives seconds. SO YUM!! Excellent for a potluck. Everyone wants the recipe! It's extremely simple to make.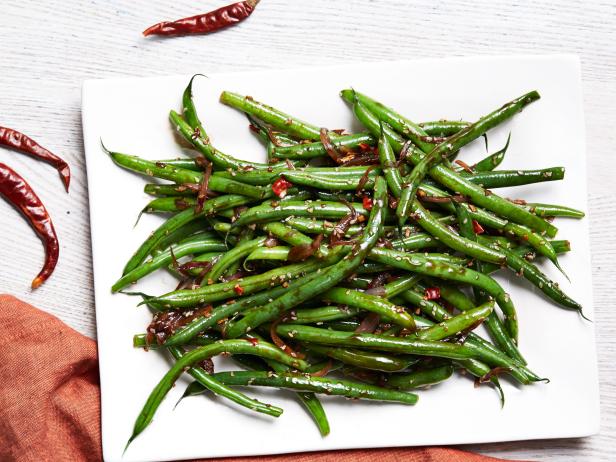 You might be thinking, soy sauce and green beans? Yes! You'll have to try it to understand how flavorful these green beans are after they've been cooked.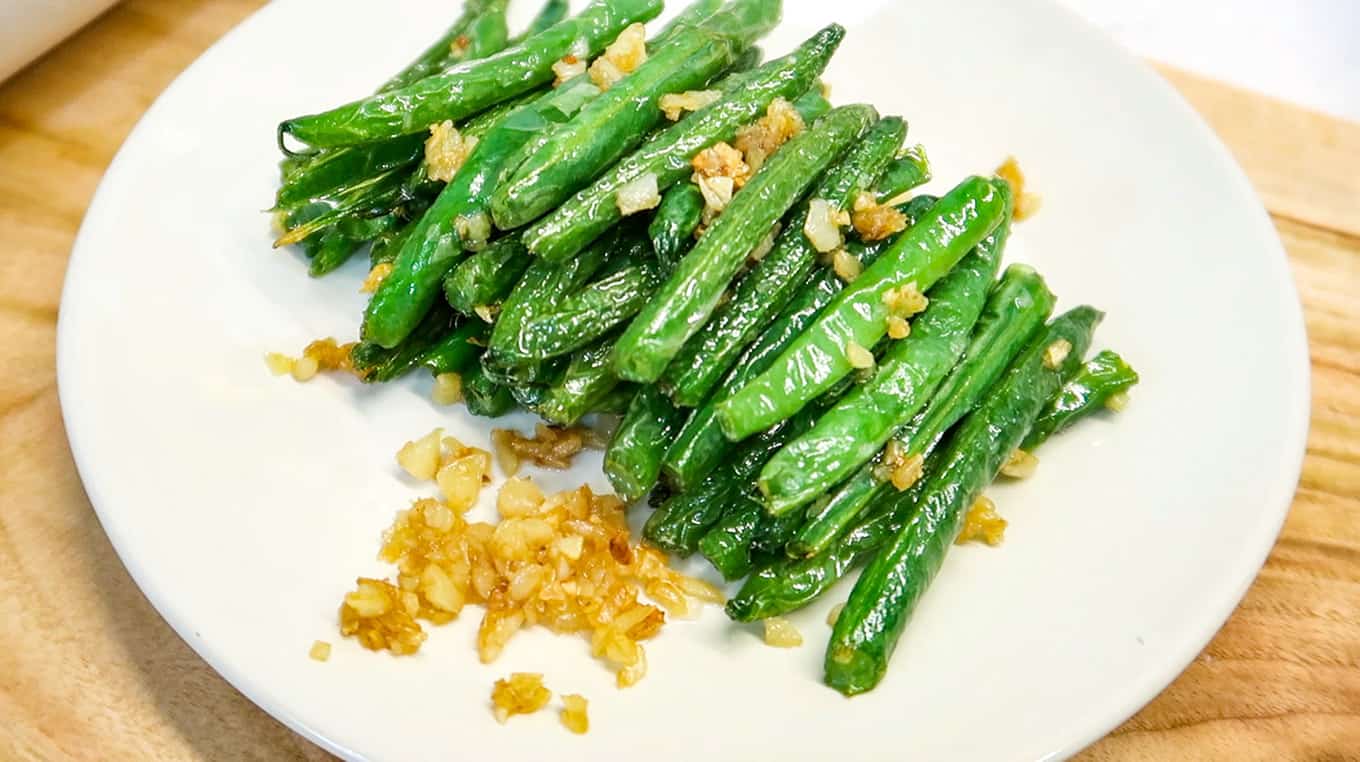 These Garlic Asian Green Beans are simple to prepare and bursting with flavor. It makes an excellent side dish as well as a healthy snack.
CRISPY CANNED GREEN BEANS RECIPE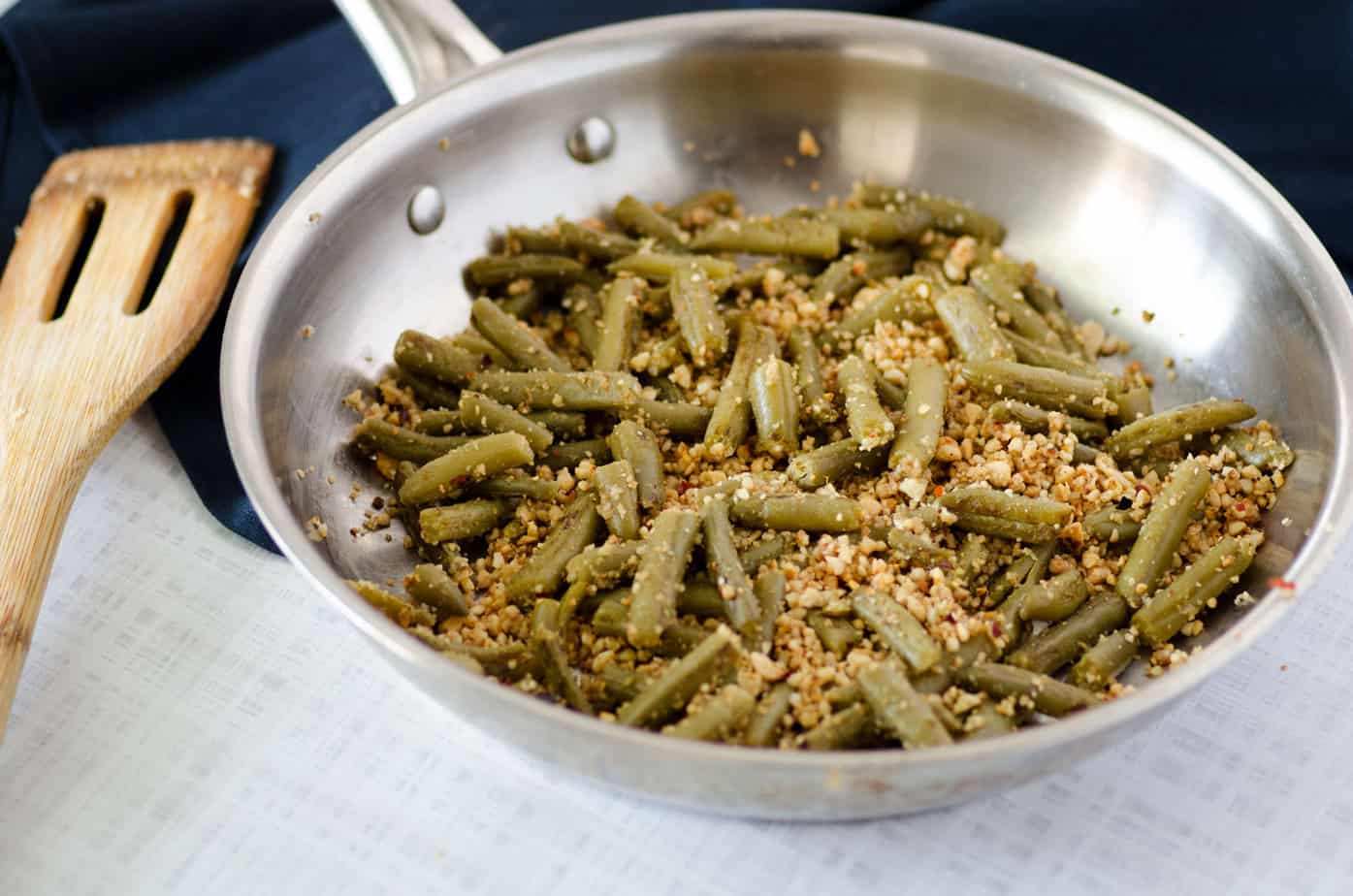 This is the best recipe for canned green beans! Turn boring, mushy canned green beans into a delectably crunchy and flavorful dish. This canned green bean recipe outperforms all other canned green bean recipes.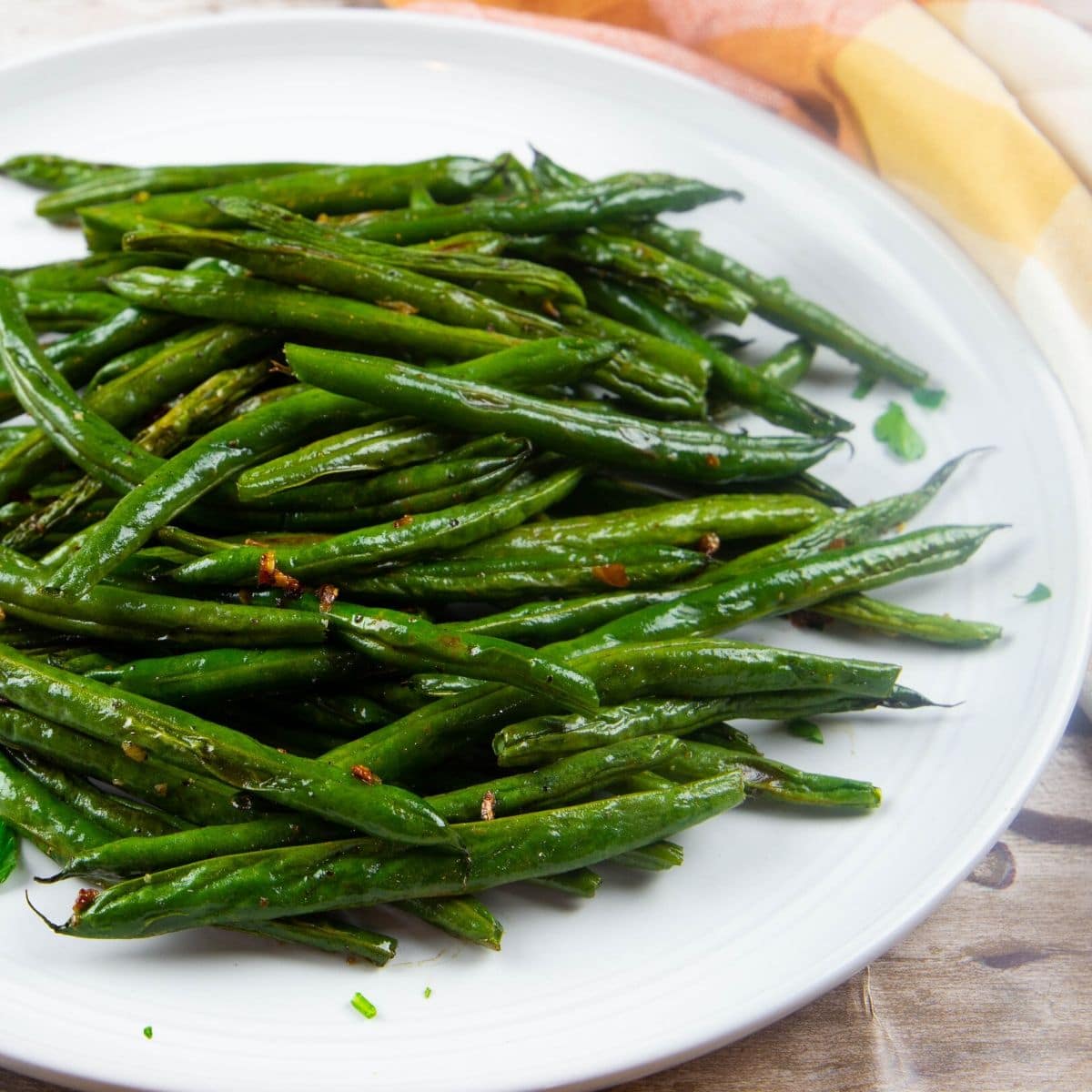 These crispy crunchy green bean fries are baked in the oven, making them a great healthy side dish! For a quick dinner, pair them with your favorite veggie burger! But what about fresh green beans? They're actually quite tasty.
Crispy Air Fryer Green Beans Recipe is absolutely delicious. And the best part is that they are extremely simple to make. Ideal as a side dish for a weeknight dinner. Making Green Beans in an Air Fryer is as simple as they come.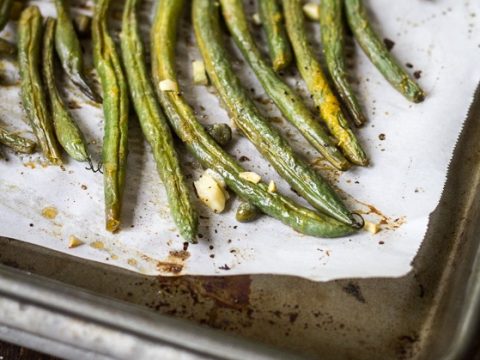 Quick and Easy Roasted Green Beans are a simple side dish that your kids will enjoy. They're crisp and tender, and a great alternative to steamed broccoli! Green beans are a popular vegetable to serve during the holidays.
Print
Canned Green Bean Recipes (Roasted Green Beans)
---
Author:

Prep Time:

5 minutes

Cook Time:

15 minutes

Total Time:

20 minutes

Yield:

4

servings

1

x
Description
This simple recipe will teach you how to roast green beans. Roasted green beans are a quick and tasty side dish (or snack)! This recipe makes 4 side servings.
---
1

 pound (16 ounces) green beans or haricots verts

2 teaspoons

 extra-virgin olive oil
Scant 

¼ teaspoon

 fine sea salt
---
Instructions
Preheat the oven to 425°F and prepare a large, rimmed baking sheet with parchment paper to make cleanup easier.
Green beans should be washed and the rough ends trimmed. Using clean tea towels, pat them dry thoroughly (wet green beans turn soggy in the oven).
Place the green beans on a baking sheet that has been sprayed with cooking spray. Drizzle the olive oil over the beans and season with salt to taste. Toss with your hands until all of the beans are lightly coated in oil. Arrange the green beans in a single layer across the pan.
Unstirred, roast for 14 to 16 minutes, or until crisp-tender with some golden, caramelized areas. (If using skinny haricots verts, they may be ready a few minutes sooner.)
Transfer to a serving dish and serve with any desired garnishes (see recipe notes for seasoning suggestions). Roasted green beans are best served warm, but they can be stored in the refrigerator, covered, for 4 to 5 days.
Category:

Side Dish

Cuisine:

American
Nutrition
Serving Size:

4 servings

Calories:

100kcal

Sugar:

3.2g

Sodium:

493mg

Fat:

3.7g

Saturated Fat:

0.5g

Carbohydrates:

16.4g

Protein:

4.2g
Keywords: roasted green beans recipe, green bean recipe, canned green beans recipe, easy canned green beans recipe
HOW DO YOU EAT CANNED GREEN BEANS?
Canned green beans can be eaten in a variety of ways. Give them a good rinse and use them in most recipes just like fresh green beans. If you're in a hurry, you can even eat them straight from the can!
Frequently Asked Questions
What can I add to green beans for flavor?
Garlic powder, onion powder, thyme, salt, and pepper are all excellent seasonings for green beans.
Do you put butter in canned green beans?
In a skillet, combine the green beans and the reserved half of the canning liquid. Combine the butter, onion powder, salt, and pepper in a mixing bowl. Simmer, uncovered and occasionally stirring, until almost all of the cooking liquid has evaporated. Seasonings should be tasted and adjusted as needed.
How do I make canned beans tasty?
Toss drained/rinsed/dried beans with olive oil (or avocado oil) and seasonings of choice. Crushed whole seeds (coriander, cumin, fennel, mustard, and so on), woodsy herbs (thyme, oregano, rosemary, sage), red pepper flakes, crushed garlic cloves, and, of course, salt and pepper can be added.
Do you drain canned green beans?
Then, drain the canned juices from the beans, fill with water, and drain twice to rinse the beans before adding them to the pot. Stir everything together to coat the beans in the flavorful bacon grease before adding the chicken stock and seasonings.
More canned green beans recipes to try:
Canned Green Beans with Potatoes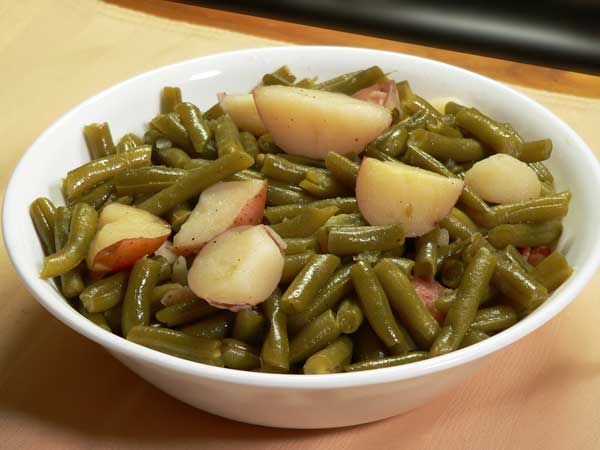 One of my favorite side dishes is green beans and potatoes. This is a dish I grew up with. My mother used to make fresh green beans and potatoes from the garden, seasoned with a ham hock, and we couldn't get enough of them. They were simply that wonderful!
Click Here
Canned Green Beans in Crockpot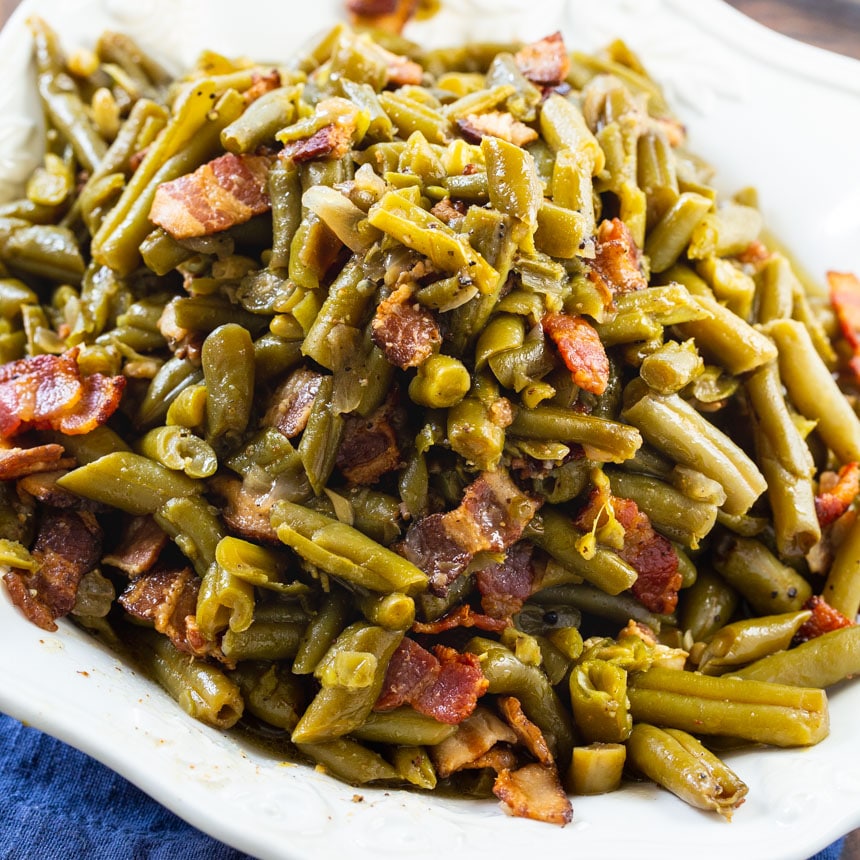 This Crock Pot Buttery Bacon Green Beans dish transforms canned green beans into some of the most delectable green beans you've ever tasted. So buttery and full of smoky taste.
See Here
OTHER RELATED POSTS: