24 Best Caribbean Food Recipes and Ideas (Quick and Easy!)
★★★★★ 5 from 1 reviews
Each Caribbean country has its own distinct culture, and there are numerous delectable dishes to sample! When traveling is not an option, why not make some authentic Caribbean food at home?
Whether you want to visit Jamaica, Trinidad, or Cuba, these recipes will transport you there with all the flavor and spice you could want!
WHAT ARE TRADITIONAL CARIBBEAN FOODS?
Despite the fact that the Caribbean islands are geographically close together, there is a wide variety of Caribbean foods! Jamaica is famous for its spicy jerk chicken, and roti is popular in Trinidad. Take your time learning about each island's cuisine.
Alternative Video: Top 19 Caribbean Dishes
Suggested Posts:
Click the Link to see the recipes.
SIGNATURE CARIBBEAN DISHES AND IDEAS
Caribbean Jerk Chicken and Pineapple Salsa is the perfect dish to transport you to a tropical location even if you can't quite get there in real life.
This dish is delicious from start to finish, beginning with a sweet/spicy/tangy marinade and ending with a delicious, slightly spicy pineapple salsa.
Cuban Pizza has a thicker and sweeter crust that is cheesy and delicious.
This traditional Cuban sandwich pizza recipe, also known as Pizza Cubana, is simple to make with a few simple ingredients. It's my go-to meal when I'm in the mood for comfort food.
Fungie, also known as cou-cou, is a cornmeal-based dish popular in Antigua and Barbuda. It's traditionally accompanied by a seasoned saltfish buljode.
Barbados is home to flying fish, which are a popular local delicacy. Serve with cou-cou, a savory cornmeal-based side dish.
This simple keshi yena recipe, a traditional Dutch Caribbean dish made with melted Edam cheese and spiced ground beef or chicken, is sure to make you swoon.
It's a popular main course in Aruba and Curacao, and it makes a deliciously satisfying main course for company or a weekday meal.
CARIBBEAN LUNCH MENU IDEAS
Incredible Caribbean Chicken and Rice Recipe that is flavorful, quick, and makes a simple one-pot meal that is ideal for meal prep. This filling rice casserole is low in calories and high in flavor.
This Caribbean style stewed chicken recipe is based on a Trinidad and Tobago traditional recipe.
Trinidadian stew chicken is one of those classic chicken dishes that you'd see prepared for the week's biggest meal, Sunday lunch.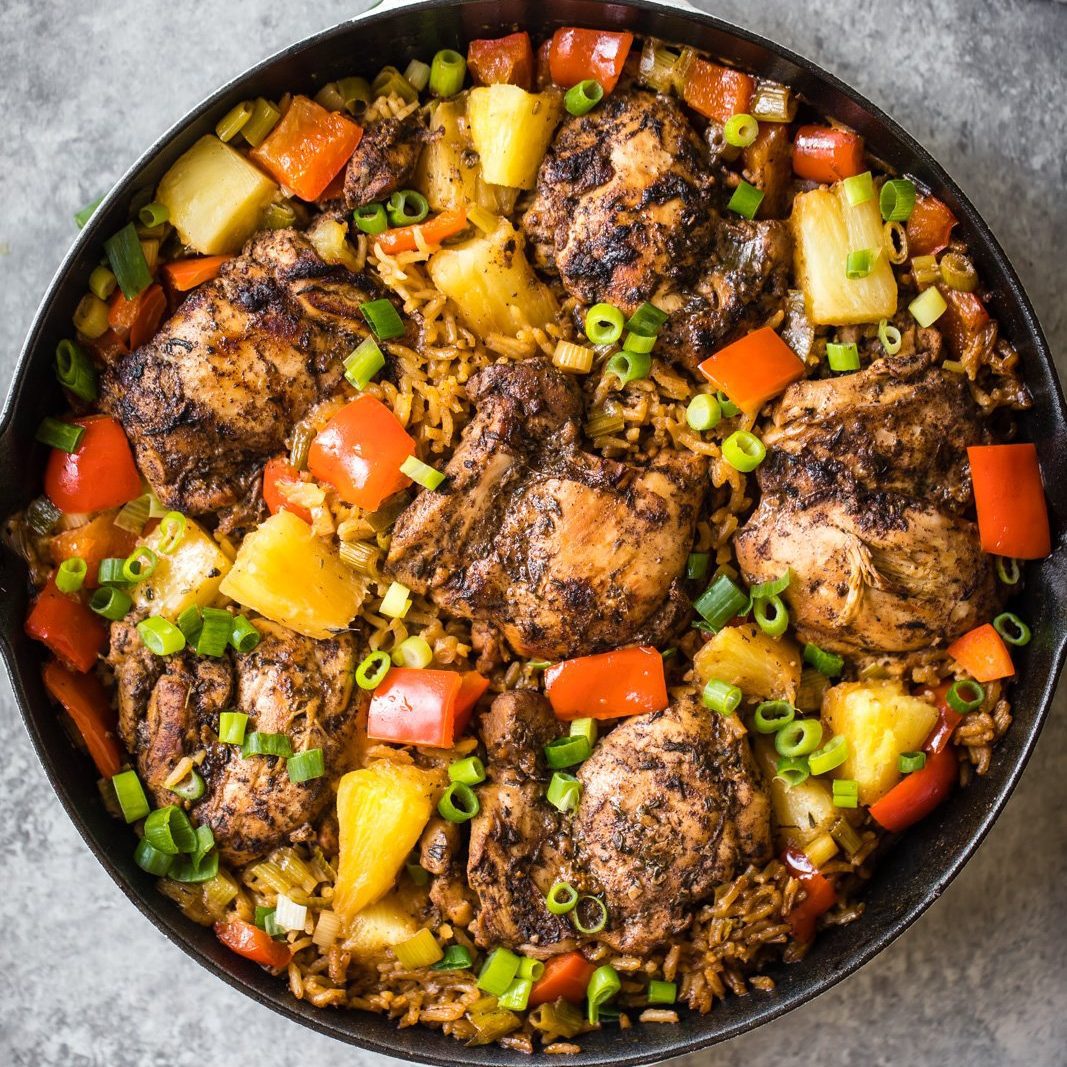 Fantastic One-Pan Caribbean Jerk Chicken with a flavorful pineapple-coconut rice. This one-pan meal features homemade jerk seasoning and is ideal for meal prep.
For a quick curry night, try this colorful, tropical-inspired chicken curry recipe. Chicken legs (an excellent value) are braised in a rich coconut sauce with juicy pineapple, kidney beans, and red pepper.
CARIBBEAN FOOD IDEAS FOR PARTY
While lime shrimp can be found in the freezer section of most supermarkets, it's very simple to make at home. This Caribbean island lime shrimp recipe (or Margarita shrimp, if you prefer) is a zesty and simple dish that will outperform any store-bought version.
This easy dip recipe transforms Jamaican jerk chicken into a saucy, flavorful ride! This Jamaican Jerk Chicken Dip takes it to the next level. A creamy spicy appetizer that's ready to serve.
Plump diced tomatoes, sweet pineapple, and spicy jalapeno combine to make a refreshing summer salsa.
CARIBBEAN DINNER MENU
These simple little rolls are a nice change from the usual dinner rolls that we see at every meal.
The slight sweetness of the fruit complements the savory cheese so well when served with cheese. Any leftovers would be fantastic in a bread pudding!
Many people, I believe, avoid Caribbean recipes because they believe they are too spicy. If you're not a fan of heat, it can ruin a dish.
However, if you look closely, you will notice that the spice can often be left out and the dish will still be rich, flavorful, and insanely delicious.
Rice can be boring, and I'll admit that even I struggle to make it interesting in a hurry.
This recipe is super quick, and it includes some fantastic and colorful ingredients that will add flavor and fantastic color to any plate.
CARIBBEAN FOOD RECIPES VEGETARIAN
Sofrito is the key ingredient in many Caribbean-inspired dishes.
The garlic, onion, peppers, tomato, cilantro, and parsley mixture only needs to be blended and stored in an airtight container. It can be found in everything from stews and soups to rice and beans.
I believe that because vacation food is often so colorful, it stays with us for a long time.
Three-bean salad is a popular summer side dish at many barbecues, but this version has to be the best. This is a little bowl of sunshine with the lime and chilis.
I wish we could add citrus to our dishes like they do in the tropics.
It doesn't matter if it's orange, lime, or citrus; it just elevates the entire meal, whether it's sweet or savory. It may appear strange to add orange to the creamy custard here, but trust me, it works.
Coleslaw is a versatile side dish that can be served on burgers, with barbecue, or as part of a salad. However, it can become tedious after a while.
So why not incorporate this recipe into your regular rotation to keep things interesting? It'll disappear quickly with the hot sauce, mango, and crunchy nuts.
The rice and beans in Puerto Rico are thick, creamy, and flavorful!
The tender pinto beans are simmered in a sofrito and tomato-based sauce with potatoes and ham, then served over rice. It's a Puerto Rican dish known as Habichuelas Guisadas, or stewed beans.
FAVORITE CARIBBEAN RECIPES
Roti is a soft, pliable flatbread that goes well with curries and other Indian and West Indian dishes. Step-by-step instructions for making homemade roti bread!
This succulent, flavorful pork shoulder marinates overnight in jerk spices before slowly roasting until it's melt-in-your-mouth tender. This tropical-inspired pork shoulder is a must-have for any summer gathering.
Roast pork, salami, ham, cheese, pickles, and yellow mustard top these Cuban sandwiches. This cheesy and filling lunch idea takes only 20 minutes to prepare!
Jamaican hot pepper shrimp recipe – Bring some hot, peppery shrimp-tastic island style seafood to your house for everyone to enjoy.
In a super spicy Scotch bonnet sauce, shell-on shrimp are cooked until tender. Can you withstand ttrrhe heat?
Print
Caribbean Food Recipes (Pepper Shrimp)
---
Author:

Prep Time:

30 minutes

Cook Time:

30 minutes

Total Time:

60 minutes

Yield:

4

servings

1

x
Description
This Jamaican roadside snack, steamed in a flavorful aromatic broth with onion, garlic, allspice, thyme, and plenty of spicy Scotch bonnet peppers, can now be made right in your kitchen.
---
3

 

Scotch bonnet

 chile 

peppers

 (about

3/4 ounce

;

20g

)

1

 

pound

 (455g) large shell-on 

shrimp

, preferably head-on, rinsed
Half of

1

medium (8-ounce; 

225

g

) 

red bell pepper

, stemmed, seeded, and finely diced
Half of

1

medium (8-ounce; 

225

g

) 

yellow onion

, finely diced

4

 

sprigs

 

fresh thyme

3

 

medium

 

garlic cloves

, minced

1

 tablespoon

 (15ml) annatto oil or neutral oil such as 

vegetable oil

1 1/2 teaspoons

(

6

g

) Diamond Crystal 

kosher salt

; for table salt use half as much by volume or the same weight, plus more if needed

1 1/2 teaspoons

(

6

g

) 

annatto

 (achiote) 

powder

1/2

 

teaspoon

 

garlic powder

1/2

 

teaspoon

 

onion powder

1 1/2 cups

(

355

ml

) 

water

2 tablespoons

(

30

ml

) distilled 

white vinegar

6

 

allspice

 

berries
---
Instructions
Prepare Scotch bonnet peppers while wearing latex gloves; the preparation will depend on your heat tolerance. Stem and chop or slice peppers, keeping seeds and white pith, for a very spicy heat; stem and seed peppers, then chop or slice, for a medium heat; and leave peppers whole, including stems, for a mild heat.
Add shrimp, Scotch bonnets, bell pepper, onion, thyme, garlic, annatto oil (or neutral oil), salt, annatto powder, garlic powder, and onion powder to a medium mixing bowl. Stir everything together thoroughly. Refrigerate for at least 30 minutes and up to overnight, covered with plastic wrap.
Scrape aromatic vegetables and herbs from shrimp with a gloved hand and set shrimp aside in a clean bowl. Pour the vegetable marinade into a stainless-steel skillet large enough to hold the shrimp in a single layer.
Bring to a simmer over medium heat, then add allspice berries and cook for 15 minutes, covered.
Turn the heat down to medium-low and add the shrimp in a single layer to the skillet. Cook for 2 minutes, covered.
Turn off the heat, cover, and continue to stir until the shrimp are just cooked through and no longer translucent, about 2 minutes. If desired, season with additional salt.
Place the shrimp on a serving plate and set aside to cool slightly. Cooking liquid and vegetables should be discarded. Serve the shrimp warm or at room temperature, with the peeling done at the table.
Category:

Side Dish

Method:

none

Cuisine:

Jamaican
Nutrition
Serving Size:

4 servings

Calories:

271kcal

Sugar:

19g

Sodium:

1235mg

Fat:

6g

Saturated Fat:

1g

Carbohydrates:

39g

Fiber:

11g

Protein:

20g

Cholesterol:

143mg
Keywords: Shrimp recipe, pepper shrimp recipe, easy pepper shrimp recipe, pepper shrimp
Frequently Asked Questions
What is the most popular dish in the Caribbean?
Jerk. Jerk refers to a very spicy dry or wet rub applied to chicken or other meat and is the signature flavor of Jamaica and one of the Caribbean's most famous cuisines. The meat is smoked or grilled to a fiery perfection after absorbing the flavors.
What is Caribbean style food?
Caribbean cuisine is as vibrant and colorful, with a strong flavor punch, as its people, land, and waters. Caribbean cuisine combines African, Creole, Cajun, Amerindian, European, Latin American, Indian/South Asian, Middle Eastern, and even Chinese influences.
What grows well in the Caribbean?
Sugar cane, bananas, coffee, tobacco, root crops (cassava, sweet potato, and yams), citrus fruits, and cacao are the most common crops grown in the Caribbean (Figure 3). Vegetables and fruits are among the other commercial crops grown in the area ( Figure 3).
Can you grow potatoes in the Caribbean?
Traditional Irish potatoes prefer cool weather in well-drained, loose soil between seven and thirteen degrees Celsius, according to almanac.com. Potatoes come in over a hundred different varieties. In Jamaica and Guyana, Irish potatoes are grown. In the app, the loop is superior.
How does Jamaican cuisine differ from that of the rest of the Caribbean?
Jamaica has a lot in common with other Caribbean islands. Most islands grow the same fruits and vegetables but call them by different names. Cassava is a vegetable grown in Jamaica and other English-speaking islands.
What kind of food did the Indians bring with them to the Caribbean?
By 19th-century Indian workers faithfully recreating favorite dishes in their new Caribbean homes, Caribbeans were introduced to roti, Chana, goat curry, and other Indian dishes to blend with their flavors.
Is Caribbean food Indian?
In the nineteenth century, immigrants went to the Caribbean. Much of what they eat has been adapted to local ingredients or ingredients that are now native but were brought over with them when they migrated.
What foods did the English bring to Jamaica?
From 1655 until our independence in 1962, the island was ruled by the British. Breadfruit, otaheite apples, ackee, mangoes, rose apples, oranges, mandarin, turmeric, black pepper, and coffee were all introduced.
What is traditional Caribbean food?
10 Iconic Caribbean Dishes You've Got To Try at Least Once
Barbados: Coucou and Flying Fish.
Trinidad & Tobago: Crab & Callaloo.
Bahamas: Conch Fritters.
Antigua and Barbuda: Fungee and Pepperpot.
Puerto Rico: Mofongo.
Dominican Republic: La Bandera.
St Lucia: Creole Bread.
What are the six Caribbean food groups?
It is divided into the six Caribbean food groups: staples, vegetables, fruits, legumes, animal foods, and fats and oils, and is surrounded by images of people engaged in physical activity.