35 Fun and Easy Family Dinner Ideas Your Family Will Love!
★★★★★ 5 from 1 reviews
When it comes to cooking for our families, most of us fall into a routine of making the same easy dinner recipes week after week.
There's nothing wrong with that at all. We know what our families love to eat and we are happy to accommodate them for family meals. Cooking the same dishes over and over again also simplifies meal preparation.
Nonetheless, it's nice to mix things up every now and then. Also, by experimenting with new easy family dinner recipes, you may discover a new family favorite.
Finding new easy family dinner ideas should be the most difficult part of your weekly healthy dinner planning. So don't worry, we've got you covered. We've compiled the best 31 easy dinner recipes for family meals below.
FAMILY DINNER IDEAS VEGETARIAN
One of our favorite Greek dishes is moussaka. It's an eggplant-based dish that's usually topped with ground beef. To make this a healthier vegetarian dish, we replaced the meat with lentils.
The pressed tofu in this meatless Vietnamese classic will marinate twice: once quickly before cooking so it doesn't soak up too much liquid, and again after it's cooked to flavor it thoroughly. A French baguette will suffice, but an airier, lighter, thin-and-crisp-crusted Vietnamese baguette is the ultimate.
A satisfying filling of creamy vegan queso dip and meaty lentils is made, and a quick trip in a hot skillet adds crunch to every bite.
On the busiest days of our hectic lives, it's best to keep things simple. In a pinch, you can use any noodle for these sesame noodles, and the nutty dressing comes together in under 10 minutes.
Alternative Video: Easy and Budget-Friendly Family Meals
Suggested Posts:
Classic eggplant parm is one of our favorite dishes in the world, but it takes a lot of time and effort to make. And, to be honest, we're not always eager to put in the effort. Enter this healthier, less time-consuming recipe.
Some people believe that vegetarian food cannot be filling. Those people are incorrect! These enchiladas are filled with a filling of corn, beans, and zucchini and topped with two kinds of cheese.
FAMILY DINNER IDEAS HEALTHY
Baked chicken breast is simple, juicy, and ready in 5 minutes. This easy chicken breast recipe will quickly become a favorite! You can also use the spices from this recipe to make this simple Instant Pot chicken breast.
Perfectly cooked basic Air Fryer Chicken Breast – this chicken is lightly spiced and perfectly tender and juicy in under 30 minutes!
Chicken breast, white beans, corn, cumin, and yogurt combine to make a healthy White Chicken Chili in 30 minutes. This healthy dinner idea is simple to prepare on the stove, in the crockpot, or in my Instant Pot white chicken chili recipe. A real crowd-pleaser!
Honey Garlic Chicken is an excellent chicken recipe to have on hand as a back-up. Delicious honey garlic sauce made from pantry ingredients transforms fresh chicken breasts or thighs into a delicious meal the whole family will enjoy!
Chicken Breast with Tomatoes consists of quickly seared chicken tenders that are then sautéed with fresh tomatoes, garlic, and oregano. It's one of my light, healthy dinner ideas inspired by my Ukrainian grandmother's home cooking.
Lemon chicken is pan-seared until crispy and then coated in a lemon butter sauce. This 30-minute restaurant-quality chicken recipe is ideal for a busy weeknight!
SUNDAY FAMILY DINNER IDEAS
This buffalo chicken pasta dish will liven up your Sunday dinner. You still get the creamy delicious pasta with the tender juicy chicken with just a little kick added to it. With a little bread on the side, you've got the perfect Sunday dinner.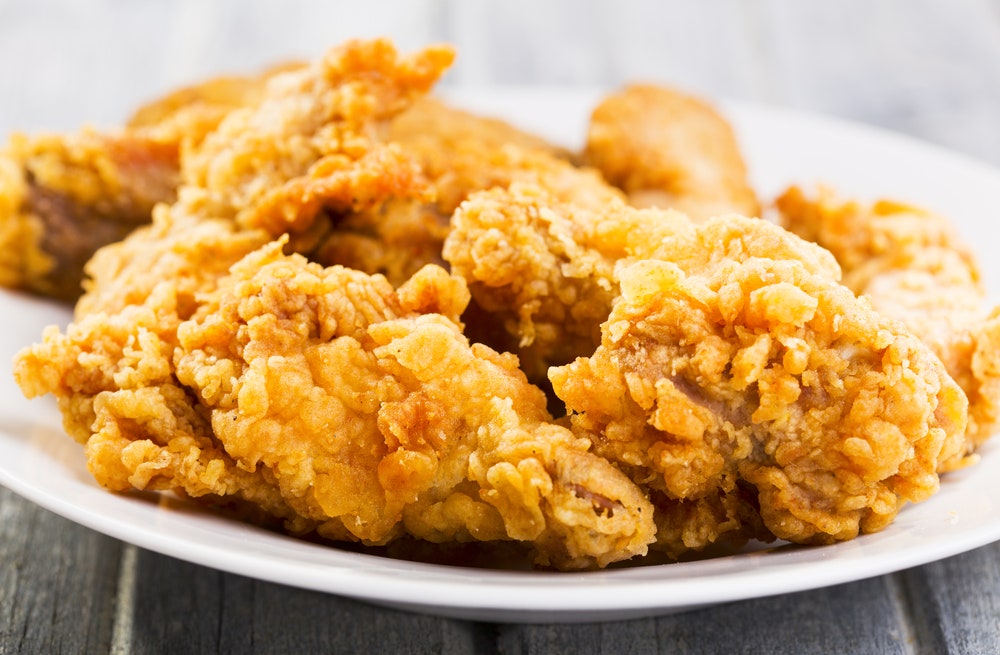 If you're looking for comfort food on a Sunday, crispy southern fried chicken is the way to go. The crispy layer on the outside is salty and crunchy, while the middle is tender and juicy. This dish is ideal for serving with hearty sides like green beans, mashed potatoes, or even collard greens.
You may not think of corn as a good Sunday dinner side, but its sweetness and gooey texture make it ideal for a savory side like ribs or chicken. Just make sure you make enough because it tends to disappear quickly once it's on the table.
Don't want to spend your entire Sunday evening preparing a delicious meal for the entire family? Try this pot roast meal, which you can leave to simmer in a little red wine sauce for hours while you finish up the rest of your errands.
Pork chops are a classic lazy Sunday dinner recipe because they can be made on the stovetop or in the slow cooker, saving you time.
WEEKENDS FAMILY DINNER IDEAS
My chicken bundles are straightforward, clean, and comforting. One of our favorite meals includes wild rice and green beans.
This delicious, moist fish comes together quickly and easily. Brown sugar adds a touch of sweetness, but the seasonings are generally mild, giving this dish a wide appeal. It's a delicious way to eat healthy salmon.
We adore anything tangy or containing bacon. This is a very savory dish with fennel and tarragon. If I don't have time to make my own, I use Minute Rice's medley.
I serve portobello fajitas family-style, allowing guests to customize their own. Simply pass the tortillas and toppings such as salsa, cheese, guacamole, and sour cream.
This toasty fish is flavored with Dijon, Parmesan, and a hint of horseradish. The preparation is so simple that it only takes 5 to 7 minutes to prepare 4 servings for the oven.
This wholesome pasta dish is seasoned with sweet onion, which adds a rich flavor to the turkey. I combine it with light cream, basil, and tomatoes for a quick, springy meal.
BIG FAMILY DINNER IDEAS
I'll make extra of this comforting, noodle-y supper to ensure leftovers. It's a great dish to bring to work or school. Reduce the number of calories in the dish by substituting ground turkey for the beef and low-fat cheese for the full-fat cheddar.
I always keep frozen meatballs and pizza crusts on hand for making this specialty on the spur of the moment. With a tossed salad on the side, you've got yourself a delicious dinner.
I've been making these sandwiches for years. I've tried a lot of sloppy joe recipes, but this one is by far the best. It's also great for picnics or potlucks.
These quick and filling tostadas are high in lean protein, fiber, and vegetables. You can eat them any night of the week.
This flavorful layered taco-style dish was a crowd-pleaser when served as the main course at our family reunion buffet. People were pleasantly surprised to find a rice layer, and the creamy cheese sauce was a hit with everyone.
I'm the proud mother of three wonderful and active kids. Simple, delicious, and quick meals like this BBQ pork skillet are ideal for us to share after school activities, especially if I have leftover pulled pork.
FAMILY DINNER IDEAS WITH CHICKEN
Who says chicken strips are only for children? Kardea's five-star chicken tenders, which are coated in potato chips and served with a homemade honey mustard sauce, will be devoured by the entire family.
Cream, white wine, butter, and spinach are common ingredients in Florentine sauce. Ree not only incorporates these flavors into her pasta, but she also adds three different types of cheese for extra decadence.
Ree tops panko-crusted chicken breasts with melted slices of mozzarella to create the perfect balance of crispy and gooey in this chicken dinner.
The tater tot crust in this chicken pot pie-hotdish mash-up will appeal to both children and adults. Tip: For maximum crispiness, line the tater tot rows as straight as possible.
This chicken dinner requires some extra planning and preparation, but the results are well worth it. A dry brine combined with low and slow roasting yields succulent and juicy meat. A quick flash under the broiler at the end crisps and goldenizes the skin.
Bev cooks chicken cutlets in marinara, then tops them with mozzarella and serves them on toasted French bread for an open-faced chicken parm sandwich with a crazy cheese pull.
Print
Turkey Tostadas Recipe (Family Dinner Ideas)
---
Author:

Prep Time:

15 minutes

Cook Time:

20 minutes

Total Time:

35 minutes

Yield:

4 servings
Description
In this Tex-Mex classic, shredded leftover turkey tops homemade tostadas. It's easier than you think to make your own tostada shells from fresh corn tortillas—crisp them in the oven while you prepare the toppings.
---
---
Instructions
Preheat the oven to 375°F and place racks in the upper and lower thirds.
In a medium saucepan over medium heat, bring tomatoes and juice to a boil. Cook, stirring occasionally, for 15 to 20 minutes, or until the onion is soft and most of the liquid has evaporated. Cook until the turkey (or chicken) is heated through, 1 to 2 minutes.
Meanwhile, spray both sides of the tortillas with cooking spray. Place the tortillas on two large baking sheets. Bake for 10 minutes, turning once, until crisped and lightly browned.
In a mixing bowl, mash the avocado. Mix in the salsa, sour cream, and cilantro until well combined.
To assemble the tostadas, spread some of the avocado mixture on each crisped tortilla. Add the turkey (or chicken) mixture, lettuce, and cheese on top.
Notes
Place boneless, skinless chicken breasts in a medium skillet or saucepan to poach. Cover with lightly salted water and bring to a boil. Cover, reduce heat to low, and simmer gently for 10 to 12 minutes, or until chicken is cooked through and no longer pink in the center.
Reduce Dishes: A rimmed baking sheet is useful for everything from roasting to catching drips and spills. Line your baking sheets with foil before each use for easy cleanup and to keep them in good condition.
Category:

Dinner

Method:

None

Cuisine:

Mexican
Nutrition
Serving Size:

4 servings

Calories:

389kcal

Sugar:

11g

Sodium:

388mg

Fat:

19g

Saturated Fat:

10g

Unsaturated Fat:

0g

Trans Fat:

0g

Carbohydrates:

24g

Fiber:

5g

Protein:

29g

Cholesterol:

86mg
Keywords: turkey tostadas, family dinner recipes, easy turkey tostadas recipe
Frequently Asked Questions
What should I make for dinner for my family?
8 Family Dinner Recipes:
Recipe for Chicken and Dumplings.
Hamburger Stew in the Slow Cooker
Casserole with Tuna Noodles.
Rolls of pizza
Clam Chowder Made Simple.
Spaghetti with Garlic (Spaghetti Aglio e Olio)
Lasagna Ravioli
Pizza with Chili Cheese Dogs.
What is the most popular family meal?
The most common family meals – and how to spice them up:
Sausage and mashed potatoes
Stir-fry.
Pie.
Fingers of fish
Fajitas.
Pizza.
Frittata.
Meatballs.
What are common dinners?
Our 8 Most Popular Dinners for a Low Price:
Stir-Fry of Shrimp and Snap Peas
Salad with Pesto Tortellini.
Curry with Tofu and Coconut.
Beef and Potato Stew in the Slow Cooker
Chicken Teriyaki with Pineapple Rice
Soup with roasted carrots, squash, and sweet potatoes.
Tilapia with lime and rice.
Noodles with Chicken Skillet.
What is a good dinner for Sunday?
8 Family-Friendly Sunday Dinner Recipes:
Pasta with Buffalo Chicken.
Fried chicken from the South.
Pudding with corn.
Roast in the oven.
Macaroni and cheese
Pork Chops for Sunday.
Ribs that fall off the bone.
Chicken and Dumplings Made Simple
What is the easiest thing to cook for dinner?
Top 8 Simple Dinner Recipes:
Spaghetti Baked Recipe
Stovetop Burgers – Cooking Burgers on the Stove.
Stuffed Shells with Meat and Cheese from Italy
Recipe for Creamy Chicken Tortilla Soup.
Ranch Chicken Baked with Bacon (Chicken Bacon Ranch)
Tilapia with Parmesan Crusted Recipe (Baked Lemon Pepper Tilapia)
Chicken breast baked in the oven.
What is for dinner tonight?
8 Dinner Ideas for Tonight:
Casserole of Tater Tots
Pie with Cottage Onion.
Pizzas on French bread.
Meatloaf.
Pasta with Philly Cheesesteak.
Chicken Casserole in Crescent Rolls
Stew with beef.
Quesadilla de Pizza
What are common favorite foods?
Eight of America's Favorite Foods:
Steak.
Chicken.
Pizza.
Waffles.
Beef.
Mozzarella cheese
Bacon.
Beef corned.
What is the most loved food in the world?
In a survey of 24 countries, pizza and pasta come out on top, followed by Chinese and Japanese cuisine. According to an international YouGov survey of more than 25,000 people from 24 countries, pizza and pasta are among the most popular foods in the world, with Italian cuisine beating all comers.
What is a typical American dinner?
For dinner, most Americans consume a protein, a starch, and a vegetable. A steak with a baked potato and a side of creamed spinach is a stereotypical example, as is a hamburger with french fries and a salad.
What is for dinner this week?
This Week's Dinner Suggestions:
Carbonara with Bacon, Egg, and Brussels Sprouts.
Beef and Broccoli.
Enchilada Soup in the Slow Cooker
Macaroni and Cheese with a Cheeseburger
Thai Chicken Flatbread Pizza in 25 Minutes
The Best Winter Bliss Bowls.
Cajun Chicken Dinner in One Pan