Flavorful Baked Flounder Recipe (So Healthy!)
★★★★★ 5 from 1 reviews
Baked flounder is a crispy, light, and delicious dinner! Crispy baked flounder is an ideal light weeknight meal!
It's simply seasoned and topped with a flavorful and crunchy Panko breadcrumb and Parmesan cheese mixture.
This seafood entree is both light and filling! Combine it with some light side dishes or a salad for a complete meal!
Flounder is a delicious and healthy fish! The flounder fillets are baked rather than pan-fried, which is much healthier for you while still being extremely flavorful!
It's also widely available frozen in most supermarkets, making it super simple to prepare a delicious fish dinner in no time!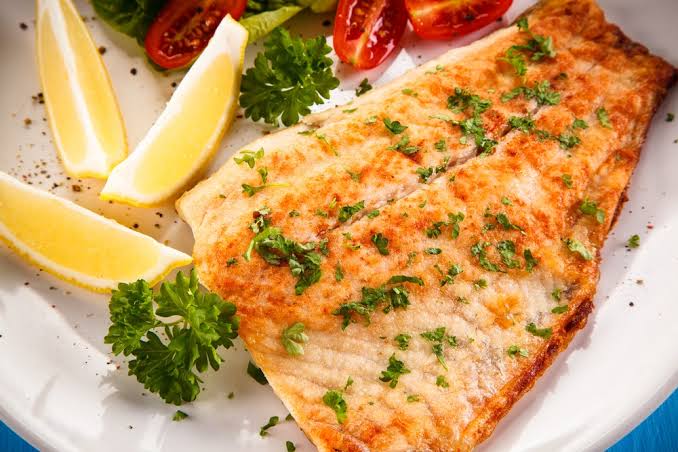 WHY YOU'LL LOVE THIS RECIPE?
It's fast! From start to finish, my baked flounder takes only 20 minutes! That is ideal for weeknights!
It's a crowd-pleaser! Who doesn't enjoy flaky fish with a crunchy, tasty topping? This is a meal that everyone will enjoy!
It's incredibly light! Even with the crunchy Panko topping, my baked flounder is so light and fresh—you'll feel great eating it!
WHAT IS FLOUNDER?
Flounders are demersal fish that feed on the seafloor. They are flatfish that are mostly found in the warm coastal waters of the North Atlantic and Pacific Oceans.
The texture of flounder is delicate, and the flavor is mild and slightly sweet. The same as cod and its larger cousin, halibut.
INGREDIENTS
My baked flounder fillets are simple to prepare and delicious to eat!
Frozen flounder fillets are widely available; however, if you have access to fresh caught flounder, go ahead and use it!
Fillets of Flounder – Flounder is tender, flaky, and buttery! If you're using frozen, thaw them in the refrigerator or under cold running water.
Panko breadcrumbs are super crispy Japanese breadcrumbs made from the inside of the bread. They're light and refreshing, and they're ideal for this dish!
Parmesan Cheese – For this recipe, I use a good, aged Parmesan that I grate myself, but you can use whatever you like!
Extra virgin olive oil (EVOO) is the ideal healthy oil for crisping the breadcrumbs and Parmesan cheese.
Salt and pepper – Optional, but highly recommended for a little extra seasoning on the fish! You can adjust the amount to your liking.
Lemon Wedges – a garnish option! This simply adds a bright finish to the flounder fillets, and lemon goes well with seafood.
VARIATIONS
If you want to add some flavor to the breadcrumb mixture, add some minced garlic or chopped fresh herbs!
Are you not a fan of flounder? My delicious crispy topping would be equally delicious on cod, haddock, or halibut!
STEP-BY-STEP INSTRUCTIONS
My baked flounder recipe is incredibly simple to prepare! A delicious fish dinner only takes about 20 minutes from start to finish!
Prep. To begin, preheat your oven to 425°F (218°C) and line a baking sheet with parchment paper. If you don't have parchment paper, you can use aluminum foil and brush it lightly with olive oil or spray it with nonstick cooking spray. Then, on the prepared baking sheet, place 2 pounds of flounder fillets (that have been pat dry with paper towels).
Prepare the breadcrumb topping. 12 cup Panko breadcrumbs, 12 cup grated Parmesan cheese, and 12 tablespoon olive oil in a small mixing bowl Mix until well combined and the olive oil is distributed evenly.
Bake the flounder fillets. Over the flounder fillets, generously sprinkle the Panko mixture. Then, place the baking sheet in the center of your oven and bake for 15 minutes, or until the flounder reaches an internal temperature of 145°F (63°C).
Serve! When the flounder fillets are done, remove them from the oven and serve with lemon wedges.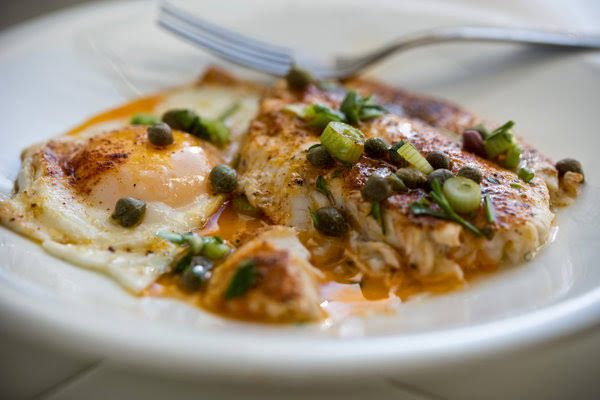 STORING & REHEATING
Because they have a crispy breadcrumb topping, these flounder fillets will not freeze well—but they will keep in your fridge for a day if you have any leftovers!
If you have more than one fillet, place it in an airtight container and try not to overcrowd it.
WHAT TO SERVE WITH BAKED FLOUNDER?
Broccoli, asparagus, onions, and peppers are a few simple ideas for grilled or steamed vegetables.
As a side dish to fish, potatoes are always a winner.
Pasta, particularly when tossed with a light lemon sauce
Greens, particularly wilted greens such as spinach, kale, and collards
Salad is always a tasty light side dish.
REHEATING BAKED FLOUNDER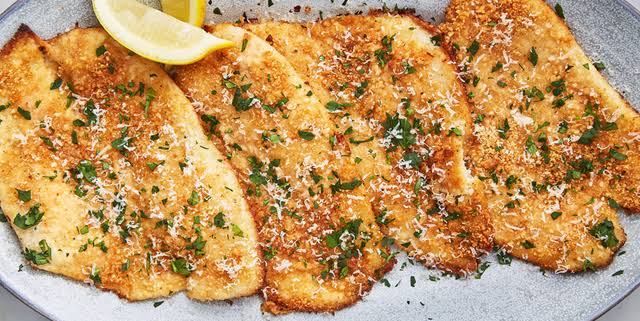 Have you ever used an air fryer? If that's the case, reheating this crispy baked flounder in an air fryer is the best way to bring it back to life!
To begin, preheat your air fryer to 350°F (175°C). Then, place the remaining flounder in the basket and air fry for 6 minutes, or until the flounder is crispy on top and fully warmed through.
This can also be done in the oven, but it will take longer and may dry out the fish slightly. Preheat the oven to 350°F (175°C) and place the leftover flounder on a baking sheet lined with parchment paper. Then bake for about 15 minutes, or until the flounder is thoroughly heated.
HOW DO YOU BAKE FISH WITHOUT DRYING IT OUT?
Cook the fish at the appropriate time and temperature for the variety you're baking.
Despite the fact that most fish varieties cook at similar oven temperatures, they can vary slightly.
The thickness and texture of the fish are also important considerations. Less oily fish, such as salmon or sea bass, tend to dry out more quickly.
HOW DO YOU KNOW WHEN FLOUNDER IS COOKED?
When the baked flounder is done, it will be white and flake easily with a fork.
On an instant read thermometer, the internal temperature should be between 140° and 145°F.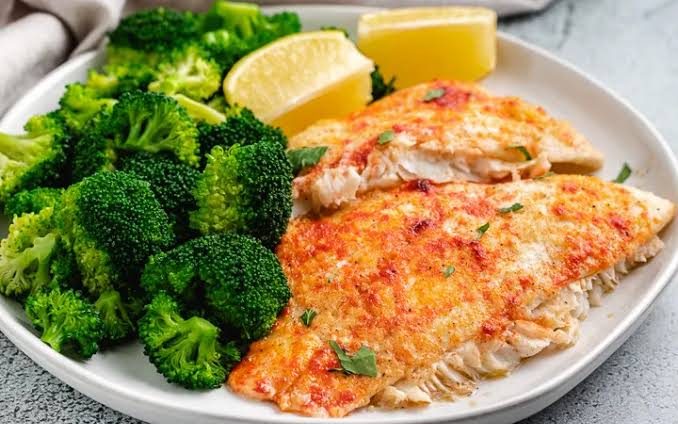 TIPS & RECIPE NOTES
Typically, white-fleshed fish should be cooked until opaque and flaky! This is especially important if you're working with fresh fish.
You don't want to cook the flounder past the safe internal temperature listed above, or it will dry out and have an unpleasant texture!
Defrost the flounder fillets in the fridge overnight or in a bowl of cold running water for about 10 minutes (depending on thickness).
After defrosting the fish, pat it dry with paper towels to ensure the Panko mixture adheres well and does not become soggy.
The Panko mixture will be perfectly crispy this way! When the olive oil has been thoroughly mixed in, it should appear slightly wet (but not drenched or obviously wet)!
For the best breadcrumb topping ever, I like to add lemon zest!
Frequently Asked Questions
How long does it take to cook a piece of flounder?
Bake for 15 to 20 minutes, or until the flounder flakes easily with a fork (a few minutes longer for thick fillets). Remove from the oven and top with fresh parsley and lemon slices. Serve immediately with a salad or steamed vegetables.
What temperature should flounder be when done?
Bake a flounder fillet for 12 minutes at 350°F or broil it for 6 minutes at 400°F. It's finished when the flesh flakes apart easily and is uniformly opaque on the inside. According to the USDA Food Safety and Inspection Service, fish should be cooked to an internal temperature of at least 145 degrees Fahrenheit.
Is flounder a good fish to eat?
Nutritional Information and Health Benefits Pacific Flounder, which is found at the bottom of oceans and seas, is an excellent fish to have for dinner because it has an amazing flavor and is healthy.
Is flounder hard to cook?
Flounder is a versatile, easy-to-prepare filet of fish with a mild sweet flavor and delicate flaky texture. This white fish with firm flesh can be baked, sautéed, stuffed, and poached.
Print
Flavorful Baked Flounder Recipe
---
Author:

Prep Time:

5 minutes

Cook Time:

15 minutes

Total Time:

20 minutes

Yield:

4

servings

1

x
Description
My simple and light baked flounder features tender flounder fillets and a crispy Panko and Parmesan breadcrumb topping! It's a delicious dinner that can be baked to perfection in the oven and served in 20 minutes!
---
2

 

lbs

 

founder fillets

 

(thawed if from frozen)

½

 

cup

 

Panko breadcrumbs

½

 

cup

 

Parmesan cheese

 

(grated)

1 ½

 

tablespoon

 

olive oil

 

(extra virgin)

each, salt & pepper

 

(optional, to taste)

lemon wedges

 

(optional – zest half your lemon if desired)
---
Instructions
Preheat the oven to 425°F (218°C) and pat the flounder fillets dry with paper towels on all sides.
Season flounder fillets with salt and pepper on a baking sheet lined with parchment paper.
Combine the Panko, Parmesan cheese, and olive oil in a small mixing bowl until the breadcrumbs are slightly moistened. Spread the Panko mixture on top of the fillets.
Bake at 425°F (218°C) for 15 minutes, or until the flounder is cooked to your liking.
Remove from the oven and serve right away with lemon wedges.
Notes
If desired, zest half a lemon; it adds a wonderful tangy flavor to the breadcrumb topping!
Category:

Main Dish

Cuisine:

American
Nutrition
Serving Size:

4 servings

Calories:

343kcal

Fat:

13g

Saturated Fat:

4g

Carbohydrates:

6g

Fiber:

1g

Protein:

51g

Cholesterol:

112mg
Keywords: Flounder fish recipe, baked flounder recipe, flounder recipe, easy baked flounder recipe, fish recipe
Alternative recipes to try: