Juicy Air Fryer Whole Chicken Recipe (Rotisserie Style)
★★★★★ 5 from 1 reviews
Making this rotisserie style air fryer whole chicken is the best use of your air fryer. The meat is juicy, and the skin is extra crispy; you'll love how simple it is!
I've made a number of dishes in my air fryer that I enjoy, but I think this Air Fryer Whole Chicken is my new favorite.
The chicken is tender and juicy, and the skin is crisp. My entire family loves it!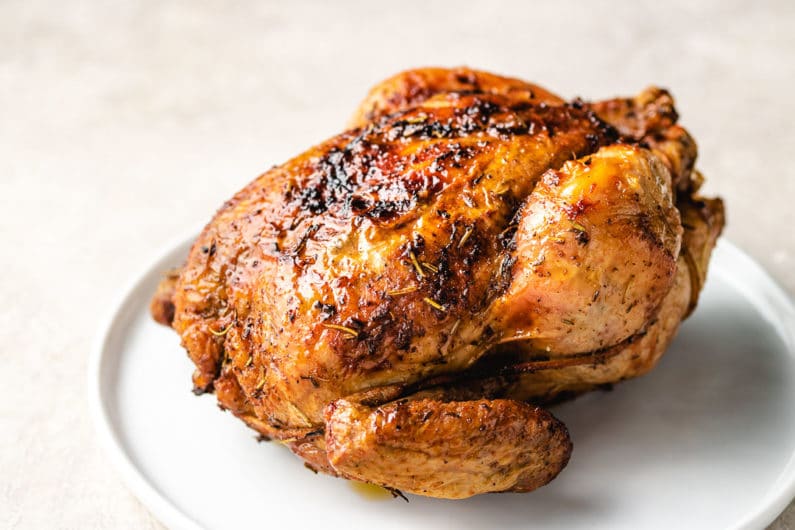 WHAT ARE THE BENEFITS OF AIR FRYING A WHOLE CHICKEN?
You can cook and season the chicken however you want. Unfortunately, we have purchased some undercooked rotisserie chickens in the past.
You can use whatever type of chicken you prefer (from a local farm, organic, etc.).
Because the chicken bastes in its own juices, the finished product will be moister than most oven-roasted chickens. This includes the chicken in my chicken and gravy over rice recipe, which is also incredibly delicious.
You can save the bones and use them to make bone broth. This is an advantage of using whole chickens, including store-bought rotisserie chickens, as opposed to chicken breasts, wings, or thighs.
It appears to be extremely impressive. If you have guests over, impress them by cooking a chicken on a spit. It's quite fancy, as my son put it.
WHAT YOU NEED TO MAKE AN AIR FRYER ROTISSERIE CHICKEN?
Chicken – The main ingredient is a whole chicken. Choose a small or medium size to fit in your air fryer. We had to cut the wings off our air fryer roast duck video because they were too big to rotate.
Oil – For the skin of your chicken, I recommend using extra virgin olive oil. Furthermore, it prevents your chicken from drying out while cooking. Of course, you could substitute another oil, such as coconut oil or avocado oil.
Seasoning – For this recipe, you'll need to raid your spice cabinet. I recommend salt and pepper, followed by your favorite seasoning. Dried cajun works well, as does mixed herbs and thyme, which is my personal favorite.
HOW TO MAKE AIR FRYER WHOLE CHICKEN?
This recipe is extremely simple, but I have a few tricks to ensure that your chicken does not dry out before it is fully cooked.
I started with a 5 pound chicken and cooked it in my 5.7 quart air fryer. You can use a smaller chicken, but the cooking time will be shorter.
I removed everything from the cavity and liberally seasoned it with salt, pepper, garlic powder, paprika, dried basil, dried oregano, and dried thyme.
Now, place the chicken in the air fryer basket, breast side down. After experimenting, I discovered that if I left the legs up, it was difficult to open the basket and the chicken legs were overcooked. The first 50 minutes of cooking time should be spent with the breast side down to keep everything nice and moist.
I cooked the chicken for 50 minutes breast side down, then flipped it and cooked for another 10 minutes. It is critical to ensure that the internal temperature of the breast is 165F. Continue to cook until the desired temperature is reached.
I can tell you right now that you will not believe how tender and juicy this chicken is.
WHY SHOULD TRUST A CHICKEN?
Trussing a chicken helps to ensure that it is cooked evenly and thoroughly. This is especially true when the chicken is on a rotisserie rod.
You need the chicken wings tucked in and the legs not flapping around while the chicken rotates.
In comparison to the chicken legs and thighs, the chicken wings burn easily, and the chicken breast cooks faster and dries out more easily.
Truss the chicken before air frying a whole chicken for even cooking and juicy white meat and properly cooked thighs and legs.
WHAT TYPE OF OIL TO USE?
It is critical to use a "high heat" oil to prevent the chicken and skin from burning.
Ghee is ideal for cooking at higher temperatures for longer periods of time. My Instant Pot Ghee recipe is very simple, and I always keep a jar on hand.
Coconut oil is also excellent because it will not burn at this temperature, as the chicken is so close to the heating element.
VARIATIONS OF SEASONINGS
Because this recipe is so simple, it is also extremely adaptable, and the chicken can be used in a variety of ways. Spices and seasonings can be changed depending on what you want to use it for.
Use cumin, chili powder, garlic, smoked paprika, and even a taco or fajita seasoning blend when using it in Mexican dishes.
Keep the Italian seasoning and add some extra oregano and basil for a more Italian flavor.
Dry Rub: Use ranch or Italian dry dressing as a rub with the olive oil, or try this French onion soup mix.
EXPERT TIPS
When cooking a whole chicken, make sure to remove any innards from the cavity (usually the neck, liver, etc.).
Before applying the rub, always pat the chicken dry.
Cooking twine can be used to secure the chicken's legs and wings (see video). Don't be concerned if you're not doing it "properly." To keep the wings together, I wrapped the twine around the entire body. I'll get it right one day!
Cook according to the instructions that came with your air fryer. Different air fryers will require varying amounts of time. My 4 pound chicken took 45 minutes to cook.
The chicken's internal temperature should be 165 degrees. If it hasn't reached that temperature after 45 minutes, continue cooking for 5 minutes at a time until it does.
Frequently Asked Questions
Can you air fry cooked rotisserie chicken?
Preheat your air fryer to 350°F. Place the rotisserie chicken in the air fryer after removing it from its packaging. 3-4 minutes, or until the rotisserie chicken is crisp and heated through.
How long does it take to rotisserie a chicken?
Place the chicken on a rotisserie spit in the center of the oven. Preheat the grill rotisserie to medium heat, 350°F. Cook the chicken for 18-22 minutes per pound, or until it reaches 165°F. (A 3.5lb chicken will take about 60-80 minutes to cook.)
What temperature do you rotisserie a chicken?
Close the lid and turn the left and right burners to low, leaving the rotisserie on. Cook the chicken at 300-325 degrees Fahrenheit until the internal temperature of the thickest part of the breast reaches 165 degrees Fahrenheit.
How do you use a rotisserie spit in an air fryer?
Load the rotisserie spit into the air fryer after it has been preheated by pulling the red lever on the left and latching it into the left side of the rotisserie first. Slide the rod along the right metal bar until it drops into the catch and is securely in place. Cook for 40 minutes with the air fryer door closed.
Print
Air Fryer Whole Chicken Recipe (Rotisserie Style)
---
Author:

Prep Time:

15 minutes

Cook Time:

1 hour

Total Time:

1 hour and 15 minutes

Yield:

4

servings

1

x
Description
Is it possible to air fry rotisserie chicken? Yes! You can manufacture your own air fryer rotisserie chicken at home if you have an air fryer with a spit.
---
1

 

whole

 

broiler, roaster, or fryer chicken

 

(3-5 pounds; 1.36-2.27 kg)

1

 

tablespoon

 

avocado oil

salt and pepper, to taste
---
Instructions
Remove the giblets from your chicken and set aside for another use. I prefer to prepare bone broth using the giblets.
Thread the chicken onto the spit of the air fryer. To prevent your chicken from breaking a leg, truss it with baking twine. (To learn how to truss a chicken, see the video below!)
Brush the avocado oil on the outside of the chicken and season it with salt and pepper.
Connect your air fryer to the spit. In your air fryer oven, make sure the drip tray is in position.
While turning, the chicken should not come into touch with the hot element. If that's the case, you might need to break the back of the chicken to make it fit.
Cook for one hour at 350°F (175°C). Remember to push the "Rotate" button on your fryer (the one that makes the spit turn)!
Remove the chicken from the fryer after it's done frying and set it aside for 10 minutes while you prepare the side dishes.
Notes
Chicken leftovers (without the skin) freeze nicely and can be used in a variety of ways. Meal prep ideas are one of my favorite ways to use cooked chicken. Remove the meat off the carcass, freeze it, and you'll have a ready-to-eat protein supply.
If you don't like asparagus or corn, feel free to substitute other vegetables in this dish. In my evening meal, I try to include at least one green vegetable and one vegetable of a different hue.
Category:

Main Course

Method:

Air Fryer

Cuisine:

America
Nutrition
Serving Size:

4 servings

Calories:

409kcal

Sodium:

84mg

Fat:

16g

Saturated Fat:

3g

Carbohydrates:

29g

Fiber:

8g

Protein:

36g
Keywords: air fryer whole chicken, air fryer rotisserie recipe, chicken recipe, air fryer chicken recipe, chicken
Alternative recipes to try:
Whole30 & Keto Rotisserie Chicken in Air Fryer Oven