34 Best Healthy and Simple Lunch Ideas for Adults (Must Try!)
★★★★★ 5 from 2 reviews
Breakfast is the most important meal of the day, but easy lunch ideas are just as important, if not more so.
It's no surprise that we crave that afternoon cup of coffee, what with choosing the easiest option (cold leftovers!) and trying to think of lunch ideas in the midst of work.
Despite popular belief, eating a healthy, delicious lunch every day does not necessitate devoting your entire Sunday to meal preparation, and we're here to prove it.
Continue reading for simple lunch ideas for adults that can be made in a matter of minutes.
WHAT CAN I MAKE FOR LUNCH WITHOUT A MICROWAVE?
If you don't want to use the microwave or pack a thermos for your kids' lunch, try some great ideas like steak sandwiches, BLT pasta, spinach wraps, or even a classic like peanut butter and jelly!
With the recipes below, we've compiled the best options for you! Simply choose one and have fun!
WHAT CAN I EAT FOR LUNCH OTHER THAN SANDWICHES?
To spice things up a little, swap out the sandwiches for something new! Make a salad for a cold lunch, such as a Caesar salad, pasta salad, or chickpea spinach salad.
If meal prep is your thing, you can whip up taco salad bowls or chicken burrito bowls in no time.
LUNCH IDEAS FOR ADULTS AT HOME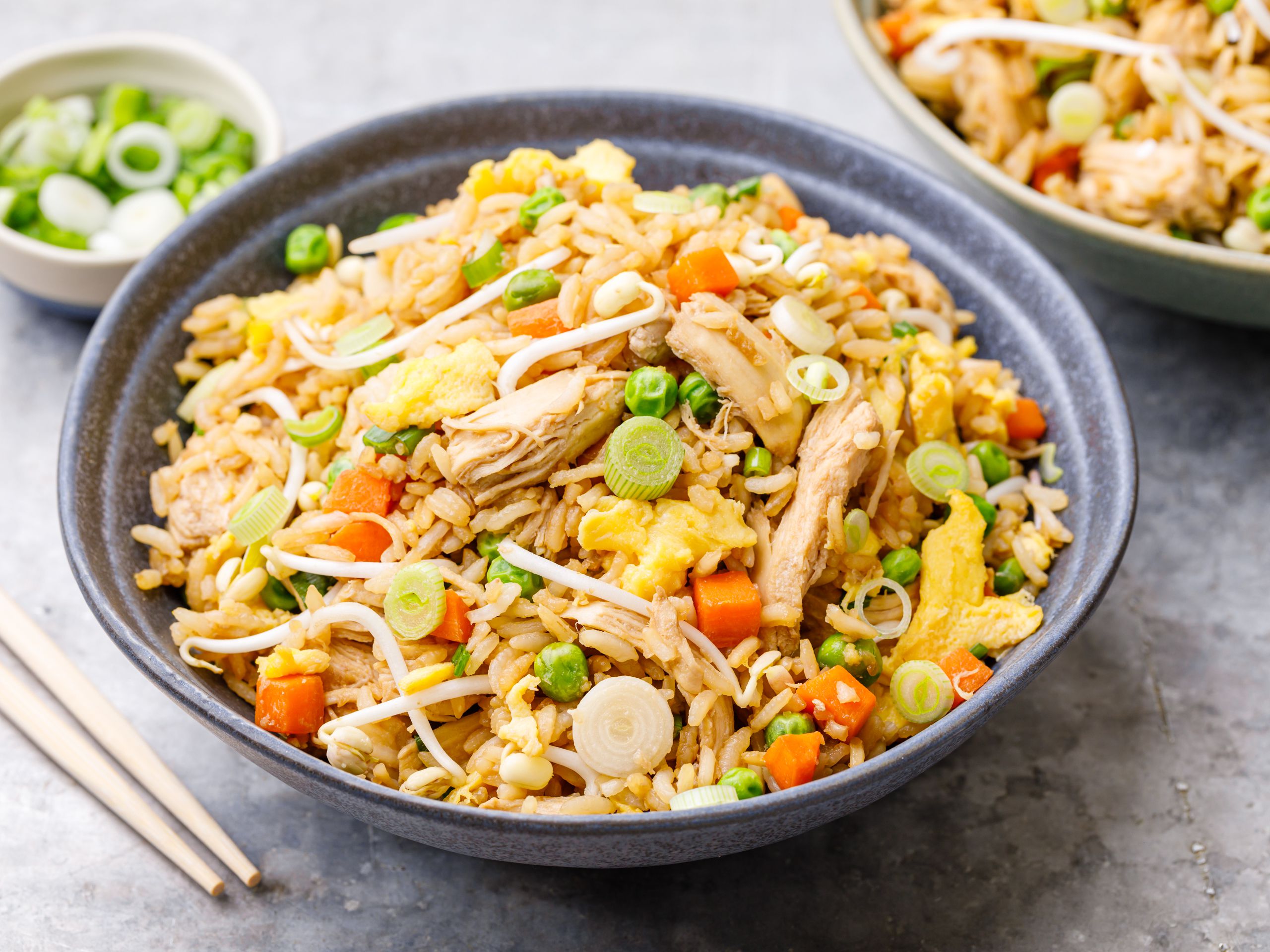 When it comes to Chinese takeout, chicken fried rice is always a good choice. But why order it when you can make it in 30 minutes at home? You can make it much faster if you use ready-made rice from a box and have everything chopped and measured before you start cooking.
Inside this quesadilla, ham and Swiss cheese are a match made in heaven! This recipe is ready in 10 minutes and is extremely simple to prepare. It's also a great way to use up any leftover ham, cheese, or tortillas in your refrigerator.
When you pack tubs of lentil soup for lunch and want it again for dinner, you know you're on the right track. This recipe is the key to making such a delicious lentil soup! Lentils are already savory, but with the addition of spices, this soup will be even more flavorful.
What person does not want pizza for lunch? A thin, crispy crust with caramelized onion and seasoned mushrooms is included in this recipe. You wouldn't skip lunch if you had this pizza for dinner.
Recommended Posts:
Do you like mac and cheese? Do you happen to have any muffin tins? If you said yes to both questions, mac and cheese cups are for you! Because this recipe makes mac and cheese cupcakes, your favorite dish is now portable.
LUNCH IDEAS FOR ADULTS FOR WORK
This slow cooker pork shoulder is full of flavor and falls apart, making it an easy dump-and-go meal! Cooked on low heat with barbeque sauce and spices, it's ideal for sandwiches or tacos for a quick lunch.
Yes, these sandwiches are from Cuba! They're stuffed with everything from roast pork to salami and ham! To keep it authentic, include the pickles and cheese.
This chicken salad is full of flavor, color, and taste, and it's a must-try! A dish brimming with chicken, green onion, celery, and grapes, all tossed in creamy goodness!
Wait until you're about to eat to assemble these wraps; otherwise, the lettuce may become soggy before lunch.
Chicken, roasted red peppers, spinach, and provolone cheese add a lot of flavor to these pinwheel sandwiches without a lot of effort.
COLD LUNCH IDEAS FOR ADULTS
Don't be fooled by the name – this seaweed salad is incredibly tasty! It's nutrient-dense and simple to make, and you'll love how refreshing it tastes! You'll also learn how to make homemade Japanese salad dressing!
If you're looking for a filling lunch, this is the place to be! This steak sandwich is piled high with thinly sliced steak, onions, vegetables, and mustard! Serve it warm or cold on toasted bread!
Is there anything more traditional than tuna salad? You'll be able to enjoy a healthy and filling meal with this recipe. So go ahead and grab some tuna, mayonnaise, onion, and celery! Serve it with bread, in a bowl, or wrapped in lettuce!
You can enjoy a guilt-free salad for lunch with just 5 minutes of preparation. This recipe will walk you through each step, but you'll quickly realize how simple it is!
If you like wraps, this is the one to keep on hand! The spinach wrap can be used for a variety of Mexican dishes, including tacos, burritos, and quesadillas. They're homemade, healthier, and taste better than store-bought versions!
NON SANDWICH LUNCH IDEAS FOR ADULTS
Chili is a popular dish for cold weather. Serve this for lunch to keep everyone warm and satisfied. Going outside? Fill a thermos with this warming dish for a hot lunch outside.
This homemade ramen will be ready in 30 minutes. Yes, it takes longer to cook than packaged ramen, but the wait and effort are well worth it. The good news is that the majority of the ingredients are pantry staples. Everything from vegetables to seasonings can be found at home or at your local grocery store.
This is not your typical nacho recipe. If you look into it, you might find yourself craving loaded baked nachos! This recipe requires little preparation and bakes quickly (only 10 minutes), making it ideal for busy school mornings.
Pasta e Fagioli is a hearty and comforting traditional Italian soup. As a result, it has all the makings of the perfect hot lunch! The main ingredients in this dish are pasta and beans. Ground beef and fresh vegetables are added to make it a complete meal.
The best hot lunch ideas are nutritious, flavorful, and easy to prepare ahead of time. This recipe for chicken gyros checks all the boxes. The marinated chicken, Tzatziki sauce, and tomato-cucumber salad make up this Greek wrap.
HEALTHY LUNCH IDEAS FOR ADULTS
Eating healthy doesn't have to be difficult, and it won't be with this recipe! The most difficult part here is resisting the urge to eat this before lunch! This salad, made with chickpeas, spinach, bell peppers, and spices, is delicious on its own or wrapped in a warm pita.
Who knew you could eat sushi without eating any seafood? You'll find a recipe for sweet potato sushi rolls right here. They're stuffed with creamy avocado and sweet potatoes! It's also vegan and kid-friendly! You'll also get step-by-step photos to guide you through the process!
Skip the fast food lines and prepare some healthy meals at home! These Easy Vegetarian Burritos are light and full of flavor. Ready in under 30 minutes and ideal for those on-the-go days!
Breakfast isn't the only time to enjoy some delicious oatmeal. Oatmeal for lunch is also a good option because it is high in fiber and low in calories. That means you can eat a healthy diet while feeling full all afternoon. What's the best part? This savory baked oatmeal is divine!
The combination of roasted cauliflower and chickpeas in this salad is undeniably satisfying for vegetarians. The slightly caramelized roasted cauliflower complements the tangy salad perfectly. If you don't like vegetarian main courses, you can serve this as a side dish with grilled meats.
HEALTHY PACKED LUNCH IDEAS FOR WORK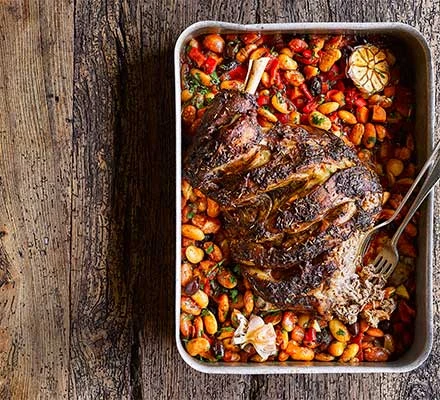 Looking for lunchbox ideas? Try this healthy chicken and butterbean salad, which will keep you full for the afternoon while also providing four of your five-a-day.
Make a filling and fragrant couscous salad for a vegetarian lunchbox meal, or double the recipe for a buffet.
Make this quick lime prawn cocktail salad for a filling lunch with a flavor punch. It's delicious, healthy, and low in calories.
Make this quick rice bowl for lunch with leftover chicken. It's full of flavor and healthy, thanks to a punchy wasabi, lime, and yogurt dressing.
Instead of soggy lunchbox sandwiches, use our pre-made roast chicken recipe to make a tasty and healthy chicken and noodle salad for lunch.
HOMEMADE LUNCH IDEAS
A grilled cheese sandwich is pure comfort food and one of the best go-to meals when money is tight, but who knew it could be improved? Add cheese to the OUTSIDE of the bread for a food hack that results in a slightly crisper, even cheesier sandwich.
If you have leftover quinoa, combine it with your favorite fruits (fresh or dried), nuts, and herbs to make a filling pseudo grain salad.
Add a shaved hard-boiled egg, salt, and pepper to your standard avocado toast. After that, you'll have all the energy you need to get through the rest of your day.
Fresh turkey, spinach-artichoke dip, and sun-dried tomatoes are packed into this panini. If you buy pre-made dip and pre-sliced turkey, lunch practically prepares itself.
Print
Lunch Ideas for Adults (Spinach Artichoke Turkey Panini)
---
Author:

Prep Time:

10 minutes

Cook Time:

5 minutes

Total Time:

15 minutes

Yield:

2

paninis

1

x
Description
In this tasty and easy Turkey Panini recipe, a beautifully creamy spinach artichoke dip is placed on thick, crusty ciabatta bread.
---
1

 

tbsp

 

olive oil

½

 

cup

 

onion

, 

diced

3

 

cloves

 

garlic

, 

minced

5

 

cups

 

spinach

, 

divided

½

 

cup

 

artichoke hearts

, 

chopped

½

 

cup

 

greek yogurt

¼

 

cup

 

goat cheese

, 

crumbled

¼

 

tsp

 

lemon zest

¼

 

tsp

 

red pepper flakes

¼

 

tsp

 

sea salt

½

 

loaf

 

ciabatta bread

, cut into

two

pieces, sliced through the middle

6

 

oz

 

sliced turkey
---
Instructions
In a large skillet over medium heat, heat the olive oil.
Cook for 4-5 minutes, then add the onion, garlic, and spinach.
Remove from the pan and set aside after 2-3 minutes, or until the spinach has cooked down.
Combine the artichoke hearts, Greek yogurt, goat cheese, lemon zest, red pepper flakes, and sea salt in a medium mixing bowl.
Cooked spinach, onion, and garlic should be added now.
Combine all of the ingredients and spread on the cut ciabatta bread.
Top with the turkey and optional additions of your choice (I used fresh spinach and sun dried tomatoes).
Place the panini sandwiches together in a panini press, grill pan, or skillet.
Cook until the bread is toasted and crispy and the spinach artichoke mixture is warm and melted!
Category:

Lunch

Method:

None

Cuisine:

American
Nutrition
Serving Size:

2 servings

Calories:

603kcal

Sugar:

5g

Sodium:

2009mg

Fat:

20g

Saturated Fat:

6g

Unsaturated Fat:
Trans Fat:
Carbohydrates:

67g

Fiber:

4g

Protein:

37g

Cholesterol:

58mg
Keywords: lunch dinner ideas for adults, spinach artichoke turkey panini, turkey panini recipe, lunch recipe, easy spinach artichoke turkey panini
Frequently Asked Questions
What should adults pack for lunch?
Always opt for fresh fruit!
Vegetables: Choose quick-to-prepare vegetables such as cherry tomatoes, carrot sticks, celery, and cucumber.
Rice, noodles, couscous, quinoa, and pasta: I prefer brown rice and wholemeal pasta to increase my fiber intake!
What are some good ideas for lunch?
Lunch Ideas for People Who Are Stressed
Sandwich with avocado and egg salad.
Bacon, peaches, and Gorgonzola linguine
Avocado and Mango Sauce on Zoodles
Wraps of Buffalo Chicken, Blue Cheese, and Celery
Salad of Tomatoes, Grilled Halloumi, and Herbs
Pinwheel Sandwiches from the Italian Deli.
Peach Caprese Salad by Joanna Gaines.
What does a typical lunch consist of?
Lunch usually consists of two courses: the first course is usually a soup, and the second course, the main course, often consists of meat accompanied by potato, rice, or pasta (garniture). Desserts were traditionally baked and eaten, but this is less common nowadays.
What single food can you live on?
You'll also be eating your own heart. However, there is one food that has everything: it is the food that keeps babies alive. "Human milk is the only food that provides all of the nutrients that humans require," Hattner said. "Mother's milk is an all-in-one food."
At a lunch party, what do you serve?
Sandwiches, salads, and a variety of light appetizers, such as dips and homemade chips, are all good options. Make it a casual buffet lunch by setting up a taco bar or pita and wrap stations, and let guests load them up with their favorite ingredients.
What is a healthy alternative to a sandwich?
One option is a sandwich/wrap/pasta. Two: a piece of fruit – plums are a good substitute for apples and are the perfect size for most lunchboxes. Three: a beverage (typically a carton of juice or a bottle of water). Four: something else healthy, such as yoghurt, cheese, or a pack of healthy crackers.
What exactly is a light lunch?
A light meal is one that contains a small amount of food or food that is easy to digest.
What should I pack for my husband's lunch?
To save money, make easy packable lunches for your husband.
Wrap with Bacon, Chicken, and Ranch.
Salad with orzo and shrimp.
Board of Charcuterie
Salad with chicken and dipping chips
Veggie Dippers And Giant Deviled Eggs
Salad for Meat Lovers
Roll-ups of turkey and bacon.
What does a healthy lunch look like?
Any well-balanced meal, including lunch, includes lean protein, fiber-rich carbohydrate and veggie sources, and healthy fats. A sandwich, which is a common lunchtime staple, can be transformed into a well-balanced meal if you include: 100 percent whole grain bread. Fresh deli turkey or grilled chicken leftovers
What can I eat instead of sandwiches for lunch?
Sandwich alternatives that are simple
Wrap with Asian chicken and omelette.
Quesadillas with courgette and white beans.
Pitas with cottage cheese, grated carrot, and rocket.
Muffins with cheese and ham.
Pinwheels of ham and cheese
Hummus with red peppers.
Wrap with chicken and salsa.
Pasta salad with roasted vegetables and ham.