Delightful Creamy Coconut Milk Salmon Recipe – [so simple!]
This Creamy Coconut Milk Salmon recipe is simple, tasty, and takes only 20 minutes to prepare. Learn how to prepare fish in a delectable coconut sauce. Salmon fillets that have been pan seared are juicy on the inside and crispy on the outside. With a dash of spice, coated in a delectable dairy-free coconut garlic sauce.
It's a dish that just requires one skillet. Everything about this salmon recipe will appeal to you, including how simple it is to prepare and how delicious it tastes. This dish is great for lunch or dinner!
How to Pan Sear Salmon?
Color and flavor are enhanced by pan searing. Let's take a closer look at this technique.
• Bring the fish to room temperature before serving.
• Rinse and pat dry the fish. You can use skinned fillets or skinless fillets. For sauce-based recipes, I prefer to use skinless salmon fillets.
• In a large skillet large enough to hold all of the fillets, heat the oil.
• Season the salmon all over with garlic powder, salt, and pepper.
What side of salmon do you sear first?
Begin by searing the salmon skin-side down and flesh-side up for 4-5 minutes, depending on thickness. When it's crisp, flip it over and sear for another 5 minutes.
How to make creamy salmon
Season the fish and sear it in a large nonstick skillet over medium heat. Transfer to a plate once it's done.
To make the creamy coconut sauce, sauté the garlic in the same skillet with the coconut cream, coconut milk powder, and almond flour until aromatic. Add 1 green chile and season with salt and red chili flakes.
Return the salmon to the pan: When the creamy sauce is finished, place the salmon in the skillet with the sauce, top with charred lemon slices, and parsley.
Video Recipe: Creamy Salmon Recipe (Coconut Garlic Lemon Sauce)
Suggested Posts
Baking salmon
Baking salmon instead of pan searing it is preferred by some since it does not require constant monitoring. It's also a great way to cook if you only have 4 fillets or less.
What are the Benefits of Eating Salmon
Salmon is regarded as one of the healthiest seafood to include in your diet. They are high in protein and include omega-3 fatty acids, vitamin B12, selenium, and choline.
Salmon improves brain function, cognition, and neurological health, among many other health benefits. Salmon boosts immunity, improves heart health, and may aid in weight loss.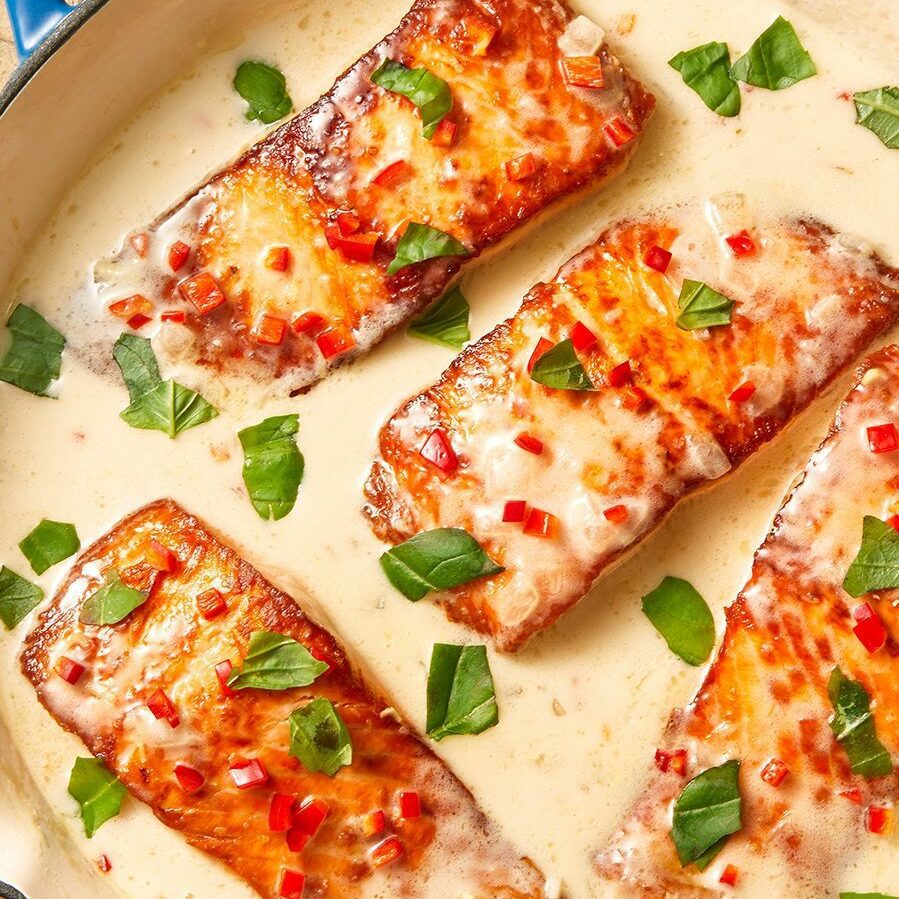 How to season salmon for baking?
I suggest using salt, black pepper, and garlic powder. Instead of using garlic powder, chop garlic and apply it on salmon fillets. In fact, salmon pairs well with a wide variety of spices and herbs. Dill, sage, parsley, or coriander can be added. Last but not least, the coconut cream sauce will go great with it.
What Temp should Salmon be cooked?
Check the doneness of the salmon with a fork to see if it flakes readily. If it does, it is finished. If you prefer to use a digital thermometer, the USDA recommends cooking the salmon until it reaches an internal temperature of 145°F. Measure the thickest section of the fillet with a thermometer.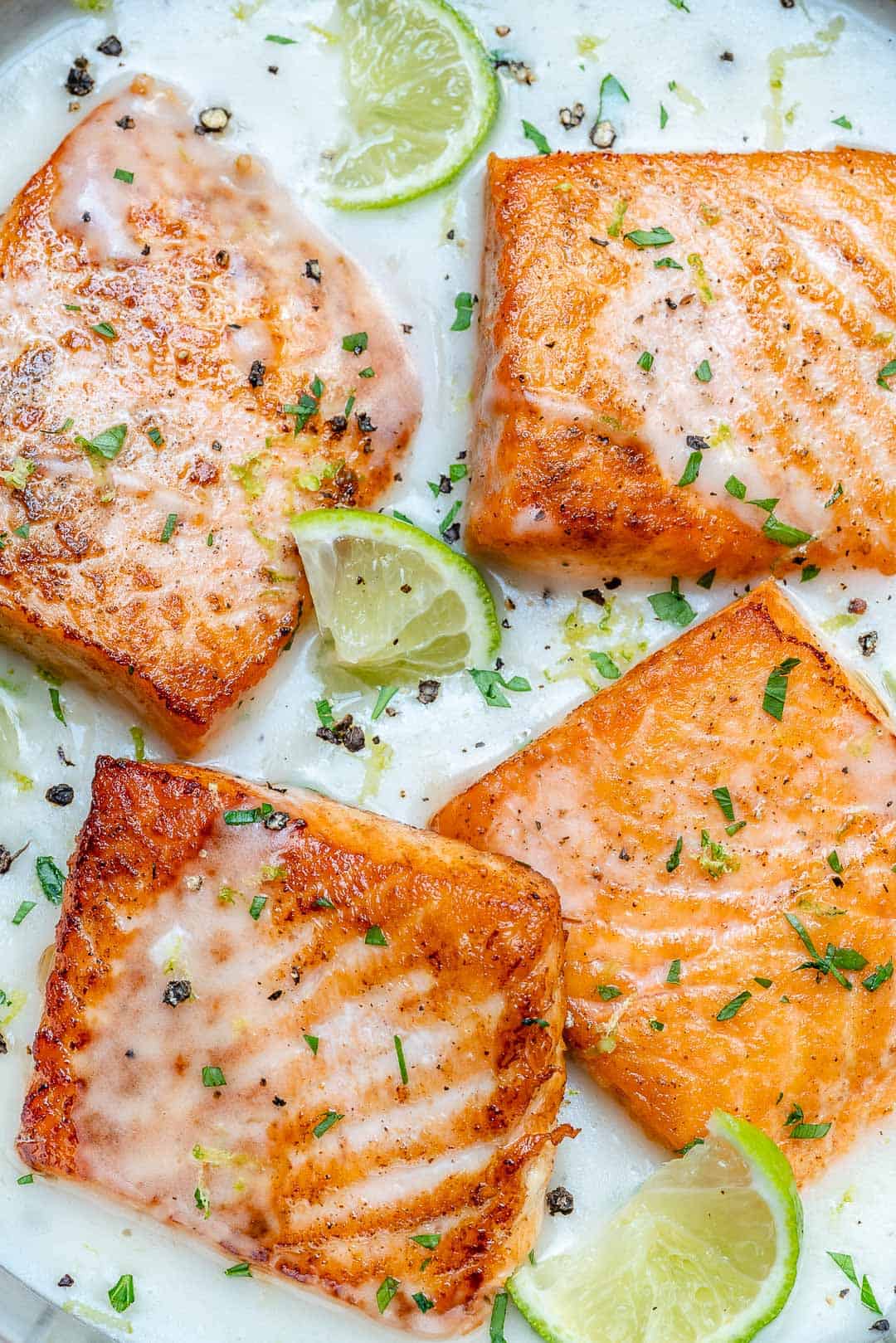 How do you know when salmon is done baking?
The color of salmon turns from red to pale pink as it is fully cooked. Another technique to tell if the meat is done is to stick a sharp knife into the thickest portion of the fillet and observe if it begins to flake. If the answer is affirmative, then the salmon is ready. This is how you'll know when the salmon in this creamy salmon recipe is done baking.
Recipe Variations
Substitute another vegetable for the zucchini, such as sliced mushrooms, sweet peppers, or snow peas.
Try chicken, if you don't love salmon or don't have it on hand, chicken breast cutlets would work great in place of the salmon. Pan sear the chicken until it registers 165F and then simmer in sauce as recipe directs.
Make it curry by incorporating a few teaspoons of green curry paste into the sauce to transform this recipe into a delectable green curry version!
Print
Creamy Coconut Milk Salmon Recipe – [so tasty!]
---
Author:

Prep Time:

10 mins

Cook Time:

20 mins

Total Time:

30 mins

Yield:

4
Description
This Creamy Salmon recipe is simple, tasty, and done in 20 minutes. Learn how to cook fish in a delectable creamy coconut sauce. Pan seared salmon fillets are juicy on the inside and crispy on the outside. Coated in a delectable dairy-free coconut garlic sauce with a spicy kick. It is a one-pan dish. You'll enjoy everything about this salmon recipe, from how simple it is to how delicious it tastes. Ideal for lunch or dinner!
---
Vegetable oil-2 tbsp.

Salmon fillets ( skinless or skin on)- 4 , about 1 kg/ 2.2 pound

Garlic powder- 1 1/2 tsp.

Salt and black pepper- as needed

Charred lemon slices- 3-4 , optional
FOR THE CREAMY SAUCE
Garlic cloves ( finely chopped)-6

Coconut cream- 1 1/4 cup

Coconut milk powder- 2 tbsp.

Almond flour- 1 tbsp.

Red chili flakes– 1/4 tsp.

Ground black pepper- 1/2 tsp.

Green chili ( sliced)-1

Salt – to taste
---
Instructions
Heat vegetable oil over medium-high heat in a large nonstick skillet.

Garlic powder, salt, and ground black pepper should be applied on both sides of the salmon fillets. Sear the salmon for 5 minutes on each side or until cooked through once the pan is very hot. Take the pan out of the oven and set it aside.

Cook the chopped garlic for 30-40 seconds in the same pan/skillet until fragrant. Combine the coconut cream, red chili flakes, and coconut powder in a small mixing bowl. Make a thorough mixture.

Season with salt and pepper and add almond flour. Green chilies should be included.

Reduce the heat to low and continue to cook for another minute, or until all of the flavors have released and the sauce has thickened somewhat. If necessary, taste the sauce and adjust the flavor to your liking.

Return the salmon to the pan and garnish with charred lemon slices and chopped parsley.

Steamed broccoli, mashed potatoes, handmade pasta, jasmine rice, or cauliflower rice are all good accompaniments.
Category:

Main

Method:

Baked, Pan cook

Cuisine:

American
Nutrition
Serving Size:

1

Calories:

301kcal

Sugar:

0g

Sodium:

70.1mg

Fat:

17.6g

Saturated Fat:

7.1g

Carbohydrates:

6.9g

Fiber:

1.3g

Protein:

30.2g

Cholesterol:

80.5mg
Keywords: coconut milk, salmon, main dish,
Frequently Asked Questions
How do you make salmon taste better?
Add a few splashes of red or white wine vinegar, a pinch of salt, and a few grinds of pepper to taste. Stir it well, then taste it.
How do I make salmon taste better if I don't like fish?
Epicurious experts recommend soaking your fish in milk for 20 minutes before cooking it. The milk protein attaches to the fishy aromas and eliminates them, leaving a sweeter, brighter, and cleaner-tasting fish behind.
Is it better to cook salmon in foil or not?
Fish may be cooked either covered or uncovered, but we've discovered that cooking it in foil results in incredibly tender and properly cooked salmon.
How do you make salmon not dry?
The most fail-safe method is slow roasting. Salmon fillets are consistently delicious when cooked gently in a low oven (225°F to 250°F) or in a slow cooker.
More Coconut Milk Salmon Recipes to try
SALMON CURRY WITH COCONUT MILK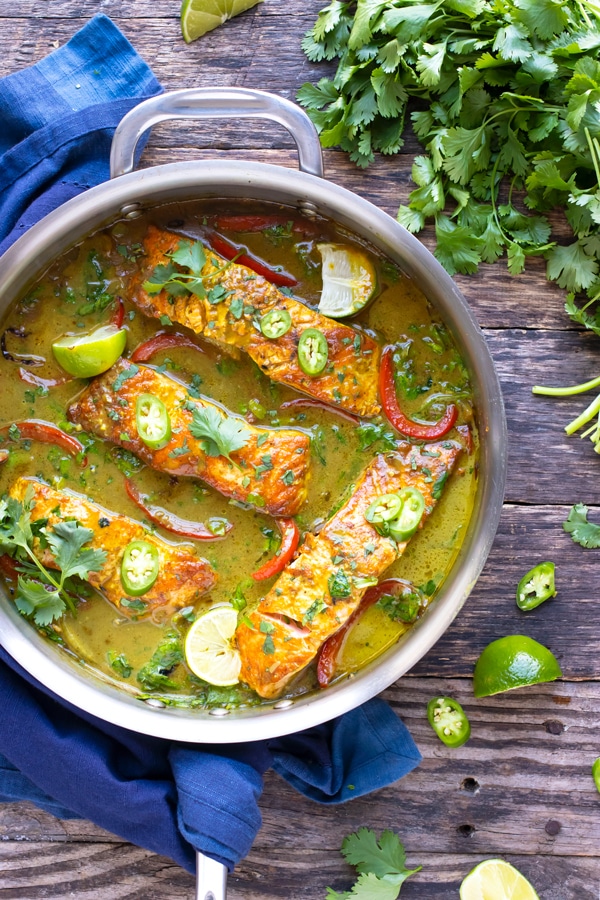 Healthy Thai Salmon Curry is a quick and easy dinner meal that won't let you down! Fresh salmon is cooked with coconut milk, curry powder, and veggies to produce the most tender and flaky fish. For a low-carb, Paleo, and Whole30 dinner, serve over rice or cauliflower rice.
In our house, we can't get enough curry!
And, because we avoid dairy products, coconut milk curries are frequently on our menu. Thai Green Chicken Curry, Slow Cooker Chicken Curry, and now this salmon curry recipe are all favorites.
Enjoy all of the rich and sumptuous tastes of a typical curry, but with a Thai-style twist thanks to the use of coconut milk.
This curry recipe is an excellent way to incorporate a variety of vegetables. Not to mention that you get your daily dosage of beneficial omega-3 fatty acids.
It's delicious served over fluffy rice or cauliflower rice for a filling low-carb supper
CREAMY COCONUT LIME SALMON
This Creamy Salmon recipe is a great low carb salmon meal recipe that is both yummy and quick to prepare. Keto-friendly, cooked in a single pan, and done in less than 30 minutes.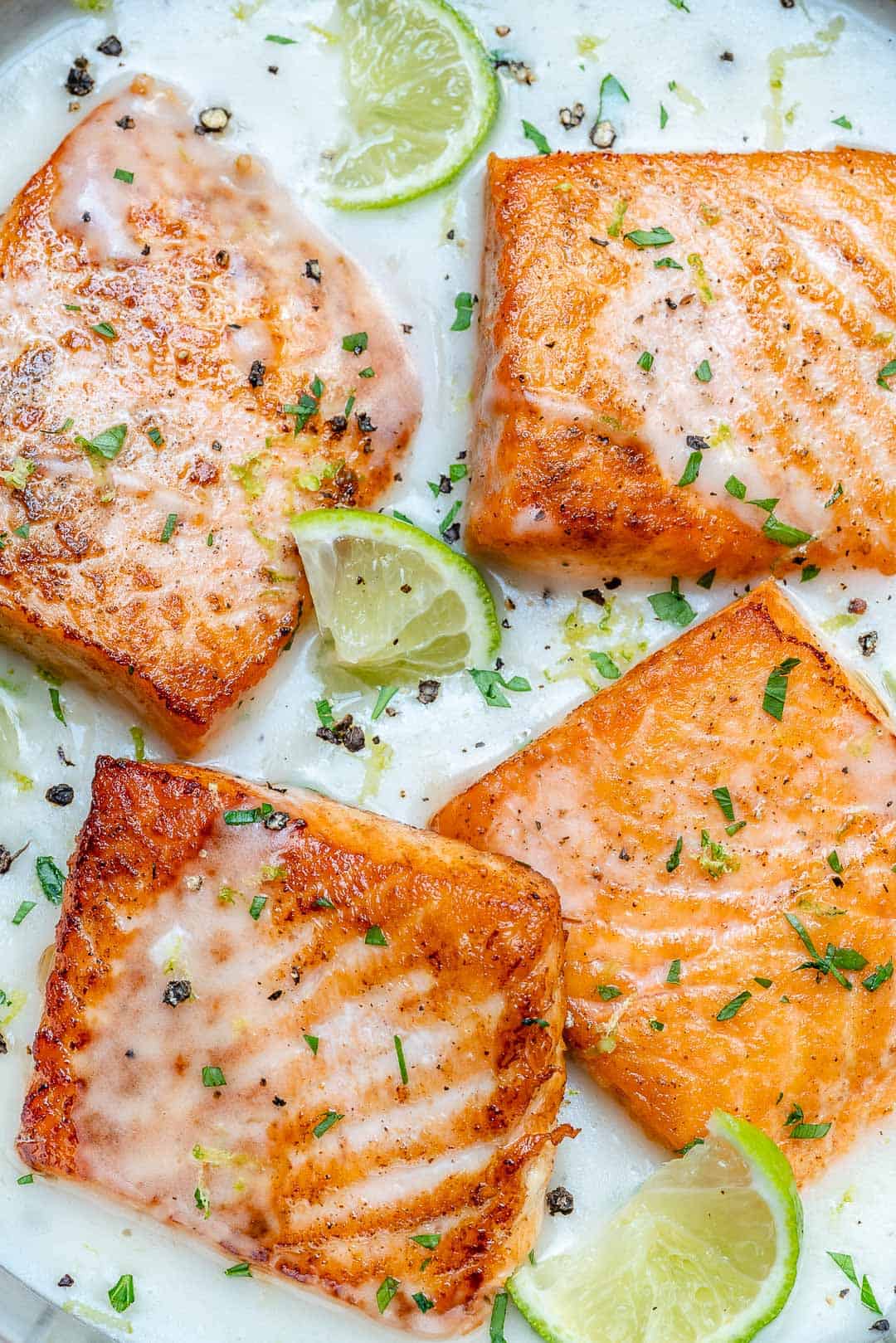 This simple salmon meal is low in carbs and ideal for individuals following the keto diet. Everything is done in one pan, which is perfect if you want to meal prep. Serve with grilled vegetables or brown rice, quinoa, or other grains.
A salmon dinner meal that will become one of your favorites and will be enjoyed by the entire family. The creamy lime sauce goes perfectly with the pan-seared fish.