Easy Bacon Wrapped Meatloaf Recipe (Must Try)
★★★★★ 5 from 1 reviews
Ground beef is mixed with breadcrumbs and seasonings in this bacon wrapped meatloaf, which is then topped with bacon slices and baked until golden brown.
A unique take on a classic recipe that will have your guests raving!
Comfort food classics like slow cooker beef stew, mac and cheese, and this incredibly delicious bacon meatloaf are always a hit with kids and adults alike.
HOW DO YOU MAKE BACON WRAPPED MEATLOAF?
The meat mixture is the first step in this recipe. In a mixing bowl, combine cooked onion and garlic with ground beef, beef broth, eggs, breadcrumbs, and seasonings.
Place your meatloaf mixture on a sheet pan and shape the meat into a loaf shape. Spread a thin layer of ketchup evenly across the loaf, and it's ready for the bacon.
Wrap slices of bacon around the meatloaf, brush with more ketchup, and bake the meatloaf.
Allow the meatloaf to rest for a few minutes after baking, then top with parsley and serve.
WHAT TYPE OF MEAT SHOULD I USE?
I used ground beef meat in this recipe. Any type of meat, however, would work well here.
Ground pork would also work well, or you could combine the two. Furthermore, for a healthier meatloaf, use ground chicken or ground turkey.
HOW DO YOU KEEP MEATLOAF FROM FALLING APART?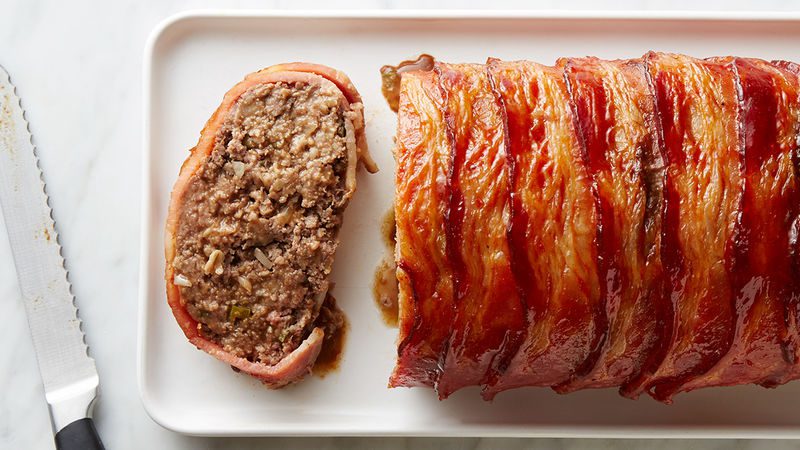 The eggs and breadcrumbs in this recipe keep the meatloaf together.
Eggs act as a binding agent, and the starch in the breadcrumbs helps the loaf keep its shape while baking.
Furthermore, the bacon wrap holds everything together, preventing the meatloaf from crumbling when sliced.
HOW DO YOU KNOW WHEN MEATLOAF IS DONE COOKING?
Meatloaf is done when it reaches an internal temperature of 160°F. You'll also want to look for some crisping of the bacon in this recipe.
To ensure that my loaf is properly cooked, I use a digital probe thermometer.
HOW TO MAKE A MEATLOAF SANDWICH?
A hearty texture bread, such as a french roll, is ideal for a meatloaf sandwich. To keep the bread from becoming soggy, toast it. In a toaster oven or microwave, thoroughly heat the meatloaf.
Feel free to top the sandwich with tomatoes, onions, and lettuce. Serve the sandwich right away and enjoy.
Bacon wrapped meatloaf elevates a classic comfort food to new heights! This recipe is ideal for parties, potlucks, or a family dinner.
Other Meatloaf Recipes to Try
TIMES & TEMPERATURES
Because meatloaf is made with raw ground beef and eggs, it should be cooked thoroughly.
A 2 pound bacon-wrapped meatloaf will take 60-70 minutes to bake at 375°F (a 3lb meatloaf needs closer to 80-90 minutes).
Use a meat thermometer to ensure that the meatloaf, like all ground beef recipes, reaches an internal temperature of 160°F.
RECIPE VARIATIONS:
This recipe is very adaptable. Here are some quick pointers on how to modify it:
Other cheeses: Similarly, you can use other cheeses or a combination of them here. American, mozzarella, and Asiago cheese all work equally well.
Gluten-free: Use gluten-free breadcrumbs to make a gluten-free version.
Seasoning: Feel free to experiment with your favorite seasonings here. Italian seasoning, chili powder, ranch seasoning, and other seasonings would be excellent additions.
GOT LEFTOVERS?
When I make a great meatloaf recipe, I always make extras. Leftovers are ideal for a quick meal or a tasty sandwich.
Refrigerator: Bacon-wrapped meatloaf will keep in the fridge for 3-4 days. It's easy to reheat in the oven or microwave.
Once cooled, leftovers can be safely frozen. I prefer to freeze in individual slices to make reheating and serving easier.
CAN YOU FREEZE LEFTOVERS?
Cooked leftover meatloaf will keep in the refrigerator for 3-4 days if properly stored.
Wrap a cooked meatloaf tightly in heavy-duty aluminum foil or place in an airtight container or freezer wrap to freeze. It can be stored in the freezer for up to 3-4 months.
TIPS FOR BACON WRAPPED MEATLOAF
I recommend using 90% lean beef because it has a lot of flavor and isn't greasy.
Avoid using thick cut bacon because it will take much longer to crisp up in the oven.
During the last few minutes of baking, keep an eye on the meatloaf. Cover the top with foil if it appears overly browned before the inside is cooked through.
I serve this meatloaf with mashed potatoes and a vegetable on the side, such as green beans, asparagus, or broccoli.
Meatloaf wrapped in bacon makes excellent leftovers and can be stored in the refrigerator for up to 3 days. Cooked meatloaf can also be frozen for up to 2 months.
Frequently Asked Questions
Should meatloaf be cooked covered or uncovered?
Cover a single large meatloaf with aluminum foil while cooking to keep it moist, but leave it uncovered for the final 15 minutes of baking. "Meatloaf is ideal for freezing raw for later cooking or cooking and freezing for later reheating." Preheat oven to 350°F.
What do you put in meatloaf to keep it from falling apart?
There could be a number of reasons why your meatloaf crumbles. The most common cause is a lack of binding agents in your meatloaf. Add things like eggs and bread crumbs to your meatloaf to help it stay together because they are key ingredients that bind meat together.
Why does some meatloaf fall apart?
The most common reason for your meatloaf falling apart is a lack of binding agents, such as eggs and breadcrumbs. These ingredients are essential because they are what hold the meat mixture together and keep it together while it cooks.
Why is my meatloaf mushy?
The main cause is almost always an incorrect meat-to-other-ingredient ratio. The meat ratio in a meatloaf is crucial to the final texture. Too much bread and milk for the amount of meat is the main cause of mushy meatloaf. Reduce the amount of bread and milk by half to solve the problem.
Print
Easy Bacon Wrapped Meatloaf Recipe
---
Author:

Prep Time:

30 minutes

Cook Time:

1 hour

Total Time:

1 hour and 30 minutes

Yield:

8

servings

1

x
Description
Ground beef is mixed with breadcrumbs and seasonings in this bacon wrapped meatloaf, which is then topped with bacon slices and baked until golden brown. A unique take on a classic recipe that will have your guests raving!
---
1

 

tablespoon

 

olive oil

1

 

onion

 

finely diced

2

 

teaspoons

 

garlic

 

minced

2 1/2

 

pounds

 

ground beef

 

90% lean

1 1/4

 

teaspoons

 

kosher salt

1/2

 

teaspoon

 

pepper

1/4

 

cup

 

beef broth

2

 

tablespoons

 

Worcestershire sauce

2

 

eggs

3/4

 

cup

 

Italian style breadcrumbs

1/2

 

cup

 

ketchup

 

divided use

10

 

slices

 

bacon

1

 

tablespoon

 

fresh parsley

 

chopped

cooking spray
---
Instructions
Preheat the oven to 325 degrees Fahrenheit. Coat a baking sheet with cooking spray.
In a small saucepan over medium heat, heat the olive oil. Cook for 4-5 minutes, or until the onion is softened. Cook for 30 seconds more after adding the garlic.
In a large mixing bowl, combine the garlic and onion mixture, ground beef, salt, pepper, beef broth, Worcestershire sauce, eggs, and breadcrumbs. To combine, stir everything together thoroughly.
Form the beef mixture into a loaf on the sheet pan. 1/4 cup ketchup should be spread over the loaf.
Wrap the bacon slices around the loaf, tucking the ends under. Brush the bacon with the remaining ketchup.
Bake for one hour, or until a thermometer inserted into the center of the meat loaf reads 160°F.
Allow the meatloaf to rest for 5 minutes before serving. Sprinkle with parsley on top. Slice and serve.
Category:

Main Dish

Method:

Bake

Cuisine:

American
Nutrition
Serving Size:

8 servings

Calories:

423kcal

Sugar:

4g

Sodium:

861mg

Fat:

24g

Saturated Fat:

10g

Carbohydrates:

7g

Fiber:

1g

Protein:

34g

Cholesterol:

151mg
Keywords: Bacon wrapped meatloaf recipe, bacon wrapped meatloft, bacon recipe, meatloft recipe
More recipes to try: