Super Moist Baked BBQ Chicken Breast Recipe (Dinner!)
★★★★★ 5 from 2 reviews
This easy baked BBQ chicken breast recipe brings the sweet, salty, smoky flavor of barbecue to your home any time of year!
It's a fantastic winter-time version of grilled chicken that everyone will enjoy as part of a delicious, flavorful meal! Without a grill, you can make finger-licking good BBQ!
Who doesn't enjoy the smoky-sweet flavor combination of grilled chicken and barbecue sauce?
There's never a bad time to pull out this recipe, whether it's too hot to bother or it's a dark winter day with enough snow on the ground that you'd rather be in the warmth of your kitchen.
After all, who says you can't have a barbecue in the dead of winter?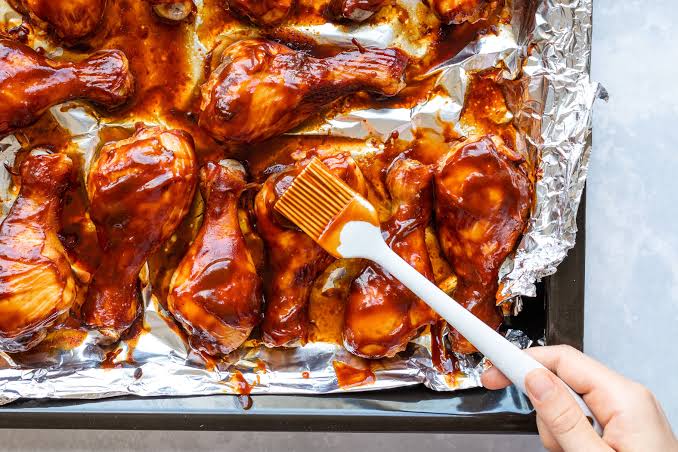 WHY THIS CHICKEN BREAST RECIPE IS GREAT?
Just a few simple ingredients. You only need a few ingredients, which you most likely already have on hand.
Quick and simple. With this recipe, you can have dinner on the table in 30 minutes. It's quick and easy to make, making it ideal for busy days.
Delicious! Baked BBQ Chicken Breast is juicy and tender, with a flavorful sticky BBQ sauce on top.
INGREDIENTS
If you enjoy barbecue as much as I do, you probably already have most of these ingredients on hand. However, liquid smoke may be unfamiliar to you.
It's a special ingredient that adds a distinct smoky flavor to your baked chicken, giving it that just-off-the-grill flavor.
Chicken Breasts – For this recipe, you'll need boneless, skinless chicken breasts.
Seasoning – A flavorful combination of salt, pepper, garlic powder, onion powder, and paprika to enhance the deep, rich BBQ sauce coating.
BBQ Sauce – There are a million different kinds of BBQ sauce, so choose your favorite or create your own unique blend!
Liquid Smoke (optional) – While this is optional, I strongly recommend you try it for the best results! It's in the condiments section of the grocery store, above the Worcestershire sauce.
INGREDIENT NOTES
You can achieve the same delicious flavor with any cut of chicken, boneless or bone-in, but keep in mind that cooking times will vary. Bone-in pieces will require more oven time.
Using a digital meat thermometer to check the internal temperature is always a good idea. Before eating, the internal temperature of the cooked chicken should be at least 165°F (74°C), regardless of the cut.
Cayenne pepper can be added for an extra kick. In Step 3 of the recipe, add 14 teaspoon cayenne pepper to your spice mix to increase the heat. If it's still not hot enough, season with salt and pepper after baking.
For a more smoky flavor, substitute smoked paprika for the paprika. If you really want to bring out the grilled hint of smoke from the liquid extract, pair it with smoked paprika.
INSTRUCTIONS
There are only a few simple steps to take. A baking dish, a small bowl for mixing spices, and a brush or spoon for the BBQ sauce are all required.
Preheat the oven to 350°F. Preheat the oven to 400°F (205°C). Grease or spray a baking dish with nonstick cooking spray to make it ready.
Make the chicken. Rinse 4 6-ounce boneless, skinless chicken breasts (approximately 1 12 pound) (24 ounces). Dry them with paper towels and, if necessary, cut off the fatty parts. Place them in the prepared baking dish.
Season to taste. In a small bowl, combine 12 teaspoon salt, 12 teaspoon paprika, 14 teaspoon ground black pepper, 14 teaspoon garlic powder, and 14 teaspoon onion powder. Season the chicken breasts with the spice mixture, making sure to generously coat all sides.
Combine the sauce ingredients. Combine 12 cup BBQ sauce with 1 teaspoon liquid smoke (optional). Apply it to the chicken breasts.
Bake. Place the chicken on the middle rack of your oven and bake for 40-45 minutes. To check the internal temperature of a breast, insert a probe thermometer into the thickest part of the breast. It must be at least 165°F (74°C) to be safe to eat.
Rest before serving. Allow the chicken to rest for 10 minutes after removing it from the oven before slicing and serving.
This makes an excellent lunch or dinner when served with all of the best cookout sides.
WHAT TYPE OF BBQ SAUCE TO USE?
We wanted to keep this recipe as simple as possible, so we left the option of using homemade or store-bought bbq sauce open.
Our homemade recipe is simple to prepare and can be cooked in the time it takes for the chicken to marinate.
If you want to use a BBQ sauce that you know has simple and clean ingredients, make it yourself! You will not be let down.
One thing to keep in mind is that the dry rub for the chicken contains coconut sugar.
If your BBQ sauce contains a lot of sugar, feel free to leave out the extra sugar. If you're using our homemade version, use the coconut sugar as directed.
HOW TO GET PERFECT JUICY BAKED CHICKEN?
The key to getting juicy and flavorful chicken is to avoid overcooking it. That is the single most important step in cooking chicken breasts, which have less fat than dark meat counterparts. However, in addition to properly cooking the chicken, we took a few extra steps to ensure that this recipe is amazing.
First, use a meat mallet to pound out the meat to an even thickness (or a rolling pin). This ensures that the chicken is perfectly cooked throughout, rather than having some parts of the chicken overcooked due to their thinnerness.
The chicken will then be quickly marinated with a dry rub. The apple cider vinegar, as well as the sugar and spices, add flavor and tenderness to the meat. We took an extra step with this chicken by piercing the breast all over with a fork. This allows the marinade and BBQ sauce to penetrate the chicken even more and gently tenderizes the meat.
Finally, and most importantly, remove the chicken just before it has finished cooking. The chicken, like all meat, will continue to cook after it has been removed from the oven. We always recommend using an instant-read thermometer to check meat temperature, and chicken breast should be removed from the oven when it reaches 155o-160o. Once the chicken has been removed, cover the pan with aluminum foil and set it aside to rest. This allows the chicken to finish cooking to 165o and allows the chicken to rest, allowing all of the juices to remain within the chicken breast.
STORING & REHEATING
Leftover baked bbq chicken breast will keep in the fridge for 3-4 days if stored properly.
After it has cooled, place any leftover cooked chicken in an airtight plastic storage bag or container.
You can also tightly wrap the chicken breasts in aluminum foil or plastic wrap to remove any excess air.
Extra chicken can be frozen and eaten up to 4 months later for the best flavor, though it is safe to eat indefinitely when properly frozen.
To avoid freezer burn, wrap in tin foil and place in a freezer storage bag or airtight container.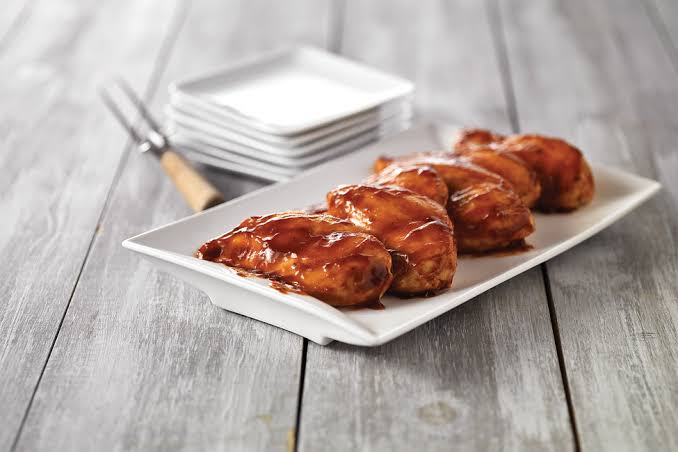 REHEATING
Reheat your leftover chicken breasts in the oven for 15 minutes at 400°F (205°C) on a wire rack-topped baking sheet.
Before reheating frozen chicken, place it in the refrigerator overnight to thaw.
Frequently Asked Questions
How long do you BBQ chicken breast?
Do you want to know how long to grill a chicken breast? 9-10 minutes on the grill At the halfway point, flip the chicken breasts. I usually grill my chicken for about 10 minutes, flipping halfway through to get beautiful sear marks on both sides of the chicken.
Do you cook chicken breast in the oven covered or uncovered?
You never have to worry about covering chicken while baking because it's fine to bake it uncovered, and once your chicken is in the oven, it's hands-free until the temperature is checked. If you're feeling ambitious, you can make a no-cook appetizer, side dish, or dessert.
How long do you cook chicken breast at 400?
The baking time varies according to the size and thickness of the chicken. In a 400 degree oven, bake a medium size chicken breast (5 to 6 ounces each) for 20 to 25 minutes. I always bake chicken breasts at 400°F because the high heat helps seal in the juices (and the flavor).
Can you put BBQ sauce on raw chicken?
Raw chicken can certainly be slathered in BBQ sauce. In fact, marinate the chicken or chicken pieces in the BBQ sauce for a few hours or overnight to add extra flavor. Bake for about 15 minutes, basting every 15 minutes. If more liquid is required, add a little water to the pan.
Print
Baked BBQ Chicken Breast Recipe
---
Author:

Prep Time:

5 minutes

Cook Time:

40 minutes

Total Time:

45 minutes

Yield:

4

servings

1

x
Description
This easy baked BBQ chicken breast recipe brings the sweet, salty, smoky flavor of barbecue to your home any time of year! It's a fantastic winter-time version of grilled chicken that everyone will enjoy as part of a delicious, flavorful meal!
---
24

 

oz

 

chicken breasts

 

(4 roughly 6-ounce boneless, skinless chicken breasts)

½

 

teaspoon

 

salt

½

 

teaspoon

 

paprika

¼

 

teaspoon

 

ground black pepper

¼

 

teaspoon

 

garlic powder

¼

 

teaspoon

 

onion powder

½

 

cup

 

BBQ sauce

1

 

teaspoon

 

liquid smoke

 

(optional but highly recommended)
---
Instructions
Preheat your oven to 400°F (205°C) and lightly grease or coat your baking dish with nonstick cooking spray.
Rinse the chicken breasts and pat them dry with paper towels. Trim any excess fat from the chicken pieces before placing them in the prepared baking dish.
Combine the seasonings, including salt, paprika, ground black pepper, garlic powder, and onion powder, in a small bowl. Season both sides of the chicken breasts.
Stir together the BBQ sauce and optional liquid smoke, then brush it on each of the chicken breasts.
Bake at 400°F (205°C) for 40-45 minutes, or until the internal temperature of your chicken breasts reaches 165°F (74°C), the minimum safe temperature for chicken.
Remove the chicken from the oven and set aside for 10 minutes before slicing or serving.
Notes
If the internal temperature of your chicken breasts reaches 162°F (72°C), it will rise 3-4 degrees during the resting period (carryover cooking).
Cooking times for smaller chicken breasts (4-5 ounces) are approximately 25-30 minutes, and cooking times for medium chicken breasts are approximately 30-40 minutes (6-8 ounces).
Category:

Main Dish

Cuisine:

American
Nutrition
Serving Size:

4 servings

Calories:

255kcal

Sugar:

12g

Sodium:

564mg

Fat:

5g

Saturated Fat:

1g

Carbohydrates:

15g

Fiber:

1g

Protein:

36g

Cholesterol:

109mg
Keywords: Bbq baked chicken breast, baked chicken breast, bbq chicken breast recipe, dinner dish, main dish
Alternative recipes to try: