Easy Sweet and Spicy Boneless Chicken Thighs (15-minute recipe)
★★★★★ 5 from 1 reviews
Boneless chicken thigh in a delectable Sweet and Spicy sauce, caramelized to perfection on the outside. This is a fantastic mid-week dish that you will make again and again.
These Sweet and Spicy boneless Chicken thighs are incredibly delicious and made on the stovetop. The dry spice rub is sweet-spicy and is a blend of brown sugar and other spices. This easy 15-minute recipe qualifies as a perfect midweek dinner.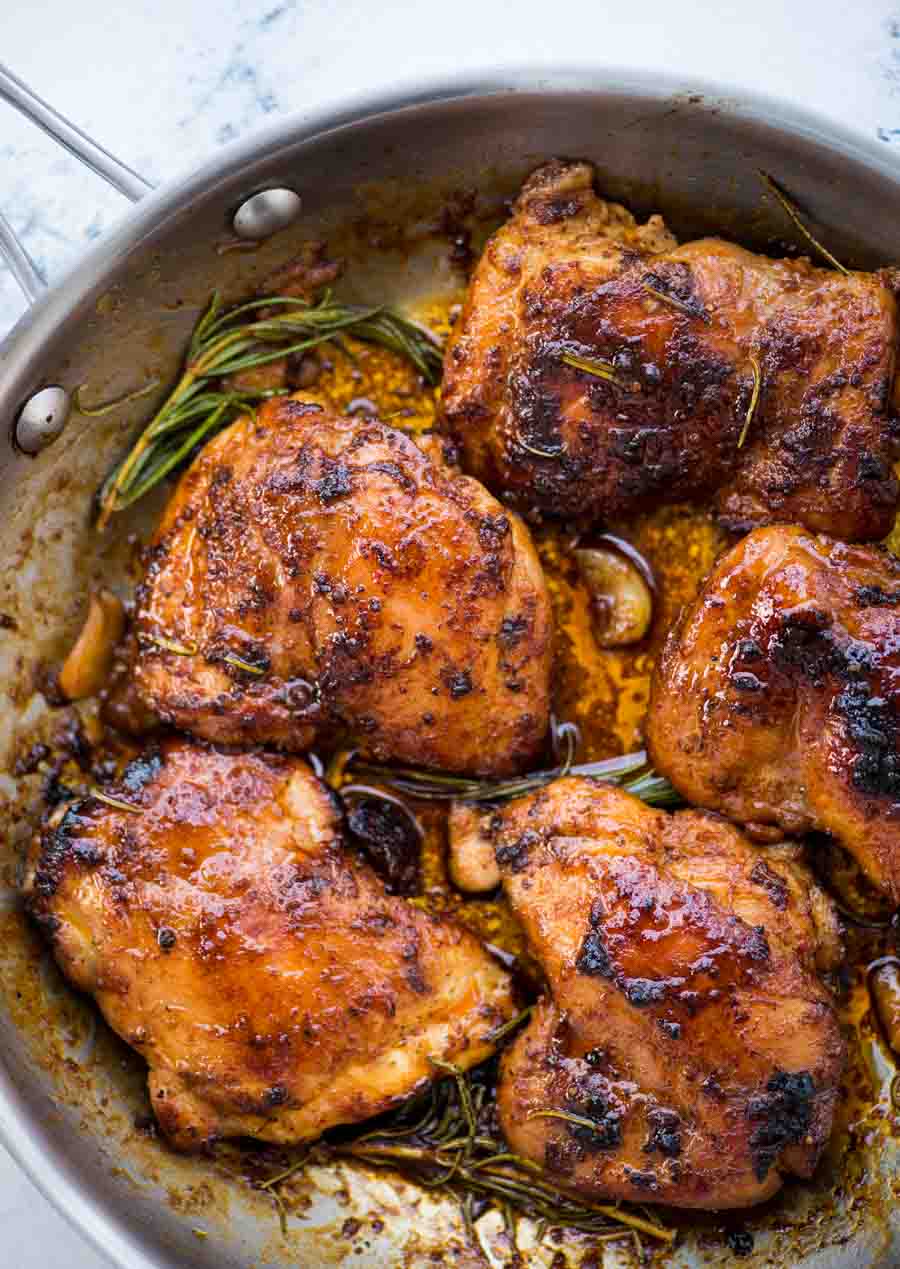 These boneless skinless chicken thighs have a great sweet and spicy dry rub on them. Making the sweet-spicy dry rub for the chicken is a breeze.
The rub includes pantry basics, which adds to its convenience. Recipes like this come in handy on days when you don't have anything planned for dinner or you're short on time.
The chicken is crispy on the outside yet juicy on the inside. The fact that these are made on the stovetop in less than 15 minutes might surprise you, given the golden crust.
The stovetop version is just as tasty as the oven-baked one, but it takes half the time to prepare. Simply said, this is one of my favorite chicken thigh dishes.
The sauce is another highlight of this dish. It has enough of sauce to drizzle, not to mention all the brown caramelized bits, and the syrup keeps the thighs moist for an extended period of time.

Suggested Posts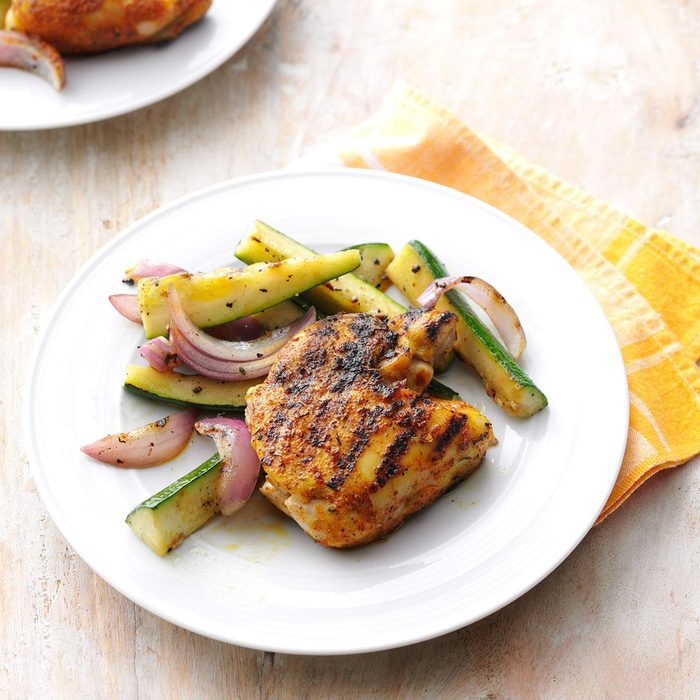 Alternative Recipe Video: Sweet And Spicy Rubbed Chicken Thighs
Epic Sweet and Spicy Dry Rub
In this recipe, the spicy rub is essential. Brown sugar, garlic powder, onion powder, paprika, smoked paprika, salt, and pepper are all included in this recipe. All of these ingredients can be found at most grocery stores.
The seasoning isn't overly sweet when made with brown sugar. Instead, it blends all of the flavors together. The smokiness of smoked paprika is incredible.
The nicest part about this spice mix is that it can be made in large batches and stored in an airtight container. It's quite useful.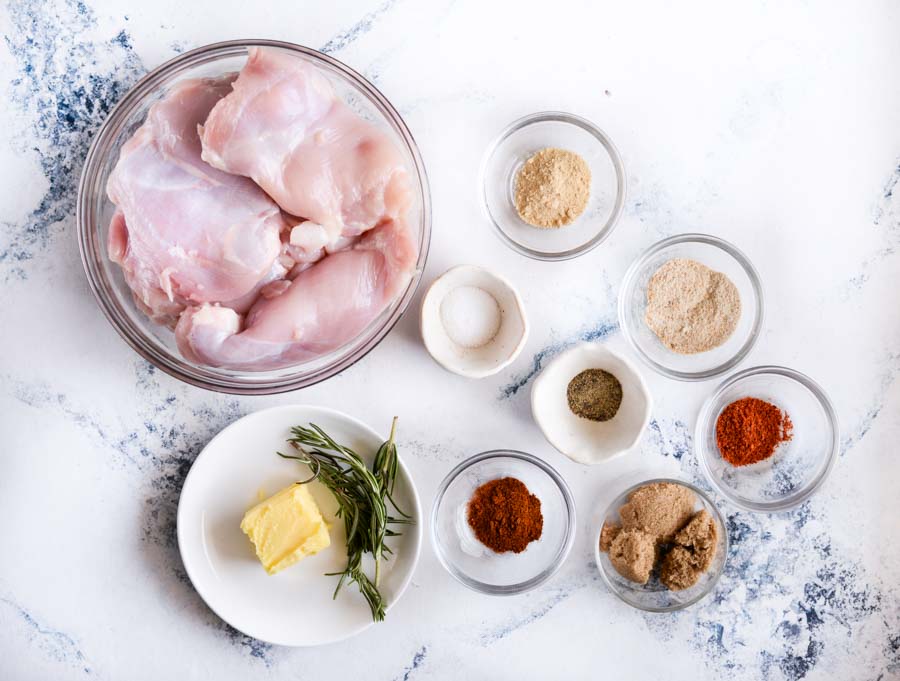 Ingredients
Chicken thighs – Skinless boneless chicken thighs are recommended for this dish since they cook at the same time as the glazy sauce.

Butter and oil – Used to enhance the flavor of the dish, and oil is utilized to raise the butter's burning point.

Rosemary – I adore rosemary's herb flavor.

Chicken stock – Gives the sauces substance.

Garlic cloves – I used garlic cloves, which infuse the stock with flavor when boiled with it.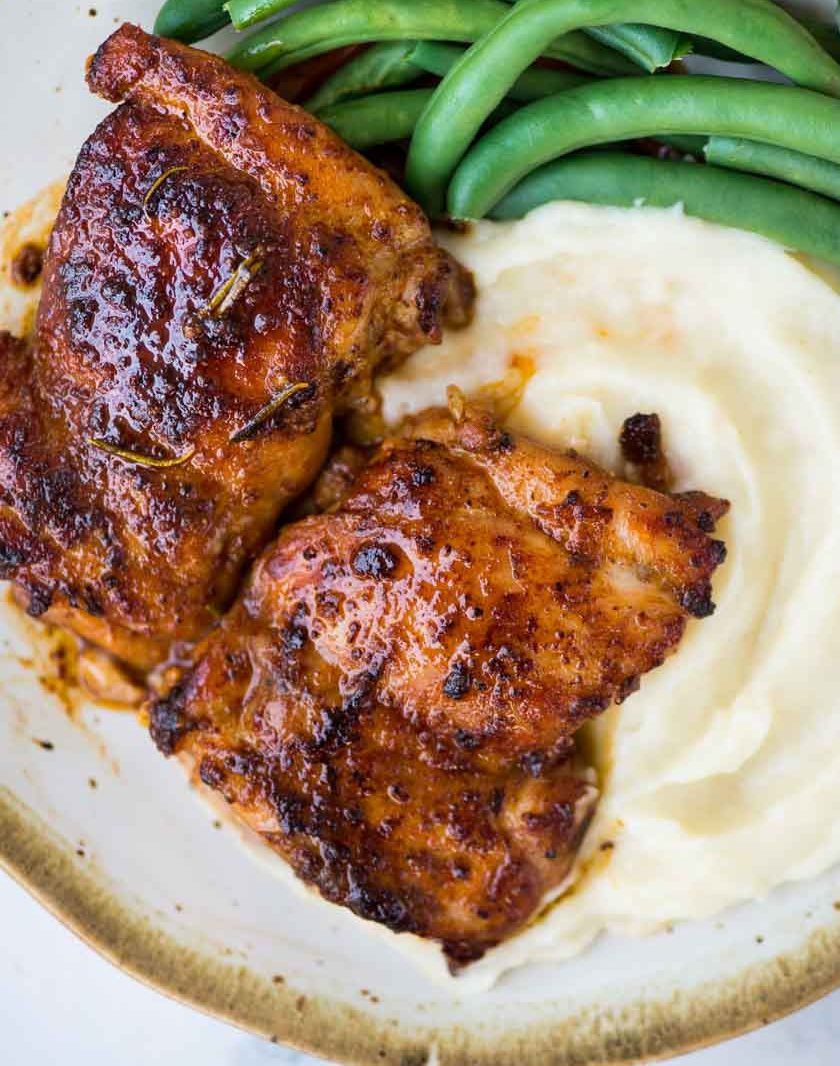 Cooking Tips
Cooking with chicken thigh is forgiving, which is a good thing. When thighs are cooked for a little longer than chicken breasts, they do not become rubbery and dry.
Cook skinless boneless chicken thighs properly to get the most out of them.
It's always better to use a combination of butter and oil. The sauce's richness comes from the butter, which is kept from burning by the oil.
Garlic is one of my favorite foods, and I always go a little too far with it. It enhances the flavor of the pan sauce.
The mix of chicken and rosemary is amazing. It adds a burst of flavor to the dish. If you prefer, thyme or parsley can be used instead.
To Serve:
This is the ideal side dish. Serve these Chicken Thighs with rice and a light salad, such as this Italian Chopped salad or Airfryer Roasted Broccoli.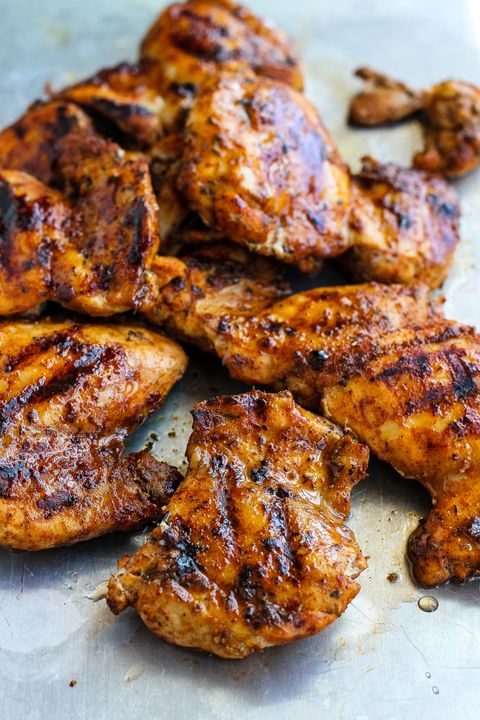 Store
You can either refrigerate or freeze the cooked chicken thighs as is. To keep them, make sure they're in an airtight container or a zip-lock bag.
Simply warm them in the microwave or on a pan for 5 minutes after removing them from the refrigerator.
Allow them to thaw until they reach room temperature if they've been frozen. Heat it in the microwave or on a skillet.
We won't need to fry the chicken thighs again, and the sauce will reheat the thighs as well.
Print
Sweet and Spicy Boneless Chicken Thighs – (Easy 15-minute recipe)
---
Author:

Prep Time:

2 minutes

Cook Time:

10 minutes

Total Time:

12 minutes

Yield:

4

Servings

1

x
Description
Boneless chicken thigh in a delectable Sweet and Spicy sauce, caramelized to perfection on the outside. This is a fantastic mid-week dish that you will make again and again.
---
6

–

7

 

Boneless Skinless Chicken Thighs

1

 

tablespoon

 

Butter

1

 

tablespoon

 

Oil

2

 

Garlic Cloves

¼

 

cup

 

Chicken Stock

2

–

3

 

sprigs

 

Fresh Rosemary
2

 

tablespoon

 

Light Brown Sugar

1

 

teaspoon

 

Garlic Powder

½

 

teaspoon

 

Onion Powder

½

 

teaspoon

 

Smoked Paprika

½

 

teaspoon

 

Chili Powder

 

(ref note 3)

¼

 

teaspoon

 

Black Pepper

½

 

teaspoon

 

Salt
---
Instructions
In a mixing bowl, combine all of the dry ingredients listed under spice rub.

Using a kitchen towel, pat dry the chicken thighs.

On both sides, liberally apply the dry seasoning mix.

A heavy cast iron skillet should be heated. Toss in the butter and oil.

Fry for 30 seconds after adding the garlic cloves. Garlic should have a light golden color and no longer have a raw odor.

Place the flat side of the chicken thighs down. Cook for 5 minutes over medium-high heat, or until brown and crispy.

Cook for another 2 minutes over medium-high heat on the other side.

Slowly pour 14 cup stock to the pan's side. Add a sprig of rosemary. Scrape any brown caramelized bits from the bottom of the pan.

Cook for another 2 minutes on high heat with the lid on the pan.

Uncover and continue to cook for another minute or so to thicken the sauce.

Serve with rice, beans, or vegetables and a sprinkle of sauce on top.

After the recipe, there's a video with step-by-step instructions on how to prepare it.
Notes
You may not require the entire spice blend in this recipe. Any leftovers should be stored in an airtight container for later use.
Don't overcrowd the pan; else, the chicken will steam instead of crisping. Sear it in two batches if the pan is small. Then return all of the chicken to the pan, along with the stock and rosemary.
Chili powder can be replaced with paprika, or the amount of chili powder can be adjusted to taste.
Category:

Main

Method:

Pan fry

Cuisine:

American
Nutrition
Serving Size:

4

Calories:

293kcal

Sugar:

6g

Sodium:

491mg

Fat:

14g

Saturated Fat:

4g

Carbohydrates:

8g

Fiber:

1g

Protein:

33g

Cholesterol:

169mg
Frequently Asked Questions
How to get a crispy crust on chicken thighs?
Sear seasoned chicken thighs in butter for about 2-3 minutes for a crispy crust. The boneless chicken thighs should be practically flat on the griddle after pressing with the back of the spatula.
This ensures that the chicken is evenly seared. Then reduce the heat to low and cook for another couple of minutes to ensure the chicken is fully cooked.
Can this be made with Chicken Breast?
The most popular cut of chicken is the breast. It's more compact and less expensive. Yes, chicken breast can be substituted.
To get a thinner, more consistent fillet, cut the chicken breast lengthwise and adjust the cooking time appropriately.
You'll need to pound fat slices of chicken breast to get a softer and thinner slice.
Reduce the amount of chicken stock as well, as the sauce may burn before the chicken is done cooking.
Can we use bone-in chicken thigh?
It's worth noting that bone-in chicken takes longer to cook, and the sauce could burn by then. As a result, this recipe calls for boneless chicken.
However, if you're using bone-in chicken, the sauce may thicken and burn before the chicken is fully cooked. When the sauce thickens, add extra chicken stock to give the chicken more time to cook while the sauce thickens and produces a coating.
Should you Season chicken thighs before cooking?
Chicken thighs, both boneless and skinless, cook rapidly and have a lot more taste than chicken breasts. The first step is to rub the spice rub and a good amount of salt on both sides of the thigh. The spice rub is a delicious method to boost flavor without adding fat or calories.
More Chicken Thighs Recipe
Grilled Boneless Chicken Thighs
For a quick and easy dinner, marinade tender and juicy Grilled Boneless Chicken Thighs in our favorite dry rub.
It's Spring, so let's get outside and have some fun by heating up the grill and cooking some family favorites.
Cooking always brings family and friends together for wonderful discussion, whether you're grilling chicken, steak, vegetables, or fruit. This grilling season, take advantage of the great outdoors, even if it's just in your own backyard, and include it into your cooking process.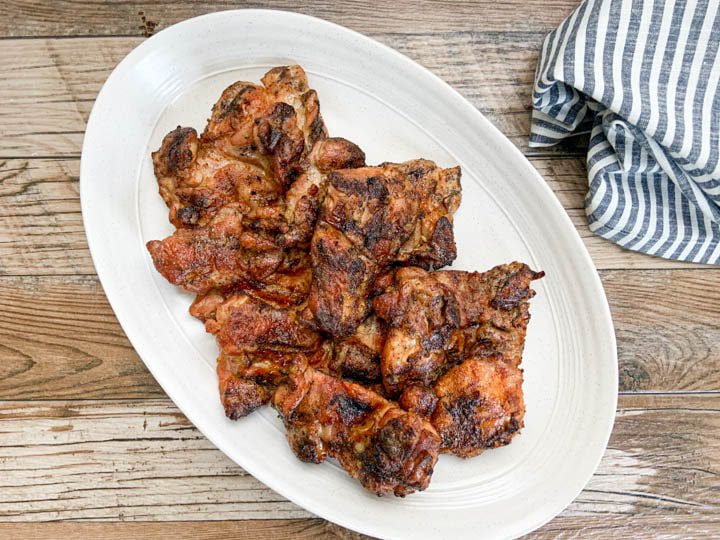 Baked Tender Chicken Thighs Recipe
This recipe for Baked Tender Chicken Thighs is sure to be a success! Tender, juicy chicken thighs that melt in your mouth with a simple seasoning are bursting with flavor. Serve the thighs with mashed potatoes and salad on the side.
This Easy Baked Chicken recipe is perfect meal for busy evenings.