Simple Air Fryer Frozen Okra Recipe – Delicious Green Dish
Frozen okra cooked in the air fryer makes a delicious green side dish! These delicious seed pods are slightly crunchy on the outside, delicate on the inside, and flavorful.
Okra is widely used as a vegetable, despite the fact that it isn't strictly a vegetable. It's fantastic to make it in the air fryer because it avoids the little slimy texture that some people dislike.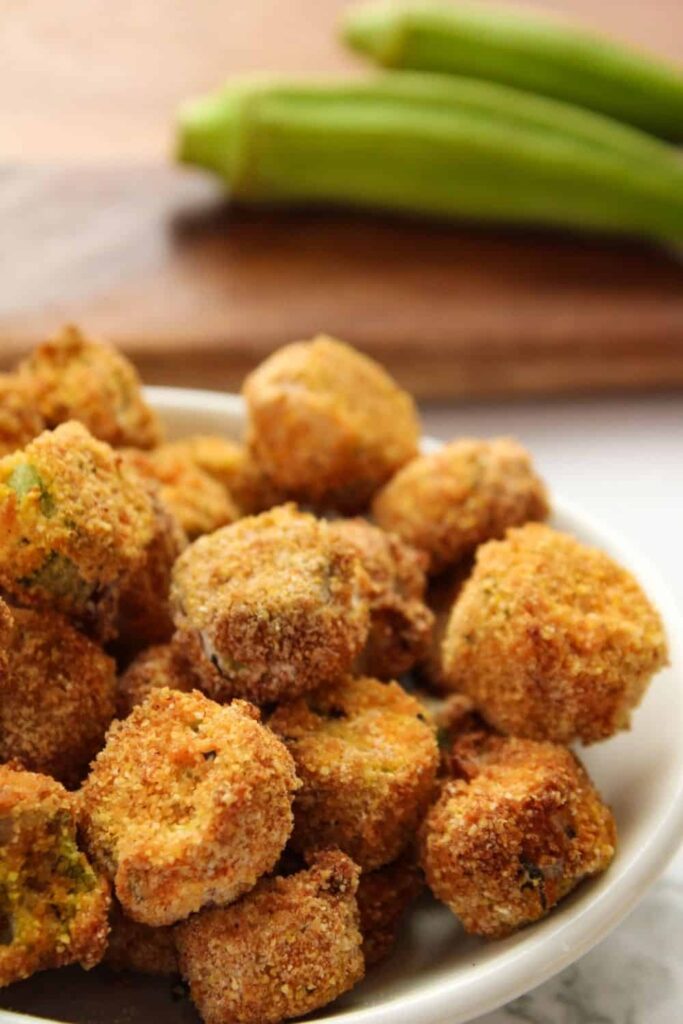 Check out these other related recipes
Air Fryer Frozen Okra is one of the simplest side dishes you can create in the Air Fryer, taking only 10 minutes from start to finish.
There's nothing quite like fried Okra to make it a fantastic summer dish!
If you enjoy your Air Fryer as much as I do, you've probably discovered that roasting vegetables in it is excellent! They're fantastic.
Using frozen vegetables in the Air Fryer is also a terrific choice. I've made a lot of these, and today's recipe is Air Fryer Frozen Okra. Nothing beats a delicious frozen veggie side dish, and the majority of them work wonders in the air fryer.
What is Okra?
Okra is a vegetable native to the southern United States. We didn't consume it when we were kids. I'm not sure if my mother was Italian or from New England.
Okra is a fantastic veggie in any case. You have the option of battering it or simply frying it as is. I used a frozen kind of the popular veggie today.
Okra is a long green vegetable that contains seeds. The seeds are completely safe to eat.
Okra is beneficial to your health since it is high in magnesium, folate, fiber, antioxidants, and vitamins C, K1, and A.
How to make Air Fryer Okra?
Start with washing and cutting the fresh Okra. Chop off the stems and ends, then cut into 1/2″ slices.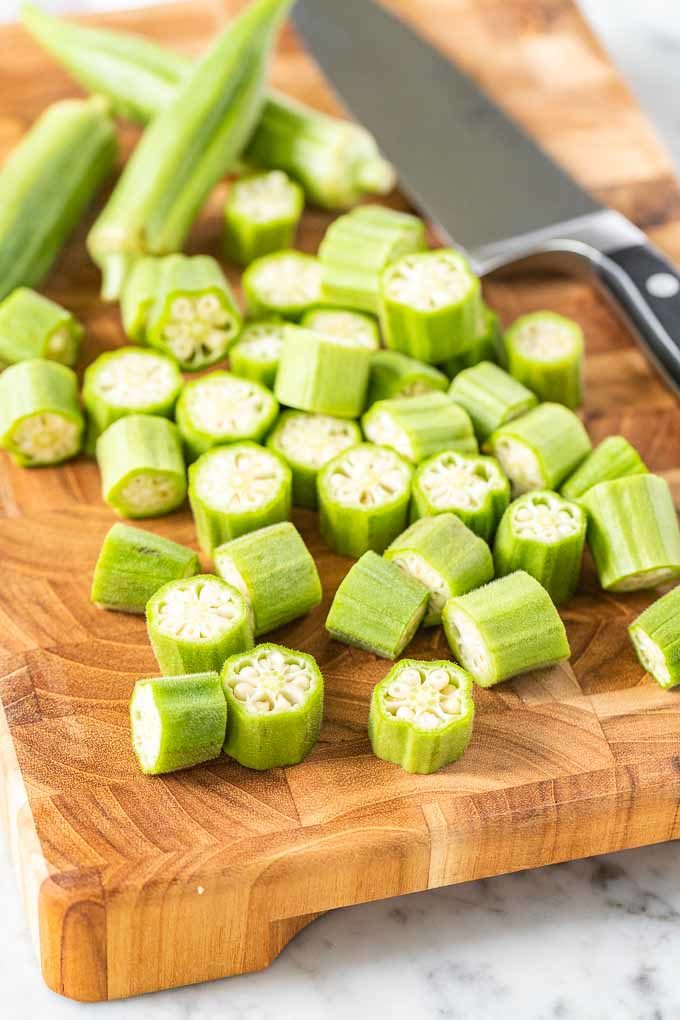 With a fork, combine all of the breading ingredients, then in a shallow basin, whisk together the egg and milk.
Toss the okra in the egg mixture, then transfer to the flour cornmeal mixture in stages. Remove extra flour with a light shake and place in Air Fryer Basket.
Oil is sprayed over the surface. We use a thin mist of olive oil, avocado oil, or coconut oil.
Cook for 10-12 minutes, or until golden, shaking the basket twice during the process. As needed, reapply extra oil to ensure that all of the floury areas are covered.
Tips for making Air Fried Okra
Traditional southern okra recipes call for a cornmeal-flour blend, but if you don't have cornmeal on hand, you may just use flour.
The cornmeal adds some more texture and flavor to the fried Okra
For added flavor or heat, add other seasonings to the breading mixture, such as cayenne pepper, paprika, or garlic powder.
You can also use 1/4 cup buttermilk instead of the egg and milk.
Use an oil spray with a high smoke point and no flavor, such as avocado oil, mild olive oil, or coconut oil.
Shake the basket lightly to prevent the breading from falling out.
You may need to air fry in batches depending on your Air Fryer. The amount of time it takes to cook varies according on the model.
Fried okra is best served immediately with a pinch of salt.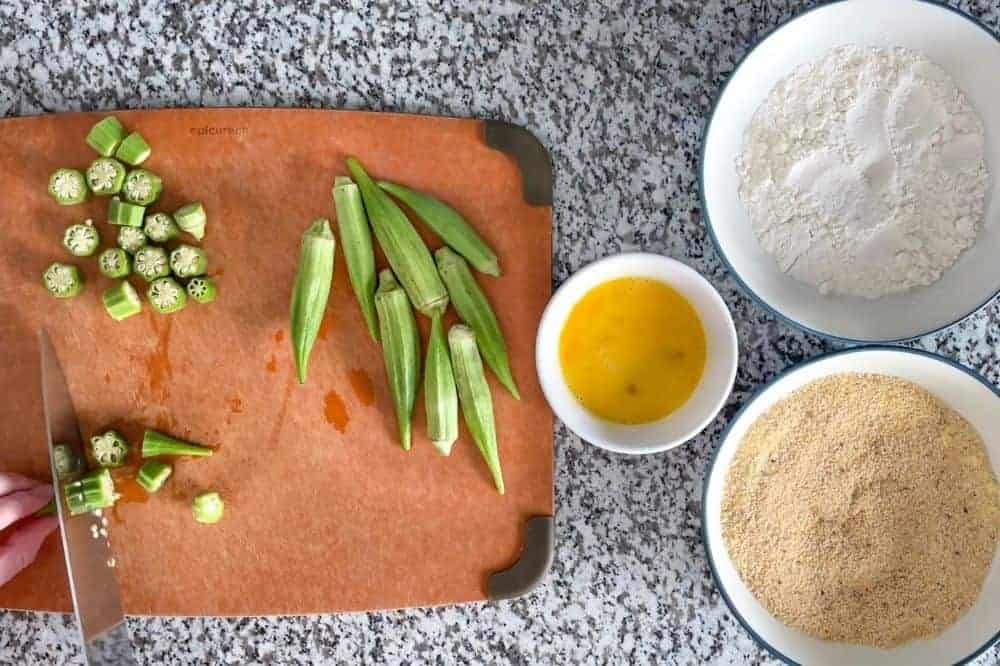 INGREDIENTS TO MAKE AIR FRYER OKRA
A breading and an egg dip are used in a lot of okra dishes. One of them is this air fryer okra dish.
It's a lot less messy, plus it keeps the dish gluten-free and vegan. This method of air frying okra is considerably lower in calories and carbs!
FRIED OKRA BITES VS. FRIES
When you see fried okra, it's usually chopped into "bits" or small circles.
I'm not sure why that is because, in my opinion, okra tastes better when "fried" lengthwise to look like fries.
Because the entire length of the "slimy" midsection is exposed to the air fryer, I believe this slicing approach produces a crispier outcome.
Cutting the okra into circles isn't as effective, and the outcome isn't as crunchy unless they're dipped in egg, breaded, and fried.
Plus, doesn't everything taste better in "fried" form?
Yes, I believe so.
As a result, parsnip fries, jicama fries, and purple sweet potato fries have emerged.
FREQUENTLY ASKED QUESTIONS
Can you cook frozen fried okra in an Air Fryer?
Instead of pan-frying or deep-frying frozen breaded okra, use an Air Fryer to save time and calories. Place the frozen okra in the Air Fryer Basket and air fry for 15 minutes or until crispy, shaking the basket once or twice during the cooking process.
Is it OK to fry frozen okra?
Here's how to make my Old School Skillet Fried Okra. What exactly is this? I love fresh okra for this, but frozen sliced okra works just as well. And because it's been washed, trimmed, and cut into bite-size pieces, a lot of the work has already been done for you.
How do you cook frozen breaded okra?
1. Preheat the vegetable oil to 350 degrees Fahrenheit (sufficient amount to cover okra).
2. CAREFULLY drop frozen okra into hot oil.
3. COOK FOR 5-6 MINUTES, OR UNTIL GOLDEN.
4. DRAIN before serving.
How long does it take to fry frozen okra?
Heat 1 inch of oil in an electric skillet or deep-fat fryer. Preheat the oil to 375°F. Fry okra in batches for 1 1/2 to 2-1/2 minutes on each side, or until golden brown. Using paper towels, absorb any excess liquid.
How do you keep frozen okra from becoming slimy?
Okra that has been frozen and cut while still frozen is less slimy than okra that has been cut fresh. Another way to reduce sliminess is to soak the okra in vinegar for 30 minutes before boiling it. Before cooking, rinse it and pat it dry.
Print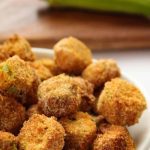 Crunchy Air Fryer Frozen Okra – (simple recipe)
---
Author:

Prep Time:

2 minutes

Cook Time:

14 minutes

Total Time:

16 minutes

Yield:

4

Servings

1

x
Description
Making frozen okra in an air fryer is a simple and quick process.
---
1

 

12 oz bag

 

breaded frozen okra

1

 

teaspoon

 

olive oil
---
Instructions
1. Place frozen okra in air fryer basket. Spread the okra out so it's not on top of each other.
2. Spray frozen okra with olive oil
3. Cook at 400 degrees F for 7 minutes. Shake the basket and cook at 400 degrees for another 7-8 minutes
Category:

Appetizer, Side Dish

Cuisine:

American
Nutrition
Serving Size:

8

Calories:

9kcal

Sugar:

1g

Sodium:

1mg

Fat:

1g

Saturated Fat:

1g

Carbohydrates:

1g

Protein:

1g
Keywords: Air Fry Frozen Okra
Alternative Recipe to try: