Healthy Gobo Sushi Recipe, [What Is Gobo?]
★★★★★ 5 from 1 reviews
You are losing something if you have never tried gobo sushi. Burdock root, also known as gobo in Japanese, is a prominent component in Japanese cuisine. It's a popular ingredient in gobo sushi rolls, miso soup, kinpira, and other side dishes. My favorite vegetarian sushi roll is the gobo sushi roll, which consists of pickled gobo sushi rice rolled and seaweed sheet. Tangy, sweet, and crunchy to the core!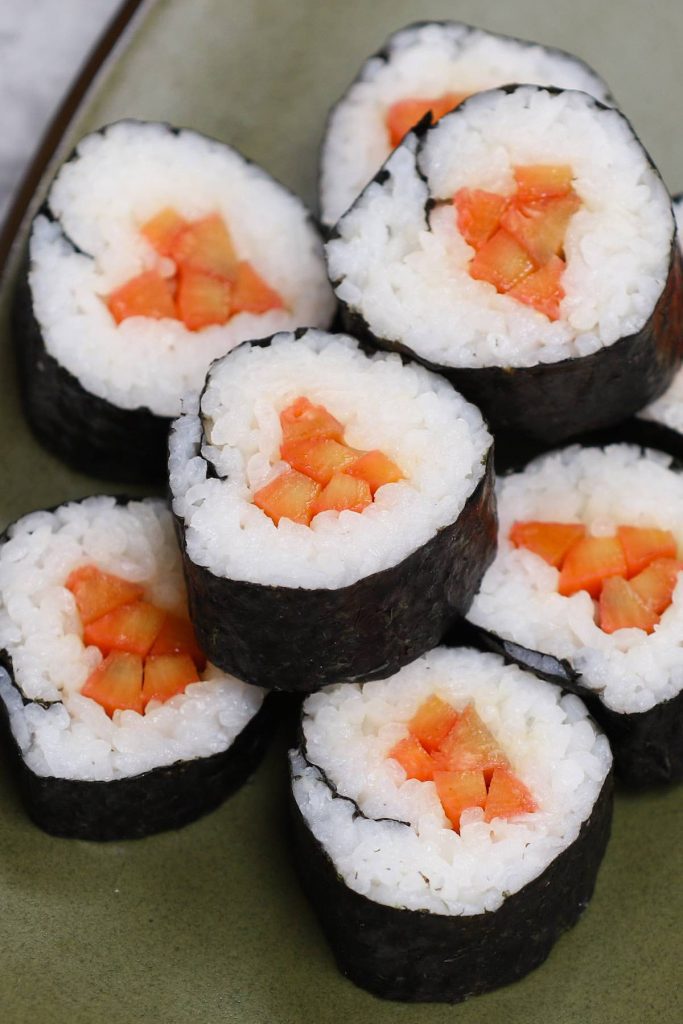 Sushi made with a slender and long root known as burdock root as the main component is known as gobo sushi. Burdock root, on the other hand, is a Japanese plant that tastes like a bitter carrot. In Japanese cuisine, sushi refers to a rice and vinegar-based dish.
If you enjoy sushi, you will undoubtedly enjoy this dish. It features one more ingredient than a conventional sushi roll, which elevates this dish to a whole new level. The root of the burdock plant, commonly known as Gobo or yamagobo. Pickled gobo has a sweet, crunchy, and savory flavor that makes eating this dish unlike any other.
One of the best things about pickled Gobo is that you can make it yourself or buy it ready-made from any local Japanese grocery store or even Amazon, so it's easy to come by. It has a distinctive orange color, which comes from the food coloring added to the rice vinegar, sugar, and salt brining mixture for the roots.
WHAT IS GOBO ROOT?
Burdock, a plant native to northern Asia and Europe, is the source of gobo root. This flower belongs to the daisy family and is linked to sunflowers. The long and slender root is the component that can be eaten. The skin is rough, thin, and dirt-covered.
HEALTH BENEFIT OF GOBO ROOT
Gobo root is high in antioxidants, which protect the body from cell damage caused by free radicals and prevent inflammation. It also aids in the improvement of health by eliminating pollutants from the bloodstream and inhibiting the growth of some cancers.
Gobo root (burdock root) is also utilized in tea, oil, and powder form, in addition to gobo recipes, due to its numerous health benefits.
Alternative Video Recipe: How to Cook GOBO ROOTS
Suggested Posts:
GOBO SUSHI RECIPE
To add extra flavor and crunchiness to sushi rolls, pickled gobo is a popular ingredient. It can be eaten on its own or combined with other ingredients to produce Futomaki, such as cucumber, avocado, oshinko (pickled radish), and cooked eggs.
Japanese pickled gobo, also known as yamagobo, is produced from burdock root brined in a mixture of rice vinegar, sugar, and salt. The orange coloring is then added, giving it the appearance of young carrots.
HOW TO MAKE GOBO SUSHI
This simple recipe uses a few ingredients for a gobo sushi roll:
Pickled gobo (burdock root):You may make it at home, buy it at a Japanese supermarket, or get it from Amazon. Make matchsticks out of it.
Sushi Rice: Japanese short grain rice is the best choice. I recommend adding a small quantity of vinegar, sugar, and salt to your rice to give it additional taste.
Nori (seaweed sheets) is a Japanese woman who lives in Japan (seaweed sheets)
In order to make the best-looking sushi rolls, you'll also need a sushi rolling mat.
PRO TIPS FOR MAKING THE BEST GOBO SUSHI ROLL:
To prevent rice from sticking to your hands- Tezu, a hand dipping liquid created with 1/4 cup water and 2 tablespoons of rice vinegar, can be made. Tezu will keep your hands from sticking if you wet them with it.
To prevent sushi rolls from falling apart:
While rolling, you must tuck in and pull the bamboo mat. Squeeze the roll as tightly as possible. Place the bamboo mat on top of the sushi roll and gently crush it again. Furthermore, when rolling the rice, it should not be too hot or too cold. It should be warm but not too hot.
OTHER WAYS TO USE GOBO
If you want to cook fresh gobo, kinpira is a popular recipe in which thin gobo and carrot sticks are sautéed with soy sauce, sugar, mirin, and sake in a hot frying pan.
DO YOU HAVE TO PEEL GOBO BURDOCK ROOT?
Yes, the big ones. The skin is typically coarse and woody, and it must be removed prior to cooking. It's a good idea to wash your gobo first because it's likely to be dirty.
HOW TO CUT GOBO?
I prefer to cut pickled gobo into 4-inch slices and then cut them into evenly-sized matchsticks. It's best to julienne kinpira as thinly as possible so that you can quickly sauté it.
WHAT DOES GOBO SUSHI TASTE LIKE?
The gobo root has a crisp, sweet, earthy flavor. In gobo sushi, pickled gobo is acidic, sweet, and crunchy.
IS GOBO THE SAME AS BURDOCK?
Gobo, a root vegetable derived from burdock, is a favorite of the Japanese. It starts off hard and looks like a tree root, but when cooked, it softens up and develops a mild but distinct flavor. Even though Gobo lacks many vitamins, it has plenty of fiber and minerals.
GOBO SUBSTITUTES IN SUSHI ROLL
If you cannot find pickled gobo, here are some great substitutes (Note the flavor of your sushi roll will change slightly):
Oshinko (pickled radish)
Carrots
Pickled cucumber
SOME TIPS YOU NEED TO CONSIDER
You should thoroughly clean your gobo before brining it, as it is generally quite dirty. In the case of large roots, the skin may be a bit hard and thick, therefore peeling it is preferable.
For maximum fluffiness, use high-quality, short-grain rice, just like any other sushi. To increase the flavor of your rice, combine it with a small bit of vinegar, sugar, and salt.
When rolling the sushi, have some Tezu water in a small bowl to keep the rice from sticking to your fingers. It's not difficult to make. Simply combine 1/4 cup water and 2 tablespoons rice vinegar in a mixing bowl.
To chill down your rice, avoid placing it in the refrigerator. It will change the flavor and texture!
Squeezing the rolls lightly with your hands while rolling them prevents them from coming apart.
Print
HOW TO MAKE GOBO SUSHI
---
Author:

Prep Time:

10 minutes

Cook Time:

50 minutes

Total Time:

1hr

Yield:

3
Description
You are losing something if you have never tried gobo in sushi. Burdock root, also known as gobo in Japanese, is a prominent component in Japanese cuisine. It's a popular ingredient in sushi rolls, miso soup, kinpira, and other side dishes. My favorite vegetarian sushi roll is the gobo sushi roll, which consists of pickled gobo rolled in sushi rice and seaweed sheet. Tangy, sweet, and crunchy to the core!
---
For sushi rice:
1

 

cup

 

sushi rice

 

(I recommend using Japanese short grain rice)

1

 

cup

 

water

1 ½

 

tablespoons

 

sushi vinegar

 

or mixing 2 tablespoons rice vinegar, 1 tablespoon sugar, and 1 teaspoon salt
Gobo Sushi Rolls:
10

 

oz

 

pickled gobo

 

(yamagobo)

3

 

sheets

 

nori 

(seaweed sheet)
---
Instructions
Make the sushi rice
Using cold water, rinse the rice until the water runs clear. Then, in the rice maker, combine the rice and water and cook according to the manufacturer's instructions. (We use less water in this recipe so the rice doesn't go mushy when squished into the sushi roll.)
Transfer the boiling rice to a large mixing bowl and set aside to cool slightly. Stir in the sushi vinegar while it's still hot (the mixture of rice vinegar, sugar, and salt). Remove from the equation.
Assemble gobo sushi rolls
Cut the picked gobo into thin pieces lengthwise.
 
Place a piece of plastic wrap on top of the bamboo mat (this will make clean up easier).
1/4 of the seaweed sheet should be cut off and placed on top of the bamboo mat, shining side down.
Spread 3/4 cup cooked rice evenly over nori, leaving 1/2 inch of space at the top of the sheet. (To avoid stickiness, dip your palm in Tezu vinegar water*.)
On top of the rice, arrange pickled gobo strips.
Lift the edge of the bamboo mat up and over the filling with your thumbs.
Roll the bamboo mat away from you and firmly pack the rice and contents.
If desired, top with soy sauce and pickled ginger.
Notes
* To make Tezu water for dipping hands, combine 1/4 cup water and 2 teaspoon rice vinegar in a small bowl.
Warm sushi rice should not be put in the fridge to cool down since it will change the taste and texture.
Category:

Dinner, Lunch, Snack

Method:

Baked

Cuisine:

Japanese
Nutrition
Serving Size:

3 Rolls (24 Pieces)

Calories:

299kcal

Sugar:

3g

Sodium:

15mg

Fat:

1g

Saturated Fat:

1g

Unsaturated Fat:

0g

Trans Fat:

0g

Carbohydrates:

67g

Fiber:

5g |

Protein:

6g

Cholesterol:

0g
Keywords: Gobo Roll, Gobo Sushi, Gobo Sushi Roll, Pickled Gobo
Frequently Asked Questions
What is gobo Japanese food?
Burdock root, often known as gobo, is a famous Japanese edible root vegetable. It has long been renowned as an antioxidant powerhouse with numerous health-promoting effects. The stalk is about 20-28 inches (50-70 cm) long and weighs about 5 ounces (150 gram) or more
What does gobo root taste like?
Burdock root has an earthy, rooty flavor, but it also has an unusual blend of sweetness and bitterness, comparable to that of an artichoke, to which it is related. It has a meaty, slightly crunchy texture with a good chew.
How do you eat gobo?
Gobo, or burdock root, is a common ingredient in Asian cuisine. Stir fries, braises, and soups all benefit from it. Burdock root can also be peeled, sliced, and eaten raw in salads or out of hand. When eaten this manner, it tastes like a radish with a hint of artichoke flavor.
What is burdock in sushi?
Pickled burdock root is frequently sold as an addition to sushi or rice dishes in markets and restaurants. Burdock, on the other hand, is a versatile vegetable in Japanese cuisine, used in stews, stir-fries, and pickles.
Is gobo a fish?
It's a sort of Satsuma-age (fried fish cake) known as 'goboten,' which means burdock root tenpura (Japanese deep-fried food).
More Recipes to try!
Maki Sushi Rolls
Most non-Japanese people associate sushi with sushi rolls, or'makizushi' in Japanese. Makizushi is produced by wrapping contents in nori seaweed and wrapping them in rice.
This recipe demonstrates how to construct a basic makizushi roll that may be filled with whatever ingredients you like. Master the technique and let your imagination go wild.
California Roll Recipe
A California Roll, also known as a California Maki, is an inside-out sushi roll. Crabstick, avocado, and cucumber go in the center of the nori, while flattened sushi rice with sesame seeds goes on the opposite side. To keep the shape, it's rolled out on a bamboo mat and pressed.