40 Healthy and Quick Lunch Ideas That Will Make Your Day
★★★★★ 5 from 1 reviews
Hit the snooze button—these weekday work lunches are ridiculously easy to make and far superior to that stale PB&J.
We've got it all, from upgraded sandwiches and salads to soups you can make ahead of time.
Are you also pressed for time for lunch?
Check out our favorite quick lunch ideas, as well as these meals that can be prepared in 25 minutes or less.
Quick LUNCH IDEAS FOR WORK
This vegetarian version is ideal for Meatless Monday. If you don't like mushrooms, substitute tofu, soyrizo, or extra vegetables.
Fresh shiso leaves are used in these simple rice sandwiches, but you can omit them or substitute your favorite herb instead.
Wait until you're about to eat to assemble these wraps; otherwise, the lettuce may become soggy before lunch.
This nutritious work lunch contains everything you need: vegetables, protein, and brown rice to keep you going until the end of the day.
Alternative Video: Top 23 Lunches
Suggested Posts:
This recipe calls for a homemade lemon herb dressing, but you can substitute your favorite store-bought dressing to save time.
Chicken, roasted red peppers, spinach, and provolone cheese add a lot of flavor to these pinwheel sandwiches without a lot of effort.
LUNCH IDEAS FOR ADULTS
Who doesn't enjoy a tasty chicken salad sandwich? This salad is delicious served between two slices of toasted sourdough or baguette, but it's also delicious on its own.
Panera Bread has a cult following for their soups, particularly their autumn squash soup. For a sweet and fully fall flavor, we used butternut squash, pumpkin, carrots, and shallots in our copycat version.
From September to March, we crave a warm, hearty soup, and this is the one we return to again and again. It's simple, filling, and flavorful.
The beauty of grain bowls is that they can be used in a variety of ways. This is especially true for Buddha bowls! You can roast almost any vegetable with any number of toppings and it will taste delicious in this recipe.
Tuna fans, rejoice! Meet your ideal sandwich. You might even convert a tuna hater with just the right amount of crunch, melty cheddar cheese, and a couple good slices of tomato.
HOMEMADE LUNCH IDEAS
Kimbap—Korean rice rolls—are more of a formula than a recipe, but no matter how you make it, you'll love it as a light and savory lunch with lots of flavors and the perfect crunch.
Turkey burgers are the next best thing to beef burgers — you guessed it! They're just as juicy and tasty as the classic beef version, with a few exceptions. Because turkey burgers are low in fat and high in protein, they are lighter and healthier.
When it comes to Chinese takeout, chicken fried rice is always a good choice. But why order it when you can make it in 30 minutes at home? You can make it much faster if you use ready-made rice from a box and have everything chopped and measured before you start cooking.
When you pack tubs of lentil soup for lunch and want it again for dinner, you know you're on the right track. This recipe is the key to making such a delicious lentil soup! Lentils are already savory, but with the addition of spices, this soup will be even more flavorful.
What person does not want pizza for lunch? A thin, crispy crust with caramelized onion and seasoned mushrooms is included in this recipe. You wouldn't skip lunch if you had this pizza for dinner!
With these savory crepes stuffed with smoked salmon and cream cheese, you can have a hot lunch à la française. This recipe is also great for impressing your guests with your French cooking abilities.
LUNCH IDEAS FOR KIDS
Do you like mac and cheese? Do you happen to have any muffin tins? If you said yes to both questions, mac and cheese cups are for you! Because this recipe makes mac and cheese cupcakes, your favorite dish is now portable.
To make these vegan hummus avocado wraps, combine ripe avocado or leftover guacamole with protein-rich hummus. To avoid sogginess, add some sprouts or salad greens for crunch, but leave out the tomato if sending to school.
Instead of buying store-bought, highly processed, sugar-laden confections, make your own kid-friendly energy bites at home! These energy bites can be made in minutes with just a few healthy ingredients (and a little chocolate!).
These cheesy meatball bombs begin with packaged biscuit dough and explode with kid-favorite Italian flavors like meatballs, tomato sauce, and Parmesan cheese.
Kids adore creamy avocado, and this simple toast recipe is a big hit with them. The ultimate avocado toast can be served plain or layered with slices of crispy bacon to make a delicious open-faced lunch sandwich.
LUNCH IDEAS HEALTHY
The best egg salad sandwich is a picnic classic made with perfectly hard-boiled eggs, mayonnaise, a touch of dijon mustard, and green onions.
Turkey pinwheels are bite-sized finger food perfection that will make back-to-school lunch planning a breeze for the kids. They are completely customizable and can be wrapped in a tortilla or pita bread.
Homemade chicken shawarma (donair) is made with juicy tender chicken marinated in Middle Eastern spices and wrapped in pita bread. Serve with a side of Persian Shirazi Salad.
Vietnamese summer rolls with chicken are light, refreshing, and nutritious. This Asian snack is a quick and easy lunch option that takes less than 20 minutes to prepare.
This Vietnamese lemongrass chicken banh mi sandwich is light and crunchy, with tender chicken, pickled vegetables, and fresh herbs.
Grilled shrimp salad is a quick and easy, healthy summer meal full of fresh, flavorful ingredients tossed in a simple homemade dressing.
LUNCH IDEAS FOR WEIGHT LOSS
Asian chopped salad is a delicious and colorful salad packed with refreshing crisp vegetables, plant-based protein, and a creamy sesame dressing made from scratch.
Chickpea Greek salad is a light, healthy, vibrant, and colorful salad full of traditional Mediterranean ingredients, superfoods, and nutrients.
Take a bite of this light, gluten-free quinoa and spinach salad, which is bursting with colorful tomatoes, cucumbers, and raisins.
By transforming the bread into crunchy croutons and the lettuce into the foundation of a salad, you reduce the refined carbs while increasing the healthiest part of the equation. To add protein, toss in a handful of cubed deli turkey, and you've got yourself a salad with substance and style.
Except for about 2 minutes of slicing and 2 minutes of toasting, this recipe requires no effort at all. It also easily adapts to other dishes. Are you not in the mood for a sandwich? Skip the bread and eat this as a salad for one of the simplest healthy lunch recipes you can make.
Chicken potstickers aren't just for eating as a snack! Combine these potstickers with fresh vegetables and a salad, and you've got yourself a healthy lunch idea.
EASY LUNCH IDEAS
These easy vegan stuffed bell peppers are made with fresh, homegrown bell peppers baked with an assortment of veggies and brown rice!! In less than an hour, you can serve this at your next fancy dinner party or make it for a quick weeknight dinner!
Asian-style meal prep sheet pan sesame balsamic chicken and vegetables are flavorful, juicy, and tender, and are quick and easy to make. Serve with a side of steamed rice.
One pot Spanish chicken and rice is the perfect no-fuss, no-cleanup weeknight meal, packed with flavor, real ingredients, and vibrant colors.
Ground beef stuffed peppers are tasty, nutritious, and filling. They're freezer-friendly and easy to make ahead of time, stuffed with beef rice and veggies.
The most comforting creamiest cheesiest white lasagna is creamy white chicken and spinach lasagna with tender shredded chicken. It's simple to prepare ahead of time and freeze.
Mediterranean chicken patties are delicious, moist, and juicy, and they have everything you want in one bite: protein, veggies, herbs, and they're quick and easy to make. Serve it on its own, with hamburger buns, or with Basmati rice on the side.
Print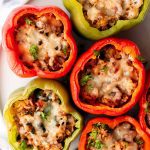 Ground Beef Stuffed Peppers Recipe (Lunch Ideas)
---
Author:

Prep Time:

15 minutes

Cook Time:

1 hour

Total Time:

1 hour and 15 minutes

Yield:

6

servings

1

x
Description
Ground beef stuffed peppers are stuffed with flavorful seasoned ground beef, rice, cheddar cheese, and tomato sauce. A delectable classic!
---
1

 

cup

 

cooked rice

 

I used white jasmine rice

6

 

large

 

bell peppers

 

any color

1

 

tablespoon

 

olive oil

1/2

 

medium

 

onion

 

chopped

1

 

pound

 

extra lean ground beef

3

 

cloves

 

garlic

 

minced

1

 

(14 fluid ounce) can

 

crushed tomatoes or tomato sauce

1

 

teaspoon

 

Worcestershire sauce

 

optional

1/2

 

teaspoon

 

Italian seasoning

2

 

cups

 

shredded cheddar cheese blend, divided

Salt & pepper

 

to taste
---
Instructions
Make some if you don't have any cooked rice (this step can be done ahead of time if you want). I usually just make 1/2 cup uncooked rice, which yields slightly more than you'll need for this recipe, and save the rest for another time.
Preheat the oven to 400°F and position the rack in the center. In the meantime, prepare your ingredients. Cut the tops off the peppers like you would a pumpkin (as evenly as possible so the filling doesn't fall out). Remove any remaining seeds/membrane. Chop the usable portion of the pepper tops (you'll use it in the filling).
Place the peppers in a baking dish, cut side up (I used a 9×13). Fill the bottom of the dish with one cup of water (the peppers will steam and cook faster).
In a skillet, combine the oil, onion, and pepper tops, chopped. Cook for 5 minutes on medium-high heat.
To the skillet, add the ground beef. Cook until the meat is browned and cooked through, breaking it up as you go (about 8 minutes). Remove the majority of the fat/liquid with a spoon.
Stir in the garlic, crushed tomatoes, Worcestershire sauce, and Italian seasoning. Allow it to warm through before removing the pan from the heat.
Combine the cooked rice and 1/2 of the cheese in a mixing bowl. Season the mixture with salt and pepper to taste (give it a taste). I used a generous amount of salt and pepper. Fill the peppers with the mixture.
Wrap the baking dish in foil tightly. Preheat the oven to 400°F and bake for 40 minutes.
Remove the dish from the oven. The peppers should still be slightly firm to the touch (you don't want them to go limp and fall apart, but if they're too firm, cook them for a little longer). Sprinkle the remaining cheese on top. Return the peppers to the oven (uncovered) for 5-10 minutes more, or until the cheese is melted. If you want the cheese to be slightly browned, broil it for a few minutes at the end.
Notes
This recipe works best with bell peppers of approximately the same size. I also look for ones with four "bumps" on the bottom because they are less likely to fall over.
The Kitchn's cooking technique was adapted.
Nutritional information is provided solely as a courtesy and should be interpreted as an estimate rather than a guarantee. Ingredients are subject to change, and Salt & Lavender makes no guarantees about the accuracy of this information.
Category:

Main Course

Method:

Oven

Cuisine:

American
Nutrition
Serving Size:

6 servings

Calories:

389kcal

Sugar:

11g

Sodium:

388mg

Fat:

19g

Saturated Fat:

10g

Unsaturated Fat:

0g

Trans Fat:

0g

Carbohydrates:

24g

Fiber:

5g

Protein:

29g

Cholesterol:

86mg
Keywords: stuffed peppers, lunch ideas, ground beef stuffed peppers recipe, classic stuffed peppers
Frequently Asked Questions
What should a lunch include?
Suggestions include the following:
Fruit is in season.
Vegetables that are crunchy.
A meat or protein-rich food, such as lean meat slices, hardboiled eggs, peanut butter, or nut paste.
Dairy products such as a cheese stick or slice, grated cheese, milk, or yoghurt are examples of dairy foods.
Bread, a roll, pita or flat bread, fruit bread, or crackers are examples of starchy foods.
Water.
What makes a healthy lunch?
Any well-balanced meal, including lunch, includes lean protein, fiber-rich carbohydrate and veggie sources, and healthy fats. A sandwich, which is a common lunchtime staple, can be transformed into a well-balanced meal if you include: 100 percent whole grain bread. Fresh deli turkey or grilled chicken leftovers
What are the factors to consider when planning a meal?
When creating your meal plan, you should consider the following five factors:
Cooking time is available.
Food Availability Changes Seasonally.
a wide range of foods
Occasions Exceptional.
monetary resources
Why is lunch important?
Lunch is a crucial meal for everyone. It supplies energy and nutrients to keep the body and brain running smoothly throughout the afternoon. A packed lunch made at home can be a healthy and delicious option, and it allows you to control the foods and ingredients that are included.
What is the purpose of lunch?
It provides energy and nutrients to keep the body and brain going all afternoon. Lunch, according to experts, provides nourishment to the body and brain while also reducing stress, and eating lunch provides a break from the day's activities while also providing energy for the rest of the afternoon.
What is a balance meal?
A balanced meal is a snapshot of a diet that includes all three major food groups. The balance on this portion plate is a quarter protein, a quarter carbohydrate, and half vegetables.
What is a normal lunch?
Lunch usually consists of two courses: the first course is usually a soup, and the second course, the main course, often consists of meat accompanied by potato, rice, or pasta (garniture). Desserts were traditionally baked and eaten, but this is less common nowadays.
How have a healthy lunch?
The Top 8 Healthy Lunch Recipes:
Tuna in a can.
Miniature sweet peppers
Farro.
Burgers made from vegetables.
The cheese ricotta.
Beans in black.
Avocado.
Hummus.
How do you pack a balanced lunch?
8 Clever Ideas for Packing a Healthier Lunch:
Make health a priority.
Budget should be prioritized.
Give preference to taste.
Prepare enough food for leftovers. …
After dinner, put leftovers in the lunch box.
Make a large batch for Sunday lunch.
Prepare a supply of backup staples.
Take cues from what your children enjoy.
Why is a healthy lunchbox important?
A nutritious lunch keeps active children alert and focused throughout the day, as well as providing them with the nutrition they require. Lunch boxes can be exciting and enticing if the content is varied by including foods from different food groups and preparing foods in different ways to avoid boredom.