Crispy Canned Corned Beef Hash Recipe (So Easy!)
★★★★★ 5 from 1 reviews
Few meals are more ideal than a corned beef hash breakfast. This traditional, flavorful meal is perfect any day of the week and has the distinct aroma of campfire cooking.
Hash is the quintessential American comfort food. As a culinary term, it refers to dishes with a variety of ingredients that require dicing or chopping to prepare.
It has a humble beginning as a leftover mix and food ration item.
Chefs have creatively transformed this American staple into an amazing base ingredient over time.
HOW DO YOU MAKE CANNED CORNED BEEF HASH CRISPY?
If you want your corned beef hash to be crispy, simply cook it on each side long enough to dry out some of the surface moisture.
Because butter burns much faster than vegetable oils, I recommend using canola, corn, or vegetable blend oil instead. Heat the skillet over high heat until it is hot, then add a thin layer of oil.
IS CORNED BEEF HASH IN A CAN ALREADY COOKED?
The best part about canned corned beef hash is that it is already cooked and ready to eat, so you can eat it without cooking it.
Though I recommend that you brown your corned beef before cooking it, or it will not taste as good.
HOW DO YOU KEEP CORNED BEEF HASH FROM STICKING TO THE PAN?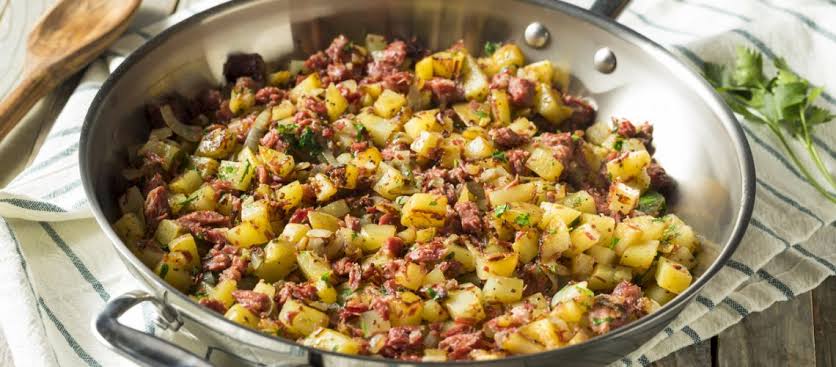 If it becomes too sticky, simply add a little more oil to the pan.
Cook in this manner for another 8 minutes, or until your potatoes and corned beef are browned and crispy on the bottom.
When the color turns brown, add water, cover with a lid, and let it steam for 2 to 3 minutes, or until the water evaporates.
CAN YOU MICROWAVE HORMEL CORNED BEEF HASH?
Microwave Oven Procedures:
Begin by emptying the contents of the can into a microwave-safe container and loosely covering it.
Then, heat it on high for 2 1/2 to 3 minutes, or until hot, stirring halfway through.
Finally, before serving, give it a good stir.
HOW LONG DOES CANNED CORNED BEEF HASH TAKE TO COOK?
Cooking time for canned corned beef hash is 6 to 8 minutes on low-medium heat, do not stir!
Alternative video: Canned Corned Beef Hash recipe
Suggested Posts:
WHY IS CORNED BEEF HASH SO EXPENSIVE?
Because the flat cut in corned beef hash is much leaner than the wider point cut, it is more expensive.
The strange thing is that removing all of the fat from a pointcut after cooking results in less edible meat, so I recommend going with the flat cut.
Real corned beef hash is a good reason to stock up on corned beef.
WHO MAKES THE BEST CANNED CORNED BEEF HASH?
When it comes to selling hash in America, Hormel Mary's Kitchen Corned Beef Hash ranks first.
The canned corned beef hash gives you an energetic breakfast that is rich in flavor and proteins found in finely cubed potatoes and beef.
WHAT DO YOU SERVE WITH CORNED BEEF HASH?
The traditional pairing is with eggs. Brisket is the most common source of corned beef. It is brined, which changes its taste and color and imparts a strong cured meat flavor.
Corned beef has a tender texture, is salty and sour, and is spicy. These flavors can be balanced with earthy potato wedges or elevated with onions and peppers.
Or you can take the easy route and buy it in a can (as we do!). It's used by some chefs to stuff cabbage or peppers.
However, it is primarily a breakfast item. Serve with bacon, baked beans, sausages, tomatoes, and mushrooms for a traditional Irish breakfast. Toast or tortilla with salsa spice will also be delicious.
IS CANNED CORNED BEEF HEALTHY?
Yes, because corned beef is high in protein and fat, as well as a good source of vitamins and minerals.
However, you should be aware that a serving of corned beef contains more than one-third of the DV for sodium.
Making a low sodium version of corned beef is difficult because the brine salt actually helps tenderize the meat.
IS CORNED BEEF A HASH PORK?
As a result, the Classic American corned beef hash originated in the United States' New England region.
It was a method of utilizing leftovers from a traditional boiled dinner, such as:
Beef
Cabbage
Potatoes
Onions
While the Southern classic of leftover barbecue pork mixed with barbecue sauce and served over rice.
WHY IS MY CORNED BEEF MUSHY?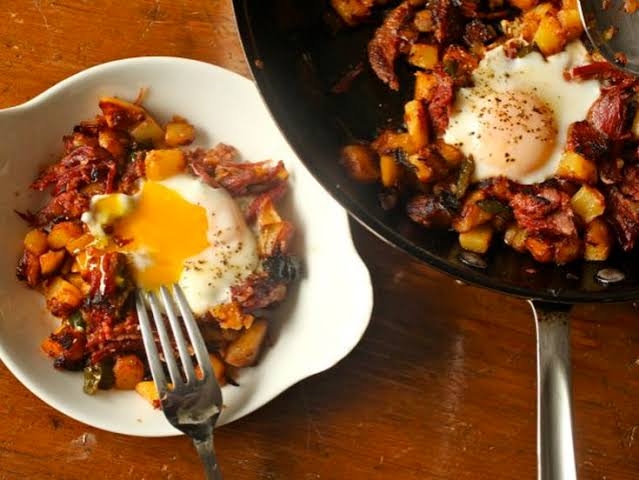 If your meat is extremely mushy, I suspect it was packed with a meat tenderizer in addition to the corning salt and seasonings.
If this is the case, there is nothing else you could have done.
I recommend that you don't buy that brand the next time, and even better, corn it yourself the next time.
HOW DO YOU KNOW WHEN CORN BEEF HASH IS DONE?
First, partially cover your skillet, then reduce the heat to medium-low and cook it.
It will take about 20 minutes, stirring occasionally, until the potatoes are tender.
The prep time should be 15 minutes, and the cooking time should be 20 minutes, so it should be ready in 30 to 35 minutes.
CAN YOU HEAT HASH IN THE MICROWAVE?
It's usually off by a bit because you're burning off the THC decarb at such a high temperature in that kind of oven.
Those little microwave ovens heat inconsistently, resulting in bursts of too-hot temperatures hitting the hash.
HOW LONG SHOULD CORNED BEEF HASH BE MICROWAVED FOR?
Simply cover it with the lid that came with the browning dish and microwave it on medium for 6 to 9 minutes, or until the bottom turns brown.
CAN I MICROWAVE CANNED CORNED BEEF?
Here are some shortcuts for using the microwave when you're in a hurry:
You can cook corned beef in the microwave, which takes about 20-30 minutes per pound.
You'll want to place your beef in a large dish with 1 1/2 cups water in it and cover it.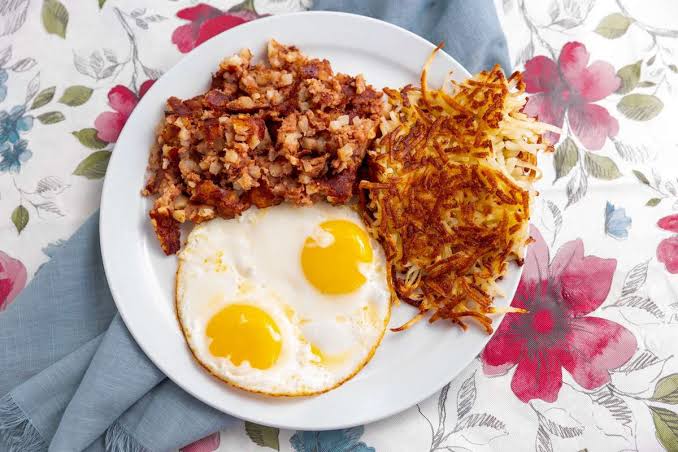 HOW DO I MAKE MY CORNED BEEF HASH CRISPY?
Breakfast chefs who prepare seasoned corned beef hash are entertaining to watch. They will fry the meat until it is crispy and then top it with an egg.
When you break the yolk, it will run over as you eat it. It's pure bliss! Most people can make a perfectly runny egg but struggle to make crispy fried hash.
The beef will stick to the pan's bottom, resulting in a gooey mess. Nobody wants to serve mushy camping food.
So, what is the crisp's secret? Time. The crusty corned beef hash breakfast needs to be cooked long enough to dry out the surface moisture.
As a result, heat your skillet and then spread your canned corned beef in a layer on it.
Cook the beef for about 10 minutes on medium-high heat before adding the eggs. Resist the urge to stir the beef until it is perfectly crisp.
Print
Canned Corned Beef Hash Recipe
---
Author:

Prep Time:

15 minutes

Cook Time:

20 minutes

Total Time:

35 minutes

Yield:

6 servings
Description
This dish is frequently served for breakfast with eggs, and a canned version is available at most grocery stores.
---
---
Instructions
The oil is heated in a large skillet over medium-high heat for the first step.
Next, sauté the onions and potatoes until they are slightly browned, then add the corned beef.
Then season with pepper and add 1 tablespoon of vinegar at a time, cooking for 3 to 5 minutes between additions.
Finally, partially cover the skillet and reduce the heat to medium-low. Cook, stirring occasionally, for 20 minutes, or until the potatoes are tender.
Category:

Breakfast

Method:

None

Cuisine:

American
Nutrition
Serving Size:

6 servings

Calories:

450kcal

Sugar:

3.4g

Sodium:

1135mg

Fat:

22g

Saturated Fat:

7g

Carbohydrates:

26g

Fiber:

3.2g

Protein:

33g

Cholesterol:

96mg
Keywords: Canned corned beef hash recipe, corned beef hash recipe, easy canned corned beef hash, corned beef recipe
Frequently Asked Questions
Is corned beef hash cooked in the can?
The only advantage of canned corned beef hash is that it is already cooked through, so you can eat it without cooking it. However, it is usually recommended that you heat and brown it first, otherwise it will not be good.
Why is canned corned beef bad for you?
While corned beef may have some health benefits, it is both red meat and processed meat. Some people's blood pressure may be raised by the high sodium content of processed meat. Both of these factors can contribute to an increased risk of heart disease ( 8 ).
How do you eat corned beef from a can?
Canned corned beef is a popular breakfast ingredient. Simply slice the beef and fry it in a skillet, then serve with eggs, grits, potatoes, rice, or whatever you want. On a simple sandwich, canned beef is delicious. Sear beef slices in a skillet and serve with plenty of mustard on white bread.
How is canned corned beef hash made?
The cooked beef is then cleaned of connective and fatty tissues before being mixed with curing salts and coarsely minced. This mixture is then canned and autoclave sterilized. As you can see, the main difference between homemade and store-bought is that you cook the meat before adding the curing salts.
More canned corned beef hash alternatives:
Canned Corned Beef Hash with Eggs
Sunday breakfasts have always been a special occasion in our household. It's a lot of fun to get in the kitchen with the kids and cook together. They always rate this corned beef hash recipe as the best, no matter how many other recipes we attempt!
View Recipe
Canned Corned Beef Hash Patties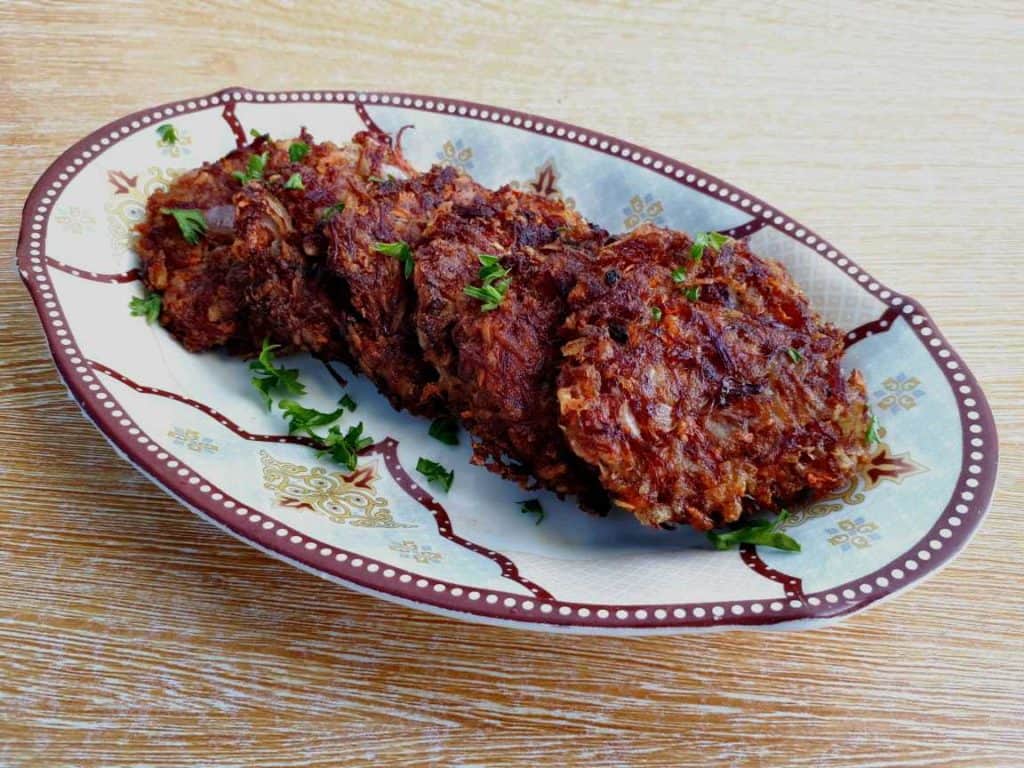 Corned Beef Hash Patties are patties made from corn beef, egg, potatoes, and carrots. It's a great appetizer, and I use canned corn beef in this recipe.
Click Here
OTHER RELATED POSTS: