Quick and Easy Microwave Carrots Recipe (So Delicious!)
★★★★★ 4.3 from 3 reviews
The easiest, simplest, and quickest Microwave Carrots are also some of the most delicious steamed carrots you'll ever have!
This has to be the quickest way to get a veggie side dish on the table with just a splash of water and a few minutes of cooking time!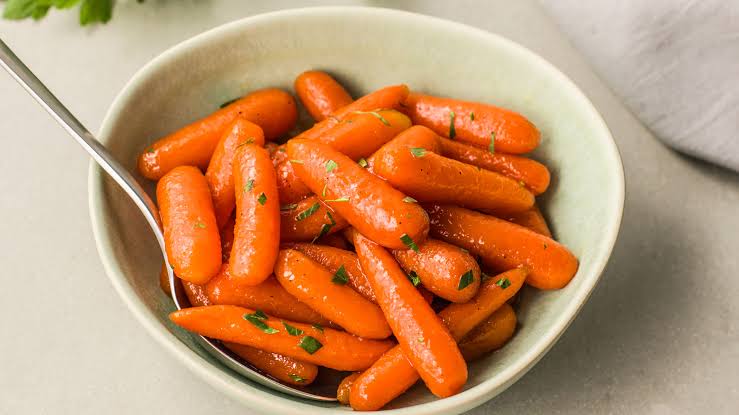 MICROWAVE STEAMED CARROTS RECIPE
I love perfectly cooked carrots and am a big fan of vegetables, so this easy microwave carrots method is a new favorite!!
I mean, I like oven-roasted carrots, but these steamed carrots are just so quick!!
Plus, they're super easy to keep an eye on and get just the right amount of tenderness for my daughter.
She won't eat a carrot if it's even slightly firm in the center. You'll have a delicious veggie side dish on the table in under 15 minutes!
WHY THIS MICROWAVE STEAMED CARROTS RECIPE WORKS?
Microwave cooking uses less energy because it directs nearly all of its energy into the food. It also retains more of the vegetable's nutrients than stovetop or oven cooking.
It's faster to steam carrots in the microwave! There's no need to wait for water to boil, dirty a pot, or use a stove burner.
Alternative video: How to Microwave Carrots?
Suggested Posts:
WHAT YOU'LL NEED?
Other than a microwave-safe dish, you don't need much! No special microwave gadgets required!
Carrots – add as many as you want; it won't affect the cooking time much! Carrots can be washed and/or peeled, depending on your preference. Then cut into 12 inch thick rounds of roughly equal size. *This will help the carrots cook faster and more evenly.
Water – just a splash at the bottom of your dish, about 2 – 3 tablespoons will suffice!
Butter – a rich, buttery coating completes these simple steamed carrots! You can also drizzle your microwave carrots with honey, maple syrup, brown sugar, or cinnamon sugar!
Season with salt and pepper to taste! I only use a dash of salt on mine to bring out the natural sweetness of the carrots!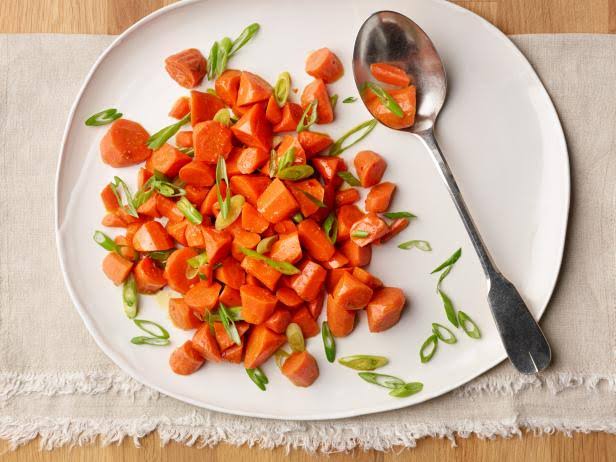 WHAT KIND OF CARROTS TO USE?
Rainbow Carrots – Slightly sweeter than regular carrots and even more visually appealing!
Baby Carrots – We love this option because you only have to cut them in half!
Carrot Sticks – Cut your carrot sticks in half or thirds if they're larger.
Regular Large Carrots – These are the cheapest and easiest to find, especially if they come from your own garden!
Carrot Coins – Because all of the prep work is already done, prepared carrot slices are the quickest method!
Carrot Top Pesto – Instead of steaming the carrot tops with the carrots, save them to make a delicious Carrot Top Pesto.
HOW TO STEAM CARROTS IN THE MICROWAVE?
It doesn't get any easier than this! Prepare your carrots, place them in a dish, and then heat and serve!
Carrots should be washed or peeled. Chop them into rounds that are as close to even in size as possible. The thickness is approximately 12 inch.
Place your carrots in a microwave-safe dish and cover with water. Cover with a plate or a tight-fitting lid.
Cook the carrots for 3 minutes on high, then check for firmness. Cook in one-minute increments until the carrots reach the tenderness you desire. *When opening your dish, be cautious of the steam! I also suggest using oven mitts to remove the dish from the microwave.
Remove the dish and cover it for about one minute, or until the carrots are tender. Drain any excess water, then add the butter and toss the carrots to coat. Season to taste and serve with your favorite main course!
WHY DO MY CARROTS CATCH ON FIRE IN THE MICROWAVE?
There have been reports of carrots catching fire while being microwaved. The fire is started by a phenomenon known as "arcing."
Green beans, bell peppers, and kale are also susceptible to similar conditions.
Mineral and nutrient-rich foods, when cut up into small pieces, consume varying amounts of electricity in the microwave, causing sparks at times.
The high mineral content of vegetables contributes significantly to the sparks generated inside the appliance that cause fire.
While all vegetables absorb minerals from the soil, root vegetables such as carrots contain significantly more.
There is a greater chance of electrical charge in the environment when there are more minerals.
Carrots are an excellent conductor of electricity, acting as minuscule lightning rods under certain conditions while microwaving.
HOW TO MICROWAVE BABY CARROTS?
When compared to whole regular-sized carrots, microwaving baby carrots is simple and quick.
Though baby carrots are usually boiled, popping them in the microwave is a great way to make a quick side dish and healthy snack.
In a microwaveable container, combine 2 cups of baby carrots, 4 tablespoons of water, and 14 teaspoons of pepper and salt. To enhance the flavor, you can also use butter spray.
Place the baby carrots in a microwave-safe, lidded container. If the lid does not have venting holes that automatically release the steam, do not seal it.
Cover loosely with up to 4 tablespoons of water.
5 minutes on high power in a microwave.
Lift the lid carefully with an oven mitt facing away to allow the steam to escape without burning your face.
Tenderness can be tested by slicing carrots with a fork or paring knife to see when the root vegetable is soft enough.
If necessary, strain the water, add the butter spray, and season with salt and pepper to taste.
HOW LONG DO YOU MICROWAVE CARROTS?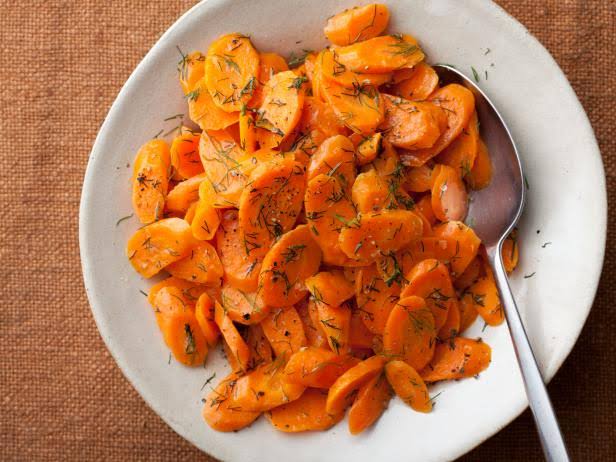 When you're pressed for time, microwaving carrots is a good option.
Microwaving carrots takes 10 minutes or less, depending on the amount and power of the microwave.
To shorten the cooking time, steam the carrots in the microwave for 5 minutes with a tablespoon or two of water.
Consider cooking the carrots in 1-minute increments with 30-second breaks in between to gently cook them while using less power.
Print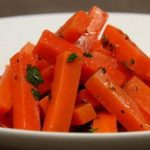 Microwave Carrots Recipe
---
Author:

Prep Time:

5 minutes

Cook Time:

5 minutes

Total Time:

10 minutes

Yield:

2

servings

1

x
Description
The easiest, simplest, and quickest Microwave Carrots are also some of the most delicious steamed carrots you'll ever have! This has to be the quickest way to get a veggie side dish on the table with just a splash of water and a few minutes of cooking time!
---
4

 

medium

 

carrots

 (washed and or peeled, chopped into

½

inch rounds)

3

 

tablespoon

 

water

1

 

tablespoon

 

butter

each, salt & pepper

 

(to taste)
---
Instructions
Wash and or peel your carrots, then chop into rounds that are approximately ½ inch in thickness.
Place the carrots in a microwave-safe dish and cover with water. Cover the dish with a fitted lid or a plate to seal it.
Cook for 3 minutes on high, then check your carrots. Heat in additional 1 minute increments until the carrots have reached your desired level of tenderness.
When removing the carrots from the microwave or opening your dish, be cautious of steam!
Allow the cooked carrots to sit for one minute, then drain any excess water before tossing with butter and seasoning with salt and pepper.
Category:

Side Dish

Method:

None

Cuisine:

American
Nutrition
Serving Size:

2 servings

Calories:

100kcak

Sugar:

6g

Sodium:

135mg

Fat:

6g

Saturated Fat:

4g

Carbohydrates:

12g

Fiber:

3g

Protein:

1g

Cholesterol:

15mg
Keywords: Microwave carrots, microwave steamed carrots recipe, side dish, carrot dish, vegetable side dish
Frequently Asked Questions
Can you steam baby carrots in the microwave?
Definitely! Instead of slicing the baby carrots into small coins, I recommend cutting them in half. Because baby carrots are initially softer than large carrots, the cooking time may vary slightly. Remember to check at regular intervals!
Can I steam my carrots in broth?
Absolutely, and I strongly advise you to give it a shot if you haven't already. The carrots take on a really nice subtle flavor and add a little extra flavor to the overall flavor. My go-to broths are chicken and vegetable broth!
Is it OK to microwave carrots?
Anyone who enjoys cooked carrots but does not want to cook them on the stovetop can microwave them. Microwaving retains the sweetness and freshness of the fruit, and it is a quick, easy, and safe method of cooking. When cooking in the microwave, always use a microwave-safe bowl.
Do carrots explode in the microwave?
Arcing occurs when your microwave sparks, and carrots cause arcing due to minerals in the soil in which they grow. The main culprits are iron, magnesium, and selenium, which cause a reaction in the microwave.
More microwave carrots alternative recipes:
Microwave Baby Carrots Recipe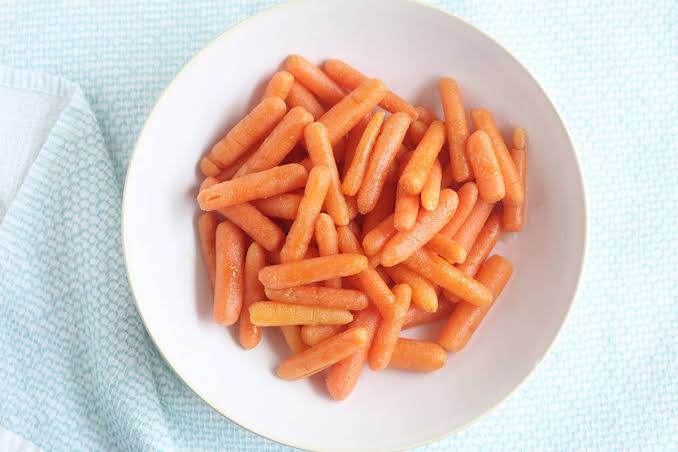 It may appear to be a simple recipe worthy of a blog post…and it is! This is a super simple recipe for adding a veggie and fiber to your protein-packed meal! For the best bariatric surgery results, eat two bites of protein for every one bite of carrot.
Read Here
Microwave Carrot Cake Recipe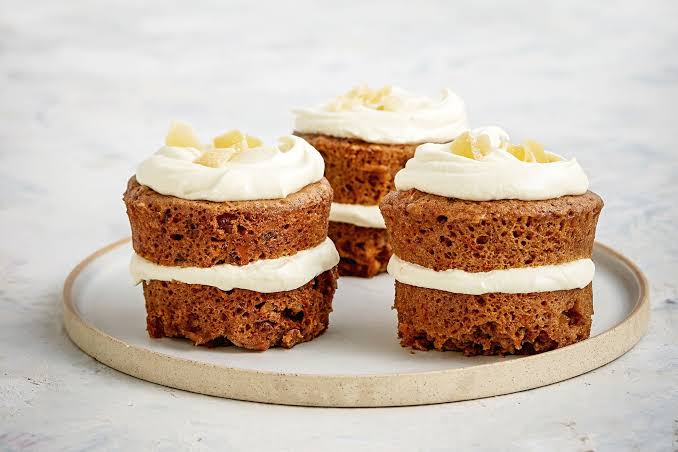 Do you need dessert right away? This decadent Microwave Carrot Cake recipe is a must-try! It takes only 7 minutes to prepare!
Click Here
OTHER RELATED POSTS: