Healthy Fajita Veggies Recipe (Chipotle Copycat)
★★★★★ 5 from 1 reviews
An easy recipe for grilled Fajita Veggies, just like the ones served at Chipotle. These grilled vegetables are colorful, tender-crisp, and healthy, and they are ready in minutes. You can also include your other favorite vegetables!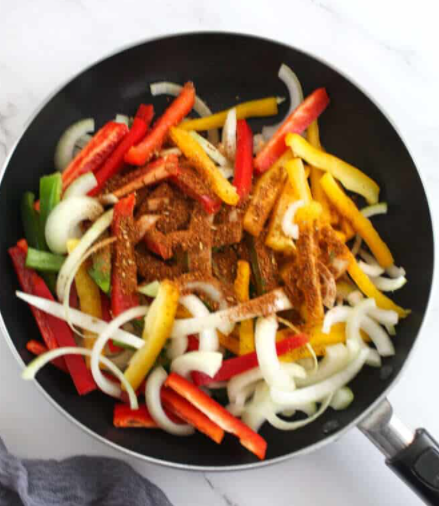 Learn how to make copycat chipotle fajita veggies with just a few ingredients! This EASY fajita veggies recipe is colorful, tender, and delicious, and it only takes 6 minutes to prepare!
Life Pro Tip: At Chipotle, you can add the grilled fajita veggies to your order at any time for no additional charge.
Even better, you can make your own massive batch in 15 minutes or less. You can also add other quick-cooking vegetables (such as zucchini, mushrooms, or tomatoes) at any time for no additional charge.
The basic version has only 5 ingredients (including olive oil and salt) and is so delicious that you won't need anything else.
What are Fajita Veggies at Chipotle?
At Chipotle, fajita veggies are made simply with bell peppers, onions, oregano, oil, and salt
While we used green bell peppers to mimic Chipotle, any color bell pepper would work well in this recipe.
I had previously prepared vegetables for fajitas at home, but they always seemed to be lacking something.
I knew I had to try it when I saw on Chipotle's website that they used oregano.
When the vegetables began to cook, they smelled exactly like the restaurant version, and I knew I had struck gold!
How to make fajita veggies
Step 1: Cut the vegetables into thick strips. One large red onion and two green bell peppers are required.
Step 2: In a pan, heat the olive oil.
Step 3: Stir in the vegetables, salt, and oregano.
Step 4: Sauté the vegetables for 8 minutes, stirring occasionally, until vibrant and tender crisp.
Serve the vegetables immediately after they have been removed from the heat.
Video Recipe: Fajita Veggies Chipotle Copycat
Suggested Posts:
Easy 30minute Pan Fried Potatoes and Onions Recipe – So Good!
Delicious Milk Butter Boiled Corn on the Cob Recipe [Superb!]
Best Garlic Red Skin Mashed Potatoes Recipe [Must Try!]
How do you sauté vegetables for fajitas?
Heat the pan to high heat, until the oil shimmers and almost smokes. Toss your vegetables and spices in the skillet for 5 to 7 minutes. The vegetables should be tender-crisp and brightly colored.
Chipotle uses rice bran oil, but you can substitute olive oil (or whatever oil you prefer) and toss with finely chopped fresh or dried oregano.
Fajita vegetables
At chipotle, fajita vegetables made with bell peppers are famous. They're delicious as a side dish or in burritos or burrito bowls. If you make your own homemade burrito bowls, burritos, or chicken fajitas, you'll want to learn how to make these simple fajita vegetables correctly.
How to Cut Bell Peppers
You probably already know how to cut bell peppers, but if you'd like to see how others do it, here's my method:
Remove the top and bottom.
Slice the pepper in half.
Take out the seeds.
Make neat little strips out of it.
This is very therapeutic for me.
What is fajita seasoning made of?
I make my own Fajita Seasoning mix from chili powder, cumin, paprika, salt, sugar, garlic powder, onion powder, and cayenne pepper.
And if you're looking for something a little more carnivorous, check out my Chicken Fajitas recipe!
Vegetable fajitas in a black skillet.
I make my own fajita seasoning in a small bowl by combining salt, sweetener of choice, paprika, onion powder, garlic powder, cayenne pepper, cumin, and oregano. This homemade fajita seasoning is quick and easy to make, and it ensures that I'm not consuming any filer or additives. If you're not picky, you can also buy fajita seasoning at your local grocery store for this recipe.
Is Cajun seasoning the same as fajita seasoning?
Cajun seasoning is not the same as fajita seasoning. While both of these seasoning mixes contain some spices in common, cajun seasoning contains some spices that fajita seasoning does not.
What veggies are used to make chipotle fajita vegetables?
This dish is made with bell peppers and onions.
This recipe can be made with green, red, orange, or yellow bell peppers. I used green, red, and yellow.
This recipe can be made with red, yellow, or white onions. I used yellow onions.
What are the best onions for fajitas
Traditional fajita recipes call for white onions, which would imply that these are the best onions for making fajitas, and I do like to use them occasionally. However, I prefer to use yellow onions because they have a nice balance of sweetness and acidity. I also like to use red onions in my fajita recipes because they add a pop of color to the dish.
Finally, the best onion for fajitas is the one you have on hand or that is more easily accessible to you.
How to serve fajita vegetables
Fajita vegetables are extremely versatile and can be served in a variety of ways. They could be:
Used to top burrito bowls.
Tossed into burrito salads
Used in the preparation of a burrito. Spread a tortilla with cooked vegetables, avocado or guacamole, salsa, and chicken, then top with sour cream and serve.
Storing sautéed veggies
Serve the vegetables immediately or store the leftovers in an airtight container in the fridge for up to 5 days.
Can this be made ahead?
Yes! Because these sauteed peppers and onions for fajitas are able to be stored in the fridge for up to five days, they are quite easy to make ahead to be used later.
Final thoughts on copycat chipotle fajita veggies
I make these chipotle sautéed. My entire family is obsessed with vegetables, so I eat them all the time. We use them in a variety of recipes, and I've recently begun to use leftover vegetables to top my homemade pizzas.
So, if you enjoy simple recipes made with vegetables and other simple ingredients, such as my simple fajita seasoning, you must try this one. It only takes 10 minutes and is extremely versatile!
Print
Fajita Veggies (Chipotle Copycat)
---
Author:

Prep Time:

4 minutes

Cook Time:

6 minutes

Total Time:

10 minutes

Yield:

10

1

x
Description
An easy recipe for grilled Fajita Veggies, just like the ones served at Chipotle. These grilled vegetables are colorful, tender-crisp, and healthy, and they are ready in minutes. You can also include your other favorite vegetables!
---
1

large onion

3

medium bell peppers

1/4 cup

vegetable oil

3/4 tsp

salt

½ tsp

oregano

1/4 tsp

paprika

1/4 tsp

onion powder

1/4 tsp

garlic powder

1/4 tsp

cayenne pepper

1/4 tsp

ground cumin
---
Instructions
To begin, gather all of the ingredients in one location.
Then, peel and chop the onions, as well as measure the oil and seasonings.
After that, heat the oil in a medium or large skillet over medium high heat.
Combine the onions, peppers, and seasonings in a mixing bowl.
Cook for 4-6 minutes, stirring frequently, with the fajita vegetables. Remove from the heat and serve immediately.
Category:

Side dish

Method:

Mix, Grilled

Cuisine:

American
Nutrition
Serving Size:

2

Calories:

65kcal

Sugar:

1.5g

Sodium:

118mg

Fat:

5.6g

Saturated Fat:

0.4g

Unsaturated Fat:

0g

Trans Fat:

0g

Carbohydrates:

3.9g

Fiber:

0.7g

Protein:

0.5g

Cholesterol:

0g
Keywords: Fajita Veggies, Side dish, Fajita,
Frequently Asked Questions
Are the fajita veggies at Chipotle good?
When I go to Chipotle, I can't help but add fajita veggies to whatever I'm ordering. They're crisp, tender, and slightly caramelized, with just the right amount of oregano flavor. So tasty!
Are fajita veggies spicy at Chipotle?
In layman's terms, this means that bell peppers aren't hot. In fact, they are also known as "sweet peppers" at times.
What are the chipotle veggies?
Chipotle's grilled vegetables are a combination of bell peppers and onions seasoned with salt and oregano.
You can use any color bell peppers you want (red, orange, yellow, green).
You can use any color onion you want (red, yellow, white).
Fresh or dried oregano can be used (Chipotle uses dried).
What are fajita veggies at Qdoba?
Burrito with sautéed bell peppers and onions, cheese, hand-crafted guac, pico de gallo, and your choice of beans and rice. Served with homemade tortilla chips, salsa of choice, and dessert.
Do fajita vegetables cost extra at Chipotle?
It's all free, so go ahead and order as much as you want. Do you want to include more vegetables in your diet? After you've gotten your beans and rice, ask them to toss in some fajita vegetables. Those vegetables are F-R-E-E as long as you order a protein.
More Recipes to try!
Chicken Fajitas
Crazy delicious chicken breast may sound like an oxymoron, but these chicken fajitas are as good as it gets thanks to a limey, pineapple-and-jalapeo marinade.
SIZZLING SKILLET CHICKEN FAJITAS
Sizzling Skillet Chicken Fajitas are a quick and easy dinner that the whole family will enjoy. This traditional fajita recipe calls for boneless, skinless chicken breasts that have been cooked whole and sliced, as well as sliced onion and bell peppers. Bell peppers can be any color or a combination of colors.
In this recipe, you'll make your own quick fajita spice blend to give you complete flavor control. By reducing or eliminating the red pepper flakes, you can easily adjust the heat level of the spice mix.