Creamy Broccoli Cauliflower Cheese Soup Recipe
★★★★★ 5 from 1 reviews
This season, warm up with Broccoli Cauliflower Cheese Soup!
3 Secrets to Ease Your Cooking
Frustrations.
It's a hearty vegetarian soup that comes together quickly and easily – ready in 30 minutes and made entirely in one pan or the Instant Pot!
This simple vegetarian soup recipe delivers on all fronts: it's warm, cozy, and comforting. It's a bit cheesy.
And it's loaded with vegetables, but it doesn't feel like you're eating a healthy vegetable soup.
It's the ideal combination of broccoli and cauliflower, with a dash of carrot thrown in for good measure.
It's hearty and full of texture, and you'll enjoy every bite. For the ultimate dipping experience, serve with a crusty loaf of bread, socca, or flatbread.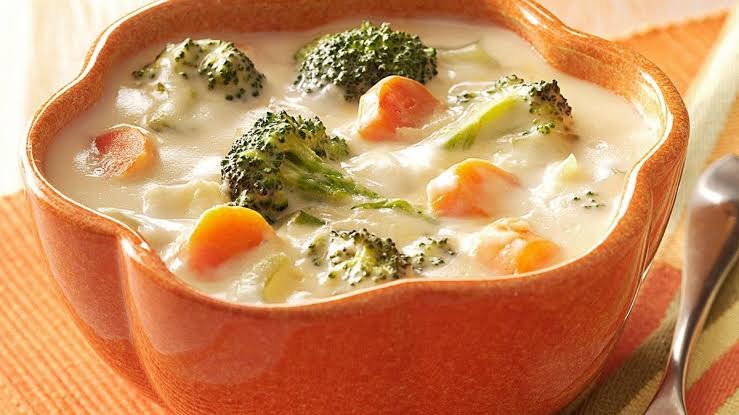 INGREDIENTS YOU'LL NEED:
This soup only requires a few simple ingredients to come together to create this magical soup.
Our flavorful aromatics are onion and garlic! The two combine to form a savory base.
Broccoli: adds heartiness, texture, and crunch to the soup with this super vegetable. Not to mention, when it comes to recipes, it's basically cheddar's best friend.
Why not combine two cruciferous vegetables in a soup? Cauliflower adds extra nutrients, texture, and a very subtle flavor that pairs well with broccoli to a traditional broccoli cheddar soup.
Carrots: a nod to the classic Panera soup, carrots add a nice color to the soup and grating them adds another textural element. The slight sweetness counteracts the bitterness of the broccoli and cauliflower.
Vegetable Stock: The soup's liquid base. If you are not a vegetarian, you can substitute chicken stock.
Half-and-Half: The job of half-and-half is to add creaminess and richness to the soup. You can also use whole milk for a lighter soup, or heavy whipping cream for a richer soup.
Cheddar Cheese: Creamy and smooth, this cheese elevates the soup. I strongly advise purchasing a block of cheddar and shredding it yourself with a box grater or food processor. Pre Shredded cheeses frequently contain an anti-caking agent and do not melt as well.
Butter, salt, pepper, and flour: these ingredients are used to help assemble the soup, adding flavor and acting as a thickener. To make this recipe gluten-free, use corn starch.
HOW TO MAKE BROCCOLI CAULIFLOWER CARROT CHEESE SOUP?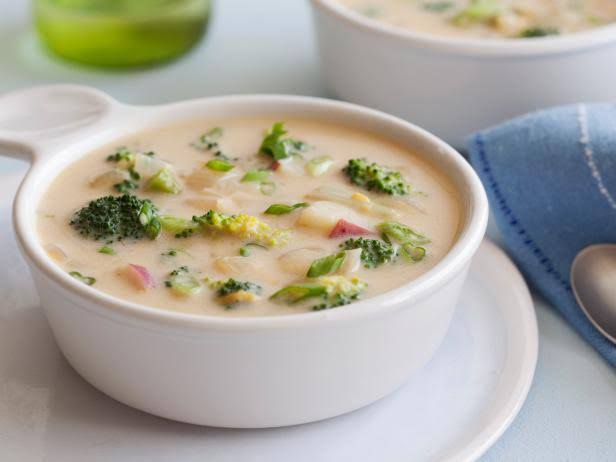 This soup, like any good soup, begins with the comforting combination of butter and onion, sautéed in a large dutch oven.
Is there a better aroma to be had while cooking? Then it's elevated with the addition of garlic, which comes next. You know there's got to be garlic somewhere.
To help thicken the soup slightly, whisk in a pinch of all-purpose flour. The remaining ingredients are as follows:
You can't have a creamy soup without a little half and half, can you? This is why you should simmer the soup rather than boiling it; we don't want our dairy to scald.
Carrots, shredded – more vegetables! To shred the carrots, I prefer to use a box grater or a food processor. You can also buy pre-shredded carrots to save time if necessary.
The main stars are broccoli and cauliflower. They come in at the end to simmer.
Cheddar cheese – Hello, my love. Remove the soup from the heat and, in batches, stir in the cheese. This ensures that it melts evenly and does not break apart or clump together.
If you know salt and black pepper, you know. If you don't, I'll let you in on a little secret: layer in your flavor! In the very first sautee steps, add a pinch of salt, and continue to taste test and adjust as needed. Keep in mind that the cheese adds a bit of saltiness, so test it again after it's been added and adjust accordingly.
HOW TO MAKE THIS SOUP IN THE INSTANT POT
In the Instant Pot, you can make vegetarian soup? Yes, absolutely!
To make this recipe in the Instant Pot, combine everything except the dairy in a mixing bowl. That means you're skipping both the half-and-half and the cheese to begin.
Set the Instant Pot to ZERO minutes on high pressure. Yes, nada, nada, nada… nada, nada, nada, nada, nada, nada, nada
The vegetables are cooked through by the time everything inside the pot comes to pressure. The vegetables would become mushy if the Instant Pot was left to cook any longer, which we do not want.
After it comes to pressure, quickly release the pressure, then stir in the half-and-half and cheese in batches until it is all melted into the soup. Remember to taste test and adjust the salt levels if you weren't able to do so while cooking.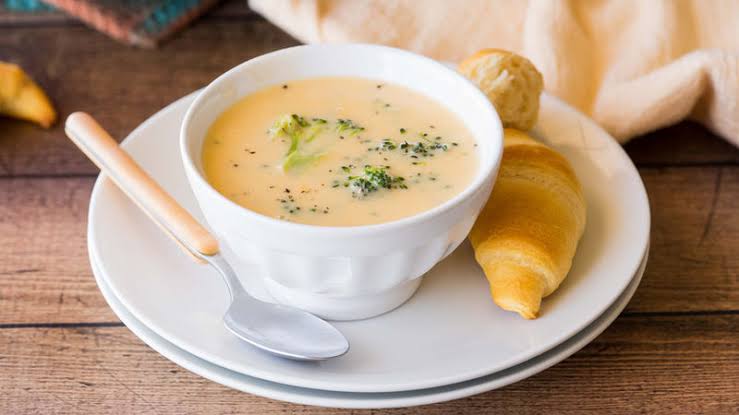 HOW CAN YOU THICKEN BROCCOLI CHEDDAR SOUP WITHOUT FLOUR?
In this recipe, I replace the flour with… cauliflower! Yes, if this cruciferous vegetable can be turned into cauliflower tots, it can certainly be turned into a delectable creamy soup.
As an added bonus, by thickening it with cauliflower, you'll sneak in some extra veggies while keeping it low carb and gluten free.
You'll be surprised at how silky smooth it is, with all of the cheesy flavor you crave.
WHAT MAKES THIS CAULIFLOWER BROCCOLI CHEDDAR SOUP HEALTHIER?
Because there is no cream, butter, or flour used to thicken this broccoli cheese soup, it is naturally gluten free and low carb.
This means there are no unrefined carbs or extra fat, allowing you to use just enough cheese to make it rich and flavorful.
When it comes to cheese, the sharper the better, because you don't need as much to make it taste super cheesy.
And, because the soup is made with cauliflower, as well as all of the broccoli swimming in that sea of golden goodness, it's high in vegetable nutrition.
Both are low in calories and high in fiber, vitamins A, C, E, and K, as well as B vitamins like folic acid.
Broccoli is a high-protein, calcium-rich vegetable. Cauliflower also contains compounds that may help prevent cancer.
HOW DO YOU ADD CHEESE TO SOUP?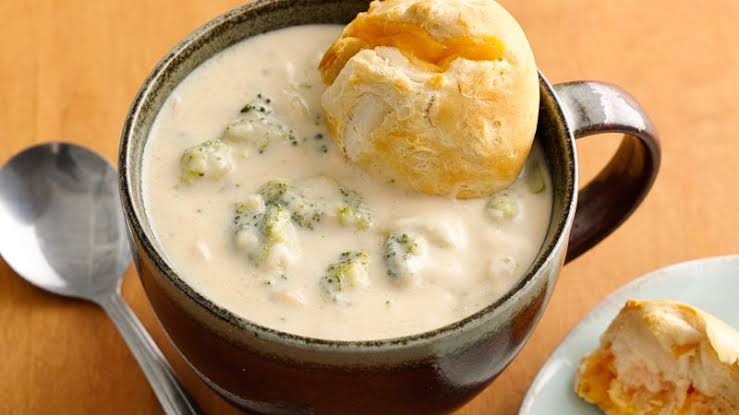 To avoid these issues, add the cheese at the very end, after the soup has been pureed and the broccoli has been cooked to the desired doneness.
Reduce the heat to low and gradually add the cheese, a little at a time.
Allow each addition to completely melt and become evenly distributed and smooth before adding more. Allow it to slowly return to the desired temperature without allowing it to boil.
WHAT TO DO WITH THE BROCCOLI CAULIFLOWER SOUP LEFTOVERS?
Leftover broccoli cauliflower soup can be stored in an airtight container in the refrigerator for up to 3 days.
To loosen the soup, reheat it on the stovetop with a few tablespoons of water.
To freeze the cheesy broccoli cauliflower soup, place it in an airtight freezer-safe container. It will keep in the freezer for 3 months. Thaw the soup in the refrigerator overnight before reheating.
TIPS FOR THE CAULIFLOWER BROCCOLI SOUP RECIPE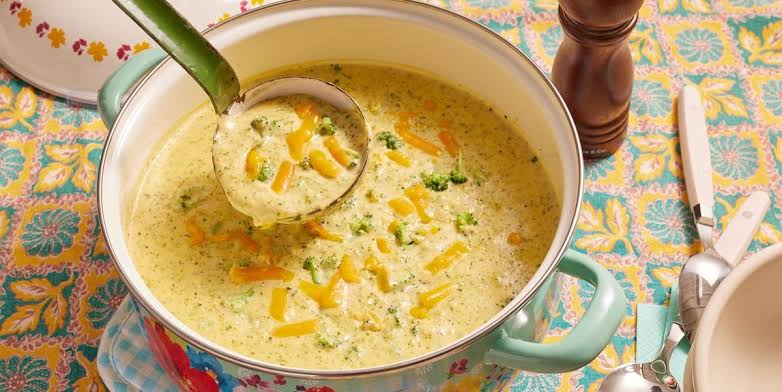 If you prefer a silky-smooth soup, use an immersion blender and blend until smooth.
Serve the broccoli cauliflower soup with crispy croutons as a deliciously crunchy garnish.
To make this broccoli cauliflower soup vegan, use vegetable broth instead of regular cream, coconut milk or coconut cream instead of regular cream, and leave out the cheese and bacon. On top, sprinkle with nutritional yeast.
Add some heat to the cauliflower broccoli soup with a generous drizzle of hot sauce – we like Sriracha and Cholula!
Frequently Asked Questions
Can I use frozen broccoli and cauliflower?
Yes! Because you won't need to cook them for as long, test them for doneness throughout the cooking process to keep them from becoming mushy.
Can I make this gluten-free?
Yes, use cornstarch or gluten-free flour at the end of the cooking process.
Can I freeze this soup?
If you want to freeze this soup, I recommend omitting the dairy because dairy does not freeze or reheat well. Before serving, stir in the half-and-half and cheese.
Can I make this smooth?
Yes, use an immersion blender to puree the vegetables until they reach the desired consistency.
Print
Broccoli Cauliflower Cheese Soup Recipe
---
Author:

Prep Time:

10 minutes

Cook Time:

15 minutes

Total Time:

25 minutes

Yield:

4

servings

1

x
Description
This season, warm up with Broccoli Cauliflower Cheese Soup! It's a hearty vegetarian soup that comes together quickly and easily – ready in 30 minutes and made entirely in one pan or the Instant Pot!
---
3

 

Tablespoon

 

unsalted butter

1 1/2

 

cups

 

yellow onion

, 

diced (1 small onion)

4

 

garlic cloves

, 

finely chopped

Salt

, 

to taste

3

 

Tablespoon

 

all-purpose flour

2 1/2

 

cups

 

vegetable stock

2

 

cups

 

half-and-half

, 

room temperature

Black pepper

, 

to taste

1/8

 

tsp

 

white pepper

2

 

cups

 

broccoli florets

, 

chopped

2

 

cups

 

cauliflower florets

, 

chopped

1

 

large carrot

, 

shredded*

8

 

oz.

 

cheddar cheese

, 

shredded* (2 cups once shredded)
---
Instructions
Stovetop Instructions
Melt butter in a dutch oven or stockpot over medium heat and add diced onion. Sautee for a minute, then add garlic and a pinch of salt; cook for another 2 minutes.
Whisk in the flour and continue to whisk for 1-2 minutes to cook it down. Incorporate the vegetable stock into the flour mixture by whisking it in. Combine half-and-half, salt, pepper (to taste), and white pepper in a mixing bowl. Then stir in the broccoli, cauliflower, and carrot. Simmer for 15-20 minutes, or until vegetables are tender enough to be pierced with a fork.
Remove from the heat and, in batches, stir in the shredded cheese. Season with salt and pepper to taste, and serve!
Instructions for the Instant Pot:
Melt butter in your Instant Pot's sautee function and add diced onion. After a minute, add the garlic and a pinch of salt. Whisk in the flour and continue to whisk for 1-2 minutes to cook it down. Add white and black pepper, as well as a pinch of salt to taste. 2 cups vegetable stock, whisked in with the flour mixture Mix in the broccoli, cauliflower, and carrot.
Put the lid on the Instant Pot and secure it. For a total of zero minutes, set the pressure to high. When it reaches pressure, carefully and quickly release the pressure.
Warm the half-and-half in a small saucepan on the stovetop while the Instant Pot works its magic. Stir in half-and-half once the pressure has been released after cooking. In batches, add the shredded cheese, stirring to melt between each addition. Adjust the salt level to taste (since you couldn't while cooking).
Notes
I strongly advise you to shred your own cheese! This eliminates the anti-caking agents that are commonly found in pre-shredded cheese and can cause your cheese to become gritty and separate during melting.
Storage: Refrigerate in an airtight container for up to 3-4 days.
Reheat in the microwave or in a small saucepan over low heat.
Category:

Dinner

Method:

None

Cuisine:

American
Nutrition
Serving Size:

4 servings

Calories:

552kcal

Sugar:

7g

Sodium:

1108mg

Fat:

42g

Saturated Fat:

26g

Carbohydrates:

26g

Fiber:

4g

Protein:

22g

Cholesterol:

127mg
Keywords: Broccoli cauliflower cheese soup recipe, broccoli cheese soup recipe, dinner recipe, broccoli cheddar soup
More recipes to try: