Best Green Tea Shot Recipe [Must Try!]
★★★★★ 4.5 from 2 reviews
This green tea shot is a simple cocktail with a vibrant green hue and an appealing sweet and sour flavor. Jameson whiskey, peach schnapps, sour, and a splash of lemon lime soda are all you need.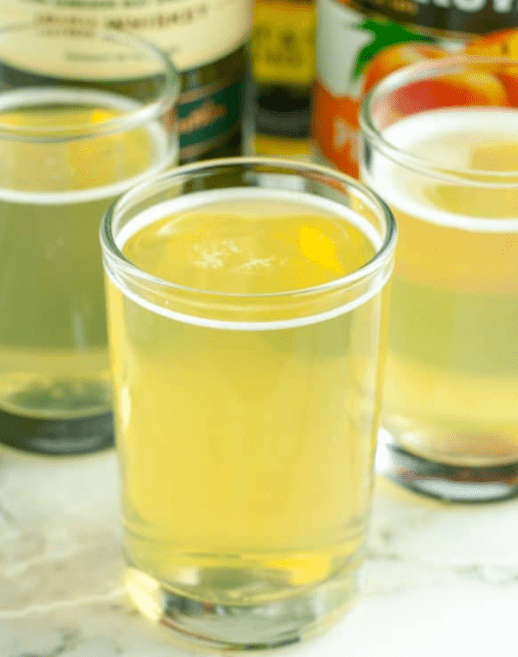 The sweet and sour flavor of this classic green tea shot recipe is usually a crowd pleaser. It's ideal for parties or get-togethers with friends, just like other popular shots like lemon drop shots, pineapple upside down cake shots, and cinnamon toast crunch shots.
The Jameson whiskey corporation devised this whiskey-based cocktail recipe, which is frequently referred to as "Jameson Green Tea." The mix of ingredients provides a delectable peachy, citrus flavor that is not at all like green tea.
WHAT IS A GREEN TEA SHOT?
A green tea shot is a four-ingredient cocktail made with whisky:
Jameson Irish Whiskey (Irish Whiskey)
sour concoction
Peach Schnapps is a liqueur made from peaches.
Sprite or lemonade
The flavor is sweet and peachy, therefore I wouldn't recommend it to anyone who isn't a fan of peach schnapps because you can certainly taste the schnapps in this drink! If you don't have a bottle of Jameson on hand, feel free to substitute another whiskey. It's not like you'll be drinking it neat or on the rocks, so little differences won't matter much.
INGREDIENTS YOU'LL NEED:
Jameson Irish whiskey is the most commonly used whiskey in this recipe.
Peach Schnapps — This peach-flavored liqueur adds a touch of sweetness to the green tea shot recipe.
Sour Mix- Lemon and lime juice are combined with simple syrup to make a sour combination. A nice sour mix can be found in a liquor store or even a grocery store.
Soda is my favorite lemon lime soda, but you may use any other lemon lime drink you like. If you want to eliminate the carbonation, lemonade is a good substitute.
Video Recipe: Green Tea Shots
Suggested Posts:
HOW TO MAKE GREEN TEA SHOT?
If you need to prepare more than one shot, utilize the 1:1:1 ratio in this cocktail.
Fill a cocktail shaker halfway with ice.
Step 2: Combine 1 ounce Jameson Whiskey, 1 ounce Peach Schnapps, and 1 ounce sour mix in a mixing glass. (This is for a total of two shots.)
Step three: Shake for 5-10 seconds before straining the mixture into shot glasses that are 3/4 filled.
Step four: Add a dash of lemon lime soda to the top.
GREEN TEA SHOT AS A COCKTAIL
If you don't like doing shots but appreciate the flavor of green tea shots, try turning them into a cocktail!
This green tea shot can simply be transformed into a green tea martini. Simply shake the contents for a few seconds longer to allow the ice cubes to melt, then top with more Sprite of lemonade. You don't need to add any more alcohol because there is already enough.
The flavor will be milder, but it will be easier to drink than a powerful shot.
Greetings to everybody!
RECIPE AND VARIATIONS:
If you're only going to make one shot, half the ingredients.
Change it up by adding a dash of lemonade instead of Sprite.
Prepare the sour mix and soda ahead of time by chilling them. They won't melt too much ice in the shaker and dilute the shot this way.
If you don't have a cocktail shaker, don't worry. To shake up your cocktail, combine the ingredients in a Mason jar or any other container with a cover.
WHY IS IT CALLED GREEN TEA SHOT?
The drink's brilliant green tint inspired the name. Some compare it to a soothing cup of green tea. The sweet and sour flavors, on the other hand, are vastly different.
DO I NEED GREEN TEA TO MAKE THIS SHOT?
In fact, there is no green tea in this recipe. Whiskey, peach schnapps, sour mix, and lemon lime soda are all you'll need.
ARE JAMESON GREEN TEA SHOTS STRONG?
These shots don't have a distinct flavor, but they're packed with alcohol and pack a punch. They're so tasty that if you're not careful, it's easy to eat too many.
CAN THIS SHOT BE MADE INTO A COCKTAIL?
Make a cocktail if you don't want to swallow your drink in one gulp. Pour it into a larger glass, such as a martini glass or a short cocktail glass, and top it off with a splash of Sprite. You can also serve it over ice for a colder beverage.
Print
Green Tea Shot Recipe
---
Author:

Prep Time:

5 minutes

Cook Time:

5 minutes

Total Time:

10 minutes

Yield:

2

1

x
Description
This green tea shot is a simple cocktail with a vibrant green hue and an appealing sweet and sour flavor. Jameson whiskey, peach schnapps, sour, and a splash of lemon lime soda are all you need.
---
1 ounce

Jameson whiskey or other Irish whiskey

1 ounce

peach schnapps

1 ounce

sour mix

1/4 ounce

lemon-lime soda or lemonade
---
Instructions
Ice should be added to the cocktail shaker. Combine the whiskey, peach schnapps, and sour mix in a mixing glass. Close the shaker and give it a good shake.
Fill shot glasses 3/4 full with the mixture after straining it through a strainer. Add a dash of lemon-lime soda or lemonade to finish.
Notes
Before making the shot, make sure the lemon-lime soda and sour mix are cooled.
Category:

Drinks

Cuisine:

American
Nutrition
Serving Size:

2 shots

Calories:

73kcal

Sugar:

4g

Sodium:

1mg

Fat:

0g

Saturated Fat:

0g

Unsaturated Fat:

0g

Trans Fat:

0g

Carbohydrates:

4g

Fiber:

0g

Protein:

0g

Cholesterol:

0g
Keywords: Green Tea shots, Tea, Drinnks
Frequently Asked Questions
What is a green tea shot made of?
It's made with an equal combination of Irish whiskey, peach schnapps, and sour mix, with a splash of citrus soda. The green tea shot has a sweet-sour whiskey flavor with a fruity undertone, and it's one of the better-tasting shooters you can make.
Are green tea shots good for you?
Green tea has been demonstrated to reduce the risk of certain cancers, enhance skin health, and promote weight loss. Drinking this beverage on a daily basis will help you live a longer, healthier life.
Do green tea shots get you drunk?
Peach Schnapps is a sweet spirit with a low alcohol concentration. It has a lower alcohol concentration than whiskeys, ranging between 15% and 20% by volume. The majority of Jameson whiskeys have a 40% alcohol content. As a result, your green tea shot contains enough alcohol to swiftly make someone inebriated.
Why is it called a green tea shot?
Because of its greenish color, it's nicknamed green tea shot. Because it was first made with Jameson whiskey, it's also known as Jameson Green Tea.
What drink is shots?
A shooter, sometimes known as a shot, is a short serving of spirits or a mixed drink (generally around one ounce) taken fast, frequently in one gulp. A shot is commonly served as a "side" to a larger drink. Shaken, stirred, blended, stacked, or simply poured, shooters can be made in a variety of ways
More Recipes to try!
Naturally Sweetened Iced Green Tea
For those hot days, iced green tea with lemon, lime, and fresh mint is a delicious and rejuvenating beverage. Each glass contains antioxidants and is naturally sweetened with honey.
ICED MATCHA GREEN TEA LATTE
In just a few simple steps, you can make an iced matcha green tea latte at home. This vegan version of Starbucks' iced matcha latte is creamy, light, refreshing, and healthful.
Save money at the coffee shop by creating this cold drink at home, where the flavors and taste are not compromised. It's a terrific substitute for coffee or normal tea.