Quick & Healthy Green Pasta Sauce Recipe
★★★★★ 4.5 from 2 reviews
Green pasta sauce is a tasty substitute for marinara. With a hint of creaminess and plenty of spinach benefits. This has rapidly become a family favorite with the kids!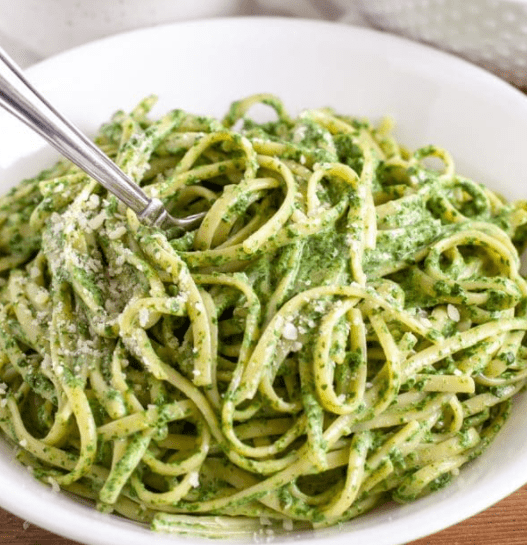 Serve with chicken pesto meatballs or sliced chicken breast to make a complete dinner.
The bright green color of this sauce comes from the amount of spinach used. This sauce contains a full bag of spinach, as well as basil, parmesan cheese, and garlic. This pesto-inspired spaghetti sauce is lighter and less greasy than traditional pesto
Sometimes all my kids want for dinner is a simple bowl of spaghetti, like these buttered noodles. That's why I adore this spaghetti with a fresh green sauce. Quick and simple to prepare, it's a terrific alternative to pesto, and most importantly, it's a dinner that my children appreciate.
It's one of those dinners that I don't mind making frequently because it contains healthful spinach, so I know they're getting a nice portion of vegetables without even realizing it.
WHAT IS GREEN PASTA SAUCE?
Green Pasta Sauce is a generic phrase for a basic sauce created from spinach and basil in this case. This dish has no formal name; it's more of a descriptive title.
It can be used in the same way that classic basil pesto is. This version is nut-free, making it a fantastic option for those with nut allergies. Because there are no nuts in this pesto, it has a lighter texture than conventional pesto.
Video Recipe: Green Pasta Sauce
Suggested Posts:
WHY THIS RECIPE WORKS
Nutritious — This pasta recipe is loaded with vitamins.
Ingredients — This recipe only requires a few basic ingredients.
This dinner can be prepared in less than 30 minutes.
Versatile — Pairs well with a variety of proteins and vegetables.
Leftovers — This recipe yields fantastic leftovers!
INGREDIENTS YOU'LL NEED:
Spinach — Provides a lot of nutrients as well as a lovely green hue.
Olive oil – Used to cook the garlic and spinach.
Garlic — Adds a lot of flavor to the dish.
Parmesan cheese – Isn't it true that everything tastes better with cheese? The parmesan cheese lends a touch of saltiness to the sauce.
Cream cheese — Gives the sauce a creamy texture.
Spaghetti, of course, is the vehicle for the sauce. This sauce goes well with almost any pasta shape.
CAN I SUB ANY OF THE INGREDIENTS IN THIS GREEN SAUCE?
As I previously stated, this spaghetti sauce can be tweaked in a variety of ways.
Fresh greens of your choosing can be substituted for the spinach. If spinach isn't your thing, try kale, Swiss chard, or arugula. Fresh greens, rather than frozen, are preferable because they contain less water.
If desired, add more or less basil.
Other fresh herbs like parsley, tarragon, oregano, thyme, or mint can be used in addition to or instead of basil. Keep in mind that certain herbs have a stronger flavor than others, so you may need to experiment with the proportions until you find a flavor combination you like.
In addition to or instead of Parmesan, any dry, salty cheese can be used. Substitutes include Romano, Asiago, Pecorino Romano, and Granada Padano.
If you choose to keep this dish vegan, soy Parmesan or any other non-dairy Parmesan can be substituted for regular Parmesan.
SPINACH BENEFITS
Spinach is a beautiful, vitamin-rich green vegetable with a moderate flavor that's simple to "hide" in foods like smoothies. It's ideal for finicky eaters because of this.
Spinach is high in vitamins A, C, and K, as well as folic acid, iron, calcium, and other minerals. Blood pressure, eye health, and even stress levels have all been shown to benefit from it.
HOW TO MAKE GREEN PASTA SAUCE
Garlic should be sautéed in olive oil over medium heat. Add the spinach and cook until it has wilted. Season with salt and pepper.
Pasta: Cook pasta as directed on the packet and drain once done.
Blend– In a food processor, blend cooked spinach, garlic, Parmesan cheese, cream cheese, and broth until a sauce forms.
Combine: Add the sauce to the pan, along with the cooked the green pasta. To taste, season with a touch of salt and pepper. Cook for another 2-3 minutes to finish heating.
Serve while still warm, with more cheese sprinkled on top.
HOW LONG DOES THIS SAUCE LAST IN THE FRIDGE?
Any remaining sauce can be stored in an airtight container for 3-4 days after the pasta has been mixed with it. Allow the pasta to cool completely before transferring it to the refrigerator for storing.
The green pasta sauce can also be made in a food processor and stored in an airtight jar in the fridge for up to two days. The sauce can then be cooked on the stovetop and tossed with noodles according to the recipe's instructions.
HOW TO STORE LEFTOVERS
The easiest method to keep this pasta fresh is to keep it in an airtight container in the fridge. It will last three to four days. I reheat it in a skillet with a bit more vegetable or chicken stock and heat it thoroughly.
HOW TO COOK SPAGHETTI
Make sure the pasta water doesn't have any oil in it. This creates a barrier on the pasta, preventing the sauce from sticking.
Season the pasta water with salt. While the pasta is cooking, add a generous amount of salt to the boiling water.
While the pasta is boiling, make sure to stir it occasionally. The noodles will not stick together as a result of this.
TIPS FOR THIS RECIPE:
If you don't have a food processor, a blender will suffice.
If you don't have fresh spinach on hand, you can substitute frozen spinach. Make careful to defrost the spinach and wring out any extra water.
Add a pinch of red pepper flakes if you want it spicy.
VARIATIONS
Protein: To make this a complete dinner, add chicken, meatballs, tofu, or shellfish.
Vegetables: I like to serve this with chopped tomatoes on top, but you could also use sauteed asparagus, mushrooms, squash, or even avocado.
Pasta: This sauce works well with a wide variety of pasta forms. My favorite pasta to use is spaghetti or fettuccini, but my kids prefer rotini and rigatoni.
Print
Amazing Green Pasta Sauce Recipe
---
Author:

Prep Time:

10 minutes

Cook Time:

10 minutes

Total Time:

20 minutes

Yield:

6

1

x
Description
Green pasta sauce is a tasty substitute for marinara. With a hint of creaminess and plenty of spinach benefits. This has rapidly become a family favorite with the kids!
---
1

 

10 oz bag

 

spinach

3

 

cloves

 

garlic, minced

1/2

 

cup

 

Parmesan cheese

1/2

 

cup

 

vegetable stock

 

or chicken stock or water

4

 

oz

 

cream cheese

1

 

lb

 

spaghetti 

or other pasta

salt and pepper to taste
---
Instructions
Cook the spaghetti as directed on the packet.
Add olive oil to a large skillet over medium heat while the pasta is cooking. Sauté for 1-2 minutes after adding the minced garlic. Cook until the spinach has wilted.
In a food processor or blender, puree cooked spinach. Combine cream cheese, Parmesan cheese, broth, and salt and pepper in a mixing bowl. Blend until a smooth sauce forms.
Toss the sauce with the drained, cooked pasta in the skillet.
Serve immediately with additional grated Parmesan cheese.
Category:

Appetizer, Snacks

Method:

Boiled, Mix

Cuisine:

American
Nutrition
Serving Size:

6

Calories:

381kcal

Sugar:

3g

Sodium:

277mg

Fat:

10g

Saturated Fat:

5g

Unsaturated Fat:

0g

Trans Fat:

0g

Carbohydrates:

58g

Fiber:

2g

Protein:

14g

Cholesterol:

26mg
Keywords: Green Pasta, Pasta, Grren Pasta Sauce, Appertizer
Frequently Asked Questions
What is the green pasta sauce called?
Pesto is technically a "salsa verde," as the phrase simply means "green sauce," but it's undoubtedly the most delicious of the green sauces, as it includes not only olive oil but also cheese (typically Parmesan, occasionally Pecorino) and nuts (often pine nuts, but sometimes with walnuts or other nuts, too)
What's the green stuff on pasta?
Spinach — Provides a lot of nutrients as well as a lovely green hue. The garlic and spinach were cooked in olive oil.
Is green sauce spicy?
Green sauce isn't thought to be particularly hot. The green chilies, on the other hand, provide heat to the tomatillos, which can be a little sweet. Some green sauce recipes use jalapenos and serrano peppers, which increase the spiciness. Green sauce comes in a variety of flavors, from mild to spicy.
What is hotter red or green sauce?
Cilantro is frequently used in both, but especially in green salsas, which have a strong herbal flavor. Red salsas are typically served somewhat cooled, whilst green salsas can be either chilled or heated. Is there any other universal rule? The red salsa is hotter than the green salsa.
Is green pasta healthier?
The amount of freeze-dried spinach added to the noodles is sufficient to turn it green, but that's all. When compared to conventional pasta, there isn't enough to provide any nutritional benefits. Your choice of refined, whole wheat, green, red, long, short, or bow-tie noodles will have little impact.
What are 3 different types of pasta sauce?
Types of Pasta Sauces
Marinara Sauce.
Alfredo Pasta Sauce.
Bolognese Pasta Sauce.
Vegan Tomato Pasta Sauce.
Bean Bolognaise.
Amatriciana Pasta Sauce.
Roasted Tomato Pasta Sauce.
Frutti di mare Pasta Sauce.
More Recipes to try!
Raw Zucchini Pasta with Creamy Avocado-Cucumber Sauce
Raw pasta recipes can leave you feeling revitalized and at your best throughout the hot summer months. To add variety to this meal, eliminate the cucumber and add an extra avocado if desired (you may like to add a couple tablespoons of extra virgin olive oil if you do).
Instead of basil, you might add some arugula to the puree. There are a plethora of ways to spice it up and keep it interesting! This sauce would go well with any type of pasta. But, hands down, zucchini noodles are the best way to eat it so refreshing and wonderful!
Pasta with Spinach Sauce
This meatless pasta with spinach sauce is quick and easy to prepare! The richness of the creamy spinach sauce is enhanced by the inclusion of sweet peas and cherry tomatoes, which offer color, flavor, and nutrition.