Classy Cosmopolitan Cocktails Recipe
The girls of Sex and the City developed the classic, classy vodka cocktail known as the "Cosmopolitan Cocktail"! With cranberry juice, lime juice, vodka, and Cointreau, this dish is neither too sweet nor too acidic and comes together quickly.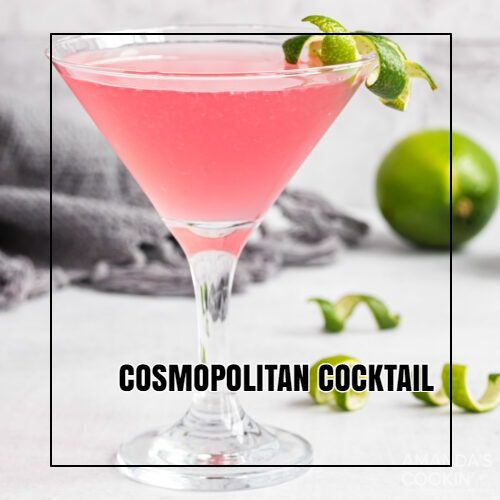 The straightforward traditional cosmopolitan soon rose to the top of the list of all-time most well-liked cocktails. It gained notoriety in the 1990s thanks to "Sex and the City," a television program featuring sexy Manhattan ladies. Even though it's ideal for everyone, it quickly gained a reputation as the ultimate girlie beverage. The beverage is far older than that, though. Although its beginnings are contested, Cheryl Cook in South Beach is thought to have mixed the original version of it in 1985.
Bartenders often make this refreshing fruit cocktail, but you can prepare it home with only a few simple ingredients. Details count in the cosmopolitan, so pick your booze carefully. Choose premium vodka; avoid using Triple Sec for Cointreau because the latter is more potent and has a more nuanced flavor. Thanks to our core recipe, you may expect a cosmopolitan with a dryer profile. It is not excessively sweet and is blush pink rather than crimson. Since it is more in line with classic martinis, many cocktail connoisseurs believe this to be a traditional cosmopolitan.
The cosmos can be made in countless ways. Some recipes add citrus or berry vodka, while others utilize Cointreau instead of another triple sec or extra cranberry juice. Everything comes down to personal preference. If your preferences lean toward sweetness, the version of our Cosmo below will be more to your liking. After taking a deep whiff of the citrus peel and oils and enjoying this delicious beverage with your eyes, take a sip of this fruity and satisfying beverage.
Serve this for sophisticated pre-dinner drinks, to ring in the new year, or for a girls' night in.
WHAT FLAVOR DOES THE COSMOS HAVE?
Cosmos have a slight taste from the lime and are delicious. They taste like cranberry juice with oranges (from the Cointreau). Even though there is a sizable amount of alcohol in them with an equal amount of non-alcohol ingredients, you can barely taste it. They are potentially harmful to drink!
WHAT YOU NEED FOR COSMOS
This is what you require:
Cranberry juice, SWEETENED – unsweetened cranberry juice is too tart; use sweetened instead! To achieve the ideal level of sweetness, you need sweet cranberry juice. By mistake, were you unsweetened? Save it and prepare a simple syrup by dissolving equal parts sugar in hot water, letting it cool, and then adding more as necessary.
Vodka is clear, flavorless vodka. Because Cosmos contains a lot of vodkas, utilize mid-shelf. If your budget allows, top shelf; nevertheless, I usually offer top-quality vodka straight.
Triple sec, sometimes known as Cointreau, is a clear liquor with an orange flavor. In my view, the best brand of triple sec is Cointreau (certainly the most well-known).
Fresh lime juice!
MAKE COSMOPOLITAN COCKTAILS AT HOME
Combine all ingredients in a cocktail shaker with ice, shake vigorously to cold, and then strain into a martini glass.
Orange peel is the traditional garnish. The Cosmopolitan's additional aroma, which is incredibly lovely, brings out the orange flavor.
Alternative Video Recipe: Cosmopolitan
Recommended Posts:
WHENEVER SERVE COSMOPOLITANS
Cosmos are one of those elegant-looking cocktails, making them perfect for serving as an aperitif at dinner parties. Additionally, it is a very little drink (as opposed to tall drinks with a lot of liquid, like Tequila Sunrises), so you won't overindulge before supper.
While I do think of Cosmos as a refined beverage, I also find them to be entertaining. Think about Thanksgiving, Christmas (on a color theme! ), Bachelorette Parties, Girls' Nights Out (well, nights IN! ), and other seasonal gatherings.
WHAT INGREDIENTS ARE IN A COSMOPOLITAN DRINK?
A Cosmopolitan Cocktail is a well-known alcoholic beverage included in the list of IBA-recognized libations. Cosmo's origins are debatable; some say it was created in the 1930s, while others say it was in the 1970s. (If you want to nerd out, read the entire article.)
WHAT CONTAINS A COSMO?
The ingredients for the traditional version of this cocktail are lime, Cointreau, Citron vodka, and typically sweetened cranberry juice. So why did we decide to remake this old favorite? Go on reading.
WHY YOU SHOULD MAKE OUR COSMOPOLITAN RECIPE
We've come up with many cocktail recipes for you, the home cook, Alex, and me! You don't need an expert mixologist to prepare our drinks because they are simple to make! We have many variations of classic drinks, like the French 75, the Moscow Mule, the whiskey sour, the gin fizz, and more. Why did we create our version of the Cosmopolitan?
It's simple! We've reduced it to the bare minimum. You can use regular vodka rather than purchasing a particular kind (more on that below).
You can choose the sugar level, and it's not overly sweet. The amount of sugar varies depending on the version you get at a bar; with this recipe, you may customize it. (There's more below as well.)
DOES A COSMO HAVE TO CONTAIN CITRON VODKA?
According to a purist, citron vodka is required for a "genuine" Cosmopolitan. It is a vodka with a lemon flavor that adds a pleasant citrus zing. However, we wanted to include items readily available in everyone's pantry for our recipe. (We want to keep things straightforward.) Therefore, we added lemon juice to regular vodka in this recipe. If you already have citron vodka on hand, use it in this recipe without a doubt! The lemon juice can be left out.
A COSMO WITH CRANBERRY JUICE THAT ISN'T SWEETENED
Cranberry juice with added sugar is used in traditional Cosmopolitan cocktails. However, we only utilized unsweetened, 100% cranberry juice in our rendition! Cranberry juice comes in various flavors on the market, many of which have sugar added. Added sugars or high-fructose corn syrup increase the sweetness of bottles labeled "cranberry juice cocktail." So why use cranberry juice that isn't sweetened?
You can control the sweetness, and it has less sugar. Use 100% juice and add maple or simple syrup to adjust the drink's sweetness. Due to its natural composition and milder sweetness, maple syrup is a favorite among us.
Brighter hues are used. Since 100% juice has a darker hue, this Cosmo's color is bright pink.
WHICH OTHER BEVERAGES CONTAIN CRANBERRY JUICE?
Want to use up the cranberry juice you still have? You may use it to make many fantastic cranberry cocktail recipes! Here are some suggestions:
Madras The Madras is a sour and acidic drink made with vodka, Cranberry, and orange juice. It resembles Cosmo a lot!
Alcohol Cranberry One of the simplest cocktails is vodka, cranberry juice, and lime spritzer on the rocks.
Champagne-cranberry cocktail, a unique holiday cocktail, may be made by substituting a little bit of champagne for vodka. For brunch, consider the Cranberry Mimosa.
Rum & Cranberry is a balanced, sweet-tart beverage made with rum, Cointreau, and lime juice.
Winds from the sea or the bay The Breezes are traditional and energizing cocktails suitable for outdoor consumption, a chill happy hour, or a breakfast beverage. Bay Breeze is a pineapple-based tropical flavor, while Sea Breeze contains grapefruit juice.
WHO WAS THE CREATOR OF THE COSMOPOLITAN?
One of the earliest references to the cosmopolitan is a 1934 publication titled "Pioneers of Mixing in Elite Bars 1903-1933," which features a gin, Cointreau, lemon, and raspberry syrup mixture. However, the drink didn't fully take off and evolve into the contemporary vodka-cranberry cocktail until the 1970s.
Bartenders were experimenting with a cranberry variation of the kamikaze at that time throughout the United States. And, as is typical with cocktail tales, numerous people claimed credit for developing the modern Cosmo. Several cosmo recipes likely developed at the same time. Without the internet, bartenders had to rely on word-of-mouth, bartending publications, and customers to spread recipes for their most innovative drinks.
HOW STRONG IS THE COSMOPOLITAN?
You can make the Cosmo as powerful or as subdued as you choose. For example, these two cosmopolitan recipes compare to an 80-proof vodka as follows:
The primary recipe has an alcohol by volume (ABV) of 27 percent (54 proof), whereas the sweetened variant has an ABV of 20 percent (40 proof). The stark contrast between the two is evident. Putting the cosmopolitan into context, The typical vodka martini has an ABV of 28 percent. The fruity Cosmo is not as innocent as she seems, and the sweeter the beverage, the simpler it is to consume too much of it.
Print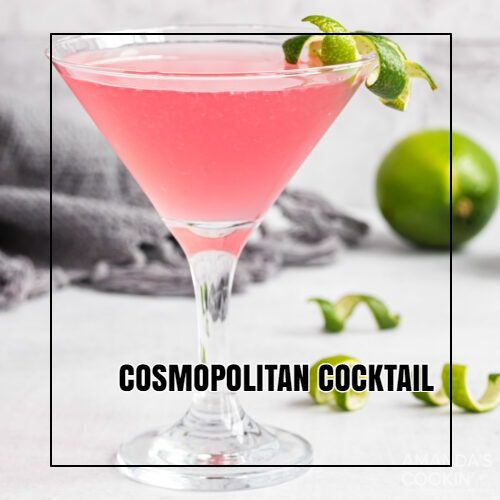 Cosmopolitan Cocktails
---
Description
The girls of Sex and the City developed the classic, classy vodka cocktail known as the "Cosmopolitan Cocktail"! With cranberry juice, lime juice, vodka, and Cointreau, this dish is neither too sweet nor too acidic and comes together quickly.
---
60

ml/ 2 oz 

Vodka

 

(Note 1)

30ml/ 1 oz 

Cointreu

90ml/ 3 oz 

cranberry juice

, sweet (not unsweetened, Note 2)

2

 

tsp

 

lime juice

 

, fresh

Ice

Orange peel

 

, optional garnish
---
Instructions
Add ice to the cocktail shaker.
Add lime juice, vodka, cointreau, and cranberry juice. Shake ten times with intensity.
into a martini glass that has been cooled. Orange peel is used as a garnish.
Nutrition
Serving Size:

1

Calories:

260kcal

Sugar:

20g

Sodium:

5mg

Fat:

1g

Saturated Fat:

1g

Unsaturated Fat:

0g

Trans Fat:

0g

Carbohydrates:

20g

Fiber:

0g

Protein:

0g

Cholesterol:

0g
Keywords: Cosmopolitan, Drinks, Cocktails
FAQs About Cosmopolitan Cocktails
What ingredients are in cosmopolitan drinks?
Muddle triple sec, lime juice, cranberry juice, and vodka in a cocktail shaker.
What flavors are in a cosmopolitan cocktail?
What flavor do the cosmos have? Cosmos have a slight taste from the lime and are delicious. They taste like cranberry juice with orange (from the Cointreau), and even though there is a sizable amount of alcohol in them with an equal amount of non-alcohol ingredients, you can barely taste it. They are potentially harmful to drink!
What does the name "cosmopolitan cocktail" mean?
Neal Murray, a bartender, claims to have invented the cosmopolitan in 1975 at the Minneapolis steakhouse Cork & Cleaver. When Murray allegedly added a dash of cranberry juice to a Kamikaze, the first taster exclaimed, "How cosmopolitan," according to Murray. The new beverage allegedly got its name as a result of this inciden
What is the drunkest cocktail?
The 10 Most Popular Cocktails
Old Fashioned. The Old Fashioned was invented by James E. …
Moscow Mule. Sophie Berezinski and her father owned a copper factory in Russia. …
Negroni. The Negroni was invented at Caffe Casoni in Florence, Italy in 1919. …
Mojito. …
Whiskey Sour. …
Daiquiri. …
Margarita. …
Mai Tai.
Is Cosmopolitan a beverage for women?
Many people don't realize that the Cosmopolitan, first introduced as a pink cocktail for ladies who lunch in the 1990s television series Sex in the City, was initially a martini and very much a man's drink consumed at the three-martini lunch.
More Alternatives Cocktails Recipes to try!
THE HANKY-PANKY RECIPE
The Hanky-Panky is a fantastic example of the global bartending innovation that took place during America's Prohibition and was created in the 1920s by Ada Coleman, a former head bartender at the American Bar at the Savoy Hotel in London.
One of only two women who have ever held the position of lead bartender for the American Bar, Coleman was once referred to be the "most renowned barmaid" in the world (the second of whom was appointed over a century later in the summer of 2021). Legend has it that she invented the beverage for a worn-out acquaintance who desired "something with a punch." Coleman created this potent cocktail, to the surprise of her guest: "By Jove! The true hanky-panky is that!
Since then, the beverage has gone by that name, and it is still a fantastic choice for anyone seeking a more assertive, potent variant of the traditional Negroni. In place of Campari, it is created using equal parts gin and vermouth and a few dashes of Fernet-Branca.
THE LONG ISLAND ICED TEA RECIPE
The Long Island Iced Tea is renowned for both its potent punch and the headache it will so kindly give you the following day. With a whopping 22 percent ABV, the Long Island Iced Tea is one of the booziest and most recognizable cocktails. It blends five distinct spirits in a symphony of flavors. To make a distinctive drink that belies its power, equal parts of vodka, rum, tequila, gin, and triple sec are combined with simple syrup, lemon juice, and a dash of cola.