24 Great Cocktails Ideas to Make at Home
Making elaborate cocktails recipes, including assembling savory garnishes and floral liquids, always gets us in the mood to celebrate. However, there are instances when we don't want to make a complicated drink (even if it's healthier than our normal libation) to satisfy our yearning for a cocktail. You wouldn't believe it, but mixology doesn't have to be complicated.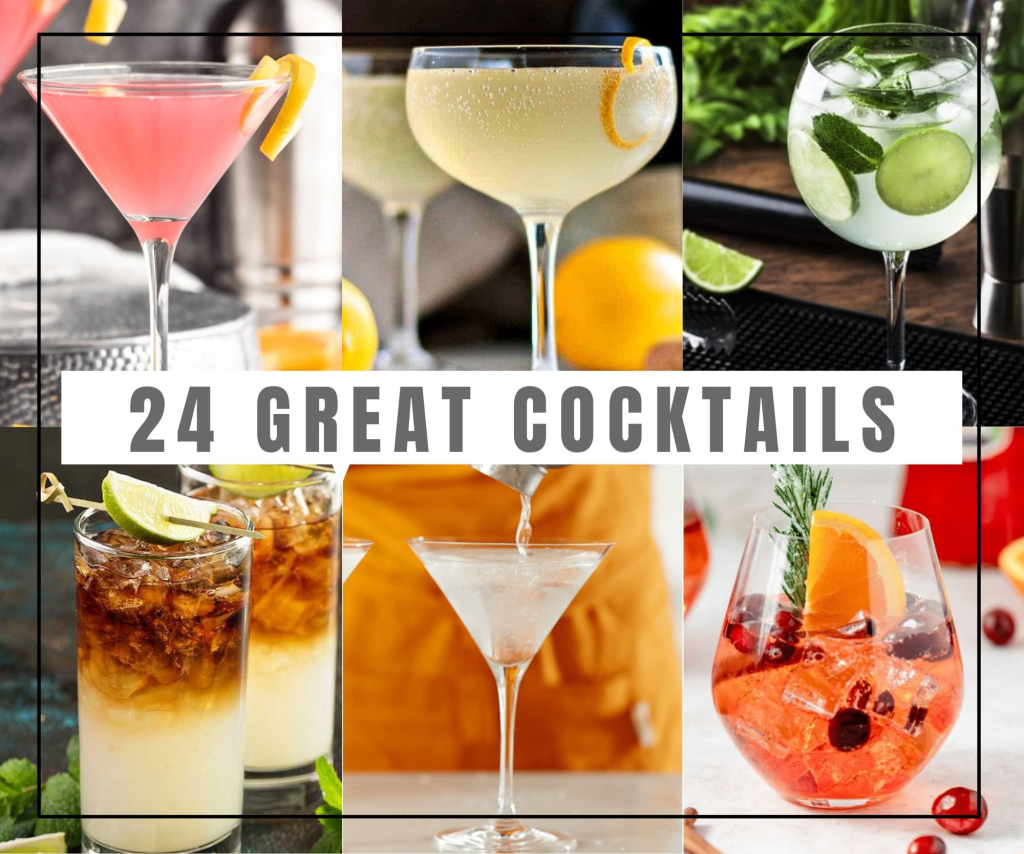 WHAT COCKTAILS ARE THE BEST?
When it comes to cocktails, the options are endless. New recipes are continually being developed due to the variety of alcoholic beverages and chasers available. The best cocktails, according to mixologists, are a good balance of booze, chaser, and flavor. The proportions are crucial. Any bartending novice can easily make classic drinks like the Manhattan or Cosmopolitan.
WHAT IS A COCKTAIL SHAKER USED FOR?
The components in many recipes must be shaken in a cocktail shaker. This straightforward bartending gadget is excellent for making the ideal drink and showcasing your bartending abilities. Hold the shaker with both hands and vigorously shake horizontally over your shoulder after adding your item and the ice. Shake for approximately ten seconds, then strain the cocktail over ice or into a chilled glass.
The flavor combination you didn't know you needed is strawberry and Hennessy. Cognac's smooth, creamy flavor is immensely reviving when combined with effervescent champagne and sweet strawberry syrup. You'll surely appreciate this one if you prefer to get lit with a delicious margarita cocktail!
Don't undervalue the power of the simple cocktail known as the Jager Bomb or Jägerbomb, which takes three minutes to prepare. This well-known beverage, which contains a Red Bull energy drink and a Jägermeister shot, is well-known to every bartender.
Unflavored vodka won't do for a Cosmopolitan; you need a citron variety. Additionally, give up using triple sec in cosmopolitan recipes because it has a strong flavor. After upgrading your bar cabinet with Cointreau, you won't ever make a drink with anything else. Because Cointreau makes the drink so AMAZING, I even add it to my mojito and Hemingway Daiquiri. Cointreau has a beautiful orange undertone and is smooth and fantastic.
The Screwball Drink has a great peanut butter flavor and is delightful and fruity. Skrewball, a brand-new whisky with an unexpected peanut infusion, is the primary component. Screwball Peanut Butter Whiskey mixes two classics for a unique flavor and out-of-the-box cocktail creations.
The bomb from Las Vegas, viva! Red Bull energy drink and Royal Flush Shot are combined to create this exciting concoction. Making this ideal party drink at home will allow you to demonstrate your bartending abilities to friends and family. Watch the video to learn how to make this vegas bomb shot recipe!
There's a reason why the Margarita is a classic. Tequila, orange liqueur, and lime juice are the only components. Rim optionally salted. This recipe includes all the necessary ingredients for a traditional margarita: salt, lime, ice, tequila, lime juice, and Cointreau. All you need for the day or evening is a cocktail shaker, a cocktail glass, and some enjoyable music. Gather your favorite people, mix up drinks, and enjoy the day.
7. RUM AND COKE (CUBA LIBRE)
The Rum & Coke, a traditional highball often associated with the Cuba Libre, is straightforward but excellent.
8. JUNGLE JUICE COCKTAILS
The simplest and best way to serve drinks at gatherings, holiday dinners, or during the Super Bowl is with jungle juice! Natural fruit and fruit juices are used in this reasonably priced cocktail, which also contains rum and vodka to start the party. This punch is tart, sweet, and cooling.
9. CLASSIC MARTINIS
There is a unique classic martini for every palate among these three. The Strawberry Mint flavor adds a pleasant richness to the taste, while the Classic is for traditionalists who want things the old-fashioned way. Ideal for your upcoming cocktail party.
10. TEQUILA SUNRISE
A Tequila Sunrise is a stunning cocktail made with tequila, orange juice, and grenadine syrup that is named for the hues of an early sunrise. A beautiful cocktail is produced by the way the orange juice and the scarlet grenadine combine.
11. CHAMPAGNE COCKTAIL
A juice, liqueur, and fresh fruit-based Champagne Cocktail that is both delicious and stunning. To make the ideal cocktail, combine your favorite flavors!
Get the champagne flowing and mix up a delicious, sparkling drink. These beverages taste excellent and look great when fresh fruit or sorbet is added.
12. VODKA LEMONADE
The ideal summertime beverage is vodka lemonade, which is boozy, zesty, and refreshing. Making this beverage at home couldn't be simpler; it's also known as Russian lemonade.
13. BOURBON COCKTAILS
If you enjoy bourbon, you must taste this silky, sumptuous cocktail. This recipe is made more sophisticated by a sprig of rosemary and some sweet maple syrup.
The ingredients include bourbon, lemon juice, maple syrup, rosemary, and ice.
14. MIMOSAS
My all-time favorite mimosa recipe is a short, bubbly drink with champagne and orange juice. Making a mimosa bar is also simple and offers some tasty and entertaining twists on the classic mimosa.
The greatest mimosas can be prepared in only 5 minutes and are perfect for holiday gatherings or weekend breakfasts. The cranberry orange mimosa is my favorite mimosa because of its delicious flavor and lovely appearance.
15. GIN AND TONIC
Even though the recipe is in the name, making the ideal gin and tonic requires some finesse and exact measurements. Learn how to make this short, traditional cocktail.
The ingredients are gin, tonic water, lime juice, and lime wedge.
16. MOJITO
Making mojitos for one or a large group is simple. Add fresh mint and freshly squeezed lime to this cocktail for the most fantastic flavor.
This rum-based beverage with a refreshing mint and lime flavor has Cuban roots and is ideal for enjoying by the beach or pool. If you're looking for a little literary cache, Ernest Hemingway is reported to have also enjoyed the mojito.
17. MANHATTAN COCKTAIL
Every bartender has a recipe for Manhattan in their repertoire. This traditional drink has been around since the 19th century but never goes out of style. Make it at home to demonstrate your mixology prowess!
18. LEMON DROP SHOTS
Do you enjoy sipping an incredible Lemon Drop Shot? I do. One of my go-to alcoholic beverages, when I'm out and about is a shot of lemon. It has a lot of citrus notes and is both sweet and sour. Years of ordering it at bars led me to the decision that it was about time I mastered the art of making a fantastic lemon drop shot recipe at home.
19. MOSCOW MULE
The Moscow Mule is one of the most cooling drinks on a hot summer day and is well-liked for a reason. A copper mug is the suggested vessel, and it just looks cool.
Lime juice should be squeezed into a Moscow Mule mug. Pour the vodka, add two or three ice cubes, and then add the chilled ginger beer. Stir, then plate.
20. FRENCH 75
The name of this drink, developed during World War I, is said to have been influenced by the idea that drinking it simulates being shelled by a French 75mm field cannon, a potent piece of artillery.
21. SPRITZ
The spritz has been a crowd-pleasing favorite aperitivo for more than two centuries since it is low in alcohol and high in a refresh. Although any amaro or liqueur can be used as a foundation, the classic Aperol Spritz is by far the most prevalent variation:
22. PIMM'S CUP
Since opening the first official Pimm's bar during the 1971 Wimbledon competition, more than 80,000 pints of the iconic British summer cocktail have been served to visitors.
23. VESPER
When you think of James Bond, martinis may come to mind, but this drink is his preferred beverage. The recipe was initially featured in Ian Fleming's 1953 book Casino Royale as a tribute to Vesper Lynd, the Bond girl. While Bond likes his "shaken, not stirred," most drinkers follow the convention that spirits-only concoctions should be stirred.
24. DARK & STORMY
When British sailors who were already rum enthusiasts started making their ginger beer in Bermuda in the late 1800s, they blended their two favorite beverages to create the delicious Dark 'n Stormy. Traditionally, only Gosling's Black Seal Rum, a native of Bermuda, is used to make the cocktail.
Print
Strawberry Hennessy
---
Author:

Prep Time:

5 Minutes

Cook Time:

15 minutes

Total Time:

20 minutes

Yield:

1

1

x
Description
Strawberry Hennessy is a taste combination you didn't know you needed. Cognac's rich, silky flavor is refreshing and delightful when combined with effervescent champagne and sweet strawberry syrup. You'll love this one if you appreciate getting lit with a delicious margarita cocktail!
---
2

 

oz

 

Hennessy

4

 

z

 

champagne

 

oz

 

strawberry syrup

 

(you can use store-bought or make your own at home, see below)

ice

fresh lemon and strawberries

 

for garnishing
Strawberry Syrup
3/4

 

pound

 

strawberries  I

1/2

 

cup

 

sugar

1/2

 

cup

 

water
---
Instructions
Make the Strawberry Syrup
Strawberry preparation involves removing the green leaves and slicing them into little pieces.
Strawberries, sugar, and water should all be combined in a big pan over a medium-high heat. up to a boil.
After boiling, reduce the heat and let the mixture simmer for 15 minutes.
Get rid of the heat. Strawberries are blended in a blender. (I blended with an immersion stick.)
Put a sieve over the strawberry syrup to filter it. (Be careful not to overpress the strawberries so that your drink doesn't clump.)
Make Strawberry Hennessy Cocktail
Ice and fresh strawberries should be placed in a cocktail glass.
Hennessy, Champagne, and strawberry syrup should be poured in. Mix slowly. Dispense and savor!
Notes
Avoid pressing the strawberries too firmly into the syrup to keep your drink clear.
Your drink's sweetness level can be adjusted. Strawberry syrup should be added gradually as you increase the initial amount. For the ideal flavor, taste and make adjustments.
To avoid spilling, pour the champagne into the glass carefully.
Category:

Drinks

Method:

mixing

Cuisine:

American
Nutrition
Serving Size:

1

Calories:

340kcal

Sugar:

35g

Sodium:

14mg

Fat:

0g

Saturated Fat:

0g

Unsaturated Fat:

0g

Trans Fat:

0g

Carbohydrates:

40g

Fiber:

0g

Protein:

1g

Cholesterol:

0g
Keywords: Strawberry Hennessy
FAQs About Great Cocktails
What are the ten most popular cocktails?
Here are 10 of the most popular cocktails that will always be in style.
Daiquiri.
Gimlet.
Manhattan.
Negroni.
Old Fashioned.
Espresso Martini.
Passionfruit Martini.
Mimosa.
What is the most delicious cocktail?
Get that holiday feeling with our six mojitos you can make in minutes.
Espresso martini. For coffee lovers, the espresso martini is the caffeinated cocktail of choice. …
Pimm's. …
Passion fruit martini. …
Piña colada. …
Frozen strawberry daiquiri. …
Rum punch. …
Cosmopolitan. …
Negroni.
What are the seven classic cocktails?
Magnificent Seven Cocktails
Old Fashioned. Made with: Bourbon (or rye whiskey but OK with 100% bourbon), sugar syrup, and angostura bitters. …
Manhattan. Made with: Bourbon, sweet vermouth, and angostura bitters. …
Dry Martini. Made with: Dry gin, dry vermouth and orange bitters. …
Daiquiri. …
Negroni. …
Margarita. …
Espresso Martini.