Cream Cheese Stuffed Peppers Recipe! (Easy 20 minutes)
★★★★★ 5 from 2 reviews
Cream cheese stuffed peppers are a delicious snack or light supper.
Mini peppers are packed with a cream cheese and bacon mixture to create a dish that will please everyone.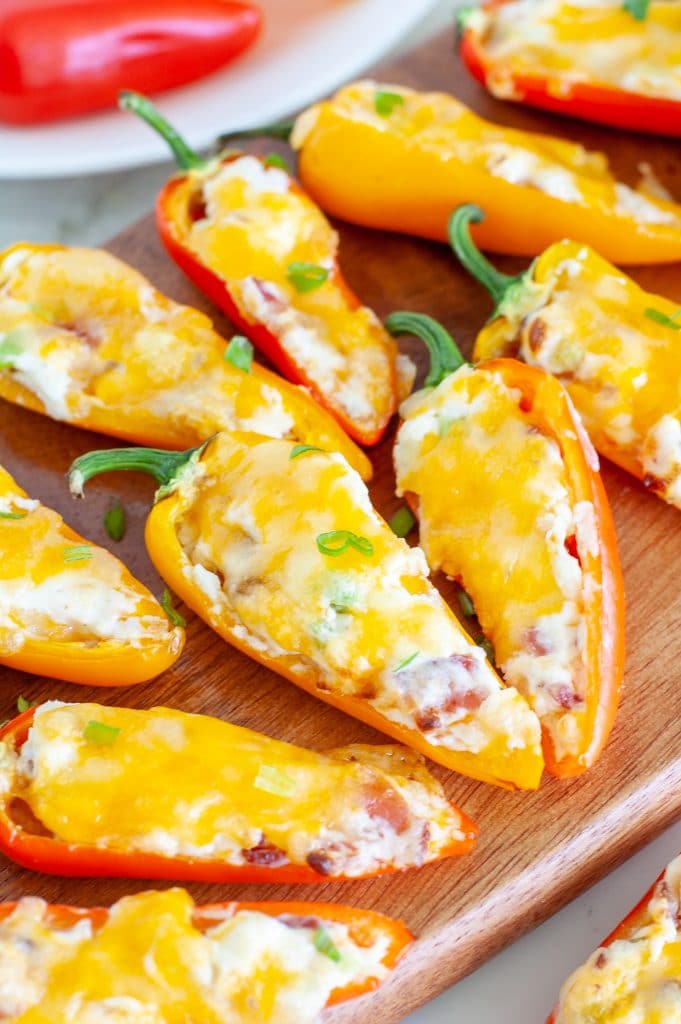 Family and friends will go crazy over these stuffed tiny peppers. With bacon, ranch, and cheese, they have a filling that tastes like crack.
What you will like these peppers
They're easy to make and only take around 20 minutes.
Delicious — This flavor combination is usually a winner.
Great appetizer — I enjoy serving this at holidays, football games, potlucks, and other events.
INGREDIENTS YOU'LL NEED:
Mini bell peppers – These can typically be found in a bag in the produce section close to the bell peppers.
Cream cheese – Be sure to let the cream cheese soften before mixing.
Bacon – Cook bacon slices and crumble or use bacon bits.
Ranch seasoning – Use prepackaged or homemade seasoning.
Shredded cheese – Use you favorite like shredded cheddar or colby jack.
Green onion – Dice green onion or substitute with chives.
Mini bell peppers — These are normally found in a bag among the bell peppers in the vegetable area.
Cream cheese – Before mixing, allow the cream cheese to soften.
Bacon — crumble cooked bacon pieces or use bacon bits.
Use ranch seasoning, either prepackaged or homemade.
Use your preferred shredded cheese, such as shredded cheddar or colby jack.
Green onion – dice green onion or use chives instead.
Cream Cheese Stuffed Peppers Video Recipe:
Suggested Posts
How to make cream cheese stuffed peppers with bacon
Clean the peppers and cut them in half. Remove the seeds from the pepper halves and keep them aside.
Cream the cream cheese with a mixer until it is softened. Toss in the ranch seasoning and stir to mix. Combine the bacon, onions, and shredded cheese in a mixing bowl.
Fill each half of a pepper with the cream cheese mixture. Place on prepared baking sheet and top with additional shredded cheese.
Bake at 400°F for 5-7 minutes, or until cheese is melted. Warm the dish before serving.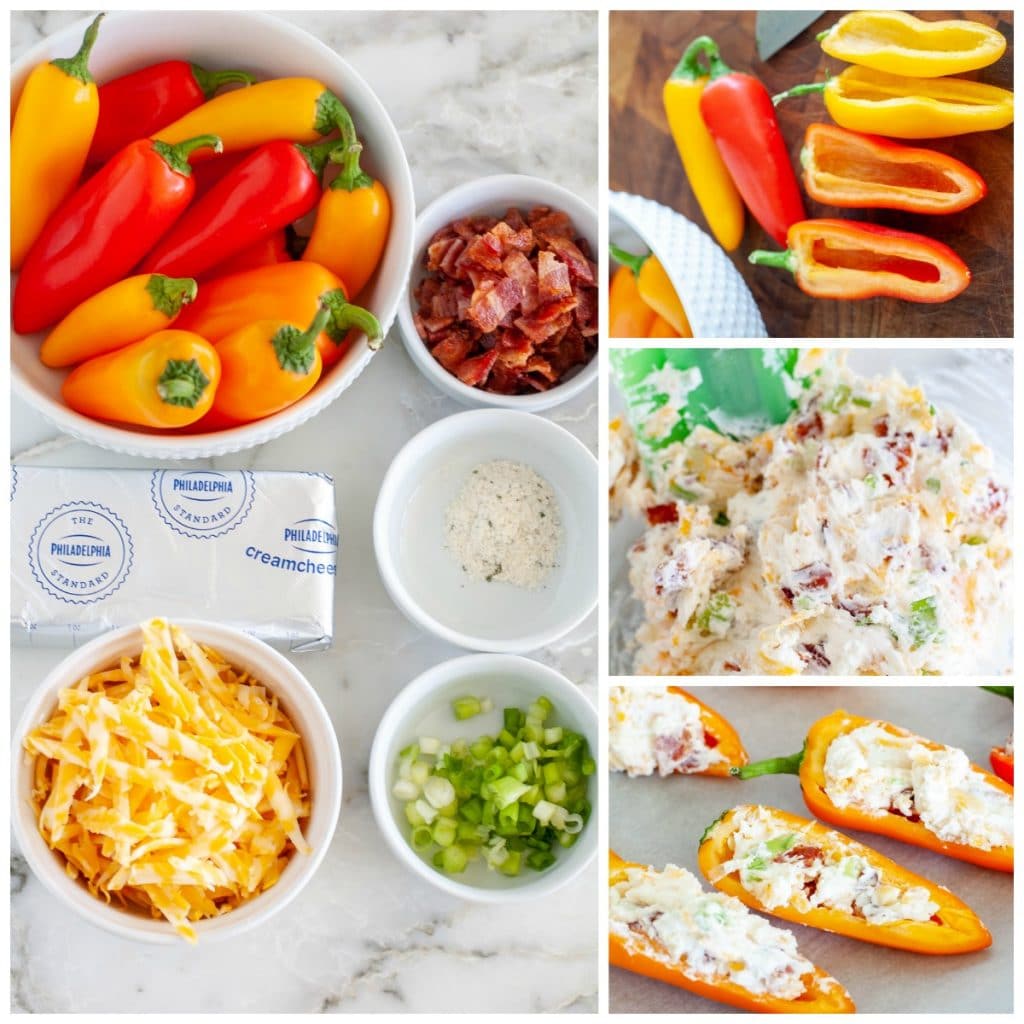 Can I make these in the air fryer?
Yes, follow the steps for preparing and stuffing the peppers. Place the stuffed peppers in the air fryer basket and top with cheese. Cook for about 3 minutes at 380°F, or until the cheese has melted.
Can you make these ahead of time?
Yes, if you're making them for a party, you can make them ahead of time. Fill the peppers with the stuffing as directed. Refrigerate overnight, covered with plastic wrap or in an airtight container.
Top with grated cheese and bake according to package directions when ready to serve.
Recipe tips
Allow the cream cheese to soften at room temperature before using. This aids in the creation of a creamy texture.
If the peppers are overstuffed, the filling will spill out when roasted. Because each pepper is different in size, it's difficult to specify a precise number, but stuff the peppers to the top of the opening.
How to store stuffed mini peppers
Allow to cool completely before storing in an airtight jar in the fridge for up to 3 days. Heat in the oven, microwave, or air fryer until hot.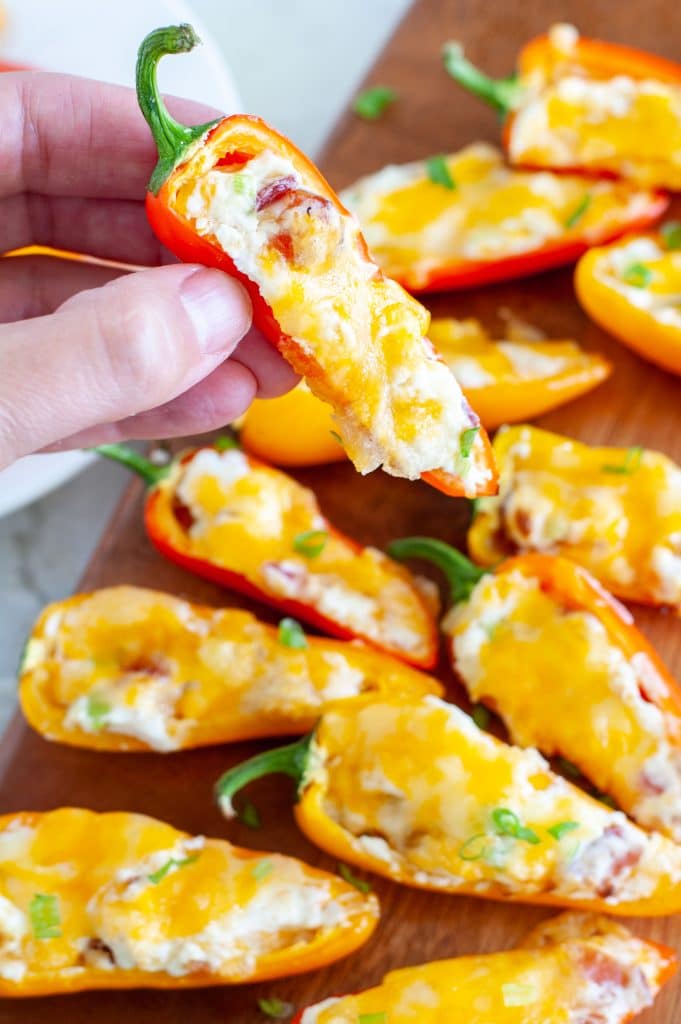 Recipe variations
A number of items can be put inside little peppers. Here are a couple more of our favorite pairings.
Cooked, crumbled Italian sausage and mozzarella cheese can be substituted for the bacon. 1/2 teaspoon Italian seasoning can be used in place of ranch dressing. Dip in marinara sauce of your choice.
Use shredded chicken or ground beef, cream cheese, shredded cheddar cheese, and taco seasoning for a Mexican-inspired dish.
Ground turkey, cream cheese, Greek seasoning blend, and goat cheese are used in this recipe.
Expert tips
Make sure the cream cheese is softened at room temperature before mixing it in with the rest of the filling ingredients. Leave the cream cheese on the counter for 30 to 60 minutes, or until you can easily press an indent with your finger. In the microwave, I do not advocate softening.
Using parchment paper to line your baking sheet makes it easier to clean up and prevents any cream cheese filling from sticking to the pan.
Does your oven have a hot spot? To achieve a uniform roasting, rotate your baking sheets halfway through.
Make all of the processes up to the point of baking in the oven ahead of time and store the little peppers in the refrigerated until ready to bake.
Print
Cream Cheese Stuffed Peppers
---
Author:

Prep Time:

10 minutes

Cook Time:

10 minutes

Total Time:

20 minutes

Yield:

24

1

x
Description
Cream cheese stuffed peppers are a delicious snack or light supper. Mini peppers are packed with a cream cheese and bacon mixture to create a dish that will please everyone.
---
12

mini peppers, cut in half

1

8 oz cream cheese, softened

1 teaspoon

ranch seasoning

5

pieces bacon, cooked and crumbled

1 1/4 cups

shredded cheese

3

green onions, chopped
---
Instructions
Preheat the oven to 400 degrees Fahrenheit. Line a baking sheet with parchment paper or coat it with nonstick cooking spray.

Peppers should be cleaned and chopped in half. Take out the seeds.

Using an electric mixer, whip cream cheese in a mixing bowl. Combine ranch seasoning, 1 cup shredded cheese, onions, and bacon in a large mixing bowl.

Fill each half of a pepper with the cream cheese mixture and place on a baking sheet that has been prepped. Sprinkle the remaining shredded cheese on top of each pepper half.

Bake for 5-7 minutes, or until the cheese is completely melted.
Category:

Appetizer

Method:

microwave

Cuisine:

American
Nutrition
Serving Size:

24

Calories:

25kcal

Sugar:

1g

Sodium:

57mg

Fat:

2g

Saturated Fat:

1g

Unsaturated Fat:

0g

Trans Fat:

0g

Carbohydrates:

1g

Fiber:

1g

Protein:

1g

Cholesterol:

5mg
Keywords: stuffed Peppers, Cream cheese, Appetizer,
Frequently Ask Questions
Should peppers be precooked before stuffing?
Is it necessary to boil the peppers first before stuffing them? No, you don't have to fry the peppers ahead of time, although they will stay crisp if you don't.
Is peppers with cream cheese healthy?
Cream cheese cover the insides of the pepper halves. Serve with chopped peppers on top. Use PHILADELPHIA Olive with Red Bell Pepper Cream Cheese Spread to make this dish. This delectable low-fat treat is made with a trio of peppers that are both high in vitamin C and a strong source of vitamin A thanks to the sweet red pepper.
Can I freeze cream cheese stuffed peppers?
Yes, the cream cheese stuffed baby peppers can be frozen. To make them last longer, I recommend chilling them before baking. Assemble and freeze for up to one month in an airtight container. Remove from freezer and arrange on baking sheet in a single layer when ready to serve.
Should I boil my bell peppers before stuffing them?
Before stuffing your bell peppers, you may totally blanch them. … Pre-cooking refers to the practice of commencing the cooking process for your stuffed peppers ahead of time. Because stuffed peppers can take up to 45 minutes to bake, cutting the time down with a quick boil saves me a lot of time.
How do you know when stuffed peppers are done?
Cover the peppers with it, sprayed-side down, and tightly cover the roasting dish. Bake for 1 hour, or until the peppers are softened but not mushy and the filling is thoroughly cooked. If desired, garnish with scallions before serving.
More Recipes to try
LOW CARB KETBACON STUFFED BELL PEPPERS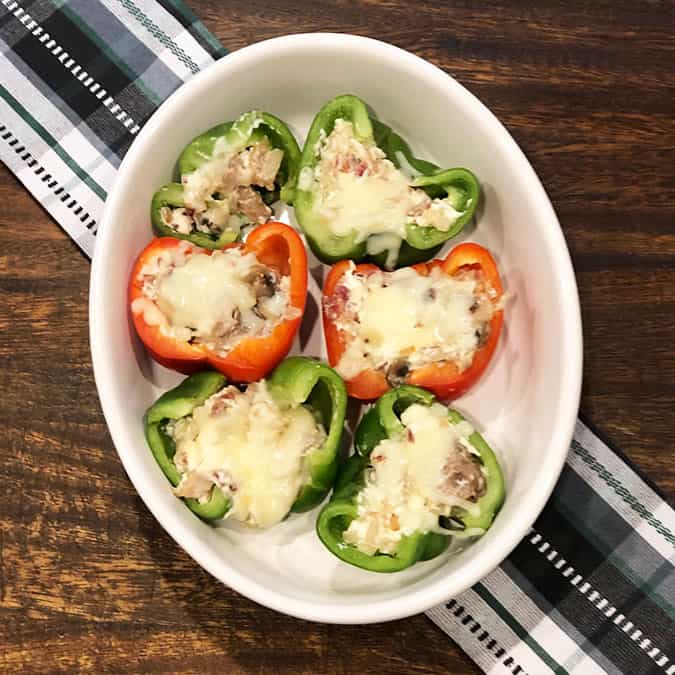 This low-carb dinner recipe for bacon-stuffed bell peppers with cream cheese is fantastic. They're loaded with bacon and cheese, and while they're low in carbs, they're also a great recipe for the whole family. I've been getting a lot of low-carb and keto recipes requests from readers, so I wanted to make sure I met them. I'm working on adding some gluten-free and freezer-friendly meals, as well as more low-carb recipes.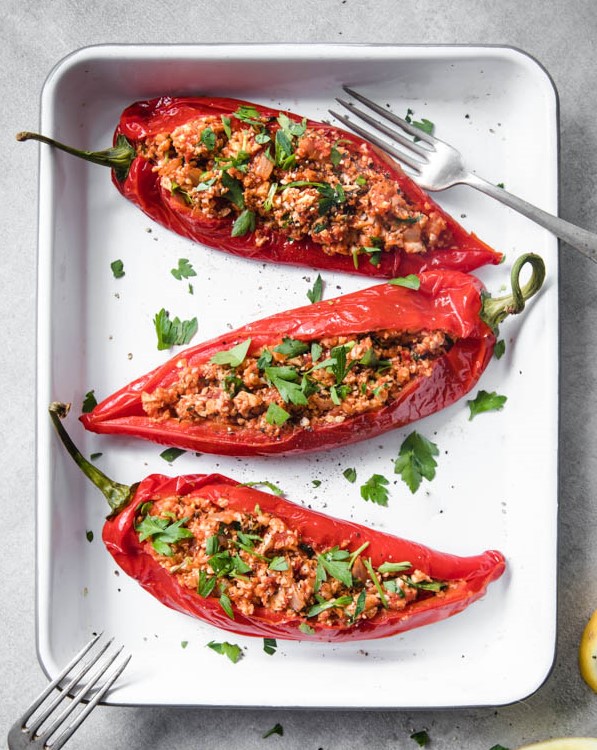 Stuffed peppers with cauliflower rice and Mediterranean spices are a fantastic low-carb, keto-friendly, and vegetarian dish!
All around the world, you may find a variety of stuffed peppers with a variety of contents and flavors. Stuffed peppers are hollowed or halved peppers that have been filled with meat, poultry, turkey, or merely vegetables. White rice is frequently served with a sauce or cheese, as well as some form of sauce or cheese. When you replace the white rice with cauliflower rice, you can make stuffed peppers that are low-carb and keto friendly.
Although today's recipe is a vegetarian stuffed pepper, if you want, you may use ground beef, chicken, or turkey instead. You can use it in a variety of ways.