Ultra Crispy Air Fryer Frozen Onion Rings – (Easy Recipe!)
★★★★★ 5 from 1 reviews
These Air Fryer Frozen Onion Rings are one of my favorites because they're so quick and easy to make.
The ease with which these air fryers can produce delicacies that are as excellent as deep-fried foods is incredible.
I like how easy it is to clean up, and my husband and I both like these nicely crisped onion rings with a big, meaty burger!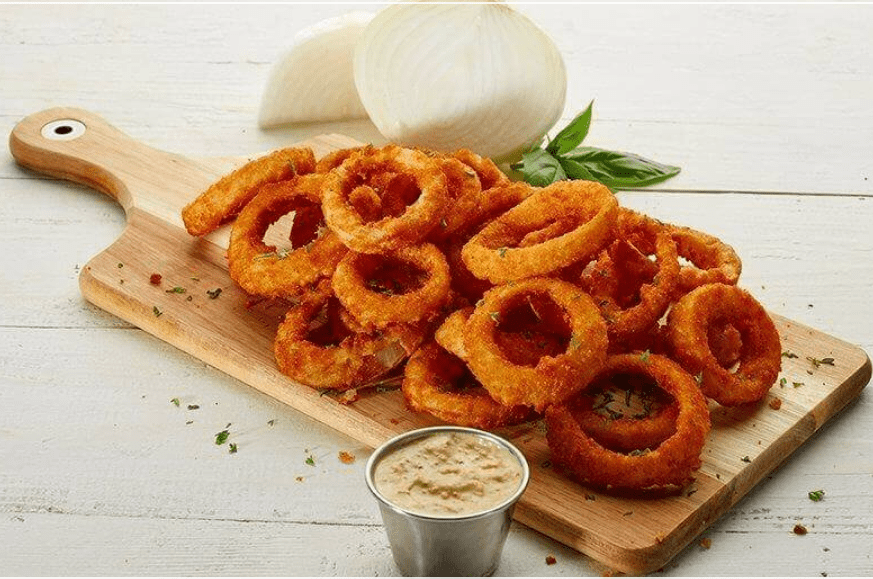 Frozen Onion Rings in the Air Fryer are fantastic!! Frozen foods were created with the air fryer in mind. Cooking frozen items in the Air Fryer Has Transformed My Life! Easy and delicious are two of my favorite words.
Frozen onion rings were one of the first things I ever made. I was very disappointed the first time I cooked them. I put my air fryer away for a week and then returned to them, mainly because my youngest said, "Please mom, may I have some onion rings?" I obviously agreed, and the rest, as they say, is history. But, after all, who doesn't enjoy a delicious Air Fryer Frozen Onion Ring?
HOW TO MAKE AIR FRYER FROZEN ONION RINGS
Preheat the air fryer to 350 degrees Fahrenheit. Preheating your air fryer ensures that everything cooks uniformly, which is especially crucial when cooking from frozen.
Take your favorite onion ring brand from the freezer. In your air fryer, place 6 to 7 ounces of frozen onion rings. This turned out to be half of a bag of Alexia Onion Rings.
This recipe was cooked in my Cosori Air Fryer. It has a square basket and is ideal for preparing enough food for my four-person family.
Cook the onion rings in the basket for 4-5 minutes, shaking halfway through.
Remove from the air fryer and serve right away with your favorite dipping sauce (hello, ketchup!).
HOW TO COOK AIR FRYER FROZEN ONION RINGS
Regardless of the brand, we have a time range for crispy onion rings that you can count on. You'll get a delicious batch that tastes like it came straight from the deep fryer if you adjust the timing as needed.
The best part is that you didn't have to use any oil. It's difficult to resist creating a second batch of onion rings because the crunch is so fantastic!
Don't defrost the meat first. When onion rings are cooked straight from the freezer, they are the crispiest. There's no need to thaw it first.
The more you fill the air fryer basket/tray, the more you'll need to shake it to ensure that everything cooks evenly.
Don't overfill the basket/tray. The maximum you should fill it with is around 1/2 full.
Other Air Fryer Recipes
Homemade Air Fryer Sweet Potato Fries (Crispy) Here
Tender Air Fryer Tuna Steaks Recipe (Best Ever) See more
Crispy Air Fryer Frozen Lumpia (So Easy!) Click Here
How Do I Get Really Crispy Onion Rings In The Air Fryer
One of my favorite tips is to use olive oil to spritz the frozen onion rings. Alternatively, I put the frozen onion rings in a large mixing basin, add a couple of tablespoons of olive oil, and coat the onion rings with my hands.
How Do I Reheat Onion Rings In My Air Fryer?
This is an excellent question, especially if you have leftover fast-food onion rings.
Reheat your air fryer to 350 degrees Fahrenheit for around 5 minutes. Simply press the preset button if your air fryer has one; keep in mind that each air fryer is slightly different.
Set the onion rings in the refrigerator for 4 to 5 minutes.
What About Homemade Onion Rings?
By coating onion rings in flour, egg, and breadcrumbs, I attempted to produce my own handmade onion rings. While they do turn out acceptable, the breeding doesn't seem to stick, and they aren't as good as I'd like.
Typically, onion rings are coated in a wet batter and then tossed into a deep fryer's hot oil. You won't be able to replicate this using an air fryer, so if you want to produce your own onion rings, you'll have to dredge them.
FREQUENTLY ASKED QUESTIONS
Can you cook frozen onions in the air fryer?
Spread out the frozen onion rings equally in the air fryer basket. There's no need to use any oil spray. Air fry for 10 minutes at 400°F/205°C. About halfway through cooking, give it a good shake and a gentle toss.
How long do you cook Ore Ida Onion rings in the air fryer?
1. Preheat your air fryer to 400°F (205°C) and spray the air fryer basket or trays with nonstick cooking spray. …
2. Arrange onion rings in a uniform layer in the basket or on trays. …
3. Air cook the onion rings for about 4-5 minutes, then flip them over and air fry for another 4-5 minutes.
How long do you fry frozen onion rings?
1. Preheat the oil.
2. Remove the basket from the oil and fill it with the amount of onion rings you want to cook.
3. Place the basket in the hot oil and lower it in.
4. Cook until browned and starting to float
5. Deep fry for about 5 minutes.
Print
Ultra Crispy Air Fryer Frozen Onion Rings – (Easy Recipe!)
---
Author:

Cook Time:

12 Minutes

Total Time:

12 Minutes

Yield:

2 Servings
Description
The way frozen onion rings cook is influenced by a number of factors. Because they all differ in size, thickness, and occasionally coating, you'll have to alter your timing accordingly. 
---
6

 

ounces

 (

170

 

g

) 

Frozen Onion Rings

salt

 

, to taste

black pepper

 

, to taste
---
Instructions
1. Spread out the frozen onion rings equally in the air fryer basket. There's no need to use any oil spray.
2. Air fry for 10 minutes at 400°F/205°C. About halfway through cooking, give it a good shake and a gentle toss. If you're making larger batches or the onion rings aren't frying evenly, turn them many times in subsequent batches.
3. If necessary, air fried for a further 1-4 minutes at 400°F/205°C or until crisped to your taste. If desired, season with salt and pepper.
Notes
AIR FRYING TIPS AND NOTES
1. There is no need for oil. Cook frozen without thawing.
2. If necessary, shake or turn the container. Make sure the air fryer basket isn't too full.
3. The timing for this recipe is predicated on using an air fryer that hasn't been preheated. If you cook onion rings in many batches back to back, the subsequent batches may cook a little faster.
4. The recipes were tested in batches ranging from 3.7 to 6 quarts. Air fryers are a type of air fryer. If you're using a larger air fryer, the onion rings may cook faster, so adjust the cooking time accordingly.
5. Set a timer to shake, flip, or toss as indicated in the recipe.
You may need to lower the cooking time by a few minutes if your air fryer is warmed or if you are cooking many batches (unless preheating is called for in the recipe)
Category:

Snacks

Method:

Fry

Cuisine:

American Frozen Foods
Keywords: Air Fryer Frozen Onion Rings, Air Fryer
Alternative recipes to try: