Easy to cook Frozen Taquitos In Air Fryer [6 Minutes Recipe!]
★★★★ 4 from 3 reviews
Making frozen taquitos in the air fryer is fast, requires almost no clean-up and doesn't call for any extra oil.
These crispy rolls are perfect for a fast appetizer or meal.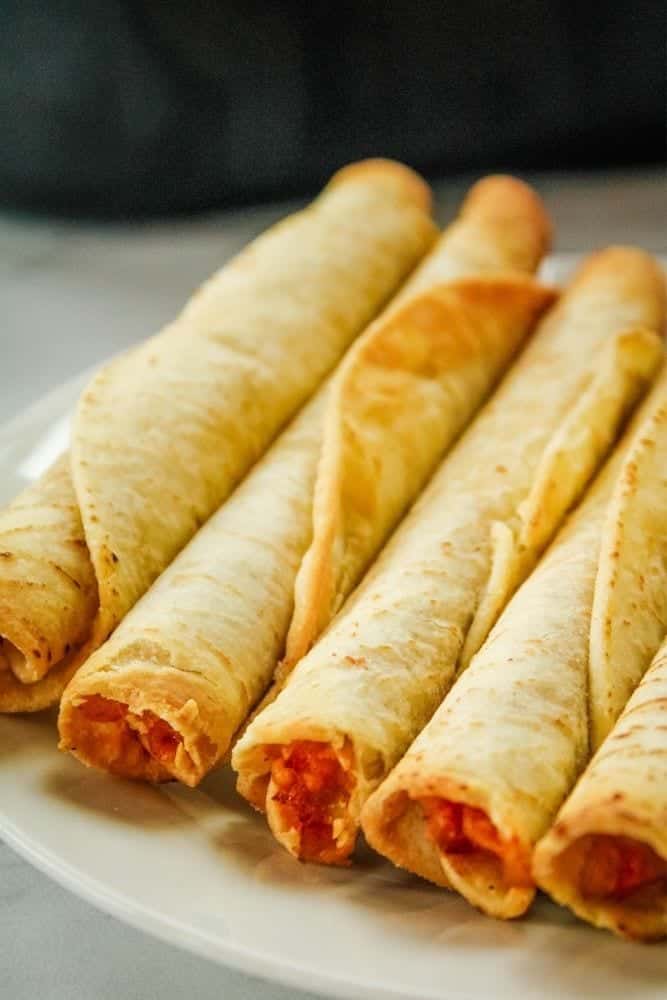 There are various factors that influence how frozen taquitos cook. Because the size, thickness, kind of filling, thickness, and type of tortilla varies, you'll need to alter your timing accordingly. Overcrowding the basket will result in uneven cooking. Only a single, even layer should be filled. If necessary, cook in batches.

Every air fryer is different, and some cook at a considerably higher temperature than others. After you've cooked your first batch, you'll have a better idea of what works best for your air fryer model and meal size. These were tested in air fryers with baskets. More recipe notes can be found below the recipe. Taquito nutrition varies based on the type of taquito.
One of my favorite things about air fryers is that they do a great job of crisping up food. Everything from egg rolls to waffle fries, this cooking method provides the perfect amount of crunch. That's why I love cooking frozen taquitos in the air fryer. The crispy tortilla roll is so good and in my opinion, tastes just like it came out of the deep fryer without the extra oil.
WHAT IS TAQUITOS?
"Small taco" is the Spanish word for "taquito." They're usually made with a cheese, chicken, beef, or bean filling within a rolled up tortilla. It's then fried to perfection and topped with a variety of toppings and dips.
ARE FROZEN TAQUITOS PRECOOKED?
Yes, the majority of taquitos are cooked before being packaged. This is done to keep the interior ingredients and flavors fresh. Even if the frozen taquitos are entirely cooked, it is still necessary to fully heat them.
WHAT IS THE DIFFERENCE BETWEEN TAQUITOS AND FLAUTAS?
In terms of difference, there isn't much. A maize tortilla is used to make a taco, while a flour tortilla is used to make a flauta. The names are frequently used interchangeably to refer to the same object, and various companies use the same term interchangeably.
What exactly are these delectable rolled treats? "A taquito, tacos dorados, rolled taco, or flauta is a Mexican culinary meal that typically consists of a small wrapped-up tortilla filled with filling, such as beef, cheese, or chicken," according to Wikipedia. After that, the tortilla is crisp-fried or deep-fried.
When making these, start with a small batch to check what timing works best for your desired texture. Because brands vary so greatly in size, thicker brands may take longer to cook. Also, if you prefer your flautas to be a little softer, lessen the cooking time so they aren't as crunchy.
Video Recipe: How to cook Air Fryer Taquitos
Suggested Posts:
WHAT YOU NEED:
Frozen taquitos: Pick your favorite brand of frozen taquitos. It's just necessary to heat the taquitos before eating because most manufacturers precook them. (The images are of flour tortillas with Jose Ole chicken and cheese.
Air Fryer: I use a 5.8 quart Cosori. I like the square basket because you are able to fit more food. The instructions will be the same regardless of the model you have
How to make
When it comes to preparing frozen taquitos, this is my go-to method. In less than 10 minutes, there's no need to pre-heat or thaw the ingredients.
Place the frozen taquitos in the air fryer basket after removing them from their packing. Without stacking, I can generally fit 6-7 in mine.
Cook for 3 minutes at 390 degrees F, then flip and cook for another 3-4 minutes at 390 degrees F, or until they are cooked through.
Remove the air fryer from the oven with care. To avoid chipping off any protective covering, use silicone tongs rather than metal tongs.
HOW TO COOK AIR FRYER FROZEN TAQUITOS OR FLAUTAS
One of our favorite snacks and finger foods is air fried frozen taquitos! The air fryer makes them extra crispy and delicious. It's amazing how easy it is to cook frozen taquitos directly from the freezer in the air fryer.
The outside of the tortilla is crisp and crunchy, and the middle is perfectly cooked. We've cooked them from scratch many times.
HOW TO STORE AIR FRYER TAQUITOS AFTER COOKING
These air fryer frozen taquitos will last up to 3 days in the fridge. When you're ready to dine, reheat them according to the instructions below.
WHY YOU'LL LOVE AIR FRYER TAQUITOS
An air fryer is one of the BEST and FASTEST ways to prepare frozen taquitos.
Unlike a frying pan or a microwave, an air fryer does not lose taste.
Your air fryer chicken frozen taquitos are ready in less than 8 minutes, which is faster than ordering takeout and far faster than cooking in the oven.
The entire recipe just calls for one frozen package of taquitos, and it's practically ready to eat!
WHAT ARE THE BEST FROZEN TAQUITOS?
There are many brands on the market, even gluten-free ones, but the ones we have tried and recommend are:
HOW TO REHEAT TAQUITOS IN AIR FRYER
If you need to reheat leftovers, toss them in the air fryer and cook for 3-4 minutes at 350 degrees Fahrenheit.
HOW TO SERVE
Taquitos are frequently accompanied by dips or toppings. Some of my favorites include:
Sour cream
Guacamole
Cream cheese salsa dip
Taco sauce
Cheese dip
Ranch dressing
Boom boom sauce
TIPS:
If you have any leftovers, keep them in the refrigerator for up to three days in an airtight container.
My favorite thing to say is that each air fryer cooks in a slightly different way.
Make sure there's enough space in the basket to cook evenly and the hot air circulate around them.
You can lightly spray them with olive oil before frying if you want them to be particularly crispy and brown.
Use the same cooking directions for cooking frozen flautas in the air fryer.
Print
Frozen Taquitos In Air Fryer
---
Author:

Prep Time:

2 minutes

Cook Time:

6 minutes

Total Time:

8minutes

Yield:

2

1

x
Description
Want To Know How To Make The Best Bloves Sauce At Home?! Follow Along!
In the air fryer, there's nothing better than a quick Grands Biscuit, and these frozen Grands Biscuits are simply fantastic! So, the next time you need to make a batch, use your Air Fryer instead of the traditional oven! Because you'll always get a Grands biscuit that's just right and tasty!
---
---
Instructions
Arrange the taquitos in a single layer in the air fryer basket.
Cook for 3 minutes at 390 degrees F. Cook for another 3-4 minutes at 390 degrees F, or until desired crispiness is achieved.
Remove from the air fryer with care and serve warm.
Notes
This cook time is based on using an air fryer that hasn't been warmed. If you're cooking batches one after the other, you might want to cut the cook time in half.
Category:

Snack, Appetizer

Method:

Air Fry

Cuisine:

Mexican
Nutrition
Serving Size:

2

Calories:

220kcal

Sugar:

0g

Sodium:

0g

Fat:

10g

Saturated Fat:

0g

Unsaturated Fat:

0g

Trans Fat:

0g

Carbohydrates:

25g

Fiber:

0g

Protein:

0g

Cholesterol:

15mg
Keywords: Frozen Grands Biscuits, Biscuits,
Frequently Asked Questions
How long do you cook frozen taquitos?
Bake at 400 degrees Fahrenheit. On a baking sheet, evenly space the frozen taquitos 1 inch apart. Cooking time for a taquito is about 12 minutes. Allow 1 minute for the taquitos to cool before eating.
How long do you cook frozen taquitos?
Fry the taquitos for a few minutes in canola, peanut, or vegetable oil until golden brown. (Preheat the oven to 400 degrees Fahrenheit and bake the taquitos for 10-15 minutes on a non-stick baking sheet.) When they're done, serve 3-4 on a plate.
Do you need to preheat an air fryer?
Preheating the air fryer is optional, but if you don't, your food will take longer to cook, may cook unevenly, and the outside will be less crispy.
Can you put aluminum foil in an air fryer?
Because they create heat with hot air rather than actual microwaves, putting foil in an air fryer does not result in the same terrifying spark show. … Because air fryers work by circulating hot air from the bottom of the fryer, this is the case. If you line it with foil, the air movement will be restricted, and your food will not cook correctly.
How do you cook El Monterey Taquitos in the air fryer?
Preheat the Air Fryer to a temperature of 380°F. If necessary, coat the air fryer basket with nonstick cooking spray. Fill the bottom of the air fryer basket with frozen taquitos in a single layer. Air fry the taquitos for 8-10 minutes at 380 degrees Fahrenheit, or until thoroughly cooked and golden brown.
More Taquitos Recipes to try:
Vegan Air Fryer Taquitos
Taquitos made with mashed potatoes, the way Mom used to make them. They're vegan now, and none of the flavors have been lost! Serve with nondairy yogurt, Mexican tomato sauce, guacamole, or other sides of your choice.
Air-Fryer Taquitos with Cauliflower and Black Beans
These taquitos come out crispy on the outside and delicate on the inside thanks to the air fryer. When putting taquitos in the air fryer, it's best to place them seam side down so they keep their shape and stay closed while cooking. More vegan air-fryer recipes can be found here.