Perfect Air Fryer Asparagus
★★★★★ 5 from 1 reviews
Crispy tips and soft stems characterize this Air Fryer Asparagus. Cooking time is cut in half when using only four essential ingredients – the greatest roasted asparagus for a nutritious side dish!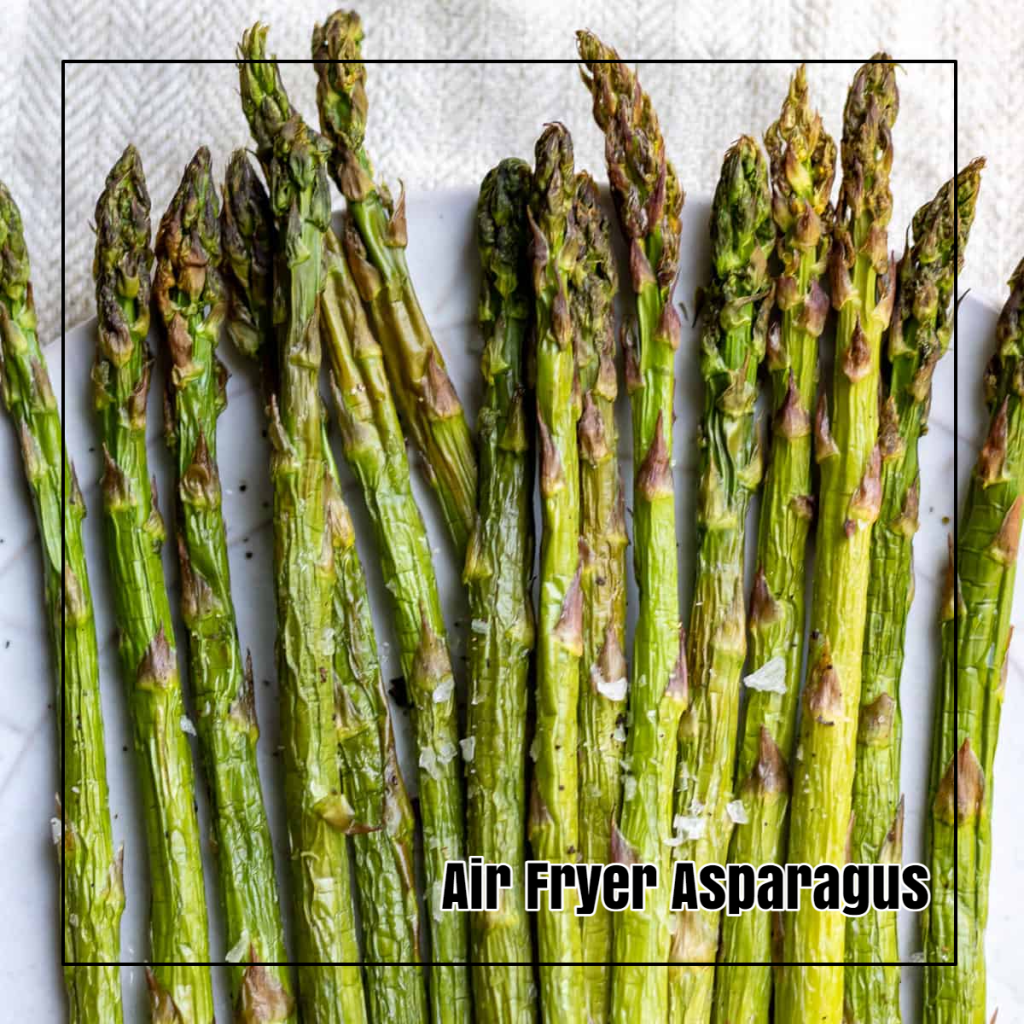 This recipe is low-carb, vegan, and Keto. It comes together quickly and can be served with chicken, steak, pig, shrimp, or practically anything! It's effortless to cook asparagus in the air fryer, and it always turns out perfectly. You'll never go back once you've tried it!
So, what makes it so appealing to me? First, it produces the crispiest skin and cooks considerably faster because I don't have to wait for the oven to heat up. Furthermore, unlike the oven, it will not heat my entire kitchen.
HOW DO YOU MAKE ROASTED ASPARAGUS IN THE AIR FRYER?
Begin with some fresh asparagus. Look for brilliant green leaves and sturdy stems. Check that the tips are closed and compact. If you're not going to boil your asparagus immediately, place it in a heavy-bottomed glass with approximately 2-inch water, ensuring all the ends are submerged.
Wash and thoroughly dry the asparagus. Ends are frequently harsh and woody, so trim them. If you have time, you can use the bend-and-snap approach to break off the end. But I like to cut off the ends of several of them all at once. With a clean cut, it's significantly faster.
Drizzle olive oil over the trimmed asparagus in a large mixing basin (I recommend using an oil with a high smoke point). Season with salt and pepper, then toss until thoroughly coated with oil. This helps to crisp up the tip and skin while allowing the seasoning to adhere to the skin.
HOW LONG SHOULD ASPARAGUS BE COOKED IN AN AIR FRYER?
The cooking time is determined by the temperature you choose and the size of the asparagus. Because the air fryer is more potent than the oven, the cooking temperature must be reduced somewhat. I recommend setting the oven temperature to 360oF for this recipe.
Thinner stems will take 5-7 minutes to cook, while larger stems will take 7-10 minutes. After 4 minutes, I recommend removing the basket and flipping the asparagus. Continue to cook, checking every minute. Overcooking your asparagus can result in it becoming burnt and excessively soft.
Alternative Video Recipe: Air Fryer Asparagus
Suggested Posts:
HOW TO MAKE AIR FRYER ASPARAGUS:
When tossing the asparagus, ensure each spear is evenly coated with oil. This will aid in the crisping of the tips and skins. It's easy to coat the asparagus in oil with your hands.
Fill the air fryer basket only halfway. I recommend preparing one bunch of asparagus at a time (enough for a side dish for four people).
Cooking times vary depending on the size of the asparagus. My pencil-thin asparagus takes 5 minutes to cook at 360oF. If yours are thicker, you may need to cook them for a longer time. You can always return them to the oven for a few minutes longer until they're completely done.
INGREDIENTS YOU'LL NEED:
Three things are needed for Air Fryer Asparagus: asparagus, parmesan, and garlic parsley salt! The latter is a fantastic dish, but here are a couple of tweaks you might try to spice things up:
Asparagus with bacon Slice up a couple of slices of bacon and place them in the air fryer with the asparagus. The bacon will fry perfectly! One of the best foods to make in the air fryer is bacon.
A squeeze of lemon juice. This recipe comes to life with a spritz of lemon juice. A summertime favorite is a lemony asparagus.
Salt for seasoning. Sprinkle on your favorite seasoning salt if you can't get enough of it! Just be careful not to add too much seasoning salt on top of the parmesan, which is already salty.
A pinch of pepper. Do you enjoy a little heat? Season with freshly ground pepper to taste.
Paprika smoked. Something about the combination of asparagus and smoky paprika is tempting!
HOW TO TRIM ASPARAGUS
Here's all you need to know about successfully trimming asparagus:
Cool water should be used to rinse the asparagus.
Trim the spears by removing the rough, woody bottom half. You may also do this by breaking the woody bit off with your palm – it should break off easily.
Toss the ends and season your spears!
HOW TO STORE AIR FRYER ASPARAGUS
Keep your air fryer asparagus in an airtight container. It will keep in the fridge for up to a week. You can also freeze your asparagus and reheat it in the air fryer to restore its crispiness.
VARIATIONS IN SEASONING
This dish is seasoned with salt and pepper and topped with parmesan cheese. You can also experiment with additional seasonings; here are some suggestions:
Butter and lemon
To make it spicy, add red pepper flakes.
Garlic and fresh herbs such as rosemary and thyme can be added.
Print
PERFECT AIR FRYER ASPARAGUS
---
Author:

Prep Time:

10 minutes

Cook Time:

7 Minutes

Total Time:

17 Minutes

Yield:

4

1

x
Description
Crispy tips and soft stems characterize this Air Fryer Asparagus. Cooking time is cut in half when using only four essential ingredients – the greatest roasted asparagus for a nutritious side dish!
---
2

 

lb

 

asparagus

1

 

tbsp

 

garlic parsley salt

 

(adjsut to taste)

1

 

tbsp

 

oil

1/3

 

cup

 

parmesan cheese
---
Instructions
Trim the asparagus' ends. Inside your air fryer, arrange them in a single layer.
Add salt, parmesan, garlic salt, and oil to them.
At 400F, air fry asparagus for 7 minutes or until golden brown. Add an optional dash of extra parmesan to the asparagus.
Category:

Side dish

Method:

Air Fryer

Cuisine:

American
Nutrition
Calories:

109 kcal

Sugar:

4g

Sodium:

1882mg

Fat:

6g

Saturated Fat:

2g

Unsaturated Fat:

0g

Trans Fat:

0g

Carbohydrates:

9g

Fiber:

5g

Protein:

8g

Cholesterol:

6mg
FAQs
How long should I cook the asparagus in the air fryer?
Place the asparagus in a single layer in the air fryer basket and cook for 6-9 minutes, tossing halfway through. (Smaller spears will cook in about 6 minutes, while more giant spears may take up to 9 minutes.) Serve the asparagus with a pinch of black pepper and salt to taste. Enjoy!
How do you prepare asparagus without it becoming soggy?
It was overcooked. Because it just takes a few minutes to cook, keep an eye on it to prevent soggy, limp stems. To avoid overcooking, remove it from the oven or the stove about a minute before you believe it's done. Another approach to avoid overcooking asparagus is to shock it in an ice bath.
How do you cook asparagus in an air fryer?
Drizzle olive oil over spears in a large mixing basin. Toss with garlic powder, salt, pepper, and parmesan cheese to coat. If necessary, preheat the air fryer. Cook the asparagus in a single layer in the air fryer basket for 7-8 minutes at 400°F.
Is it safe to use aluminum foil in an air fryer?
Yes, aluminum foil can be used in an air fryer. According to Tasteofhome.com, the air fryer's cooking procedure, which consists of rushing hot air, will not harm your aluminum foil or the meal it's with.
Is it safe to use parchment paper in an air fryer?
Larry Ciufo, the CR test engineer in charge of air fryer testing, warns that while parchment paper can be used inside an air fryer, it is not advised for frequent use. "It can restrict 99 percent of the airflow in the fryer," Ciufo explains.
More Alternative Asparagus Recipes to try!
WARM ASPARAGUS SALAD
The salad is perfect at any time of year. If you want to add extra greens to your meals or have leftover asparagus from a holiday meal, Kardec's salad is a great addition to the table.
ASPARAGUS CASSEROLE
Trisha's egg and cheese casserole is a fantastic make-ahead dish for Easter or any springtime celebration. Asparagus, "broth," or cooking liquid, is added to the cheese sauce in addition to the bed of asparagus in the casserole's foundation for additional flavor.