★★★★★ 5 from 1 reviews
With this Cajun Maque Choux, you can give your corn a Louisiana makeover! Corn is cooked in bacon grease with Cajun or Creole seasoning and additional flavorings.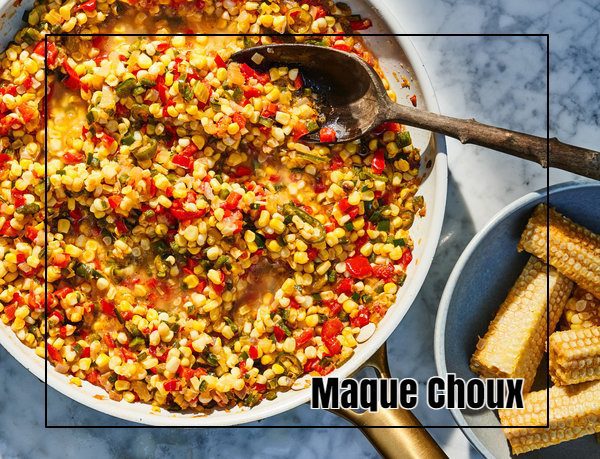 This recipe is ideal for the summer when corn is in season. It'll be the new star side dish at your next barbecue or party.
It's sweet, flavorful, and just a little bit spicy…
WHAT EXACTLY IS MAQUE CHOUX?
Maque Choux (meaning "mock shoe") is a traditional Southern Louisiana side dish. The name is supposed to be a French adaptation of an American Indian. Moque Choux can be found on the menus of several New Orleans restaurants. It's made of corn, green and red bell peppers, onions, garlic, and maybe cayenne pepper. In my recipe, I combine cream, onions, garlic, red and green bell peppers, black pepper, and cayenne pepper.
It is a typical Louisiana meal that is supposed to cross Cajun and Native American cuisines. In bacon fat, corn, bell peppers, and onions are sautéed with seasonings and occasionally other ingredients. Maque Choux is typically served as a side dish, but adding meat or shellfish can change it into a one-pot main dish.
MAQUE CHOUX'S HISTORY
Most people associate maque choux with Louisiana and Cajun influences. However, the meal likely started much earlier, with Native Americans, and was adopted by Louisiana settlers. The name, pronounced "mock shoe," could be derived from the Cajun French term maigrchou, which means "thin child" and refers to adding cream to thin down the dish. On the other hand, it could be a French translation of a Native American cuisine made from corn, one of their indigenous "Three Sisters" crops.
Some food historians credit the Acadian French, now known as Cajuns, who came from Canada to Louisiana in the late 1700s, as the originators of maque choux in the South. Native Americans most likely exposed them to recipes like succotash, cooked with their mainstays of corn, beans, and squash which were essential ingredients in dishes evolved in the South. Today, maize is essential in crawfish, shrimp boils, and many other Southern specialties.
Corn is still a staple of Native American culture and foodways, and the yearly Green Corn Ceremony commemorates harvest, the rebirth of seasons, and thankfulness for what the earth offers.
Alternative Video Recipe: Making Maque Choux
Suggested Posts:
IS IT POSSIBLE TO USE FROZEN CORN IN MAQUE? CHOUX
It is best with fresh corn, but because it isn't always accessible, it may be made using frozen corn, which I did in this recipe, which was excellent.
CAN MAQUE CHOUX BE FREEZED?
When the Maque Choux has completely cooled, spoon it into a freezer-safe airtight container and place it in the freezer until ready to serve.
WHAT CAN YOU MAKE WITH LEFTOVER MAQUE CHOUX?
For a creamy, soothing summer soup, make Instant Pot Corn Chowder.
INGREDIENTS YOU'LL NEED:
Bacon – We use the bacon fat as the sauté medium but crumble it into the dish. In its absence, butter can be substituted.
Corn – Fresh is best when available, but frozen may suffice if fresh is unavailable.
Green and red bell peppers are used.
Onion
Seasonings such as Cajun or Creole.
Cream – Optional but delicious.
HOW TO MAKE MAQUE CHOUX
Fry the bacon in a skillet and transfer to a platter. All but two tablespoons of the bacon fat should be removed (save the rest in the fridge for future recipes, it can be refrigerated for up to 3 months).
Combine the chopped peppers and onions with the Cajun or Creole spice. We always advise making your own. You may make your own Creole Seasoning by following our recipe.
Sauté for a few minutes, or until they begin to soften, before adding the corn—Cook for a further 10 minutes.
before adding cream to the maque choux
You can stop there, add the bacon, and serve with crackers. Stir in heavy cream to take your maque choux to the next level. When the bacon is hot, add it.
VARIATIONS
Other vegetables, such as celery or tomatoes, can be added.
Replace the cream with chicken stock to make it lighter.
Add some Louisiana-style hot sauce to make it spicier.
Sauté bites of chicken meat or shrimp first for a complete dinner. Plate it while you cook the meal, then return it to the pot with the cream. Alternatively, use leftover rotisserie chicken.
STORAGE AND LEFTOVERS
Maque Choux keeps well in the refrigerator for up to 4-5 days in an airtight container. Then, with a splash of water, reheat on the stovetop. You can freeze it, but save any frozen portions before adding the cream, which does not freeze well.
TIPS FOR PERFECT MAQUE CHOUX
If fresh corn is available, use it.
In a skillet, sauté the onions and bell peppers in butter until soft and tender. This dish does not require crispy veggies.
Print
Maque Choux
---
Author:

Prep Time:

5 minutes

Cook Time:

15 minutes

Total Time:

20 minutes

Yield:

4

1

x
Description
With this Cajun Maque Choux, you can give your corn a Louisiana makeover! Corn is cooked in bacon grease with Cajun or Creole seasoning and additional flavorings.
---
1

 

tablespoon

 

olive oil

1

 

package

 

12 ounces of frozen corn

1/2

 

sweet onion

 

chopped

1/2

 

green bell pepper

 

chopped

1/2

 

red bell pepper

 

chopped

1

 

tablespoon

 

minced garlic

Salt and freshly ground black pepper

1/2

 

cup

 heavy cream or

half an

d half

pinch

 

of cayenne

 

optional
---
Instructions
Onions, bell peppers, and oil are heated over medium heat in a sizable skillet.
Cook onion till it turns clear. Add the garlic and heat for approximately one minute.
Include corn. Cayenne, if preferred, and salt and pepper should be used to taste. 1 to 2 minutes of cooking.
Pour in the cream or half-and-half, bring to a boil, then lower the heat and simmer for 5 minutes, or until the cream has reduced and started to thicken slightly.
Add liquid to a serving dish. Add onions and red, green, and bell peppers as garnish.
Category:

Side dish

Method:

mixing

Cuisine:

Cajun
Nutrition
Serving Size:

4

Calories:

183kcal

Sugar:

3g

Sodium:

16mg

Fat:

14g

Saturated Fat:

7g

Unsaturated Fat:

0g

Trans Fat:

0g

Carbohydrates:

11g

Fiber:

1g

Protein:

2g

Cholesterol:

40mg
Keywords: Cajun Maque Choux
FAQs
What does the French term maque choux mean?
Maque choux (possibly translated as "imitation cabbage") is a stewed maize and tomato dish. "
Maque choux speaks what language?
The environment: The phrase maque choux derives from various cultural influences. The expression can be traced back to French Creoles of color, enslaved people, and many early Spanish settlers, who may have been influenced by the Spanish name machine, which refers to a typical dish of roasted cornmeal.
Is maque choux Creole or Cajun?
Maque Choux, pronounced "Mock Shoe," is a Cajun-style French Creole side dish. It is assumed to blend Creole and American Indian cultural influences, and the name is most likely taken from the French translation of the Native American name.
More Alternative Side dish Recipes to try!
MEXICAN STREET CORN (ELOTE)
When hosting a party, try serving this side dish with grilled steak or barbecued chicken. Alternatively, you could arrange all of the toppings and set up a "Build Your Own Elote Bar" with a few unconventional ingredients like scallions, crumbled bacon, and sriracha.
COWBOY CAVIAR
Contrary to its name, Cowboy Caviar doesn't need a fish egg. A New York chef named Helen Corbitt devised this filling appetizer for a Texas New Year's Eve party in the early 1940s. Corbitt transformed the common black-eyed pea into a sought-after delicacy still well-liked in Texas and beyond after being tasked with developing upscale recipes utilizing regional ingredients.