34 Quick and Healthy Chicken Dinner Ideas Anyone Can Make
★★★★★ 5 from 1 reviews
If you're looking for quick and easy weeknight dinner ideas, you've come to the right place. Today, I'm going to share my 25 most popular and favorite easy and quick Chicken Dinner Ideas.
I've got you covered with sheet pan chicken dinners, skillet chicken, slow cooker chicken, and one pot chicken and rice.
Furthermore, there are numerous flavors to choose from. What's the best part? These quick chicken recipes are ideal for busy weeknights because they are ready in 45 minutes or less.
CHICKEN DINNER IDEAS FOR FAMILY
Do you long for summer? This simply seasoned chicken fried with gorgeous, ripe cherry tomatoes in a creamy sauce is sure to satisfy. For an extra layer of nutty flavor, top with a dollop of pesto.
With our family-friendly chicken parmigiana, you can simplify your weeknights. The recipe can easily be doubled and frozen for busy weeknights.
Baked queso chicken with tomatoes is a quick, cheesy, and delicious chicken dinner made with skinless chicken breasts that takes only 30 minutes to prepare. The ideal weeknight meal.
The crispy golden skin of this easy Dutch oven whole roast chicken is juicy, tender, and succulent, and it's packed with flavor. It only takes 15 minutes to prepare. Serve with creamy gratin potatoes on the side.
Alternative Video: Easy and Impressive Chicken Dinners
Recommended Posts:
Baked caprese chicken with burst tomatoes, mozzarella cheese, fresh basil, and a drizzle of balsamic glaze is tender, juicy, and delicious.
Baked parmesan crusted chicken is breaded in a herby parmesan breadcrumb mixture and baked until crisp. So flavorful and delectable.
CHICKEN DINNER IDEAS QUICK
Creamy lemon chicken piccata is a quick and easy 30-minute meal that features tender chicken breast in a light lemon sauce with capers. This is one of my favorite quick chicken dinners.
One pan garlic roasted chicken and baby potatoes is a quick, tasty, and nutritious meal for the whole family, including the kids. This sheet pan can be prepared in 10 minutes.
Baked chicken breast with the best classic Greek souvlaki marinade is the most flavorful and delicious chicken dinner in less than 30 minutes. Serve it with greek lemon roasted baby potatoes or in a Greek chicken salad.
With little effort, this quick and easy roasted spatchcock chicken (butterflied chicken) seasoned with garlic and thyme is juicy, tender, delicious, and flavorful. Serve with creamy mashed potatoes and garlic green beans and garnished with fresh herbs.
Chicken marsala in creamy mushroom sauce is a 30-minute chicken dinner that is pure comfort food perfection. A definite crowd pleaser.
Baked General Tso's Chicken is a saucy, savory, sweet, and spicy Chinese-American takeout favorite that is made healthier by using baked chicken rather than fried chicken.
CHICKEN DINNER IDEAS AIR FRYER
Air fryer chicken thighs are simple to prepare and delicious to eat. Take them to the next level with this simple breadcrumb coating, which includes a dash of dukkah for extra flavor.
These Japanese-inspired chicken strips will become your new air-fryer staple, especially when served with ginger and mayonnaise on the side.
Instead of buying rotisserie chicken, make this simple air fryer cornish hen recipe at home! In five simple steps, you'll have perfectly cooked birds with irresistibly crispy skin.
Air fryer boneless wings are ideal for a quick and tasty weeknight dinner! Toss fresh or frozen Anytizer chicken with your favorite sauce and serve.
Make Trader Joe's orange chicken in the air fryer to satisfy your takeout cravings at home! Crispy and flavorful, and ready in about 15 minutes.
A quick and delicious take on chicken breasts that only takes 12 minutes to prepare. These chicken breasts, with a golden brown crust and a tender inside, are delicious on their own or in a light salad.
CHICKEN DINNER IDEAS HEALTHY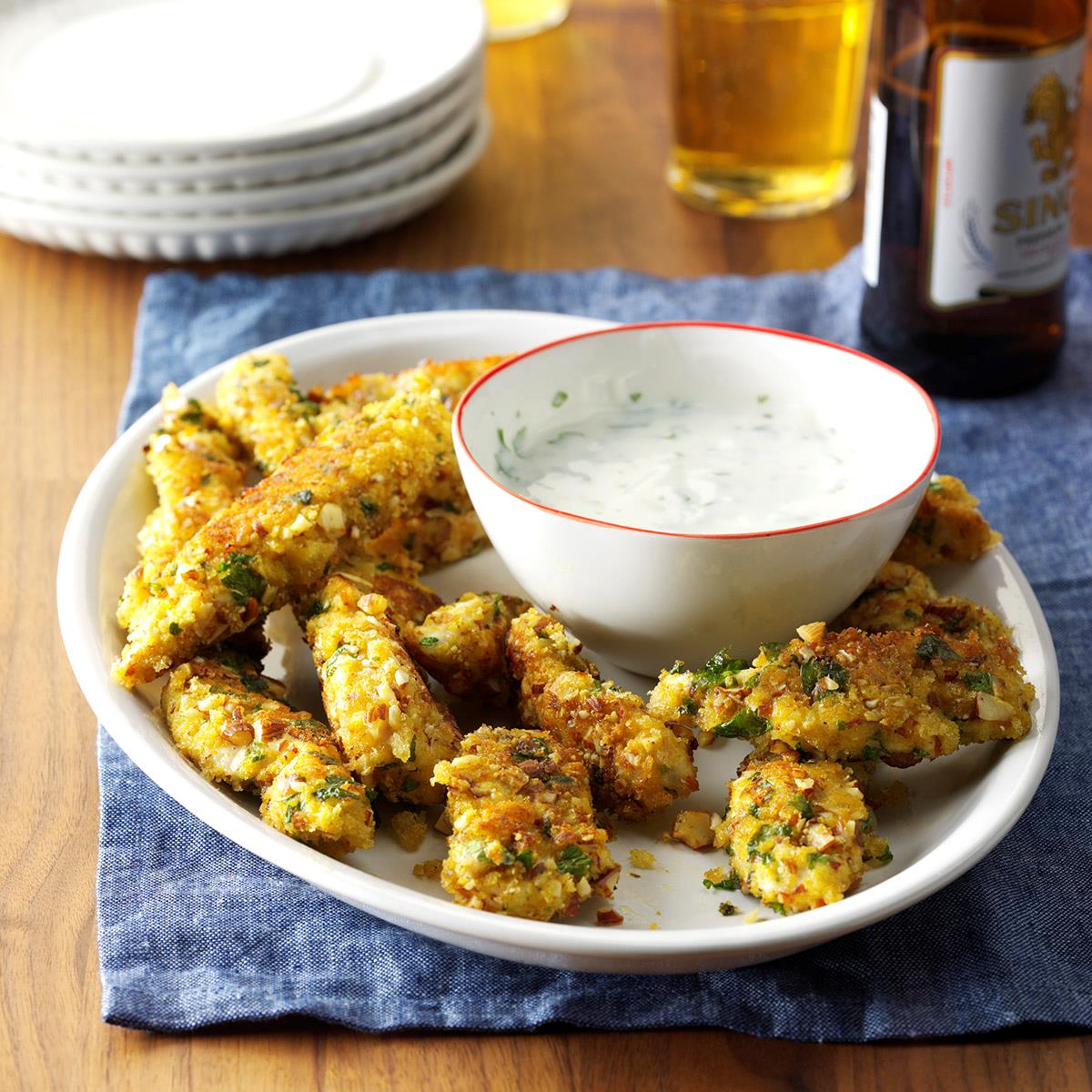 Keep these nutty chicken satay strips in the fridge for a quick and healthy snack. The chicken is accompanied by cucumber and sweet chili sauce.
When you're entertaining, serve these Thai chicken chicory bites and roasted pepper skewers. Both make excellent low-calorie, healthy canapés for dinner parties.
Instead of ordering takeout, try our healthy chicken madras curry. This easy family dinner is packed with fragrant spices and tender chicken breasts.
These chicken skewers in flatbreads are delicious, healthy, and an easy-to-make dinner for busy weeknights.
Add peanut butter to the pie filling for creaminess, and serve with a bean and potato mash for added nutrition. A gluten-free dinner that is both healthy and filling.
Serve this wholesome chicken casserole to the family for comfort while remaining low in fat. You can also use a slow cooker to do the majority of the work.
CHICKEN DINNER IDEAS FOR KIDS
For busy families, this is a quick and easy pasta bake! I made this for tea one evening because I had nothing else planned, and I was pleasantly surprised that everyone ate it! I'm hoping they didn't eat it to be nice.
You'll be surprised at how simple this is to make, yet it tastes just like something you'd order at a restaurant. Serve this at your next dinner party or to friends, and they will beg you for the recipe.
These fajitas require a few ingredients, but they come together quickly and easily. This recipe appears to be time-consuming, but once you're familiar with it, it's actually quick enough to make after work.
This is a simple authentic Chinese lemon chicken recipe, similar to what you'd find in a Chinese restaurant. I recently modified the batter for this recipe. I tried several variations and this one was the best.
This easy chicken curry is quick to make on a busy weeknight and great for feeding the whole family! It has a rich flavor from the coconut cream, and you can adjust the amount of curry powder to make it more or less spicy.
CHICKEN DINNER IDEAS INSTANT POT
Isn't this everything you want for dinner? Golden and speckled with herbs on the outside, juicy and tender on the inside: Isn't this everything you want for dinner? If you're tired of running around the house, this is the perfect recipe to make tonight.
These sliders are sure to please any crowd. The juicy pulled chicken is tossed in hot sauce and served on soft, toasted potato rolls, topped with fresh crunchy ranch coleslaw and creamy chunks of blue cheese.
The gravy that comes with these chicken thighs is luxuriously smooth and full of chicken flavor thanks to a little slurry of flour and hot chicken broth or water. It's the best thing you can do with those magical chicken fat drippings, in our opinion!
Who knew you could make chicken wings in an Instant Pot? Well… Yes, we did! They're also absolutely fantastic. Cooking wings in the Instant Pot allows them to become tender before crisping to perfection under the broiler.
If there's one thing we love about Instant Pots, it's how fast and perfectly they cook chicken and rice. The rice is the perfect consistency, and the chicken is unbelievably tender.
Print
Healthy Chicken Dinner Ideas (Instant Pot Chicken Pot Pie)
---
Author:

Prep Time:

5 minutes

Cook Time:

6 minutes

Total Time:

11 minutes

Yield:

4

servings

1

x
Description
Instant Pot Chicken Pot Pie has all of the flavor of the classic oven baked dish, but it's ready in less than 30 minutes! This one-pot, dump-and-start Instant Pot meal will be a family favorite, from the perfectly cooked potatoes and carrots to the soft, shredded chicken!
---
1

 

cup

 

chicken broth

3

 

medium potatoes

 

peeled and cubed

1

 

cup

 

petite baby carrots

1/4

 

medim onion

 

minced

6

 

chicken tenders

 

fresh, raw

1/2

 

tsp

 

salt

1/8

 

tsp

 

pepper

1/2

 

cup

 

peas

 

frozen

1/2

 

cup

 

milk
Butter and Flour paste
1

 

tbsp

 

butter

1

 

tbsp

 

flour
---
Instructions
In the Instant Pot, combine the broth, potatoes, carrots, onion, chicken tenders, salt, and pepper. Cook for 3 minutes on Manual HIGH.
Combine equal parts butter and flour to make the butter and flour paste.
NPR for 6 minutes, followed by a rapid release.
Take out the chicken tenders. Set aside the shredded meat.
Add the frozen peas first (this is vital to reduce the temperature down so the milk does not curdle when added), followed by the milk. To blend, stir everything together.
Reactivate the saute function. When the liquid begins to bubble, add the butter paste and stir until it is melted and the sauce has thickened.
Return the chicken to the Instant Pot. To blend, stir everything together.
Serve alone or with biscuits or pie crust.
Category:

Dinner

Method:

None

Cuisine:

American
Nutrition
Serving Size:

4 servings

Calories:

369kcal

Sugar:

5g

Sodium:

104mg

Fat:

13g

Saturated Fat:

4g

Unsaturated Fat:

0g

Trans Fat:

0g

Carbohydrates:

47g

Fiber:

6g

Protein:

17g

Cholesterol:

37mg
Keywords: instant chicken pot pie recipe, chicken dinner recipes, chicken pot pie recipe, chicken pot pie instant pot recipe
Frequently Asked Questions
What are some different ways to cook chicken?
Let's take a closer look at these techniques:
Stir-frying.
Pan-frying.
Grilling/BBQ.
Baking/roasting.
What's a good idea for dinner tonight?
8 Dinner Suggestions for Tonight (plus Easy Recipes):
Casserole of Tater Tots
Pie with Cottage Onion.
Pizzas on French bread.
Meatloaf.
Pasta with Philly Cheesesteak.
Chicken Casserole in Crescent Rolls
Stew with beef.
Quesadilla de Pizza
What is good with chicken?
Recipes for the Best Chicken Breast Side Dishes (That Go Way Beyond Salad)
Bacon and tangy potato salad
Crescent Cheesy Bread with 5 Ingredients
Toasted Herb Rice in the Crockpot
Salad of Watermelon, Cucumber, and Feta.
Mashed Potatoes Made From Scratch.
Carrots with Cumin and Citrus.
Baked Asparagus with Cheesy Sauce.
Cucumber Salad with Cream.
Which herb goes best with chicken?
Herbs that pair well with grilled chicken:
Cilantro.
Rosemary.
Sage.
Oregano.
Thyme.
Marjoram.
Tarragon.
Garlic.
What exactly is chicken meal?
Chicken meal is a powdery substance made from chicken byproducts and parts. Animal by-products are basically meat parts (chicken, beef, pork, etc.) that are left over after removing what is safe for human consumption—in other words, the parts we don't want to eat.
How do you add flavor to chicken?
Adding specific ingredients to a marinade, brine, rub, sauté, or sauce can greatly enhance the flavor of chicken and give it an international flair. Use fresh minced garlic, dried oregano, dried basil, and dried thyme in Italian chicken recipes.
Which country is famous for chicken?
Argentina, known for its beef and as the birthplace of 'asado' (Argentinian barbeque), adores chicken. They eat about 187 pounds of chicken per year. Chicken is now more popular than ever in the country, while red meat consumption is declining.
What is the most famous chicken?
Who do you think is the most well-known chicken in the world? We have our own poultry legend, "Mike the Headless Chicken," here in Western Colorado. How many more can you come up with?
What can I eat with grilled chicken?
Side Dishes to Serve with Grilled Chicken:
Broccoli, steamed
Corn on the grill.
Asparagus in the Air Fryer
Mashed potatoes in the microwave.
Salsa de Fruits
Fries made from sweet potatoes
Salad with Creamy Potatoes
Sweet potatoes cooked sous vide.
What does paprika do for chicken?
Mild paprika is the hot chili pepper family's sweeter, gentler cousin. It brightens almost any dish with its fruity, slightly sweet notes and vivid red color. It's great in rubs and marinades, as a garnish for eggs and fish, and as a showpiece in chicken paprikash.