40 Simple Cold Lunch Ideas for Kids and Adults!
★★★★★ 5 from 1 reviews
Are you tired of leaving work on your lunch break to spend the entire time looking for food? Are you tired of eating the same lunch every day?
Whatever the case may be, you've come to the right place! Here are 40 Simple Cold Lunch Ideas for Kids and Adults! Whether you're looking for something healthy or hearty, you'll find it here!
WHAT CAN I MAKE FOR LUNCH WITHOUT A MICROWAVE?
If you don't want to use the microwave or pack a thermos for your kids' lunch, try some great ideas like steak sandwiches, BLT pasta, spinach wraps, or even a classic like peanut butter and jelly! With the recipes below, we've compiled the best options for you! Simply choose one and have fun!
WHAT CAN I EAT FOR LUNCH OTHER THAN SANDWICHES?
To spice things up a little, swap out the sandwiches for something new! Make a salad for a cold lunch, such as a Caesar salad, pasta salad, or chickpea spinach salad. If meal prep is your thing, you can whip up taco salad bowls or chicken burrito bowls in no time.
COLD LUNCH IDEAS FOR KIDS
Have you ever seen a dragon roll? In a Japanese restaurant, it is one of the most popular sushi dishes. This sushi roll is filled with tempura shrimp and cucumber and wrapped in nori seaweed and rice before being topped with an avocado layer. You'll find all of the instructions here so you can make them in the comfort of your own home!
Are you looking for a cold, creamy, and delectable lunch? That's all there is to it! These chicken avocado salad roll-ups are made with leftover chicken, vegetables, avocado, and cheese! It only takes 20 minutes to prepare and a few minutes to eat!
Who doesn't enjoy a good old-fashioned peanut butter and jam sandwich? Every bite transports you back to your childhood! It's a simple sandwich that's great for both kids and adults!
Alternative Video: Cold Lunch Ideas for Work
Recommended Posts:
Grab some bread, cheese, butter, and a frying pan right away! This recipe will easily satisfy your cheese cravings! You'll also get some pointers on how to perfect your sandwich!
When you want a sub but don't want the carbs, these turkey-and-cheese deli sandwiches on cucumber rolls are a good option. Fill a cucumber with your favorite sandwich fillings for a crisp sub with fewer carbs and calories.
These kid-friendly wraps, which are stuffed with vegetables, cheese, and hummus before being rolled and sliced, have a distinct sushi flavor. Serve with store-bought green goddess, a creamy herb-filled dressing, to easily kick it up a notch. They look impressive, but they're simple enough for kids to put together for a quick lunch or dinner.
EASY COLD LUNCH IDEAS FOR WORK
This slow cooker pork shoulder is full of flavor and falls apart, making it an easy dump-and-go meal! Cooked on low heat with barbeque sauce and spices, it's ideal for sandwiches or tacos for a quick lunch.
Yes, these sandwiches are from Cuba! They're stuffed with everything from roast pork to salami and ham! To keep it authentic, include the pickles and cheese.
This chicken salad is full of flavor, color, and taste, and it's a must-try! A dish brimming with chicken, green onion, celery, and grapes, all tossed in creamy goodness!
It's a good copycat recipe to try, especially if you like Chick-Fil-A. This crispy chicken sandwich is delicious, filling, and simple to make. What's the catch? Pickle juice should be used to marinate the chicken!
Pasta salads are a must-have at any barbecue or picnic. Make this vegetable-packed Greek Pasta Salad that's a real crowd pleaser, so easy to make, and basically summer in a bowl instead of getting stuck in a rut when it comes to them.
COLD LUNCH IDEAS VEGETARIAN
Eating healthy doesn't have to be difficult, and it won't be with this recipe! The most difficult part here is resisting the urge to eat this before lunch! This salad, made with chickpeas, spinach, bell peppers, and spices, is delicious on its own or wrapped in a warm pita.
Who knew you could eat sushi without eating any seafood? You'll find a recipe for sweet potato sushi rolls right here. They're stuffed with creamy avocado and sweet potatoes! It's also vegan and kid-friendly! You'll also get step-by-step photos to guide you through the process!
Skip the fast food lines and prepare some healthy meals at home! These Easy Vegetarian Burritos are light and full of flavor. Ready in under 30 minutes and ideal for those on-the-go days!
Cobb Salad Wraps contain all of the same ingredients as a Cobb Salad but are neatly wrapped for portability and ease of eating. These are ideal for a quick, filling, and tasty lunch.
These easy Pepperoni Rolls are like a better version of your favorite grilled cheese! They're a simple finger food that anyone can make with only four ingredients! The ingredients for these Pepperoni Roll Ups are the same as for grilled cheese.
This healthy zucchini slice is ideal for meal prep because it is quick and simple to prepare and absolutely delicious! Enjoy as is, or add some extra vegetables for a twist! A delicious vegetarian meal for any time of day.
EASY COLD LUNCH IDEAS FOR ADULTS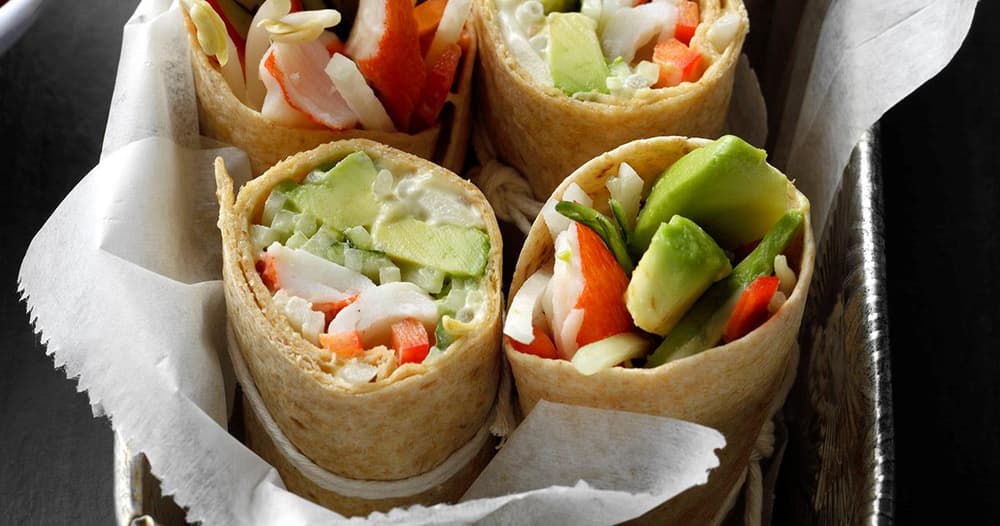 I enjoy the California rolls at sushi restaurants and wanted to recreate those flavors in a sandwich that I could bring to work. I began with the standard ingredients, added a few others, and created a winner.
We had a bumper crop of peaches from our two trees one summer, so I had a lot of fun experimenting with different recipes. I adapted a beet soup recipe from a cookbook to include our homegrown golden beets and sweet peaches.
These are ideal for packing in your children's lunch boxes when they don't want to eat another boring sandwich. We love the salmon, cream cheese, and dill sandwiched between two crusty rolls. The carrots and celery add a nice crunch to the dish.
These colorful and flavorful appetizers will be the talk of the party. And they're so simple to make: just put them together the night before and forget about them!
This chicken ramen salad is my favorite because it's a complete meal in one bowl. Everyone loves it when it's on the table—not that's something that happens every night, so I appreciate the compliments when I get them!
This wrap's tofu filling is a hit with my family! We frequently serve it as a dip with tortilla chips or pita bread at parties. My husband frequently requests this, and it's very simple to double the recipe if necessary.
Cold Lunch Ideas for Husband
Waldorf salad is a colorful fruit medley tossed in a creamy and tangy dressing. It's the kind of salad that even kids will enjoy. Already, the combination of apples, grapes, celery, parsley, and walnuts is a flavor explosion.
Speaking of cool, this simple tomato gazpacho is a great way to beat the summer heat. It also gets extra points for being ridiculously simple to make. All you need are Spanish chilled tomatoes and vegetable soup!
Greek mason jar salad is simply a Greek salad in a mason jar. It may appear to be a gimmick to make this salad look cool, but one look at it will convince you that it works!
For good reason, Caesar salad is a well-loved classic. Lettuce, bacon, croutons, Caesar dressing, and parmesan cheese aren't the healthiest ingredients, but they're delicious.
This next recipe makes the most delectable chicken wraps! It's rotisserie chicken with a buffalo flavor wrapped in a soft tortilla and topped with lettuce and blue cheese dressing. That can't get any better than that!
Nothing beats the originals. Consider the ham sandwich. There's something magical about the combination of ham and mayonnaise. In a sandwich, I'm perfectly content with just these two ingredients.
SIMPLE COLD LUNCH IDEAS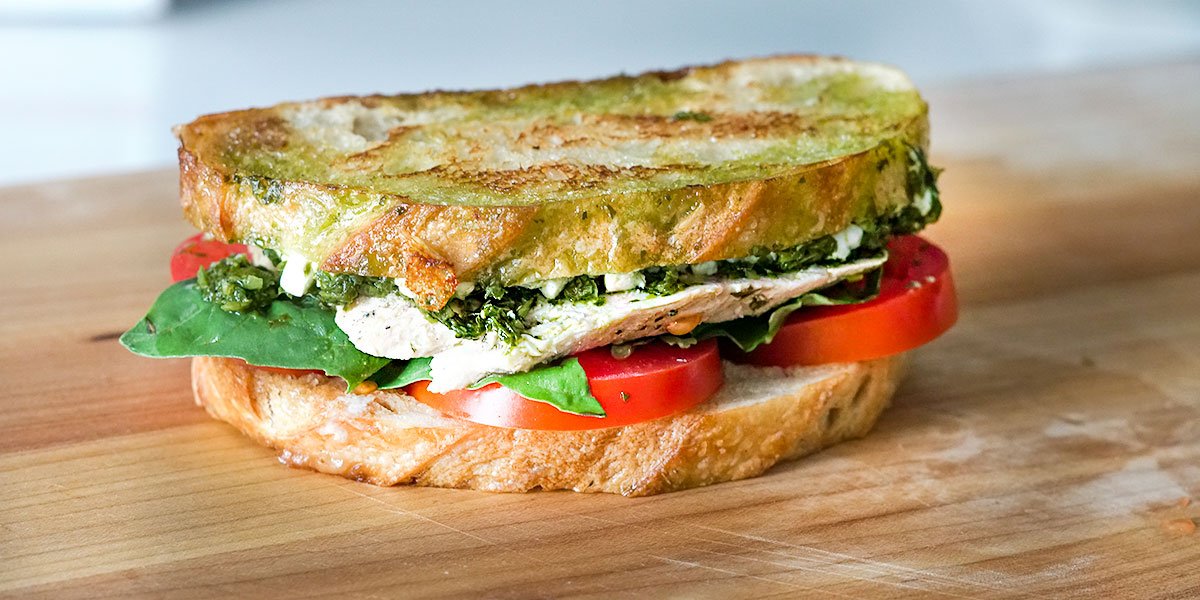 This incredibly tasty sandwich is made up of pesto-coated chicken and Greek yogurt. It's creamy, refreshing, and extremely filling. It's also filling and healthy. It's unusual to find such a delicious combination in a dish, so this one is a keeper.
A gastronomic trip to Thailand does not require you to book a flight. This green papaya salad will suffice. Shredded unripe papaya, cucumber, tomato, mango, peanuts, dried shrimp, and garlic are combined in a sweet, sour, and spicy dressing to make green papaya salad.
Wrapped in a tender tortilla are peanut butter, chopped apples, and granola. These peanut butter wraps are a peanut butter lover's dream! These wraps combine sweet, salty, crisp, and tender flavors to create a stunning medley of flavors and textures.
Easy Banana Bread Muffins are moist and flavorful, with a strong banana flavor. These are popular with friends and family, and they can be made ahead of time and frozen for a quick snack!
This Thai-inspired Asian Cabbage Salad with Warm Spicy Peanut Dressing is ideal for lunch or as a light side dish.
This no-bake Healthy Oatmeal Bites recipe will win you over. It's simple to prepare a batch of these healthy treats and keep them in the fridge or freezer for later!
COLD LUNCH IDEAS FOR ENTERTAINING
Make this chilled soup over the weekend and enjoy it for lunch throughout the week. The base is made of russet potatoes, asparagus, and baby spinach, but it also has a lot of aromatic flavor from fresh cilantro and ginger.
Add fresh herbs—we like tarragon and basil—as well as diced celery and thinly sliced scallions to a basic chicken salad. We stuff it into a hot dog bun and top it with bacon, sliced avocado, Little Gem lettuce, and cherry tomatoes.
In this lunch sandwich, nutty pumpernickel bread pairs with all-vegetarian ingredients like creamy Boursin cheese, sliced cucumber, sliced avocado, pea shoots, shredded red cabbage, and carrots.
In this family-friendly lunch salad, Bibb lettuce is topped with colorful vegetables like tomatoes, jalapeo peppers, and shucked corn, as well as a duo of shrimp and red snapper (or whenever you want a colorful bowl).
This is not your grandfather's tuna salad. We combine good-quality canned tuna with mayonnaise and lemon juice before folding it into nori sheets with sliced vegetables and avocados.
Print
Banana Bread Recipe (Cold Lunch Ideas)
---
Author:

Prep Time:

10 minutes

Cook Time:

55 minutes

Total Time:

1 hour and 5 minutes

Yield:

1

loaf

1

x
Description
Recipe for moist and delectable banana bread. There's no need for a mixer to make this! Bananas, butter, sugar, egg, vanilla extract, baking soda, and flour.
---
2

to

3

 

medium (7″ to 7-7/8″ long)

 

very ripe bananas, peeled (about 1 1/4 to 1 1/2 cups mashed)

1/3

 

cup (76g)

 

butter, unsalted or salted, melted

1/2

 

teaspoon

 

baking soda

1

 

pinch

 

salt

3/4

 

cup

 (150g) 

sugar (1/2 cup if you would like it less sweet, 1 cup if more sweet)

1

 

large

 

egg, beaten

1

 

teaspoon

 

vanilla extract

1 1/2

 

cups

 (205g) 

all-purpose flour
---
Instructions
Preheat the oven to 350 degrees Fahrenheit (175 degrees Celsius) and butter a 4×8-inch loaf pan.
Mash the ripe bananas with a fork in a mixing bowl until completely smooth. Melted butter should be mixed into the mashed bananas.
Combine the baking soda and salt in a mixing bowl. Combine the sugar, beaten egg, and vanilla extract in a mixing bowl. Incorporate the flour.
Pour the batter into the loaf pan that has been prepared. Bake at 350°F (175°C) for 50 minutes to 1 hour, or until a toothpick or wooden skewer inserted into the center comes out clean. A few dry crumbs are acceptable; wet batter streaks are not. If the outside of the loaf has browned but the center is still wet, tent it loosely with foil and bake until the loaf is fully baked.
Remove from the oven and set aside for a few minutes to cool in the pan. Remove the banana bread from the pan and set aside to cool completely before serving. Cut into slices and serve. (A bread knife is useful for cutting slices that aren't crumbly.)
The banana bread will keep at room temperature for 4 days if tightly wrapped. Refrigerate or freeze the loaf for up to 5 days for longer storage.
Notes
This recipe does not require the use of a mixer. Clean-up is also simple; if desired, combine all ingredients in a single mixing bowl.
Bananas that are overripe are ideal for making banana bread. The yellow peels should be half-brown, and the bananas inside should be squishy and browning.
This recipe calls for an 8×4-inch baking pan. It can also be baked in a 9×5-inch loaf pan, but the loaves will rise less.
Category:

Lunch

Method:

Baking

Cuisine:

American
Nutrition
Serving Size:

8 servings

Calories:

220kcal

Sugar:

19g

Sodium:

85mg

Fat:

7g

Saturated Fat:

4g

Unsaturated Fat:

0g

Trans Fat:

0g

Carbohydrates:

37g

Fiber:

1g

Protein:

3g

Cholesterol:

35mg
Keywords: banana bread recipe, ccold lunch recipes, banana bread, brunch
Frequently Asked Questions
What can I make for lunch without a microwave?
When You Don't Have a Microwave, Here Are 8 No-Heat Lunch Recipes:
Pesto Chicken and Veggies are a healthy option.
Salad with avocado and tuna.
Salad with Roasted Sweet Potatoes
One-Pot Mediterranean Pasta
Picnic Sandwiches with Chicken Bacon Pressed and Raspberry Honey Mustard
Salad Bowls with Greek Salmon
Power Bowls with Korean Beef
What can I eat for lunch other than sandwiches?
Lunch Ideas That Aren't Sandwiches:
Wrapped apples.
Miniature Pumpkin Pancakes
Fish Sticks Made at Home
Parfait with Fruit and Yogurt
Pizza with Tortillas
McDonald's Nuggets Duplicate
Soup with Chicken Noodles
Egg Cups / Mini Quiches
What does cold lunch mean?
Many students must decide whether to eat hot lunch at school or bring lunch from home when they return to school (cold lunch). Some families choose to do a combination of the two. It was previously advised to pack a lunch in order to ensure a healthy lunch.
What do you pack in a lunch box?
Always opt for fresh fruit!
Vegetables: Choose quick-to-prepare vegetables such as cherry tomatoes, carrot sticks, celery, and cucumber.
Rice, noodles, couscous, quinoa, and pasta: I prefer brown rice and wholemeal pasta to increase my fiber intake!
What makes a good lunch?
Vegetables that are crunchy. A protein or meat food, such as lean meat slices, hard boiled eggs, peanut butter or nut paste* Dairy food, such as a cheese stick or slice, grated cheese, milk, or yoghurt Bread, a roll, pita or flatbread, fruit bread, or crackers are examples of starchy foods.
What is the most popular lunch food?
THE TOP EIGHT MOST POPULAR LUNCHES:
Sandwich with ham
Sandwich with cheese.
Sandwich with tuna and mayonnaise.
Sandwich with egg and mayonnaise.
Salad with superfoods.
Wrap with spicy chicken.
Filling for a jacket potato
Fries and fish.
What are some healthy lunch ideas?
Salads with pasta (like this cold pesto pasta salad)
Soups and chili (our favorite is Instant Pot zoodle soup)
Salad with tuna
Recipes for rotisserie chicken (like salsa verde chicken tacos or a Chinese chicken salad)
Salad with chicken
burritos and burrito bowls
paninis.
quiche.
Is cold lunch better than hot?
The human digestive system works better with warmer-temperature foods and liquids because it does not have to work as hard to digest the food. Cold foods shock the digestive system, causing your gut to work overtime to break down the nutrients in the food.
What is a good box lunch?
For example, a box lunch could include a sandwich with chips, a hearty salad with protein on top, and a soup and sandwich combination. Box lunches are: delectable. Healthy.
Is it OK to have a sandwich for lunch everyday?
You've probably heard a lot of different perspectives on sandwiches over the years. Eating a sandwich every day can certainly fit into a healthy, well-rounded diet, but it is critical to incorporate different ingredients frequently to ensure adequate variety.