40 Tasty and Healthy Indian Breakfast Ideas For You To Experience!
★★★★★ 5 from 1 reviews
These Indian breakfast ideas are ready to get you started in the morning! This list has a recipe for everyone, from spicy and savory to sweet and mild.
Almost two-thirds of India's population is vegan, and the remaining third consumes meat only infrequently.
INDIAN BREAKFAST IDEAS VEGETARIAN
Sabudana Khichdi is a popular Indian dish made with sago or tapioca pearls, potatoes, crunchy and roasted nuts, lemon juice, and spices. It has a chewy texture.
Dhokla, also known as Khaman Dhokla, is a soft and spongy steamed dish made with gram flour or chickpea flour (besan) and a few spices. This savory cake is a popular Gujarati recipe that can be served as a breakfast, snack, or main course.
Breadless Sandwich | Eggless Omelette is a delicious and high protein-packed sandwich recipe that will quickly become a family favorite.
Butter Masala Dosa, also known as Davangere benne masala dosa, is a flavorful and aromatic Indian breakfast dish that consists of a crispy dosa topped with potato bhaji or masala and spicy chutney.
Alternative Video: Quick and Easy Indian Breakfast Recipes
Recommended Posts:
Tarri Batata Poha is a spicy and flavorful, protein-packed, simple breakfast recipe made with chickpeas, poha (rice flakes), and batata (potato). This recipe is vegetarian, vegan, dairy-free, and gluten-free.
Misal Pav is a spicy and flavorful, nutritious and protein-rich Maharashtra dish served with ladi pav buns – Indian dinner rolls. One of the most popular street foods in Maharashtra and Goa, it can be eaten for breakfast, as a snack, or as a light meal on its own.
INDIAN BREAKFAST IDEAS QUICK
Breakfast noodle soup? Please, yes! In a delectable peanut sauce, this breakfast stir-fry is riddled with noodles and sautéed vegetables. Ginger and garlic enhance the flavor profile of this dish, while roasted peanuts add a satisfying crunch.
Every culture has its own method of preparing an egg omelet, and this is India's! The number of fresh herbs used to season the eggs is what makes this omelet recipe stand out. In place of vegetables, fresh cilantro and mint are chopped up and added to the dish.
Poori bhaji is a southern Indian version of the above-mentioned aloo puri. This recipe uses the same puffed bread bites and curry sauce as the previous one, but with different spices! This dipping sauce appears to be thicker, whereas the aloo sauce appears to be more of a gravy.
This is a savory spread for bread that can be eaten at any time of day, but especially at the most important meal of the day! This bread upma recipe is sure to please with fresh herbs like coriander and fragrant mustard seeds!
Recipes like these make healthy eating appear to be simple! Fresh vegetables are combined with herbs and spices before being baked into cute little cakes. The grated carrot and ginger root are seasoned with aromatic seasonings such as mustard seed and cumin.
Don't be fooled by the fact that these tasty fritters are shaped like donuts! They're a vegetable-based savory snack! What a fantastic way to get some extra carrots into your diet. Vada is seasoned with traditional curry, ginger, and cilantro flavors.
EASY INDIAN BREAKFAST IDEAS
These fragrant little pastries have the appearance of a savory pancake. They are gluten-free and can satisfy every guest at your table because they are made with oat flour. Oats idli is the healthy breakfast you've been looking for, packed with traditional spices and hearty vegetables.
These grain bowls, which are similar to oatmeal or porridge, are a delicious and nutritious way to start your day. Bowl culture is thriving, from smoothie bowls to burrito bowls, and this dish is no exception. Fill your oats with antioxidant-rich steamed carrots, or go for a protein boost by adding chickpeas.
These stuffed flatbreads require a lot of flavors but not much time. The flatbreads, inspired by dinner leftovers, swaddle well-seasoned mashed potatoes for a warm breakfast on days when you hit the snooze button one too many times.
This recipe is a winner for breakfast connoisseurs who plan ahead of time! Allow rice flour and water to ferment overnight to make a savory crepe-like dosa bread. These elegant nibbles plate beautifully and are a work of art as well as a delectable meal.
Save this one for days when you need a lot of energy! Fried potatoes and tomatoes are topped with a sunny side up egg for a carb/protein combo that will get you through any day!
Sturdy appam is another vegan and gluten-free option that will please everyone on your brunch menu. These fried cakes are similar to the previously mentioned dosa, but the use of yeast in the recipes results in a much fluffier final product.
POPULAR INDIAN BREAKFAST IDEAS
This flatbread is a must-try for any fan of Indian cuisine. The moist dough is seasoned generously with garlic, onion, and fenugreek leaves. Its spices add a beautiful color and a rich flavor profile to the finished dish. Thepla is designed to be wrapped around tea or curd to make a delicious breakfast option.
If you've been experimenting with all of these recipes, you'll need a plan for leftovers. If you're drowning in leftover dahl, this is the recipe for you! Make idli fry out of your refrigerated dahl. These oval-shaped chips go well with any dips you have on hand and are a quick way to start the day.
This quick breakfast combines oats and mixed vegetables! Make a thick batter and quickly pour it into a pan. In just a few minutes, you'll have a nutritious meal on the table!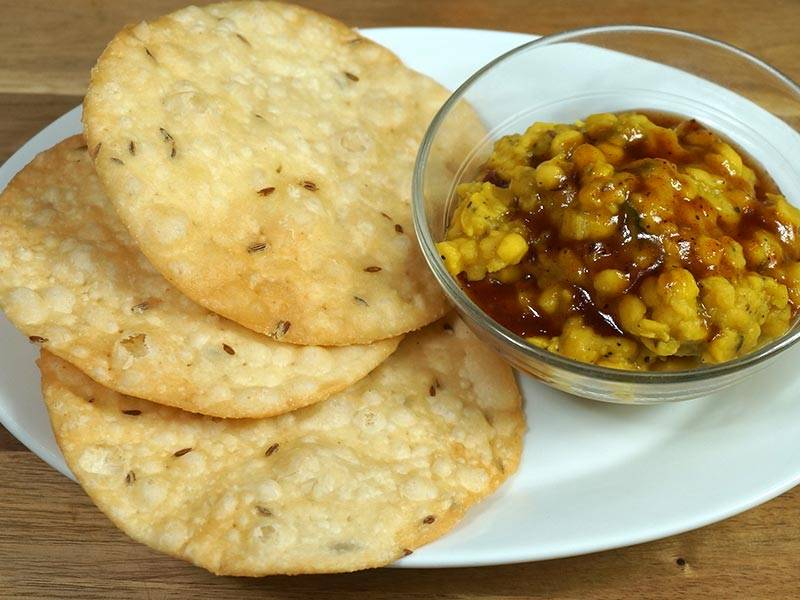 Crisp pakwan is the ideal vehicle for a wide variety of curries and chutneys. This pakwan is seasoned with carom seeds and cumin for a delectable crunch with a powerful punch! Beautiful pakwan, deep-fried and round, is a labor of love. Make a double batch and save some for lunch.
What distinguishes this dish from ordinary scrambled eggs? Spices! After trying this delectable version, you'll never go back to regular (read: boring) scrambled eggs. These East Indian scrambled eggs, stuffed with veggies and spiced to perfection, are an experience you don't want to miss!
You'll jump out of bed excited for the day when you know this dish is waiting for you. This deliciously seasoned dal dish is a hearty way to start the day. Crunchy cashews and sweet green peas are blended into each bite for a harmonious blend of textures that will satisfy your hunger.
INDIAN BREAKFAST IDEAS FOR GUEST
This savory chickpea pancake is quick, easy, and packed with protein. And the best part is that you can use any seasonal vegetables in this breakfast.
Flatbread with zucchini that is quick and easy to make and tastes great even when served cold. These parathas can be made with bottle gourd, ridge gourd, or even cabbage.
Make this spinach paratha for breakfast to increase your intake of leafy greens. These are delicious on their own or with any curry, chutney, or dal.
A quick 20-minute puffed rice recipe. When you don't have time for breakfast, dinner, or an evening snack, this is the perfect solution!
A traditional South Indian sweet Pongal recipe made healthier with millets and jaggery. This vegan and gluten-free dish can be served as a dessert or for breakfast.
Sarvapindi is a Telangana specialty and one of our family's favorite dishes. I add grated vegetables to make it healthier.
INDIAN BREAKFAST IDEAS HEALTHY
Add millet grain to your favorite South Indian breakfast recipe to make it more nutritious. This is a simple but healthy ven Pongal recipe that can be made with any small millets.
It's a well-known and traditional breakfast in Maharashtra households. It is also known as Kande Pohe, and it is ideal for breakfast and tea time snacks. Cooked with Poha made with mild spices and peanuts, which makes for a healthy breakfast due to its high protein and iron content.
A delectable evening snack made with flattened rice. Poha, or flattened rice, is made in a different way. It is not cooked, but rather combined with raw onions, tomato, and grated carrot. Poha becomes soft as a result of the moisture and juices from the vegetables.
A simple yet filling recipe for Vegetable Rava Upma, also known as Sooji Upma. It's a great way to start your mornings because it's packed with fiber and nutrients from the vegetables.
Vermicelli upma, also known as Semiya upma, is a South Indian breakfast dish. In Kannada, semiya is also known as shavige. It's a filling one-pot breakfast dish.
INDIAN BREAKFAST IDEAS FOR KIDS
This Karnataka dish is made with the same ingredients as idly. These idlis, also known as Kadabu, are cooked in a special container shaped like a tumbler rather than the standard idli steamer, making them much more interesting.
Dosas are delicious Indian pancakes that aren't sweet. Dosas, like idlis, are eaten with chutneys or potato curry. This masala dosa recipe explains how to incorporate the goodness of vegetables into your breakfast routine.
Uttapam are the Indian equivalent of pancakes. The uttapam, a dish from the Indian state of Karnataka, is delicious when topped with finely chopped vegetables. It's simple to make and healthy as well.
Semiya or vermicelli is used to make a dessert known as 'payasam,' as well as a snack or tiffin known as'semiya upma.' It's a quick, tasty, and simple breakfast recipe for children.
A plate of poori with sago or curry may not be a mom's favorite breakfast option, but it is one that your child will not be able to resist. Here's a healthy poori recipe you can serve to your kids once or twice a week.
Print
Palak Poori Recipe (Indian Breakfast Ideas)
---
Author:

Prep Time:

10 minutes

Cook Time:

20 minutes

Total Time:

30 minutes

Yield:

18

servings

1

x
Description
A delectable poori variation made with palak or spinach leaves, green chilies, ginger, and a few spices. These palak poori have a lovely green color and look great.
---
For blanching and making puree:
100

grams 

palak 

or

2.5

to

3

cups roughly chopped spinach

3

 

cups 

hot boiling water

2

 

cups 

cold water

1

 

inch ginger

 

– chopped

1 

green chili

 

– chopped
Other Ingredients For Palak Puri
2 

cups 

whole wheat flour

½ 

teaspoon 

carom seeds 

(ajwain)

1

 

pinch asafoetida 

(hing)

¼

to

⅓

 

cup 

water 

or add as required

oil 

for deep frying, as required
---
Instructions
Blanching Palak:
Palak leaves should be thoroughly rinsed in water. Remove all of the water. While rinsing, use a colander or strainer.
Heat 3 cups water in a saucepan until it begins to boil. Then, keep the pan on the stove.
Put the palak leaves in a bowl of hot water. Blanch the palak leaves for 1 minute in boiling water.
Lift the blanched leaves with the help of pasta tongs.
The blanched leaves should then be placed in 2 cups of cold water.
For 1 minute, immerse the leaves in cold water.
Place the leaves in a blender or grinder jar using pasta tongs once more. 1 inch chopped ginger and 1 green chili (chopped).
Blend to a smooth puree without adding any water. Set aside.
Making Palak Poori Dough:
In a pan or mixing bowl, combine 2 cups whole wheat flour. In addition, 12 teaspoon carom seeds (ajwain), 1 pinch asafoetida (hing), and salt to taste
Mix in the palak puree. Combine the palak puree and the wheat flour.
Shake and rinse the blender or mixer jar with 14 to 13 cup water to mix the puree stuck to the sides and bottom of the jar with the water. Partially add this water to the flour mixture.
Using small amounts of water, knead the dough to a semi-soft consistency. Set aside for 10 minutes, covered.
The dough should then be divided into small or medium sized balls. Make neat round balls out of them.
Take one of the dough balls. Spread some oil on both sides of the dough and flatten it.
Gently roll to a 4 or 5 inch poori with a rolling pin (belan). Poori that are neither thick nor thin.
Frying Palak Poori:
In a pan or kadai, heat the oil. Check the temperature of the oil by dropping a tiny piece of dough into it. If it rises steadily and gradually to the top, the oil is medium hot and ready to fry the poori.
Slid one puri gently into the medium hot oil.
The oil will bubble and sizzle, and the poori will float on top of it.
Nudge the palak poori with a slotted spoon so that it puffs up while frying.
Fry until the oil no longer sizzles. If the poori becomes too golden, the green color will be lost.
Then, using a slotted spoon, gently turn it over.
Fry the palak puri on the second side. Fry the poori in the oil until it stops sizzling. You can turn the palak poori over once or twice more if you like.
Drain as much oil as possible from the puri using a slotted spoon.
To remove excess oil, place the fried puri on kitchen paper towels. Continue to make the remaining palak poori in the same manner.
Serve palak puri with potato curry, chana masala, veg kurma, or your favorite veg gravy or curry. It can also be packed for a tiffin box or served as a tea time snack.
Notes
The nutrition information is for one palak puri.
Category:

Breakfast

Method:

None

Cuisine:

Indian
Nutrition
Serving Size:

18 servings

Calories:

83kcal

Sugar:

1g

Sodium:

17mg

Fat:

4g

Saturated Fat:

1g

Unsaturated Fat:

0g

Trans Fat:

0g

Carbohydrates:

10g

Fiber:

2g

Protein:

2g

Cholesterol:

0mg
Keywords: palak poori recipe, easy palak poori recipe, indian breakfast recipe, indian palak poori
Frequently Asked Questions
What is a typical breakfast in India?
Breakfast in India varies by region, but it is often quite similar to lunch or dinner. In India, a breakfast plate might include roti (flatbread), dosas (thin crepes made of lentils), or idlis (steamed rice-dough pancakes), as well as various dips and chutneys and spiced potatoes.
What do children in India eat for breakfast?
Top 8 Easy Indian Breakfast Recipes for Children:
Upma with coriander.
Appetizer with Vegetables.
Dosa with Instant Oats
Sprouted Moong Khakhra.
Recipe for Bournvita Milk.
Poha made from corn.
Wrapped in Methi Thepla.
Milkshake with Vanilla.
What do South Indian eat for breakfast?
Idli
Dosa with no seasonings.
Dosa with Onion Rava.
Dosa Masala
Dosa with Instant Oats
Uttappam with Onion
Pesarattu (Mung Bean Crepe)
Dosa with wheat.
What is healthy Indian breakfast?
Here Are 7 Healthy Indian Breakfast Recipes to Get You Started in the Morning:
Poha.
Upma.
Moong Dal Cheela
Idli.
Make a Veg Paratha.
Uggani.
Muthia Methi.
What do North Indian eat for breakfast?
Poha.
Paratha ka Gobi.
Chole Bhature
Stuffed Paneer with Moong Dal Cheela
Toasty Paneer
Kulcha Chana
Omelette with Masala.
Poori Dal Bhari
What is your favorite Indian breakfast meal?
According to the study, most Indian households still prefer traditional Indian breakfasts like poha and parathas over their global counterparts. According to survey results, Delhiites also enjoyed chhole bhature and parathas, with dosa ranking first.
What is the healthiest Indian food?
The 7 Healthiest Indian Restaurant Dishes to Order:
Masala Chana.
Rajma.
Daal
Bharta, Baingan. . Gobi Aloo.
Raita.
Chicken Tandoori.
Is poha good for weight loss?
It's high in nutrients and fiber, and it's also high in antioxidants. Poha is gluten-free, which makes it even more popular because gluten-allergic people can eat it! The food contains healthy carbs that are beneficial to the body and can be easily incorporated into your weight loss diet.
Is South Indian diet healthy?
They are high in probiotics, particularly idli, dosa, and uttapam. "South Indian food like idli, dosa, rice-sambhar are generally a combination of both cereal and pulses, which improve protein quality," she added.
What an Indian eats in a day?
Roti, rice, dal, chutney, pickle, beans and legumes, and meat, chicken, or fish are the staples of the Indian diet. These can differ from region to region, with the addition of several other components, but listing them all would be impossible.