Italian Biscotti Recipe [Simple!]
★★★★★ 5 from 1 reviews
Italian Biscotti recipes are not at all difficult to make, contrary to what I once believed (similar to how cannoli are). A very straightforward dough is used to make biscotti, which you may personalize with your preferred extracts and additives.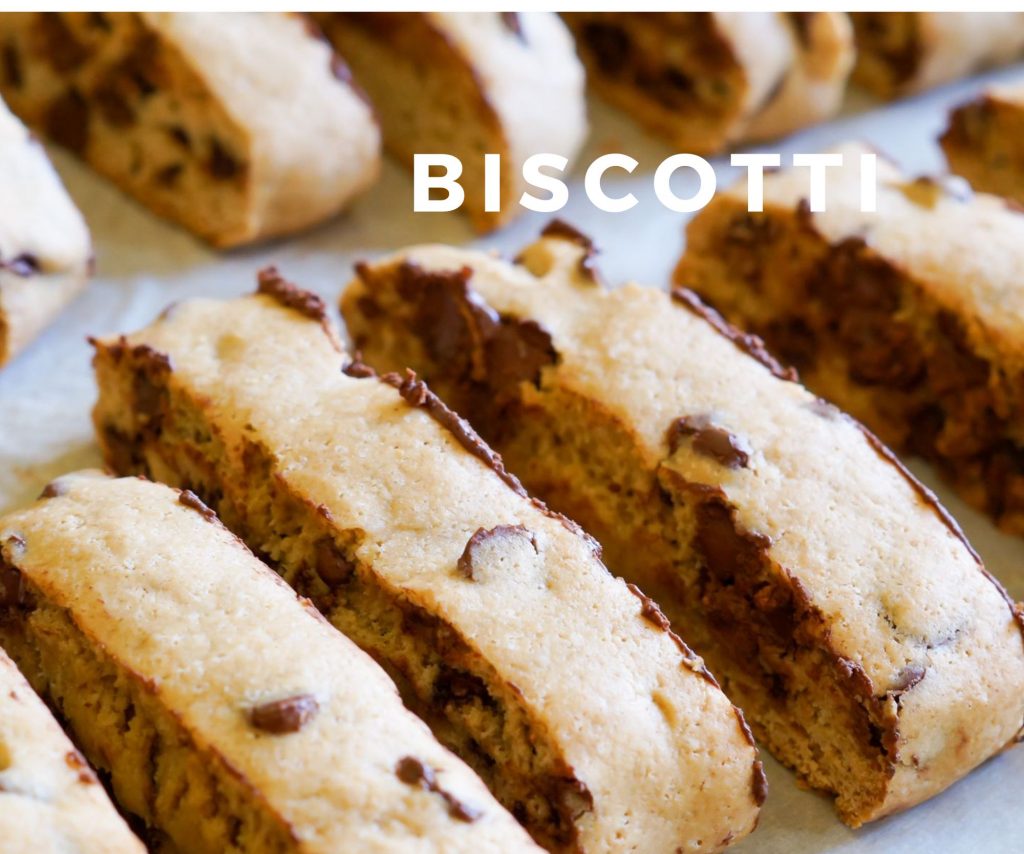 They're different from most cookies, because instead of scooping the dough, you'll form it into two logs, bake them, let them cool completely, and then slice and then bake again. You may even drizzle or dip your biscotti in chocolate if you're feeling extra ambitious (clearly, I'm team chocolate ), but that decision is entirely yours.
THE EASY WAY TO MAKE THE IDEAL ITALIAN COOKIE
The soft and chewy cookies I typically share with you are very different from these incredibly simple Italian biscotti. If you've ever tried Italian biscotti, you are well aware that they are not at all soft. Instead, they are crispy and hard, and even though I often steer clear of cookies with either of these two qualities, I adore these biscotti. In fact, I believe they are absurdly tasty. However, aren't all Italian pastries similar?
WHAT IS ITALIAN BISCOTTI?
Italian cookies that have been baked twice come from Prato. Italian Biscotti bakes in two oblong-shaped logs, as opposed to most cookies, which are made of dough that is cut into slices or shapes.
HOW ARE ITALIAN BISCOTTI MADE?
It is straightforward to prepare your dough, shape it into two logs, and bake them. It's crucial to let them cool completely before slicing them with a serrated knife at an angle and baking them once again.
IS IT NORMAL FOR ITALIAN BISCOTTI TO BE DENSE?
Yes! The cookie is crumbly and firm, making it ideal for dipping in hot drinks like coffee or, smart move, hot chocolate.
Alternative Video Recipe: Italian Biscotti
Suggested Posts:
WHAT MAY I ADD TO THE DOUGH FOR THE ITALIAN BISCOTTI?
Very much! We prefer it plain with sliced almonds, but other fantastic additions include pistachios, pine nuts, raisins or dried cranberries, and chocolate chips. Add flavors using spices like cardamom, nutmeg, or cinnamon. Even fennel seeds are a traditional ingredient.
DOES THE BOTTOM HAVE TO BE COVERED IN MELTED CHOCOLATE?
Nope! Although Italian biscotti is delicious on its own, we enjoy giving it a little more flavor by drenching the bottoms in melted chocolate. White chocolate and spreading flaky sea salt over the chocolate both work well here:)
HOW LONG DOES ITALIAN BISCOTTI REMAIN FRESH?
Several weeks! They excel because of this. The cookies can be kept for up to three weeks in a sealed container.
KEEPING HOMEMADE ITALIAN BISCOTTI FRESH
These cookies can be kept at room temperature for up to a week in an airtight container. It is recommended to store them in the refrigerator if you choose to dip them in chocolate.
INGREDIENTS YOU'LL NEED:
Butter. While some recipes call for oil, I prefer butter because of its superior flavor and texture. Use butter that has been softened but not melted.
Sugar. Biscotti should be sweet since they are cookies! For this recipe, stick with granulated sugar.
Eggs. We'll add each of these one at a time, fully combining the batter between additions. Incorporate your eggs better if you remember to set them out at room temperature beforehand.
Vanilla. We can get a beautiful vanilla flavor with two teaspoons. You may certainly cut the vanilla down to 112 tablespoons and add a small amount of anise extract if you prefer your biscotti to taste more traditional (think pizzelle biscuits). Instructions are provided in the recipe comments.
Flour. The best flour to use is all-purpose. Feel free to flour your hands if the dough sticks to them as you try to shape it.
Chips of chocolate and almonds. Although I use chocolate chips and slivered almonds in this recipe, you can use any other ingredients. You can add up to 113 to 112 cups of your preferred extras; common options include raisins, dried cranberries, white chocolate chips, and pistachios.
Chocolate. It's optional, but melting wafers work wonderfully if you want to drizzle or dip your biscotti in additional chocolate (who doesn't?). Chips made of chocolate are another option.
HOW TO MAKE ITALIAN BISCOTTI
The butter and sugar should be thoroughly mixed.
One at a time, add the eggs and whisk them in thoroughly after each addition. Stir in the vanilla.
After mixing the dry ingredients in a separate bowl, gradually add the wet ingredients to the mixture.
Add your add-ins and stir.
Place the dough, divided into equal pieces, on a baking sheet covered with parchment paper. Making logs out of the dough requires lightly dusted hands.
30 minutes of baking at 350F followed by thorough cooling
Make diagonal cuts in the loaves with a sharp knife. Bake the biscotti for 10 minutes with the cut side down on the baking sheet.
After taking the biscotti out of the oven, turn them over, and bake them for an additional ten minutes. Allow the biscotti to cool completely before dipping or drizzling with chocolate.
Print
Biscotti Recipe
---
Author:

Prep Time:

10 minutes

Cook Time:

35 minutes

Total Time:

45

Yield:

20

1

x
Description
Biscotti are not at all difficult to make, contrary to what I once believed (similar to how cannoli are). A very straightforward dough is used to make biscotti, which you may personalize with your preferred extracts and additives.
---
1 cup

 granulated sugar

1/2 cup

 vegetable oil

3

 eggs

1/2 teaspoon

 almond extract

1 teaspoon

 vanilla extract

¼ teaspoon

 kosher salt

1 tablespoon

 baking powder

3 1/4 cups

 all purpose flour

2/3 cups

 chopped pecans
---
Instructions
Turn on the 375°F oven. Using parchment paper, line a sizable baking sheet. Place aside.
Combine the sugar, oil, eggs, almond extract, and vanilla extract in the bowl of your stand mixer with the paddle attachment. Adding the salt and baking powder, stirring to combine while sometimes scraping the bowl's edges.
Then, add the flour and mix briefly while the mixer is on low. The dough will be extremely sticky.
Dough is divided in half. On the baking sheet, divide the dough into two (15-inch) logs, leaving a minimum of 3 inches between the two logs to allow for spreading.
Until golden brown, bake for 25 to 30 minutes. Remove from the oven, then let the baking sheet cool for five minutes. Slice the fruit into 1-inch-thick slices with a knife or bench scraper. Place the baking sheet with the flattened biscotti slices back in the oven for 5 more minutes. The biscotti should be taken out of the oven, turned over, and baked for an additional 3 to 4 minutes, or until gently toasted.
Move to a wire rack to thoroughly cool.
Notes
For up to a week, store airtight at room temperature.
sealed for up to 60 days in the freezer.
Category:

breakfast

Method:

Baking

Cuisine:

Italian
Nutrition
Serving Size:

20

Calories:

121 kcal

Sugar:

7.6 g

Sodium:

62.9 mg

Fat:

5.8 g

Saturated Fat:

3.1 g

Unsaturated Fat:

0g

Trans Fat:

0g

Carbohydrates:

15.6 g

Fiber:

0.8 g

Protein:

2.2 g

Cholesterol:

8.6 mg
Keywords: biscotti, Italian bread
FAQs about Biscotti
How do you make the best biscotti?
After the first bake, let the biscotti cool for only 10 minutes. If you let the biscotti cool after the first bake for too long, they will be too hard to cut. Biscotti should be warm, but not hot, or it will fall apart. Use a knife with teeth and saw back and forth to cut.
Is it better to put oil or butter on biscotti?
Even though biscotti have been around for hundreds of years, there is no one perfect way to make them. Some recipes call for eggs only, which is the traditional method, while others swear by butter or oil. You can choose either, but keep in mind that those made with butter or oil will be softer and won't last as long
How is a good biscotti made?
Biscotti can sometimes be very hard and crunchy, but the cranberries in this recipe make it soft and chewy with fruity flavors. Biscotti means "twice baked," which is why these crunchy Italian cookies are made by baking them twice.
Is biscotti healthier than cookies?
Biscotti are one of my favorite sweet indulgences. What's not to like? They're easy to make, very satisfying and relatively light and healthy since they're lower in fat and sugar than most cookies. They're also usually packed with heart healthy nuts
Should the dough for biscotti be chilled before being baked?
Because the dough can be sticky and hard to shape, it's important to put the batter in the fridge for at least 30 minutes before baking for the first time. Line a baking sheet with parchment paper and sprinkle it with a little flour. Put the batter on a baking sheet and put it in the fridge to cool.
More Alternative Bread Recipe to try!
BUTTERY CORNBREAD
This cornbread recipe was given to me by a friend many years ago, and I have tried many others since then. I enjoy serving the butter and syrup-topped, melt-in-your-mouth cornbread hot from the oven. At potluck dinners and during holidays, it receives raving praises. Auburn, California resident Nicole Callen
GOLDEN HONEY PAN ROLLS
The recipe for these delectable rolls with honey glaze was given to me by a cousin in North Carolina. I save roughly two hours by making the dough in my bread machine as opposed to the old-fashioned way. These rolls' rich, buttery flavor is so well-liked by family and friends that I normally prepare two batches to ensure I have plenty. Sarah Wing from Philadelphia, Pennsylvania